Abstract
Objective:
Relatively unexplored contributors to the obesity and diabetes epidemics may include sleep restriction, increased house temperature (HT), television watching (TW), consumption of restaurant meals (RMs), use of air conditioning (AC) and use of antidepressant/antipsychotic drugs (ADs).
Design and Subjects:
In a population-based cohort (n=1597), we investigated the possible association among these conditions, and obesity or hyperglycemia incidence at 6-year follow-up. Subjects with obesity (n=315) or hyperglycemia (n=618) at baseline were excluded, respectively, 1282 and 979 individuals were therefore analyzed.
Results:
At follow-up, 103/1282 became obese; these subjects showed significantly higher body mass index, waist circumference, saturated fat intake, RM frequency, TW hours, HT, AC and AD use, and lower fiber intake, metabolic equivalent of activity in h per week (METS) and sleep hours at baseline. In a multiple logistic regression model, METS (odds ratio=0.94; 95% confidence interval (CI) 0.91–0.98), RMs (odds ratio=1.47 per meal per week; 1.21–1.79), being in the third tertile of HT (odds ratio=2.06; 1.02–4.16) and hours of sleep (odds ratio=0.70 per h; 0.57–0.86) were associated with incident obesity. Subjects who developed hyperglycemia (n=174/979; 17.8%) had higher saturated fat intake, RM frequency, TW hours, HT, AC and AD use at baseline and lower METS and fiber intake. In a multiple logistic regression model, fiber intake (odds ratio=0.97 for each g per day; 0.95–0.99), RM (1.49 per meal per week; 1.26–1.75) and being in the third tertile of HT (odds ratio=1.95; 1.17–3.26) were independently associated with incident hyperglycemia.
Conclusions:
Lifestyle contributors to the obesity and hyperglycemia epidemics may be regular consumption of RM, sleep restriction and higher HT, suggesting potential adjunctive non-pharmacological preventive strategies for the obesity and hyperglycemia epidemics.
Relevant articles
Open Access articles citing this article.
Floor R Scheffers

,

Marga BM Bekkers

…

Alet H Wijga

BMC Public Health Open Access 05 December 2013
Access options
Subscribe to this journal
Receive 12 print issues and online access
$259.00 per year
only $21.58 per issue
Rent or buy this article
Get just this article for as long as you need it
$39.95
Prices may be subject to local taxes which are calculated during checkout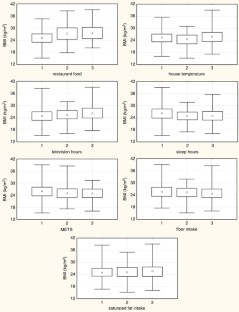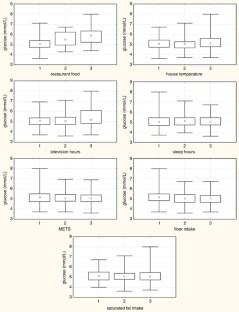 References
McAllister EJ, Dhurandhar NV, Keith SW, Aronne LJ, Barger J, Baskin M et al. Ten putative contributors to the obesity epidemic. Critic Rev Food Sci Nutr 2009; 49: 868–913.

Bjorvatan B, Sagen IM, Oyane N, Waage S, Fetveit A, Pallesen S et al. The association between sleep duration, body mass index and metabolic measures in the Hordaland Health Study. J Sleep Res 2007; 16: 66–76.

Gottlieb DJ, Punjabi NM, Newman AB, Resnick HE, Redline S, Baldwin CM et al. Association of sleep time with diabetes mellitus and impaired glucose tolerance. Arch Intern Med 2005; 165: 863–867.

Krishnan S, Rosenberg L, Palmer JR . Physical activity and television watching in relation to risk of type 2 diabetes. Am J Epidemiol 2009; 169: 428–434.

Siervo M, Wells JCK, Cizza G . The contribution of psychosocial stress to the obesity epidemic. Horm Metab Res 2009; 41: 261–270.

Krishnan S, Coogan PF, Boggs DA, Rosenberg L, Palmer JR . Consumption of restaurant foods and incidence of type 2 diabetes in African American women. Am J Clin Nutr 2010; 91: 465–471.

Jacobs DE, Wilson J, Dixon SL, Smith J, Evens A . The relationship of housing and population health: a 30-year retrospective analysis. Environ Health Perspect 2009; 117: 597–604.

Landsberg L, Young JB, Leonard WR, Linsenmeier RA, Turek FW . Is obesity associated with lower body temperatures? Core temperature: a forgotten variable in energy balance. Metabolism 2009; 58: 871–876.

Knutson KL, Van Cauter E, Rathouz PJ, DeLeire T, Lauderdale DS . Trends in the prevalence of short sleepers in the USA: 1975–2006. Sleep 2010; 33: 37–45.

Patel SR, Hu FB . Short sleep duration and weight gain: a systematic review. Obesity 2008; 16: 643–653.

Bo S, Gentile L, Ciccone G, Baldi C, Benini L, Dusio F et al. The metabolic syndrome and high C-reactive protein: prevalence and difference by sex in a southern-European population-based cohort. Diab Metab Res Rev 2005; 21: 515–524.

Kroke A, Klipstein-Grobusch K, Voss S, Möseneder J, Thielecke F, Noack R, Boeing H . Validation of a self-administered food-frequency questionnaire administered in the European Prospective Investigation into Cancer and Nutrition (EPIC) study: comparison of energy, protein, and macronutrient intakes estimated with the doubly labeled water, urinary nitrogen, and repeated 24-h dietary recall methods. Am J Clin Nutr 1999; 70: 439–447.

Taylor HL, Jacobs Jr DR, Schucker B, Knudsen J, Leon AS, Debacker G . Questionnaire for the assessment of leisure time physical activities. J Chronic Dis 1978; 31: 741–755.

Willett W, Stampfer MJ . Total energy intake: implications for epidemiologic analyses. Am J Epidemiol 1986; 124: 17–27.

The Expert Committee on the Diagnosis and Classification of Diabetes Mellitus. Report of the expert committee on the diagnosis and classification of diabetes mellitus. Diab Care 2003; 26: S5–S20.

Spiegel K, Tasali E, Leproult R, Van Cauter E . Effects of poor and short sleep on glucose metabolism and obesity risk. Nat Rev Endocrinol 2009; 5: 253–261.

Brondel L, Romer MA, Nougues PM, Touyarou P, Davenne D . Acute partial sleep deprivation increases food intake in healthy men. Am J Clin Nutr 2010; 91: 1550–1559.

Schmid SM, Hallschmid M, Jauch-Chara K, Wilms B, Benedict C, Lehnert H et al. Short-term sleep loss decreases physical activity under free-living conditions but does not increase food intake under time-deprived laboratory conditions in healthy men. Am J Clin Nutr 2009; 90: 1476–1482.

Patel SR, Blackwell T, Redline S, Ancoli-Israel S, Cauley JA, Hillier TA et al. The association between sleep duration and obesity in older adults. Int J Obes 2008; 32: 1825–1834.

Marshall NS, Glozier N, Grunstein RR . Is sleep duration related to obesity? A critical review of the epidemiological evidence. Sleep Med Rev 2008; 12: 289–298.

Horne J . Short sleep is a questionable risk factor for obesity and related disorders: statistical versus clinical significance. Biol Psycol 2008; 77: 266–276.

Ayas NT, White DP, Al-Delaimy WK, Manson JA, Stampfer MJ, Speizer FE et al. A prospective study of self-reported sleep duration and incident diabetes in women. Diab Care 2003; 26: 380–384.

Yaggi HK, Araujo AB, McKinlay JB . Sleep duration as a risk factor for the development of type 2 diabetes. Diab Care 2006; 29: 657–661.

Mallon L, Broman JE, Hetta J . High incidence of diabetes in men with sleep complaints or short sleep duration. Diab Care 2005; 28: 2762–2767.

Björkelund C, Bondyr-Carlsson D, Lapidus L, Lissner L, Månsson J, Skoog I et al. Sleep disturbance in midlife unrelated to 32-year diabetes incidence. Diab Care 2005; 28: 2739–2744.

Farmer SR . Be cool, lose weight. Nature 2009; 485: 839–840.

Celi FS . Brown adipose tissue – when it pays to be inefficient. New Engl J Med 2009; 360: 1553–1556.

O'Hara WJ, Allen C, Shephard RJ . Treatment of obesity by exercise in the cold. Can Med Assoc J 1977; 117: 773–778.

Keith SW, Redden DT, Katzmarzyk PT, Boggiano MH, Hanlon EC, Benca RM et al. Putative contributors to the secular increase in obesity: exploring the roads less traveled. Int J Obes 2006; 30: 1585–1594.

Montonen J, Knekt P, Jarvinen R, Aromaa A, Reunanen A . Whole-grain and fiber intake and the incidence of type 2 diabetes. Am J Clin Nutr 2003; 77: 622–629.

Mehta NK, Chang VW . Weight status and restaurant availability. A multilevel analysis. Am J Prev Med 2008; 34: 127–133.

Mc Call K . The fattering truth about restaurant food. BMJ 2008; 337: a2229.

Pereira MA, Kartashov AI, Ebbeling CB, Van Horn L, Slattery ML, Jacobs Jr DR et al. Fast-food habits, weight gain, and insulin resistance (the Cardia study): 15-year prospective analysis. Lancet 2005; 365: 36–42.

The Diabetes Prevention Program Research Group. Reduction in the incidence of type 2 diabetes with lifestyle intervention or metformin. N Engl J Med 2002; 346: 393–403.

Vioque J, Torres A, Quiles J . Time spent watching television, sleep duration and obesity in adults living in Valencia, Spain. Int J Obes Relat Metab Disord 2000; 24: 1683–1688.

Bobák M, Hertzman C, Skodová Z, Marmot M . Own education, current conditions, parental material circumstances, and risk of myocardial infarction in a former communist country. J Epidemiol Community Health 2000; 54: 91–96.
Acknowledgements
This study was supported by a grant from the Regione Piemonte, 2008.
Ethics declarations
Competing interests
The authors declare no conflict of interest.
About this article
Cite this article
Bo, S., Ciccone, G., Durazzo, M. et al. Contributors to the obesity and hyperglycemia epidemics. A prospective study in a population-based cohort. Int J Obes 35, 1442–1449 (2011). https://doi.org/10.1038/ijo.2011.5
Received:

Revised:

Accepted:

Published:

Issue Date:

DOI: https://doi.org/10.1038/ijo.2011.5
Keywords
hyperglycemia

restaurant meals

sleep restriction

home temperature