Abstract
BACKGROUND:
Although several observational and experimental studies have investigated the effect of dairy consumption on weight and body composition, results are inconsistent.
OBJECTIVE:
This systematic review and meta-analysis was conducted to summarize the published evidence from randomized controlled clinical trials (RCTs) regarding the effect of dairy consumption on weight, body fat mass, lean mass and waist circumference (WC) in adults.
DESIGN:
PubMed, ISI Web of Science, SCOPUS, Science Direct and EMBASE were searched from January 1960 to October 2011 for relevant English and non-English publications. Sixteen studies were selected for the systematic review and fourteen studies were included in meta-analysis.
RESULTS:
Our search led to 14, 12, 6 and 8 eligible RCTs that had data on weight, body fat mass, lean mass and WC, respectively. Overall, mean difference for the effect of dairy on body weight was −0.61 kg (95% confidence interval (CI): −1.29, 0.07, P=0.08). Increased dairy intake resulted in 0.72 kg (95% CI: −1.29, −0.14, P=0.01) greater reduction in fat mass, 0.58 kg (95% CI: 0.18, 0.99, P<0.01) gain in lean mass and 2.19 cm (95% CI: −3.42, −0.96, P-value <0.001) further reduction in WC than that in controls. Subgroup analysis revealed that increasing dairy intake without energy restriction in both intervention and control groups does not significantly affect weight, body fat mass, lean mass and WC; consumption of high-dairy weight loss diets led to 1.29 kg (95% CI: −1.98, −0.6, P<0.001) greater weight loss, 1.11 kg (95% CI: −1.75, −0.47, P=0.001) greater reduction in body fat mass, 0.72 kg (95% CI: 0.12, 1.32, P=0.02) gain in body lean mass and 2.43 cm (95% CI: −3.42, −1.44, P<0.001) additional reduction in WC compared with controls.
CONCLUSION:
Increased dairy consumption without energy restriction might not lead to a significant change in weight or body composition; whereas inclusion of dairy products in energy-restricted weight loss diets significantly affects weight, body fat mass, lean mass and WC compared with that in the usual weight loss diets.
Relevant articles
Open Access articles citing this article.
Marwa Nasr Al Sayed

,

Mohamed Salah Mostafa

…

Magda Ramzy Kastandy

Bulletin of the National Research Centre Open Access 07 November 2020

N.R.W. Geiker

,

C. Mølgaard

…

A. Astrup

Osteoporosis International Open Access 14 November 2019

Xia Zeng

,

Li Cai

…

Yajun Chen

Scientific Reports Open Access 25 September 2018
Access options
Subscribe to Journal
Get full journal access for 1 year
$119.00
only $9.92 per issue
All prices are NET prices.
VAT will be added later in the checkout.
Tax calculation will be finalised during checkout.
Buy article
Get time limited or full article access on ReadCube.
$32.00
All prices are NET prices.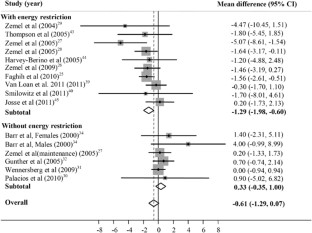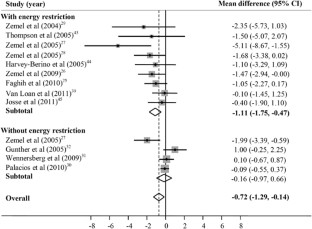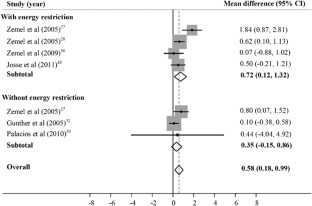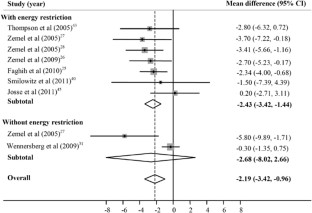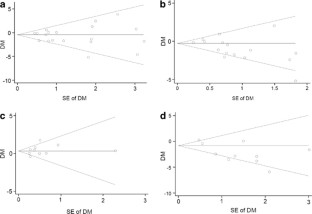 References
World Health Organization. WHO Media center: Obesity and overweight. Fact sheet N°311, March 2011 http://www.who.int/mediacentre/factsheets/fs311/en/ (accessed 15 October 2011).

Hebebrand J, Hinney A . Environmental and genetic risk factors in obesity. Child Adolesc Psychiatr Clin N Am 2009; 18: 83–94.

Dougkas A, Reynolds CK, Givens ID, Elwood PC, Minihane AM . Associations between dairy consumption and body weight: a review of the evidence and underlying mechanisms. Nutr Res Rev 2011; 15: 1–24.

International Dairy Federation. The World Dairy Situation 2010. Bulletin of the International Dairy Federation no. 446/2010. Brussels, Belgium, 2010.

World Health Organization. WHO Global infobase: data for saving lives. October 2011 https://apps.who.int/infobase/report.aspx?rid=1 (accessed 15 October 2011).

Lanou AJ, Barnard ND . Dairy and weight loss hypothesis: an evaluation of the clinical trials. Nutr Rev 2008; 66: 272–279.

Louie JC, Flood VM, Hector DJ, Rangan AM, Gill TP . Dairy consumption and overweight and obesity: a systematic review of prospective cohort studies. Obes Rev 2011; 12: e582–e592.

Johnson L, Mander AP, Jones LR, Emmett PM, Jebb SA . Is sugar-sweetened beverage consumption associated with increased fatness in children? Nutrition 2007; 23: 557–563.

Moore LL, Bradlee ML, Gao D, Singer MR . Low dairy intake in early childhood predicts excess body fat gain. Obesity (Silver Spring) 2006; 14: 1010–1018.

Carruth BR, Skinner JD . The role of dietary calcium and other nutrients in moderating body fat in preschool children. Int J Obes Relat Metab Disord 2001; 25: 559–566.

Poddar KH, Hosig KW, Nickols-Richardson SM, Anderson ES, Herbert WG, Duncan SE . Low-fat dairy intake and body weight and composition changes in college students. J Am Diet Assoc 2009; 109: 1433–1438.

Halkjaer J, Tjonneland A, Overvad K, Sorensen TI . Dietary predictors of 5-year changes in waist circumference. J Am Diet Assoc 2009; 109: 1356–1366.

Sanchez-Villegas A, Bes-Rastrollo M, Martinez-Gonzalez MA, Serra-Majem L . Adherence to a Mediterranean dietary pattern and weight gain in a follow-up study: the SUN cohort. Int J Obes (Lond) 2006; 30: 350–358.

Rosell M, Hakansson NN, Wolk A . Association between dairy food consumption and weight change over 9 y in 19 352 perimenopausal women. Am J Clin Nutr 2006; 84: 1481–1488.

Rajpathak SN, Rimm EB, Rosner B, Willett WC, Hu FB . Calcium and dairy intakes in relation to long-term weight gain in US men. Am J Clin Nutr 2006; 83: 559–566.

Vergnaud AC, Peneau S, Chat-Yung S, Kesse E, Czernichow S, Galan P et al. Dairy consumption and 6-y changes in body weight and waist circumference in middle-aged French adults. Am J Clin Nutr 2008; 88: 1248–1255.

Huh SY, Rifas-Shiman SL, Rich-Edwards JW, Taveras EM, Gillman MW . Prospective association between milk intake and adiposity in preschool-aged children. J Am Diet Assoc 2010; 110: 563–570.

Fiorito LM, Marini M, Francis LA, Smiciklas-Wright H, Birch LL . Beverage intake of girls at age 5 y predicts adiposity and weight status in childhood and adolescence. Am J Clin Nutr 2009; 90: 935–942.

Tam CS, Garnett SP, Cowell CT, Campbell K, Cabrera G, Baur LA . Soft drink consumption and excess weight gain in Australian school students: results from the Nepean study. Int J Obes (Lond) 2006; 30: 1091–1093.

Striegel-Moore RH, Thompson D, Affenito SG, Franko DL, Obarzanek E, Barton BA et al. Correlates of beverage intake in adolescent girls: the National Heart, Lung, and Blood Institute Growth and Health Study. J Pediatr 2006; 148: 183–187.

Newby PK, Peterson KE, Berkey CS, Leppert J, Willett WC, Colditz GA . Beverage consumption is not associated with changes in weight and body mass index among low-income preschool children in North Dakota. J Am Diet Assoc 2004; 104: 1086–1094.

Phillips SM, Bandini LG, Cyr H, Colclough-Douglas S, Naumova E, Must A . Dairy food consumption and body weight and fatness studied longitudinally over the adolescent period. Int J Obes Relat Metab Disord 2003; 27: 1106–1113.

Berkey CS, Rockett HR, Willett WC, Colditz GA . Milk, dairy fat, dietary calcium, and weight gain: a longitudinal study of adolescents. Arch Pediatr Adolesc Med 2005; 159: 543–550.

Drapeau V, Despres JP, Bouchard C, Allard L, Fournier G, Leblanc C et al. Modifications in food-group consumption are related to long-term body-weight changes. Am J Clin Nutr 2004; 80: 29–37.

Faghih S, Abadi AR, Hedayati M, Kimiagar SM . Comparison of the effects of cows' milk, fortified soy milk, and calcium supplement on weight and fat loss in premenopausal overweight and obese women. Nutr Metab Cardiovasc Dis 2010; 21: 499–503.

Zemel MB, Teegarden D, Van Loan M, Schoeller DA, Matkovic V, Lyle RM et al. Dairy-rich diets augment fat loss on an energy-restricted diet: a multicenter trial. Nutrients 2009; 1: 83–100.

Zemel MB, Richards J, Milstead A, Campbell P . Effects of calcium and dairy on body composition and weight loss in African-American adults. Obes Res 2005; 13: 1218–1225.

Zemel MB, Richards J, Mathis S, Milstead A, Gebhardt L, Silva E . Dairy augmentation of total and central fat loss in obese subjects. Int J Obes (Lond) 2005; 29: 391–397.

Zemel MB, Thompson W, Milstead A, Morris K, Campbell P . Calcium and dairy acceleration of weight and fat loss during energy restriction in obese adults. Obes Res 2004; 12: 582–590.

Palacios C, Bertran JJ, Rios RE, Soltero S . No effects of low and high consumption of dairy products and calcium supplements on body composition and serum lipids in Puerto Rican obese adults. Nutrition 2011; 27: 520–525.

Wennersberg MH, Smedman A, Turpeinen AM, Retterstol K, Tengblad S, Lipre E et al. Dairy products and metabolic effects in overweight men and women: results from a 6-mo intervention study. Am J Clin Nutr 2009; 90: 960–968.

Gunther CW, Legowski PA, Lyle RM, McCabe GP, Eagan MS, Peacock M et al. Dairy products do not lead to alterations in body weight or fat mass in young women in a 1-y intervention. Am J Clin Nutr 2005; 81: 751–756.

Bowen J, Noakes M, Clifton PM . Effect of calcium and dairy foods in high protein, energy-restricted diets on weight loss and metabolic parameters in overweight adults. Int J Obes (Lond) 2005; 29: 957–965.

Barr SI, McCarron DA, Heaney RP, Dawson-Hughes B, Berga SL, Stern JS et al. Effects of increased consumption of fluid milk on energy and nutrient intake, body weight, and cardiovascular risk factors in healthy older adults. J Am Diet Assoc 2000; 100: 810–817.

Baran D, Sorensen A, Grimes J, Lew R, Karellas A, Johnson B et al. Dietary modification with dairy products for preventing vertebral bone loss in premenopausal women: a three-year prospective study. J Clin Endocrinol Metab 1990; 70: 264–270.

Zemel MB . Proposed role of calcium and dairy food components in weight management and metabolic health. Phys Sportsmed 2009; 37: 29–39.

Van Loan M . The role of dairy foods and dietary calcium in weight management. J Am Coll Nutr 2009; 28 (Suppl 1): 120S–129S.

Tremblay A . Dairy and weight loss hypothesis. Nutr Rev 2008; 66: 544–545; author reply 546–547.

Van Loan MD, Keim NL, Adams SH, Souza E, Woodhouse LR, Thomas A et al. Dairy foods in a moderate energy restricted diet do not enhance central fat, weight, and intra-abdominal adipose tissue losses nor reduce adipocyte size or inflammatory markers in overweight and obese adults: a controlled feeding study. J Obes 2011; 2011: 989657.

Smilowitz JT, Wiest MM, Teegarden D, Zemel MB, German JB, Van Loan MD . Dietary fat and not calcium supplementation or dairy product consumption is associated with changes in anthropometrics during a randomized, placebo-controlled energy-restriction trial. Nutr Metab (Lond) 2011; 8: 67.

Zemel MB, Donnelly JE, Smith BK, Sullivan DK, Richards J, Morgan-Hanusa D et al. Effects of dairy intake on weight maintenance. Nutr Metab (Lond) 2008; 5: 28.

Eagan MS, Lyle RM, Gunther CW, Peacock M, Teegarden D . Effect of 1-year dairy product intervention on fat mass in young women: 6-month follow-up. Obesity (Silver Spring) 2006; 14: 2242–2248.

Thompson WG, Rostad Holdman N, Janzow DJ, Slezak JM, Morris KL, Zemel MB . Effect of energy-reduced diets high in dairy products and fiber on weight loss in obese adults. Obes Res 2005; 13: 1344–1353.

Harvey-Berino J, Gold BC, Lauber R, Starinski A . The impact of calcium and dairy product consumption on weight loss. Obes Res 2005; 13: 1720–1726.

Josse AR, Atkinson SA, Tarnopolsky MA, Phillips SM . Increased consumption of dairy foods and protein during diet- and exercise-induced weight loss promotes fat mass loss and lean mass gain in overweight and obese premenopausal women. J Nutr 2011; 141: 1626–1634.

DerSimonian R, Laird N . Meta-analysis in clinical trials. Control Clin Trials 1986; 7: 177–188.

Higgins JP, Thompson SG . Quantifying heterogeneity in a meta-analysis. Stat Med 2002; 21: 1539–1558.

Egger M, Davey Smith G, Schneider M, Minder C . Bias in meta-analysis detected by a simple, graphical test. BMJ 1997; 315: 629–634.

Sterne JAC, Bradburn MJ, Egger M . Meta-Analysis in StataTM. In: Egger M, Smith GD, Altman DG (eds). Systematic Reviews in Health Care: Meta-Analysis in Context 2nd edn. BMJ: London, 2001, pp 361–364.

Lee YH, Pratley RE . Abdominal obesity and cardiovascular disease risk: the emerging role of the adipocyte. J Cardiopulm Rehabil Prev 2007; 27: 2–10.

Azadbakht L, Esmaillzadeh A . Dietary and non-dietary determinants of central adiposity among Tehrani women. Public Health Nutr 2008; 11: 528–534.

Marques-Vidal P, Goncalves A, Dias CM . Milk intake is inversely related to obesity in men and in young women: data from the Portuguese Health Interview Survey 1998–1999. Int J Obes (Lond) 2006; 30: 88–93.

Brooks BM, Rajeshwari R, Nicklas TA, Yang SJ, Berenson GS . Association of calcium intake, dairy product consumption with overweight status in young adults (1995–1996): the Bogalusa Heart Study. J Am Coll Nutr 2006; 25: 523–532.

Mirmiran P, Esmaillzadeh A, Azizi F . Dairy consumption and body mass index: an inverse relationship. Int J Obes (Lond) 2005; 29: 115–121.

Azadbakht L, Surkan PJ, Esmaillzadeh A, Willett WC . The dietary approaches to stop hypertension eating plan affects C-reactive protein, coagulation abnormalities, and hepatic function tests among type 2 diabetic patients. J Nutr 2011; 141: 1083–1088.

Azadbakht L, Mirmiran P, Esmaillzadeh A, Azizi F . Dairy consumption is inversely associated with the prevalence of the metabolic syndrome in Tehranian adults. Am J Clin Nutr 2005; 82: 523–530.

Rosell M, Johansson G, Berglund L, Vessby B, de Faire U, Hellenius ML . Associations between the intake of dairy fat and calcium and abdominal obesity. Int J Obes Relat Metab Disord 2004; 28: 1427–1434.

Dicker D, Belnic Y, Goldsmith R, Kaluski DN . Relationship between dietary calcium intake, body mass index, and waist circumference in MABAT—the Israeli National Health and Nutrition Study. Isr Med Assoc J 2008; 10: 512–515.

Varenna M, Binelli L, Casari S, Zucchi F, Sinigaglia L . Effects of dietary calcium intake on body weight and prevalence of osteoporosis in early postmenopausal women. Am J Clin Nutr 2007; 86: 639–644.

Snijder MB, van der Heijden AA, van Dam RM, Stehouwer CD, Hiddink GJ, Nijpels G et al. Is higher dairy consumption associated with lower body weight and fewer metabolic disturbances? The Hoorn Study. Am J Clin Nutr 2007; 85: 989–995.

Murakami K, Okubo H, Sasaki S . No relation between intakes of calcium and dairy products and body mass index in Japanese women aged 18 to 20 y. Nutrition 2006; 22: 490–495.

Beydoun MA, Gary TL, Caballero BH, Lawrence RS, Cheskin LJ, Wang Y . Ethnic differences in dairy and related nutrient consumption among US adults and their association with obesity, central obesity, and the metabolic syndrome. Am J Clin Nutr 2008; 87: 1914–1925.
Ethics declarations
Competing interests
The authors declare no conflict of interest.
AUTHOR CONTRIBUTIONS
ASA and AE contributed to the conception, design, statistical analyses, data interpretation and manuscript drafting. MJ and MSM contributed to the data analysis. All authors contributed to the approval of the final manuscript for submission.
About this article
Cite this article
Abargouei, A., Janghorbani, M., Salehi-Marzijarani, M. et al. Effect of dairy consumption on weight and body composition in adults: a systematic review and meta-analysis of randomized controlled clinical trials. Int J Obes 36, 1485–1493 (2012). https://doi.org/10.1038/ijo.2011.269
Received:

Revised:

Accepted:

Published:

Issue Date:

DOI: https://doi.org/10.1038/ijo.2011.269
Keywords
dairy

weight

body fat mass

body lean mass

waist circumference

clinical trials