Abstract
Objective:
We aimed to investigate whether vitamin D supplementation modulates peripheral blood mononuclear cell (PBMC) telomerase activity in overweight African Americans.
Design:
A double blind, randomized and placebo-controlled clinical trial (#NCT01141192) was recently conducted.
Subjects And Methods:
African-American adults were randomly assigned to either the placebo, or the vitamin D group (60 000 IU per month (equivalent to ∼2000 IU per day) oral vitamin D3 supplementation). Fresh PBMCs were collected from 37 subjects (18 in the placebo group and 19 in the vitamin D group), both at baseline and 16 weeks. PBMC telomerase activity was measured by the telomeric repeat amplification protocol.
Results:
Serum 25 hydroxyvitamin D levels increased from 40.7±15.7 at baseline to 48.1±17.5 nmol l–1 at posttest (P=0.004) in the placebo group, and from 35.4±11.3 at baseline to 103.7±31.5 nmol l–1 at posttests (P<0.0001) in the vitamin D group. In the vitamin D group, PBMC telomerase activity increased by 19.2% from baseline (1.56±0.29 absorbance reading unit (AU)) to posttest (1.86±0.42 AU, P<0.0001). The significance persisted after controlling for age, sex and body mass index (P=0.039). PBMC telomerase activity in the placebo group did not change from baseline (1.43±0.26 AU) to posttest (1.46±0.27 AU, P=0.157).
Conclusion:
Vitamin D supplementation significantly increased PBMC telomerase activity in overweight African Americans. Our data suggest that vitamin D may improve telomere maintenance and prevent cell senescence and counteract obesity-induced acceleration of cellular aging.
Relevant articles
Open Access articles citing this article.
Xuanyi Liu

,

Xiaozhou Liu

…

Kemin Qi

BMC Pediatrics Open Access 07 January 2021

Yutong Dong

,

Ying Huang

…

Haidong Zhu

Scientific Reports Open Access 23 June 2017
Access options
Subscribe to this journal
Receive 12 print issues and online access
$259.00 per year
only $21.58 per issue
Rent or buy this article
Get just this article for as long as you need it
$39.95
Prices may be subject to local taxes which are calculated during checkout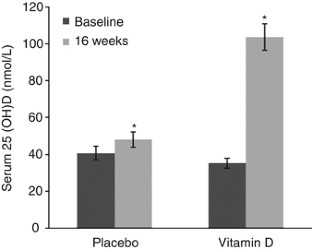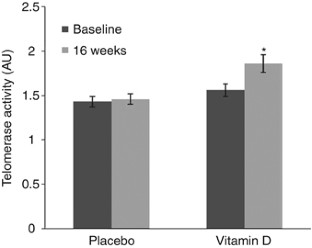 References
Valdes AM, Andrew T, Gardner JP, Kimura M, Oelsner E, Cherkas LF et al. Obesity, cigarette smoking, and telomere length in women. Lancet 2005; 366: 662–664.

Gardner JP, Li S, Srinivasan SR, Chen W, Kimura M, Lu X et al. Rise in insulin resistance is associated with escalated telomere attrition. Circulation 2005; 111: 2171–2177.

Kim S, Parks CG, DeRoo LA, Chen H, Taylor JA, Cawthon RM et al. Obesity and weight gain in adulthood and telomere length. Cancer Epidemiol Biomarkers Prev 2009; 18: 816–820.

Lee M, Martin H, Firpo MA, Demerath EW . Inverse association between adiposity and telomere length: The Fels Longitudinal Study. Am J Hum Biol 2011; 23: 100–106.

Dagarag M, Evazyan T, Rao N, Effros RB . Genetic manipulation of telomerase in HIV-specific CD8+ T cells: enhanced antiviral functions accompany the increased proliferative potential and telomere length stabilization. J Immunol 2004; 173: 6303–6311.

Fauce SR, Jamieson BD, Chin AC, Mitsuyasu RT, Parish ST, Ng HL et al. Telomerase-based pharmacologic enhancement of antiviral function of human CD8+ T lymphocytes. J Immunol 2008; 181: 7400–7406.

Effros RB . Telomere/telomerase dynamics within the human immune system: effect of chronic infection and stress. Exp Gerontol 2011; 46: 135–140.

Weng NP, Granger L, Hodes RJ . Telomere lengthening and telomerase activation during human B cell differentiation. Proc Natl Acad Sci USA 1997; 94: 10827–10832.

Perez-Rivero G, Ruiz-Torres MP, Rivas-Elena JV, Jerkic M, Diez-Marques ML, Lopez-Novoa JM et al. Mice deficient in telomerase activity develop hypertension because of an excess of endothelin production. Circulation 2006; 114: 309–317.

Imanishi T, Moriwaki C, Hano T, Nishio I . Endothelial progenitor cell senescence is accelerated in both experimental hypertensive rats and patients with essential hypertension. J Hypertens 2005; 23: 1831–1837.

Leri A, Franco S, Zacheo A, Barlucchi L, Chimenti S, Limana F et al. Ablation of telomerase and telomere loss leads to cardiac dilatation and heart failure associated with p53 upregulation. EMBO J 2003; 22: 131–139.

Franco S, Segura I, Riese HH, Blasco MA . Decreased B16F10 melanoma growth and impaired vascularization in telomerase-deficient mice with critically short telomeres. Cancer Res 2002; 62: 552–559.

Kuhlow D, Florian S, von Figura G, Weimer S, Schulz N, Petzke KJ et al. Telomerase deficiency impairs glucose metabolism and insulin secretion. Aging 2010; 2: 650–658.

Wolkowitz OM, Mellon SH, Epel ES, Lin J, Reus VI, Rosser R et al. Resting leukocyte telomerase activity is elevated in major depression and predicts treatment response. Mol Psychiatry 2011; e-pub ahead of print 18 January 2011.

Epel ES, Lin J, Wilhelm FH, Wolkowitz OM, Cawthon R, Adler NE et al. Cell aging in relation to stress arousal and cardiovascular disease risk factors. Psychoneuroendocrinology 2006; 31: 277–287.

Farzaneh-Far R, Lin J, Epel ES, Harris WS, Blackburn EH, Whooley MA . Association of marine omega-3 fatty acid levels with telomeric aging in patients with coronary heart disease. JAMA 2010; 303: 250–257.

Ornish D, Lin J, Daubenmier J, Weidner G, Epel E, Kemp C et al. Increased telomerase activity and comprehensive lifestyle changes: a pilot study. Lancet Oncol 2008; 9: 1048–1057.

Veldman CM, Cantorna MT, DeLuca HF . Expression of 1,25-dihydroxyvitamin D(3) receptor in the immune system. Arch Biochem Biophys 2000; 374: 334–348.

Holick MF . Vitamin D deficiency. N Engl J Med 2007; 357: 266–281.

Lee JH, O'Keefe JH, Bell D, Hensrud DD, Holick MF . Vitamin D deficiency an important, common, and easily treatable cardiovascular risk factor? J Am Coll Cardiol 2008; 52: 1949–1956.

Grant WB, Peiris AN . Possible role of serum 25-hydroxyvitamin D in black-white health disparities in the United States. J Am Med Dir Assoc 2010; 11: 617–628.

Gouni-Berthold I, Krone W, Berthold HK . Vitamin D and cardiovascular disease. Curr Vasc Pharmacol 2009; 7: 414–422.

Reddy Vanga S, Good M, Howard PA, Vacek JL . Role of vitamin D in cardiovascular health. Am J Cardiol 2010; 106: 798–805.

Ginde AA, Scragg R, Schwartz RS, Camargo Jr CA . Prospective study of serum 25-hydroxyvitamin D level, cardiovascular disease mortality, and all-cause mortality in older U. S. adults. J Am Geriatr Soc 2009; 57: 1595–1603.

Semba RD, Houston DK, Bandinelli S, Sun K, Cherubini A, Cappola AR et al. Relationship of 25-hydroxyvitamin D with all-cause and cardiovascular disease mortality in older community-dwelling adults. Eur J Clin Nutr 2010; 64: 203–209.

Dobnig H, Pilz S, Scharnagl H, Renner W, Seelhorst U, Wellnitz B et al. Independent association of low serum 25-hydroxyvitamin d and 1,25-dihydroxyvitamin d levels with all-cause and cardiovascular mortality. Arch Intern Med 2008; 168: 1340–1349.

Dong Y, Stallmann-Jorgensen IS, Pollock NK, Harris RA, Keeton D, Huang Y et al. A 16-week randomized clinical trial of 2000 international units daily vitamin D3 supplementation in black youth: 25-hydroxyvitamin D, adiposity, and arterial stiffness. J Clin Endocrinol Metab 2010; 95: 4584–4591.

Harris RA, Pedersen-White J, Guo DH, Stallmann-Jorgensen IS, Keeton D, Huang Y et al. Vitamin D(3) Supplementation for 16 Weeks Improves Flow-Mediated Dilation in Overweight African-American Adults. Am J Hypertens 2011; 24: 557–562.

Richards JB, Valdes AM, Gardner JP, Paximadas D, Kimura M, Nessa A et al. Higher serum vitamin D concentrations are associated with longer leukocyte telomere length in women. Am J Clin Nutr 2007; 86: 1420–1425.

Yates AA, Schlicker SA, Suitor CW . Dietary reference intakes for calcium, phosphorus, magnesium, vitamin D and fluoride. J Am Diet Assoc 1998; 98: 699–706.

Kapuku GK, Treiber FA, Davis HC, Harshfield GA, Cook BB, Mensah GA . Hemodynamic function at rest, during acute stress, and in the field: predictors of cardiac structure and function 2 2 years later in youth. Hypertension 1999; 34: 1026–1031.

Cohen-Lahav M, Shany S, Tobvin D, Chaimovitz C, Douvdevani A . Vitamin D decreases NFkappaB activity by increasing IkappaBalpha levels. Nephrol Dial Transplant 2006; 21: 889–897.

Cohen-Lahav M, Douvdevani A, Chaimovitz C, Shany S . The anti-inflammatory activity of 1,25-dihydroxyvitamin D3 in macrophages. J Steroid Biochem Mol Biol 2007; 103: 558–562.

Eleftheriadis T, Antoniadi G, Liakopoulos V, Kartsios C, Stefanidis I, Galaktidou G . Paricalcitol reduces basal and lipopolysaccharide-induced (LPS) TNF-alpha and IL-8 production by human peripheral blood mononuclear cells. Int Urol Nephrol 2010; 42: 181–185.

Zhang X, Zanello LP . Vitamin D receptor-dependent 1 alpha,25(OH)2 vitamin D3-induced anti-apoptotic PI3K/AKT signaling in osteoblasts. J Bone Miner Res 2008; 23: 1238–1248.

Kang SS, Kwon T, Kwon DY, Do SI . Akt protein kinase enhances human telomerase activity through phosphorylation of telomerase reverse transcriptase subunit. J Biol Chem 1999; 274: 13085–13090.

Xia L, Wang XX, Hu XS, Guo XG, Shang YP, Chen HJ et al. Resveratrol reduces endothelial progenitor cells senescence through augmentation of telomerase activity by Akt-dependent mechanisms. Br J Pharmacol 2008; 155: 387–394.

Junhui Z, Xiaojing H, Binquan Z, Xudong X, Junzhu C, Guosheng F . Nicotine-reduced endothelial progenitor cell senescence through augmentation of telomerase activity via the PI3K/Akt pathway. Cytotherapy 2009; 11: 485–491.

Sarin KY, Cheung P, Gilison D, Lee E, Tennen RI, Wang E et al. Conditional telomerase induction causes proliferation of hair follicle stem cells. Nature 2005; 436: 1048–1052.

Park JI, Venteicher AS, Hong JY, Choi J, Jun S, Shkreli M et al. Telomerase modulates Wnt signalling by association with target gene chromatin. Nature 2009; 460: 66–72.

Kovalenko OA, Caron MJ, Ulema P, Medrano C, Thomas AP, Kimura M et al. A mutant telomerase defective in nuclear-cytoplasmic shuttling fails to immortalize cells and is associated with mitochondrial dysfunction. Aging Cell 2010; 9: 203–219.

Zhu J, Wang H, Bishop JM, Blackburn EH . Telomerase extends the lifespan of virus-transformed human cells without net telomere lengthening. Proc Natl Acad Sci USA 1999; 96: 3723–3728.

Provvedini DM, Tsoukas CD, Deftos LJ, Manolagas SC . 1,25-dihydroxyvitamin D3 receptors in human leukocytes. Science 1983; 221: 1181–1183.

Boonstra A, Barrat FJ, Crain C, Heath VL, Savelkoul HF, O′Garra A . 1alpha,25-Dihydroxyvitamin d3 has a direct effect on naive CD4(+) T cells to enhance the development of Th2 cells. J Immunol 2001; 167: 4974–4980.

Barrat FJ, Cua DJ, Boonstra A, Richards DF, Crain C, Savelkoul HF et al. In vitro generation of interleukin 10-producing regulatory CD4(+) T cells is induced by immunosuppressive drugs and inhibited by T helper type 1 (Th1)- and Th2-inducing cytokines. J Exp Med 2002; 195: 603–616.

Palmer MT, Lee YK, Maynard CL, Oliver JR, Bikle DD, Jetten AM et al. Lineage-specific effects of 1,25-dihydroxyvitamin D(3) on the development of effector CD4 T cells. J Biol Chem 2011; 286: 997–1004.

Lysandropoulos AP, Jaquiery E, Jilek S, Pantaleo G, Schluep M, Du Pasquier RA . Vitamin D has a direct immunomodulatory effect on CD8+ T cells of patients with early multiple sclerosis and healthy control subjects. J Neuroimmunol 2011; 233: 240–244.

Valenzuela HF, Effros RB . Divergent telomerase and CD28 expression patterns in human CD4 and CD8 T cells following repeated encounters with the same antigenic stimulus. Clin Immunol 2002; 105: 117–125.

Wang L, Manson JE, Song Y, Sesso HD . Systematic review: Vitamin D and calcium supplementation in prevention of cardiovascular events. Ann Intern Med 2010; 152: 315–323.

Geleijnse JM . Vitamin D and the prevention of hypertension and cardiovascular diseases: a review of the current evidence. Am J Hypertens 2010; 24: 253–262.

Jaskelioff M, Muller FL, Paik JH, Thomas E, Jiang S, Adams AC et al. Telomerase reactivation reverses tissue degeneration in aged telomerase-deficient mice. Nature 2011; 469: 102–106.

Tsirpanlis G, Chatzipanagiotou S, Boufidou F, Kordinas V, Zoga M, Alevyzaki F et al. Serum oxidized low-density lipoprotein is inversely correlated to telomerase activity in peripheral blood mononuclear cells of haemodialysis patients. Nephrology (Carlton) 2006; 11: 506–509.
Acknowledgements
We thank our subjects for participating in the study. This study was funded by the Georgia Health Science University Diabetes and Obesity Discovery Institute (JW) and Cardiovascular Discovery Institute (HZ). HZ and YD are also supported by National Heart, Lung, and Blood Institute HL77230 and HL69999.
Ethics declarations
Competing interests
The authors declare no conflict of interest.
About this article
Cite this article
Zhu, H., Guo, D., Li, K. et al. Increased telomerase activity and vitamin D supplementation in overweight African Americans. Int J Obes 36, 805–809 (2012). https://doi.org/10.1038/ijo.2011.197
Received:

Revised:

Accepted:

Published:

Issue Date:

DOI: https://doi.org/10.1038/ijo.2011.197
Keywords
vitamin D supplementation

telomerase activity

25(OH)D

African Americans