Abstract
Background and methods:
In our previous analyses, we found significantly lower levels of growth hormone receptor (GHR) mRNA in adipose tissues of obese than in those of lean individuals, suggesting that idiopathic obesity involves GH resistance due to decreased GHR availability. To understand the mechanism(s) behind this downregulation, we performed an in silico analysis of the three most relevant GHR gene promoters, which revealed putative response elements (REs) for a number of obesity adipose-associated factors, including tumor necrosis factor-alpha (TNFα), hypoxia-inducible factor-1-alpha (HIF-1α) and glucocorticoids. We then characterized the dose-dependent effects of these factors on GHR expression in HEK293 cells and in mature human SGBS (Simpson–Golabi–Behmel syndrome) adipocytes using quantitative reverse transcriptase-PCR and assessed the function of their putative REs by luciferase-reporter assays, site-directed mutagenesis and chromatin immunoprecipitation (ChIP) assays.
Results:
TNFα treatments significantly reduced GHR mRNA levels and GHR promoter activities at doses ⩾10 ng ml−1 in both cell lines. Transient overexpression of HIF-1α or exposure to the hypoxia mimetic CoCl2 significantly increased GHR mRNA levels and promoter activities. Dexamethasone had biphasic effects: there was a significant increase in GHR mRNA levels at 10−10 M and in promoter activities at 10−10 and 10−8 M, whereas a significant decrease in both mRNA levels and promoter activities occurred at 10−6 M. Site-directed mutagenesis of the putative nuclear factor-κB, HIF-1α and glucocorticoid REs resulted in the loss of these effects, whereas ChIP analysis confirmed specific transcription factor–promoter interactions.
Conclusions:
Our results suggest that the increased activity of TNFα, HIF-1α and glucocorticoids in obese adipose tissues could alter GHR gene transcription through specific REs and that TNFα may be involved in the development of GH resistance.
Relevant articles
Open Access articles citing this article.
Yetrib Hathout

,

Laurie S. Conklin

…

Eric P. Hoffman

Scientific Reports Open Access 17 August 2016
Access options
Subscribe to this journal
Receive 12 print issues and online access
$259.00 per year
only $21.58 per issue
Rent or buy this article
Get just this article for as long as you need it
$39.95
Prices may be subject to local taxes which are calculated during checkout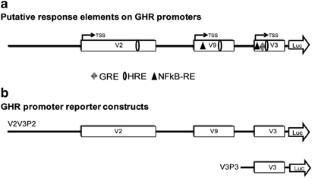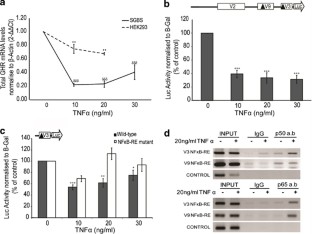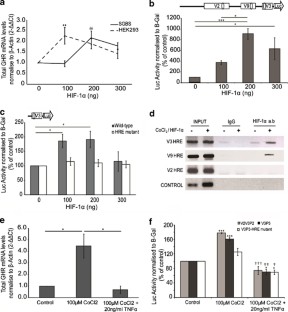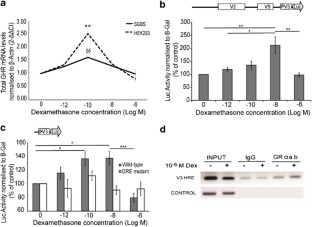 References
Drolet R, Richard C, Sniderman AD, Mailloux J, Fortier M, Huot C et al. Hypertrophy and hyperplasia of abdominal adipose tissues in women. Int J Obes (Lond) 2008; 32: 283–291.

Faust IM, Johnson PR, Stern JS, Hirsch J . Diet-induced adipocyte number increase in adult rats: a new model of obesity. Am J Physiol 1978; 235: E279–E286.

Spalding KL, Arner E, Westermark PO, Bernard S, Buchholz BA, Bergmann O et al. Dynamics of fat cell turnover in humans. Nature 2008; 453: 783–787.

Fleischmann E, Kurz A, Niedermayr M, Schebesta K, Kimberger O, Sessler DI et al. Tissue oxygenation in obese and non-obese patients during laparoscopy. Obes Surg 2005; 15/6: 813–819.

Kabon B, Nagele A, Reddy D, Eagon C, Fleshman JW, Sessler DI et al. Obesity decreases perioperative tissue oxygenation. Anesthesiology 2004; 100: 274–280.

Pasarica M, Sereda OR, Redman LM, Albarado DC, Hymel DT, Roan LE et al. Reduced adipose tissue oxygenation in human obesity: evidence for rarefaction, macrophage chemotaxis, and inflammation without an angiogenic response. Diabetes 2009; 58: 718–725.

Ye J, Gao Z, Yin J, He Q . Hypoxia is a potential risk factor for chronic inflammation and adiponectin reduction in adipose tissue of ob/ob and dietary obese mice. Am J Physiol Endocrinol Metab 2007; 293: E1118–E1128.

Rausch ME, Weisberg S, Vardhana P, Tortoriello DV . Obesity in C57BL/6J mice is characterized by adipose tissue hypoxia and cytotoxic T-cell infiltration. Int J Obes (Lond) 2008; 32: 451–463.

Cancello R, Henegar C, Viguerie N, Taleb S, Poitou C, Rouault C et al. Reduction of macrophage infiltration and chemoattractant gene expression changes in white adipose tissue of morbidly obese subjects after surgery-induced weight loss. Diabetes 2005; 54: 2277–2286.

Hotamisligil GS, Arner P, Caro JF, Atkinson RL, Spiegelman BM . Increased adipose tissue expression of tumor necrosis factor-alpha in human obesity and insulin resistance. J Clin Invest 1995; 95: 2409–2415.

Desbriere R, Vuaroqueaux V, Achard V, Boullu-Ciocca S, Labuhn M, Dutour A et al. 11beta-hydroxysteroid dehydrogenase type 1 mRNA is increased in both visceral and subcutaneous adipose tissue of obese patients. Obesity (Silver Spring) 2006; 14: 794–798.

Rask E, Olsson T, Soderberg S, Andrew R, Livingstone DE, Johnson O et al. Tissue-specific dysregulation of cortisol metabolism in human obesity. J Clin Endocrinol Metab 2001; 86: 1418–1421.

Fain JN . Release of inflammatory mediators by human adipose tissue is enhanced in obesity and primarily by the nonfat cells: a review. Mediators Inflamm 2010; 2010: 513948.

Ballesteros M, Leung KC, Ross RJ, Iismaa TP, Ho KK . Distribution and abundance of messenger ribonucleic acid for growth hormone receptor isoforms in human tissues. J Clin Endocrinol Metab 2000; 85: 2865–2871.

Nam SY, Lobie PE . The mechanism of effect of growth hormone on preadipocyte and adipocyte function. Obes Rev 2000; 1: 73–86.

Richelsen B, Pedersen SB, Kristensen K, Borglum JD, Norrelund H, Christiansen JS et al. Regulation of lipoprotein lipase and hormone-sensitive lipase activity and gene expression in adipose and muscle tissue by growth hormone treatment during weight loss in obese patients. Metabolism 2000; 49: 906–911.

Mekala KC, Tritos NA . Effects of recombinant human growth hormone therapy in obesity in adults: a meta analysis. J Clin Endocrinol Metab 2009; 94: 130–137.

Talamantes F, Ortiz R . Structure and regulation of expression of the mouse GH receptor. J Endocrinol 2002; 175: 55–59.

Wei Y, Rhani Z, Goodyer CG . Characterization of growth hormone receptor messenger ribonucleic acid variants in human adipocytes. J Clin Endocrinol Metab 2006; 91: 1901–1908.

Goodyer CG, Figueiredo RM, Krackovitch S, De Souza LL, Manalo JA, Zogopoulos G . Characterization of the growth hormone receptor in human dermal fibroblasts and liver during development. Am J Physiol Endocrinol Metab 2001; 281: E1213–E1220.

Goodyer CG, Zogopoulos G, Schwartzbauer G, Zheng H, Hendy GN, Menon RK . Organization and evolution of the human growth hormone receptor gene 5′-flanking region. Endocrinology 2001; 142: 1923–1934.

Wei Y, Puzhko S, Wabitsch M, Goodyer CG . Transcriptional regulation of the human growth hormone receptor (hGHR) gene V2 promoter by transcriptional activators and repressor. Mol Endocrinol 2009; 23: 373–387.

Zou L, Menon RK, Sperling MA . Induction of mRNAs for the growth hormone receptor gene during mouse 3T3-L1 preadipocyte differentiation. Metabolism 1997; 46: 114–118.

Wabitsch M, Brenner RE, Melzner I, Braun M, Moller P, Heinze E et al. Characterization of a human preadipocyte cell strain with high capacity for adipose differentiation. Int J Obes Relat Metab Disord 2001; 25: 8–15.

Liao H, Hyman MC, Lawrence DA, Pinsky DJ . Molecular regulation of the PAI-1 gene by hypoxia: contributions of Egr-1, HIF-1alpha, and C/EBPalpha. FASEB J 2007; 21: 935–949.

Gothie E, Richard DE, Berra E, Pages G, Pouyssegur J . Identification of alternative spliced variants of human hypoxia-inducible factor-1alpha. J Biol Chem 2000; 275: 6922–6927.

Denson LA, Menon RK, Shaufl A, Bajwa HS, Williams CR, Karpen SJ . TNF-alpha downregulates murine hepatic growth hormone receptor expression by inhibiting Sp1 and Sp3 binding. J Clin Invest 2001; 107: 1451–1458.

Torti FM, Dieckmann B, Beutler B, Cerami A, Ringold GM . A macrophage factor inhibits adipocyte gene expression: an in vitro model of cachexia. Science 1985; 229: 867–869.

Uysal KT, Wiesbrock SM, Marino MW, Hotamisligil GS . Protection from obesity-induced insulin resistance in mice lacking TNF-alpha function. Nature 1997; 389: 610–614.

DiFedele LM, He J, Bonkowski EL, Han X, Held MA, Bohan A et al. Tumor necrosis factor alpha blockade restores growth hormone signaling in murine colitis. Gastroenterology 2005; 128: 1278–1291.

Han X, Benight N, Osuntokun B, Loesch K, Frank SJ, Denson LA . Tumour necrosis factor alpha blockade induces an anti-inflammatory growth hormone signalling pathway in experimental colitis. Gut 2007; 56: 73–81.

Dunwoodie SL . The role of hypoxia in development of the mammalian embryo. Dev Cell 2009; 17: 755–773.

Semenza GL . HIF-1: mediator of physiological and pathophysiological responses to hypoxia. J Appl Physiol 2000; 88: 1474–1480.

Wiesener MS, Maxwell PH . HIF and oxygen sensing; as important to life as the air we breathe? Ann Med 2003; 35: 183–190.

Smith LE, Kopchick JJ, Chen W, Knapp J, Kinose F, Daley D et al. Essential role of growth hormone in ischemia-induced retinal neovascularization. Science 1997; 276: 1706–1709.

Faquin WC, Schneider TJ, Goldberg MA . Effect of inflammatory cytokines on hypoxia-induced erythropoietin production. Blood 1992; 79: 1987–1994.

La Ferla K, Reimann C, Jelkmann W, Hellwig-Burgel T . Inhibition of erythropoietin gene expression signaling involves the transcription factors GATA-2 and NF-kappaB. FASEB J 2002; 16: 1811–1813.

Kallio PJ, Okamoto K, O'Brien S, Carrero P, Makino Y, Tanaka H et al. Signal transduction in hypoxic cells: inducible nuclear translocation and recruitment of the CBP/p300 coactivator by the hypoxia-inducible factor-1alpha. EMBO J 1998; 17: 6573–6586.

Sandeep TC, Andrew R, Homer NZ, Andrews RC, Smith K, Walker BR . Increased in vivo regeneration of cortisol in adipose tissue in human obesity and effects of the 11beta-hydroxysteroid dehydrogenase type 1 inhibitor carbenoxolone. Diabetes 2005; 54: 872–879.

Wake DJ, Rask E, Livingstone DE, Soderberg S, Olsson T, Walker BR . Local and systemic impact of transcriptional up-regulation of 11beta-hydroxysteroid dehydrogenase type 1 in adipose tissue in human obesity. J Clin Endocrinol Metab 2003; 88: 3983–3988.

Paulsen SK, Pedersen SB, Fisker S, Richelsen B . 11Beta-HSD type 1 expression in human adipose tissue: impact of gender, obesity, and fat localization. Obesity (Silver Spring) 2007; 15: 1954–1960.

Strickland AL, Underwood LE, Voina SJ, French FS, Van Wyk JJ . Growth retardation in Cushing's syndrome. Am J Dis Child 1972; 123: 207–213.

Jux C, Leiber K, Hugel U, Blum W, Ohlsson C, Klaus G et al. Dexamethasone impairs growth hormone (GH)-stimulated growth by suppression of local insulin-like growth factor (IGF)-I production and expression of GH- and IGF-I-receptor in cultured rat chondrocytes. Endocrinology 1998; 139: 3296–3305.

Paulsen SK, Pedersen SB, Jorgensen JO, Fisker S, Christiansen JS, Flyvbjerg A et al. Growth hormone (GH) substitution in GH-deficient patients inhibits 11beta-hydroxysteroid dehydrogenase type 1 messenger ribonucleic acid expression in adipose tissue. J Clin Endocrinol Metab 2006; 91: 1093–1098.
Acknowledgements
This study was supported by operating funds (CGG) and studentships (AE) from the Canadian Institutes of Health Research, Montreal Children's Hospital Research Institute and the Faculty of Medicine of McGill University. CGG is a member of the McGill University Health Centre Research Institute, which is supported in part by the Fonds de recherches en Santé du Québec. We thank Dr Michael Ohh, University of Toronto, for providing the HIF-1α expression vector and Ms Molly Lin for her help in establishing the HIF-1α assays.
Ethics declarations
Competing interests
The authors declare no conflict of interest.
About this article
Cite this article
Erman, A., Wabitsch, M. & Goodyer, C. Human growth hormone receptor (GHR) expression in obesity: II. Regulation of the human GHR gene by obesity-related factors. Int J Obes 35, 1520–1529 (2011). https://doi.org/10.1038/ijo.2011.10
Received:

Revised:

Accepted:

Published:

Issue Date:

DOI: https://doi.org/10.1038/ijo.2011.10
Keywords
growth hormone receptor

adipocyte

hypoxia

HIF-1α

glucocorticoids

TNFα

GH resistance