Abstract
Objective:
Chronic subclinical inflammation and regular physical activity have opposing relationships to obesity-related metabolic diseases. Yet, the association between chronic inflammation and physical activity has rarely been examined in obese subjects. We examined the association between physical activity energy expenditure (PAEE), total (TEE) and resting energy expenditure (REE) and cardiorespiratory fitness (VO2peak) with inflammatory markers in overweight/obese women.
Design:
Cross-sectional study.
Methods:
The study included 152 overweight/obese postmenopausal women who were sedentary and free of chronic/inflammatory diseases (mean age: 57.5 (95% confidence interval (CI) 56.7–58.3) years, body mass index (BMI): 32.5 (95% CI 31.8–33.2) kg m−2). The following parameters were measured: TEE (doubly labeled water), REE (indirect calorimetry), PAEE (as (TEE × 0.90)−REE), VO2peak (ergocycle) and serum high-sensitive C-reactive protein (hsCRP), haptoglobin, soluble tumor necrosis factor-α receptor 1 (sTNFR1), interleukin-6, orosomucoid and white blood cells.
Results:
Sedentary women with the highest tertile of PAEE (1276 (1233–1319) kcal day−1) had lower concentrations of hsCRP and haptoglobin than those in the lowest tertile (587 (553–621) kcal day−1) after adjustment for fat mass (P<0.05). Soluble TNFR1 was positively correlated with VO2peak, TEE and REE (P<0.05), and hsCRP and orosomucoid were positively associated with REE (P<0.01), whereas haptoglobin was negatively associated with PAEE (P<0.05). In stepwise regression analyses that examined the concomitant associations of components of energy expenditure with inflammatory markers, PAEE remained the only predictor of hsCRP and haptoglobin (P<0.05), explaining 14 and 5%, respectively, of their variation,whereas REE was the only predictor of orosomucoid (r2=0.05, P=0.02) after adjustment for fat mass. Adding leptin to the regression models results in similar relationships between inflammatory markers and components of energy expenditure.
Conclusion:
PAEE is an independent predictor of hsCRP and haptoglobin in sedentary overweight/obese postmenopausal women free of chronic disease. Our data support the role of physical activity in reducing subclinical inflammation and risk of metabolic and cardiovascular diseases.
Relevant articles
Open Access articles citing this article.
Abishankari Rajkumar

,

Gilles Lamothe

…

Frédérique Tesson

BMC Medical Genetics Open Access 11 August 2016

Karin Arinell

,

Kjeld Christensen

…

Ole Fröbert

BMC Physiology Open Access 09 December 2011
Access options
Subscribe to Journal
Get full journal access for 1 year
$119.00
only $9.92 per issue
All prices are NET prices.
VAT will be added later in the checkout.
Tax calculation will be finalised during checkout.
Buy article
Get time limited or full article access on ReadCube.
$32.00
All prices are NET prices.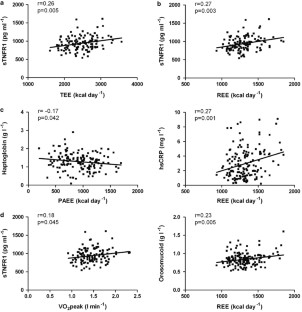 References
Dennis KE . Postmenopausal women and the health consequences of obesity. JOGNN 2007; 36: 511–519.

Trayhurn P, Wood IS . Adipokines: inflammation and the pleiotropic role of white adipose tissue. Br J Nutr 2004; 92: 347–355.

Duncan BB, Schmidt MI, Pankow JS, Ballantyne CM, Couper D, Vigo A et al. Low-grade systemic inflammation and the development of type 2 diabetes—The Atherosclerosis Risk in Communities Study. Diabetes 2003; 52: 1799–1805.

Freeman DJ, Norrie J, Caslake MJ, Gaw A, Ford I, Lowe GD et al. C-reactive protein is an independent predictor of risk for the development of diabetes in the West of Scotland Coronary Prevention Study. Diabetes 2002; 51: 1596–1600.

Engström G, Hedblad B, Stavenow L, Jonsson S, Lind P, Janzon L et al. Incidence of obesity-associated cardiovascular disease is related to inflammation-sensitive plasma proteins: a population-based cohort study. Arterioscler Thromb Vasc Biol 2004; 24: 1498–1502.

Bassuk SS, Rifai N, Ridker PM . High-sensitivity C-reactive protein: clinical importance. Curr Probl Cardiol 2004; 29: 439–493.

Duncan BB, Schmidt MI . Chronic activation of the innate immune system may underlie the metabolic syndrome. Rev Paul Med 2001; 119: 122–127.

Schmidt MI, Duncan BB, Sharrett AR, Lindberg G, Savage PJ, Offenbacher S et al. Markers of inflammation and prediction of diabetes mellitus in adults (Atherosclerosis Risk in Communities study): a cohort study. The Lancet 1999; 353: 1649–1652.

Hamman RF, Wing RR, Edelstein SL, Lachin JM, Bray GA, Delahanty L et al. Effect of weight loss with lifestyle intervention on risk of diabetes. Diabetes Care 2006; 29: 2102–2107.

Ekelund U, Franks PW, Sharp S, Brage S, Wareham NJ . Increase in physical activity energy expenditure is associated with reduced metabolic risk independent of change in fatness and fitness. Diabetes Care 2007; 30: 2101–2106.

Gill JMR, Malkova D . Physical activity, fitness and cardiovascular disease risk in adults: interactions with insulin resistance and obesity. Clin Sci 2006; 110: 409–425.

Weinstein AR, Sesso HD . Joint effects of physical activity and body weight on diabetes and cardiovascular disease. Exerc Sport Sci Rev 2006; 34: 10–15.

LaMonte MJ, Blair SN . Physical activity, cardiorespiratory fitness, and adiposity: contributions to disease risk. Curr Opin Clin Nutr Metab Care 2006; 9: 540–546.

Pitsavos C, Panagiotakos DB, Chrysohoou C, Kavouras S, Stefanadis C . The associations between activity, inflammation, and coagulation markers, in people with metabolic syndrome: the ATTICA study. Eur J Cardiovasc Prev Rehabil 2005; 12: 151–158.

Elosua R, Bartali B, Ordovas JM, Corsi AM, Lauretani F, Ferrucci L et al. Association between physical activity, physical performance, and inflammatory biomarkers in an elderly population: the InCHIANTI study. J Gerontol Med Sci 2005; 60A: 760–767.

McFarlin BK, Flynn MG, Campbell WW, Craig BA, Robinson JP, Stewart LK et al. Physical activity status, but not age, influences inflammatory biomarkers and toll-like receptor 4. J Gerontol Med Sci 2006; 61A: 388–393.

Panagiotakos DB, Pitsavos C, Chrysohoou C, Kavouras S, Stefanadis C . The associations between leisure-time physical activity and inflammatory and coagulation markers related to cardiovascular disease: the ATTICA study. Prev Med 2005; 40: 432–437.

Geffken DF, Cushman M, Burke GL, Polak JF, Sakkinen PA, Tracy RP . Association between physical activity and markers of inflammation in a healthy elderly population. Am J Epidemiol 2001; 153: 242–250.

Platat C, Wagner A, Klumpp T, Schweitzer B, Simon C . Relationships of physical activity with metabolic syndrome features and low-grade inflammation in adolescents. Diabetologia 2006; 49: 2078–2085.

Verdaet D, Dendale P, De Bacquer D, Delanghe J, Block P, De Backer G . Association between leisure time physical activity and markers of chronic inflammation related to coronary heart disease. Atherosclerosis 2004; 176: 303–310.

Cesari M, Penninx BW, Newman AB, Kritchevsky SB, Nicklas BJ, Sutton-Tyrrell K et al. Inflammatory markers and cardiovascular disease (The Health, Aging and Body Composition [Health ABC] Study). Am J Cardiol 2003; 92: 522–528.

Kullo IJ, Khaleghi M, Hensrud DD . Markers of inflammation are inversely associated with VO2max in asymptomatic men. J Appl Physiol 2007; 102: 1374–1379.

Ravussin E, Bogardus C . A brief overview of human energy metabolism and its relationship to essential obesity. Am J Clin Nutr 1992; 55: 242S–245S.

Utaka S, Avesani CM, Draibe SA, Kamimura MA, Andreoni S, Cuppari L . Inflammation is associated with increased energy expenditure in patients with chronic kidney disease. Am J Clin Nutr 2005; 82: 801–805.

Arshad A, Rashid R, Benjamin K . The effect of disease activity on fat-free mass and resting energy expenditure in patients with rheumatoid arthritis versus noninflammatory arthropathies/soft tissue rheumatism. Mod Rheumatol 2007; 17: 470–475.

Nguyen LT, Bedu M, Caillaud D, Beaufrère B, Beaujon G, Vasson M et al. Increased resting energy expenditure is related to plasma TNF-alpha concentration in stable COPD patients. Clin Nutr 1999; 18: 269–274.

Rush EC, Plank LD, Yajnik CS . Interleukin-6, tumor necrosis factor-alpha and insulin relationships to body composition, metabolism and resting energy expenditure in a migrant Asian Indian population. Clin Endocrinol 2007; 66: 684–690.

Faraj M, Messier L, Bastard J-P, Tardif A, Godbout A, Prud'homme D et al. Apolipoprotein B: a predictor of inflammatory status in postmenopausal overweight and obese women. Diabetologia 2006; 49: 1637–1646.

Karelis AD, Faraj M, Bastard JP, St-Pierre DH, Brochu M, Prud'homme D et al. The metabolically healthy but obese individual presents a favorable inflammation profile. J Clin Endocrinol Metab 2005; 90: 4145–4150.

St-Onge M, Mignault D, Allison DB, Rabasa-Lhoret R . Evaluation of a portable device to measure daily energy expenditure in free-living adults. Am J Clin Nutr 2007; 85: 742–749.

Goran MI, Poehlman ET . Total energy expenditure and energy requirements in healthy elderly persons. Metabolism 1992; 41: 744–753.

Black AE, Coward WA, Cole TJ, Prentice AM . Human energy expenditure in affluent societies: an analysis of 574 doubly-labelled water measurements. Eur J Clin Nutr 1996; 50: 72–92.

Reed GW, Hill JO . Measuring the thermic effect of food. Am J Clin Nutr 1996; 63: 164–169.

Schectman G, Patsches M, Sasse EA . Variability in cholesterol measurements: comparison of calculated and direct LDL cholesterol determinations. Clin Chem 1996; 42: 732–737.

Sniderman A, Vu H, Cianflone K . Effect of moderate hypertriglyceridemia on the relation of plasma total and LDL apo B levels. Atherosclerosis 1991; 89: 109–116.

Sacks FM . The apolipoprotein story. Atherosclerosis 2006; 7: 23–27.

Jialal I, Devaraj S, Venugopal SK . C-reactive protein: risk marker or mediator in atherothrombosis? Hypertension 2004; 44: 6–11.

Mahabir S, Baer DJ, Giffen C, Clevidence BA, Campbell WS, Taylor PR et al. Comparison of energy expenditure estimates from 4 physical activity questionnaires with doubly labeled water estimates in postmenopausal women. Am J Clin Nutr 2006; 84: 230–236.

Heinrich PC, Castell JV, Andus T . Interleukin-6 and the acute phase response. Biochem J 1990; 265: 621–636.

Bruun JM, Lihn AS, Madan AK, Pedersen SB, Shciott KM, Fain JN et al. Higher production of IL-8 in visceral vs. subcutaneous adipose tissue. Implication of nonadipose cells in adipose tissue. Am J Physiol Endocrinol Metab 2004; 286: E8–E13.

Levine JA . Nonexercise activity thermogenesis—liberating the life-force. J Intern Med 2007; 262: 273–287.

Kraus WE, Houmard JA, Duscha BD, Knetzger KJ, Wharton MB, McCartney JS et al. Effects of the amount and intensity of exercise on plasma lipoproteins. N Engl J Med 2002; 347: 1483–1492.

Rizzo M, Berneis K, Corrado E, Novo S . The significance of low-density-lipoproteins size in vascular diseases. Int Angiol 2006; 25: 4–9.

Hansson GK, Robertson A-KL, Söderberg-Naucler C . Inflammation and atherosclerosis. Annu Rev Pathol Mech Dis 2006; 1: 297–329.

Franks PW, Farooqi IS, Luan J, Wong M-Y, Halsall I, O'Rahilly S et al. Does physical activity energy expenditure explain the between-individual variation in plasma leptin concentrations after adjusting for differences in body composition? J Clin Endocrinol Metab 2003; 88: 3258–3263.

Woolf K, Reese CE, Mason MP, Beaird LC, Tudor-Locke C, Vaughan LA . Physical activity is associated with risk factors for chronic disease across adult women's life cycle. J Am Diet Assoc 2008; 108: 948–959.

van Dielen FMH, van't Veer C, Schols AM, Soeters PB, Buurman WA, Greve JWM . Increased leptin concentrations correlate with increased concentrations of inflammatory markers in morbidly obese individuals. Int J Obes 2001; 25: 1759–1766.

Shamsuzzaman ASM, Winnicki M, Wolk R, Svatikova A, Phillips BG, Davidson DE et al. Independent association between plasma leptin and C-reactive protein in healthy humans. Circulation 2004; 109: 2181–2185.

Scott HR, McMillan DC, Watson WS, Milroy R, McArdle CS . Longitudinal study of resting energy expenditure, body cell mass and the inflammatory response in male patients with non-small cell lung cancer. Lung Cancer 2001; 32: 307–312.

Richie RF, Palomaki GE, Neveux LM, Navolotskaia O, Ledue TB, Craig WY . Reference distributions for the positive acute phase serum proteins, alpha1-acid glycoprotein (orosomucoid), alpha1-antitrypsin, and haptoglobin: a practical, simple, and clinically relevant approach in a large cohort. J Clin Lab Analysis 2000; 14: 284–292.
Acknowledgements
We acknowledge the help of Annie Tardif for technical assistance in the measurement of inflammatory markers. We also thank Beckman-Coulter, France, for the kind gift of antibodies. Finally, we thank Dr Fellahi for her participation on inflammatory markers analysis. This study was supported by grants from the Canadian Institutes of Health Research (CIHR) New Emerging Team in Obesity (University of Montreal and University of Ottawa, MONET project) and from Genome Canada-Quebec (CAO, Complications Associated with Obesity project). Marie-Eve Lavoie was supported by a scholarship from the Fonds de la Recherche en Santé du Québec (FRSQ). Dr Rabasa-Lhoret was supported by the Fonds de la recherche en santé du Québec (FRSQ) and holds the chair for clinical research J-A de Sève at IRCM (Montreal Institute for Clinical Research). Éric Doucet is a recipient of the CIHR/Merck-Frosst New Investigator Award, a Canadian Foundation for Innovation New Opportunities Award, and an Early Research Award (Ontario). May Faraj is a recipient of the CIHR New Investigator Award.
Ethics declarations
Competing interests
The authors declare no conflict of interest.
About this article
Cite this article
Lavoie, ME., Rabasa-Lhoret, R., Doucet, É. et al. Association between physical activity energy expenditure and inflammatory markers in sedentary overweight and obese women. Int J Obes 34, 1387–1395 (2010). https://doi.org/10.1038/ijo.2010.55
Received:

Revised:

Accepted:

Published:

Issue Date:

DOI: https://doi.org/10.1038/ijo.2010.55
Keywords
inflammation

hsCRP

haptoglobin

interleukin-6

physical activity energy expenditure

women