Abstract
Background:
Industrialized nations are currently experiencing an obesity epidemic, the causes of which are not fully known. One possible mechanism of enhanced energy efficiency that has received almost no attention is a reduction in the metabolic cost of homeothermy, which could be achieved by a modest lowering of body core temperature. We evaluated the potential of this obesity-inducing mechanism in a canine model of the metabolic syndrome.
Methods:
We compared the rectal temperature of lean dogs and obese dogs by (a) conducting cross-sectional measurements in 287 dogs of many breeds varying greatly in body size, (b) conducting longitudinal measurements in individual dogs over 7–10 years and (c) tracking rectal temperature of lean and obese dogs at 3-h intervals for 48 consecutive hours in the laboratory.
Results:
We found that larger dogs have lower rectal temperatures than smaller dogs and that, for the same body mass, obese dogs have lower rectal temperatures than lean dogs. The results were consistent in the cross-sectional, longitudinal and around-the-clock measurements.
Conclusion:
These findings document an association between obesity and reduced body temperature in dogs and support the hypothesis that obesity in this and other species of homeotherms may result from an increase in metabolic efficiency achieved by a regulated lowering of body temperature.
Access options
Subscribe to this journal
Receive 12 print issues and online access
$259.00 per year
only $21.58 per issue
Rent or buy this article
Prices vary by article type
from$1.95
to$39.95
Prices may be subject to local taxes which are calculated during checkout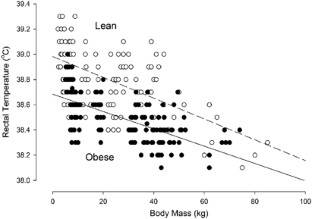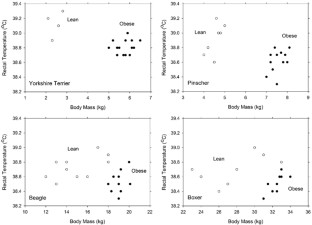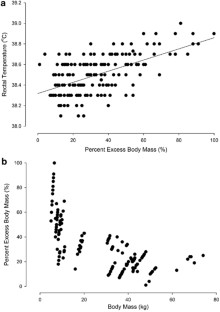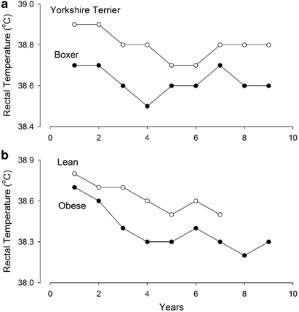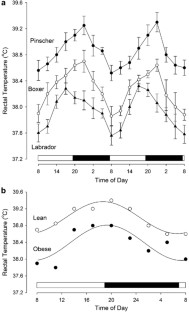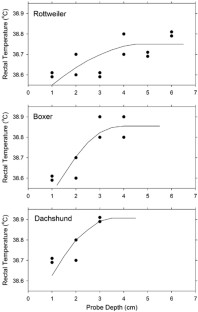 References
Spalding A, Kernan J, Lockette W . The metabolic syndrome: a modern plague spread by modern technology. J Clin Hypertens 2009; 11: 755–760.

Cameron A . The metabolic syndrome: validity and utility of clinical definitions for cardiovascular disease and diabetes risk prediction. Maturitas 2010; 65: 117–121.

Gade W, Schmitt J, Collins M, Gade J . Beyond obesity: the diagnosis and pathophysiology of metabolic syndrome. Clin Lab Sci 2010; 23: 51–61.

Abete I, Astrup A, Martínez JA, Thorsdottir I, Zulet MA . Obesity and the metabolic syndrome: role of different dietary macronutrient distribution patterns and specific nutritional components on weight loss and maintenance. Nutr Rev 2010; 68: 214–231.

Landsberg L, Young JB, Leonard WR, Linsenmeier RA, Turek FW . Is obesity associated with lower body temperatures? Core temperature: a forgotten variable in energy balance. Metabolism 2009; 58: 871–876.

Grigg GC, Beard LA, Augee ML . The evolution of endothermy and its diversity in mammals and birds. Physiol Biochem Zool 2004; 77: 982–997.

Geiser F . Metabolic rate and body temperature reduction during hibernation and daily torpor. Ann Rev Physiol 2004; 66: 239–274.

Rising R, Keys A, Ravussin E, Bogardus C . Concomitant interindividual variation in body temperature and metabolic rate. Am J Physiol 1992; 263: E730–E734.

Rising R, Fontvieille AM, Larson DE, Spraul M, Bogardus C, Ravussin E . Racial difference in body core temperature between Pima Indian and Caucasian men. Int J Obes 1995; 19: 1–5.

Adam K . Human body temperature is inversely correlated with body mass. Eur J Appl Physiol 1989; 58: 471–475.

Gillum RF . Body temperature and its relationship to demographic and cardiovascular risk factors in a national sample of children and adolescents. J Natl Med Assoc 1992; 84: 591–599.

Kim H, Richardson C, Roberts J, Gren L, Lyon JL . Cold hands, warm heart. Lancet 1998; 351: 1492.

Miklósi A, Topál J, Csányi V . Big thoughts in small brains? Dogs as a model for understanding human social cognition. Neuroreport 2007; 18: 467–471.

Cotman CW, Head E . The canine (dog) model of human aging and disease: dietary, environmental and immunotherapy approaches. J Alzheimers Dis 2008; 15: 685–707.

Ellerbrock K, Pera I, Hartung S, Ivell R . Gene expression in the dog epididymis: a model for human epididymal function. Int J Androl 1994; 17: 314–323.

Valdivia CR, Chu WW, Pu J, Foell JD, Haworth RA, Wolff MR et al. Increased late sodium current in myocytes from a canine heart failure model and from failing human heart. J Mol Cell Cardiol 2005; 38: 475–483.

Piccione G, Fazio F, Giudice E, Refinetti R . Body size and the daily rhythm of body temperature in dogs. J Therm Biol 2009; 34: 171–175.

Zoran DL . Obesity in dogs and cats: a metabolic and endocrine disorder. Vet Clin North Am Small Anim Pract 2010; 40: 221–239.

Laflamme DP . Development and validation of a body condition score system for dogs. Canine Pract 1997; 22: 10–15.

Mawby DI, Bartges JW, d'Avignon A, Laflamme DP, Moyers TD, Cottrell T . Comparison of various methods for estimating body fat in dogs. J Am Anim Hosp Assoc 2004; 40: 109–114.

Mercer J . Glossary of terms for thermal physiology. Jap J Physiol 2001; 51: 245–280.

Agarwal KK, Garwal AK, Singh PJ, Sharma SN . Comparative study of ano-rectal region in mammals. J Anat Soc India 2002; 51: 220–224.

Kirk RE . Experimental Design: Procedures for the Behavioral Sciences 3rd edn. Brooks/Cole: Pacific Grove, CA, 1995.

Hays WL . Statistics 5th edn. Wadsworth: Belmont, CA, 1994.

Cohen J . Statistical Power Analysis for the Behavioral Sciences 2nd edn. Lawrence Erlbaum: Hillsdale, NJ, 1988.

Nelson W, Tong YL, Lee JK, Halberg F . Methods for cosinor rhythmometry. Chronobiologia 1979; 6: 305–323.

Refinetti R, Cornélissen G, Halberg F . Procedures for numerical analysis of circadian rhythms. Biol Rhythm Res 2007; 38: 275–325.

Purina Dog Breed Library. Société des Produits Nestlé S.A. Vevey, Switzerland (http://www.purina.com/dog/breed-library/breedlibrary.aspx).

Clarke A, Rothery P . Scaling of body temperature in mammals and birds. Funct Ecol 2008; 22: 58–67.

Ohtake M, Bray GA, Azukizawa M . Studies on hypothermia and thyroid function in the obese (ob/ob) mouse. Am J Physiol 1977; 233: R110–R115.

Trayhurn P, James WP . Thermoregulation and non-shivering thermogenesis in the genetically obese (ob/ob) mouse. Pflügers Arch 1978; 373: 189–193.

Batt RA, Hambi M . Development of the hypothermia in obese mice (genotype ob/ob). Int J Obes 1982; 6: 391–397.

Carlisle HJ, Dubuc PU . Temperature preference of genetically obese (ob/ob) mice. Physiol Behav 1984; 33: 899–902.

Wilson LM, Currie PJ, Gilson TL . Thermal preference behavior in preweaning genetically-obese (ob/ob) and lean (+/?, +/+) mice. Physiol Behav 1991; 50: 155–160.

Mayers JR, Iliff BW, Swoap SJ . Resveratrol treatment in mice does not elicit the bradycardia and hypothermia associated with calorie restriction. FASEB J 2009; 23: 1032–1040.

Godbole V, York DA, Bloxham DP . Developmental changes in the fatty (fafa) rat: evidence for defective thermogenesis preceding the hyperlipogenesis and hyperinsulinaemia. Diabetologia 1978; 15: 41–44.

Levin BE, Triscari J, Sullivan AC . Abnormal sympatho-adrenal function and plasma catecholamines in obese Zucker rats. Pharmacol Biochem Behav 1980; 13: 107–113.

Carlisle HJ, Dubuc PU, Stock MJ . Effects of beta-adrenoceptor agonists and antagonists on thermoregulation in the cold in lean and obese Zucker rats. Pharmacol Biochem Behav 1993; 46: 953–958.

Mistlberger RE, Lukman H, Nadeau BG . Circadian rhythms in the Zucker obese rat: assessment and intervention. Appetite 1998; 30: 255–267.

Refinetti R . Effect of ambient temperature on respiratory quotient of lean and obese Zucker rats. Am J Physiol 1989; 256: R236–R239.

Zylan K . Behavioral temperature regulation in the obese Zucker rat. Behav Neurosci 1993; 107: 703–705.

Refinetti R . Non-stationary time series and the robustness of circadian rhythms. J Theor Biol 2004; 227: 571–581.

Froy O . Metabolism and circadian rhythms—implications for obesity. Endocr Rev 2010; 31: 1–24.

Garaulet M, Madrid JA . Chronobiological aspects of nutrition, metabolic syndrome and obesity. Adv Drug Deliv Rev 2010; 62: 967–978.

Maury E, Ramsey KM, Bass J . Circadian rhythms and metabolic syndrome: from experimental genetics to human disease. Circ Res 2010; 106: 447–462.

Scantlebury M, Butterwick R, Speakman JR . Energetics and litter size variation in domestic Canis familiaris breeds of two sizes. Comp Biochem Physiol A 2001; 129: 919–931.

Speakman JR, van Acker A, Harper EJ . Age related changes in the metabolism and body composition of three dog breeds and their relationship to life expectancy. Aging Cell 2003; 2: 265–275.

Refinetti R . Circadian Physiology 2nd edn. CRC Press: Boca Raton, FL, 2006.

Eggert DL, Nielsen MK . Comparison of feed energy costs of maintenance, lean deposition, and fat deposition in three lines of mice selected for heat loss. J Anim Sci 2006; 84: 276–282.

Levine JA, Eberhardt NL, Jensen MD . Role of nonexercise activity thermogenesis in resistance to fat gain in humans. Science 1999; 283: 212–214.

Levine JA, Lanningham-Foster LM, McCrady SK, Krizan AC, Olson LR, Kane PH et al. Interindividual variation in posture allocation: possible role in human obesity. Science 2005; 307: 584–586.
Ethics declarations
Competing interests
The authors declare no conflict of interest.
About this article
Cite this article
Piccione, G., Giudice, E., Fazio, F. et al. Association between obesity and reduced body temperature in dogs. Int J Obes 35, 1011–1018 (2011). https://doi.org/10.1038/ijo.2010.253
Received:

Revised:

Accepted:

Published:

Issue Date:

DOI: https://doi.org/10.1038/ijo.2010.253
Keywords
This article is cited by
Ana Gabriela Jimenez
Kailey Paul
Ahmet Ay

Veterinary Research Communications (2023)

P I Hynd
V H Czerwinski
T J McWhorter

International Journal of Obesity (2014)