Abstract
Background:
Quantification of abdominal fat and its regional distribution has become increasingly important in assessing the cardiovascular risk.
Objective:
To examine the effects of 16 weeks of a hypocaloric diet with a caloric restriction of 500 Kcal per day (WL) or the same dietary intervention plus resistance training (WL+RT) on regional variation of abdominal visceral (visceral adipose tissue (VAT)) and subcutaneous (subcutaneous adipose tissue (SAT)) fat loss. Second, to identify the single-image that best represents total magnetic resonance imaging measurements of total VAT and SAT volume before and after WL or WL+RT intervention.
Design:
A total of 34 obese (body mass index: 30–40 kg m−2) women, aged 40–60 years, were randomized to three groups: a control group (C; n=9), a diet group (WL; n=12) and a diet plus resistance training group (WL+RT; n=13) with the same caloric restriction as group WL and a 16-week supervised whole-body RT of two sessions per week.
Results:
WL+RT programs lead to significant changes in the location of highest mean VAT area from L3-L4 to L2-L3 discal level from pre- to post- intervention, whereas after WL the greatest relative VAT losses were located at L5-S1. Similar decreases in the SAT areas at all discal levels were observed after WL and WL+RT.
Conclusion:
Different weight loss regimes may lead to different distribution of VAT. Sites located significantly above (cranial to) L4-L5 (that is, ∼5–6 cm above L4-L5 or at L2-L3 discal level) provided superior prediction of total abdominal VAT volume, whereas more caudal slices provide better prediction of subcutaneous fat, not only before but also after either WL or WL+RT.
Relevant articles
Open Access articles citing this article.
Robinson Ramírez-Vélez

,

Alejandra Hernandez

…

Antonio García-Hermoso

Trials Open Access 24 June 2016
Access options
Subscribe to this journal
Receive 12 print issues and online access
$259.00 per year
only $21.58 per issue
Rent or buy this article
Prices vary by article type
from$1.95
to$39.95
Prices may be subject to local taxes which are calculated during checkout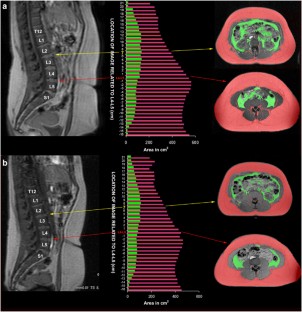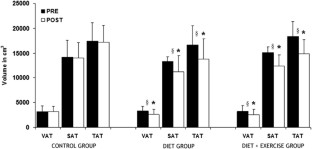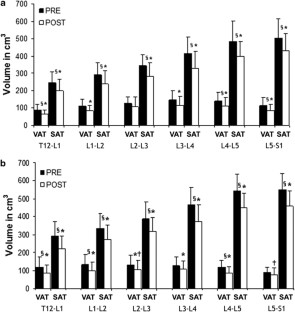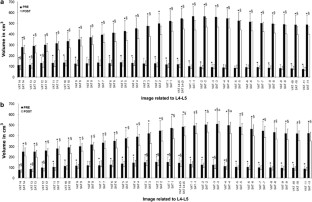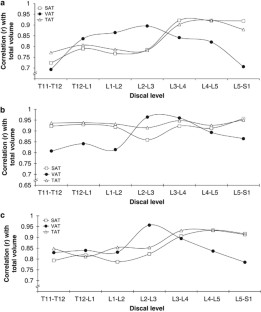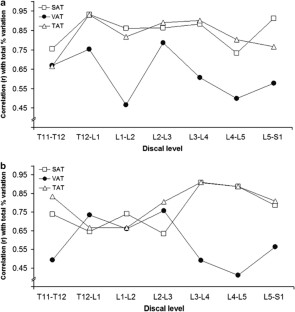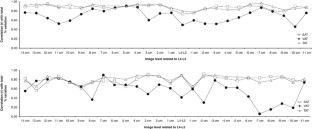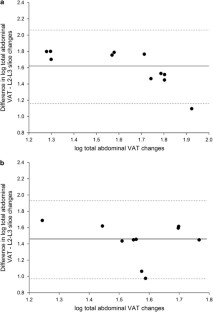 References
World Health Organization. Obesity: Preventing and Managing the Global Epidemic. World Health Org: Geneva, 1998. (WHO/NUT/NCD/98.1).

Bouchard C, Bray GA, Hubbard VS . Basic and clinical aspects of regional fat distribution. Am J Clin Nutr 1990; 52: 946–950 . PubMed PMID: 2239774.

Kuk JL, Katzmarzyk PT, Nichaman MZ, Church TS, Blair SN, Ross R . Visceral fat is an independent predictor of all-cause mortality in men. Obesity (Silver Spring) 2006; 14: 336–341.

Lapidus L, Bengtsson C, Larsson B, Pennert K, Rybo E, Sjöström L . Distribution of adipose tissue and risk of cardiovascular disease and death: a 12-year follow-up of participants in the population study of women in Gothenburg, Sweden. Br Med J (Clin Res Ed) 1984; 289: 1257–1261.

Poirier P, Despres JP . Waist circumference, visceral obesity, and cardiovascular risk. J Cardiopulm Rehabil 2003; 23: 161–169.

Ryan AS . Insulin resistance with aging: effects of diet and exercise. Sports Med 2000; 30: 327–346.

Fox CS, Massaro JM, Hoffmann U, Pou KM, Maurovich-Horvat P, Liu CY et al. Abdominal visceral and subcutaneous adipose tissue compartments: association with metabolic risk factors in the Framingham Heart Study. Circulation 2007; 116: 39–48.

Piche ME, Lapointe A, Weisnagel SJ, Corneau L, Nadeau A, Bergeron J et al. Regional body fat distribution and metabolic profile in postmenopausal women. Metabolism 2008; 57: 1101–1107.

Fujioka S, Matsuzawa Y, Tokunaga K, Kawamoto T, Kobatake T, Keno Y et al. Improvement of glucose and lipid metabolism associated with selective reduction of intra-abdominal visceral fat in premenopausal women with visceral fat obesity. Int J Obes 1991; 15: 853–859.

Giannopoulou I, Ploutz-Snyder LL, Carhart R, Weinstock RS, Fernhall B, Goulopoulou S et al. Exercise is required for visceral fat loss in postmenopausal women with type 2 diabetes. J Clin Endocrinol Metab 2005; 90: 1511–1518.

Ibañez J, Izquierdo M, Martinez-Labari C, Ortega F, Grijalba A, Forga L et al. Resistance training improves cardiovascular risk factors in obese women despite a significative decrease in serum adiponectin levels. Obesity (Silver Spring) 2010; 18: 535–541.

Janssen I, Fortier A, Hudson R, Ross R . Effects of an energy-restrictive diet with or without exercise on abdominal fat, intermuscular fat, and metabolic risk factors in obese women. Diabetes Care 2002; 25: 431–438.

Ryan AS, Pratley RE, Goldberg AP, Elahi D . Resistive training increases insulin action in postmenopausal women. J Gerontol A Biol Sci Med Sci 1996; 51: M199–M205.

Abate N, Burns D, Peshock RM, Garg A, Grundy SM . Estimation of adipose tissue mass by magnetic resonance imaging: validation against dissection in human cadavers. J Lipid Res 1994; 35: 1490–1496.

Brennan DD, Whelan PF, Robinson K, Ghita O, O'Brien JM, Sadleir R et al. Rapid automated measurement of body fat distribution from whole-body MRI. AJR Am J Roentgenol 2005; 185: 418–423.

Eustace SJ, Nelson E . Whole body magnetic resonance imaging. BMJ 2004; 328: 1387–1388.

Fowler PA, Fuller MF, Glasbey CA, Cameron GG, Foster MA . Validation of the in vivo measurement of adipose tissue by magnetic resonance imaging of lean and obese pigs. Am J Clin Nutr 1992; 56: 7–13.

Ludescher B, Machann J, Eschweiler GW, Vanhöfen S, Maenz C, Thamer C et al. Correlation of fat distribution in whole body MRI with generally used anthropometric data. Invest Radiol 2009; 44: 712–719.

Ross R, Kimberley DS, Martel Y, De Guise J, Avruch L . Adipose tissue distribution measured by magnetic resonance imaging in obese women. Am J Clin Nutr 1993; 57: 470–475.

Siegel MJ, Hildebolt CF, Bae KT, Hong C, White NH . Total and intraabdominal fat distribution in preadolescents and adolescents: measurement with MR imaging. Radiology 2007; 242: 846–856.

Staten MA, Totty WG, Kohrt WM . Measurement of fat distribution by magnetic resonance imaging. Invest Radiol 1989; 24: 345–349.

Thomas EL, Saeed N, Hajnal JV, Brynes A, Goldstone AP, Frost G et al. Magnetic resonance imaging of total body fat. J Appl Physiol 1998; 85: 1778–1785.

Kuk JL, Katzmarzyk PT, Nichaman MZ, Church TS, Blair SN, Ross R . Visceral fat is an independent predictor of all-cause mortality in men. Obesity (Silver Spring) 2006; 14: 336–341.

Kvist H, Chowdhury B, Grang ård U, Tylén U, Sjöström L . Total and visceral adipose-tissue volumes derived from measurements with computed tomography in adult men and women: predictive equations. Am J Clin Nutr 1988; 48: 1351–1361.

Ross R, LÃger L, Morris D, de Guise J, Guardo R . Quantification of adipose tissue by MRI: relationship with anthropometric variables. J Appl Physiol 1992; 72: 787–795.

Abate N, Garg A, Coleman R, Grundy SM, Peshock RM . Prediction of total subcutaneous abdominal, intraperitoneal, and retroperitoneal adipose tissue masses in men by a single axial magnetic resonance imaging slice. Am J Clin Nutr 1997; 65: 403–408.

Ellis KJ, Grund B, Visnegarwala F, Thackeray L, Miller CG, Chesson CE et al. Visceral and subcutaneous adiposity measurements in adults: influence of measurement site. Obesity (Silver Spring) 2007; 15: 1441–1447.

Thomas EL, Bell JD . Influence of undersampling on magnetic resonance imaging measurements of intra-abdominal adipose tissue. Int J Obes Relat Metab Disord 2003; 27: 211–218.

Demerath EW, Shen W, Lee M, Choh AC, Czerwinski SA, Siervogel RM et al. Approximation of total visceral adipose tissue with a single magnetic resonanceimage. Am J Clin Nutr 2007; 85: 362–368.

Greenfield JR, Samaras K, Chisholm DJ, Campbell LV . Regional intra-subject variability in abdominal adiposity limits usefulness of computed tomography. Obes Res 2002; 10: 260–265.

Shen W, Punyanitya M, Wang Z, Gallagher D, St-Onge MP, Albu J et al. Visceral adipose tissue: relations between single-slice areas and total volume. Am J Clin Nutr 2004; 80: 271–278.

Warren M, Schreiner PJ, Terry JG . The relation between visceral fat measurement and torso level—is one level better than another? The Atherosclerosis Risk in Communities Study, 1990–1992. Am J Epidemiol 2006; 163: 352–358.

Shen W, Wang Z, Punyanita M, Lei J, Sinav A, Kral JG et al. Adipose tissue quantification by imaging methods: a proposed classification. Obes Res 2003; 11: 5–16.

Mitsiopoulos N, Baumgartner RN, Heymsfield SB, Lyons W, Gallagher D, Ross R . Cadaver validation of skeletal muscle measurement by magnetic resonance imaging and computerized tomography. J Appl Physiol 1998; 85: 115–122.

Ross R, Rissanen J, Pedwell H, Clifford J, Shragge P . Influence of diet and exercise on skeletal muscle and visceral adipose tissue in men. J Appl Physiol 1996; 81: 2445–2455.

Christiansen T, Paulsen SK, Bruun JM, Overgaard K, Ringgaard S, Pedersen SB et al. Comparable reduction of the visceral adipose tissue depot after a diet-induced weight loss with or without aerobic exercise in obese subjects: a 12-week randomized intervention study. Eur J Endocrinol 2009; 160: 759–767.

Redman LM, Heilbronn LK, Martin CK, Alfonso A, Smith SR, Ravussin E, Pennington CALERIE Team. Effect of calorie restriction with or without exercise on body composition and fat distribution. J Clin Endocrinol Metab 2007; 92: 865–872.

Hallgreen CE, Hall KD . Allometric relationship between changes of visceral fat and total fat mass. Int J Obes (Lond) 2008; 32: 845–852.

Han TS, Kelly IE, Walsh K, Greene RM, Lean ME . Relationship between volumes and areas from single transverse scans of intra-abdominal fat measured by magnetic resonance imaging. Int J Obes Relat Metab Disord 1997; 21: 1161–1166.

Kanaley JA, Giannopoulou I, Ploutz-Snyder LL . Regional differences in abdominal fat loss. Int J Obes (Lond) 2007; 31: 147–152.

Lee S, Janssen I, Ross R . Interindividual variation in abdominal subcutaneous and visceral adipose tissue: influence of measurement site. J Appl Physiol 2004; 97: 948–954.

Shen W, Punyanitya M, Chen J, Gallagher D, Albu J, Pi-Sunyer X et al. Heshka Visceral adipose tissue: relationships between single slice areas at different locations and obesity-related health risks. Int J Obes (Lond) 2007; 31: 763–769.

Liou KH, Chan YL, Chan JC, Chan WB, Kong MO, Poon MY . The preferred magnetic resonance imaging planes in quantifying visceral adipose tissue and evaluating cardiovascular risk. Diabetes Obes Metab 2005; 7: 547–554.

Kullberg J, Johansson L, Ahlström H, Courivaud F, Koken P, Eggers H et al. Automated assessment of whole-body adipose tissue depots from continuously moving bed MRI: a feasibility study. J Magn Reson Imaging 2009; 30: 185–193.

Machann J, Thamer C, Schnoedt B, Haap M, Haring HU, Claussen CD et al. Standardized assessment of whole body adipose tissue topography by MRI. J Magn Reson Imaging 2005; 21: 455–462.
Ethics declarations
Competing interests
The authors declare no conflict of interest.
About this article
Cite this article
Idoate, F., Ibañez, J., Gorostiaga, E. et al. Weight-loss diet alone or combined with resistance training induces different regional visceral fat changes in obese women. Int J Obes 35, 700–713 (2011). https://doi.org/10.1038/ijo.2010.190
Received:

Revised:

Accepted:

Published:

Issue Date:

DOI: https://doi.org/10.1038/ijo.2010.190
Keywords