Abstract
Objective:
To investigate the mechanism of the lipid depletion by zinc-α2-glycoprotein (ZAG).
Design:
Studies were conducted in the ob/ob mouse, or on isolated adipocytes from these animals or their lean counterparts.
Results:
Treatment of these animals for 15 days with ZAG (100 μg, intravenously, daily) resulted in a reduction of body weight of 6.55 g compared with phosphate-buffered saline-treated controls, without a change in food or water intake, but with a 0.4 °C rise in rectal temperature. ZAG-treated mice had a 30% reduction in carcass fat mass and a twofold increase in weight of brown adipose tissue. Epididymal adipocytes from ZAG-treated mice showed an increased expression of ZAG and hormone-sensitive lipase (HSL), and this was maintained for a further 3 days in the absence of ZAG. There was an increased lipolytic response to isoproterenol, which was retained for 3 days in vitro in the absence of ZAG. Expression of HSL was also increased in subcutaneous and visceral adipose tissue, as was also adipose triglyceride lipase (ATGL). There was a rapid loss of labelled lipid from epididymal adipose tissue of ZAG-treated mice, but not from the other depots, reflecting the difference in sensitivity to lipolytic stimuli. The increased expression of HSL and ATGL may involve the extracellular signal-regulated kinase (ERK) pathway, as the active (phospho) form was upregulated in all adipose depots after ZAG administration, whereas in vitro studies showed induction of HSL and ATGL by ZAG to be attenuated by PD98059, an inhibitor of the ERK pathway.
Conclusion:
These results suggest that ZAG not only induces direct lipolysis, but also sensitizes adipose tissue to other lipolytic stimuli.
Relevant articles
Open Access articles citing this article.
J. Olechnowicz

,

A. Tinkov

…

Joanna Suliburska

The Journal of Physiological Sciences Open Access 30 September 2017

Xin Liao

,

Xuemei Wang

…

Lin Gao

Scientific Reports Open Access 09 September 2016
Access options
Subscribe to this journal
Receive 12 print issues and online access
$259.00 per year
only $21.58 per issue
Rent or buy this article
Prices vary by article type
from$1.95
to$39.95
Prices may be subject to local taxes which are calculated during checkout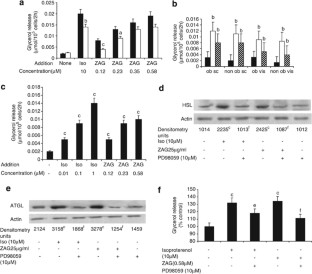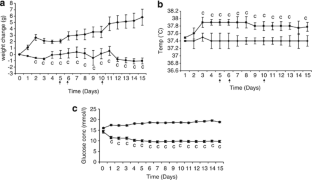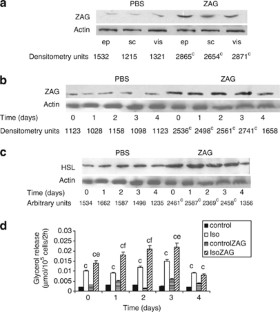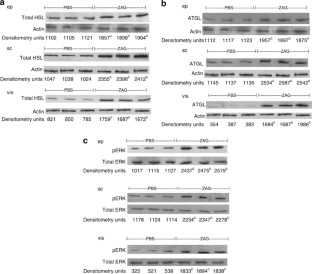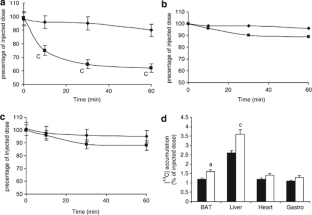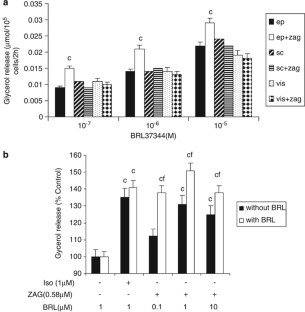 References
Rössner S . Obesity: the disease of the twenty-first century. Int J Obes Relat Metab Disord 2002; 26 (Suppl 4): S2–S4.

Kahn SE, Hull RL, Utzschneider KM . Mechanisms linking obesity to insulin resistance and type 2 diabetes. Nature 2006; 444: 840–846.

Russell ST, Zimmerman TP, Domin BA, Tisdale MJ . Induction of lipolysis in vitro and loss of body fat in vivo by zinc-α2-glycoprotein. Biochim Biophys Acta 2004; 1636: 59–68.

Hirai K, Hussey HJ, Barber MD, Price SA, Tisdale MJ . Biological evaluation of a lipid-mobilising factor isolated from the urine of cancer patients. Cancer Res 1998; 58: 2359–2365.

Todorov PT, McDevitt TM, Meyer DJ, Ueyama H, Ohkubo I, Tisdale MJ . Purification and characterisation of a tumor lipid-mobilizing factor. Cancer Res 1998; 58: 2353–2358.

Bing C, Bao Y, Jenkins J, Sanders P, Manieri M, Cinti S et al. Zinc-α2-glycoprotein, a lipid mobilizing factor, is expressed in adipocytes and is upregulated in mice with cancer cachexia. Proc Natl Acad Sci USA 2004; 101: 2500–2505.

Dahlman I, Kaaman M, Olsson T, Tan GD, Bickerton AST, Wåhlén K et al. A unique role of monocyte chemoattractant protein 1 among chemokines in adipose tissue of obese subjects. J Clin Endocrinol Metab 2005; 90: 5834–5840.

Gong F-Y, Zhang S-J, Ding J-Y, Zhu H-J, Pan H, Li N-S et al. Zinc-α2-glycoprotein is involved in regulation of body weight through inhibition of lipogenic enzymes in adipose tissue. Int J Obes 2009; 33: 1023–1030.

Mracek T, Ding Q, Tzanavari T, Kos K, Pinkney J, Wilding J et al. The adipokine zinc-α2-glcyoprotein is downregulated with fat mass expansion in obesity. Clin Endocrinol 2010; 72: 334–341.

Rolli V, Radosavljevic M, Astier V, Macquin C, Castan-Laurell I, Visentin V et al. Lipolysis is altered in MHC class 1 zinc-α2-glycoprotein deficient mice. FEBS Lett 2007; 581: 394–400.

Jocken JWE, Goosens GH, van Hees AMJ, Frayn KN, van Baak M, Stegen J . Effect of beta-adrenergic stimulation on whole-body and abdominal subcutaneous adipose tissue lipolysis in lean and obese men. Diabetologica 2008; 51: 320–327.

Hellstrom L, Langin D, Reynisdottir S, Dauzats M, Arner P . Adipocyte lipolysis in normal weight subjects with obesity among first-degree relatives. Diabetologica 1996; 39: 921–928.

Jocken JWE, Blaak EE . Catecholamine-induced lipolysis in adipose tissue and skeletal muscle in obesity. Physiol Behav 2008; 94: 219–230.

Gohda T, Makita Y, Shike T, Tanimoto M, Funabiki K, Horikoshi S et al. Identification of epistatic interaction involved in obesity using the KK/Ta mouse as a type 2 diabetes model. Is Zn-α2-glycoprotein-1 a candidate gene for obesity? Diabetes 2003; 52: 2175–2181.

Russell ST, Tisdale MJ . Antidiabetic properties of zinc-α2-glycoprotein (ZAG) in ob/ob mice. Endocrinol 2010; 151: 948–957.

Russell ST, Hirai K, Tisdale MJ . Role of β3-adrenergic receptors in the action of a tumour lipid mobilizing factor. Br J Cancer 1992; 86: 424–428.

Bailey CJ, Flatt PR, Atkins TW . Influence of genetic background and age on the expression of the obese hyperglycaemic syndrome in Aston ob/ob mice. Int J Obes 1982; 6: 11–21.

Beck SA, Tisdale MJ . Production of lipolytic and proteolytic factors by a murine tumor-producing cachexia in the host. Cancer Res 1987; 47: 5919–5923.

Wieland O . Glycerol UV method. In: Bergemeyer HU (ed). Methods of Enzymatic Analysis. Academic Press: London, UK, 1974, pp 1404–1409.

Lyon I, Ookhtens M, Montisano D, Baker N . Fat pad triacylglycerol fatty acid mobilisation and oxidation in starving mice. Biochim Biophys Acta 1988; 958: 188–195.

Mulligan HD, Beck SA, Tisdale MJ . Lipid metabolism in cancer cachexia. Br J Cancer 1992; 66: 57–61.

Stansbie D, Brownsey RW, Crettaz M, Denton RM . Acute effects in vivo of anti-insulin serum on rates of fatty acid synthesis and activities of acetyl-coenzyme A carboxylase and pyruvate dehydrogenase in liver and epididymal adipose tissue of fed rats. Biochem J 1976; 160: 413–420.

Kultz D, Madhany S, Burg MB . Hyperosmolality causes growth arrest of murine kidney cells. Induction of GADD45 and GADD153 by osmo-sensing via stress-associated protein kinase 2. J Biol Chem 1998; 273: 13645–13651.

Sanders PM, Tisdale MJ . Effect of zinc-α2-glycoprotein (ZAG) on expression of uncoupling proteins in skeletal muscle and adipose tissue. Cancer Lett 2004; 212: 71–81.

Susulic VS, Frederick RC, Lawitts J, Tozze E, Kahn BB, Harper ME et al. Targeted disruption of the β3-adrenergic receptor gene. J Biol Chem 1995; 270: 29483–29492.

Day C, Bailey CJ . Effect of the antiobesity agent sibutramine in obese-diabetic ob/ob mice. Int J Obese 1998; 22: 619–623.

Stejskal D, Karpisek M, Reutova H, Stejskal P, Kotolova H, Kollar P . Determination of serum zinc-alpha-2-glycoprotein in patients with metabolic syndrome by a new ELISA. Clin Biochem 2008; 41: 313–316.

Bondar OP, Barnidge DR, Klee EW, Davis BJ, Klee GG . LC-MS/MS quantification of Zn-α2-glycoprotein: a potential serum biomarker for prostate cancer. Clin Chem 2007; 53: 673–678.

Mori S, Nojiri H, Yoshizuka N, Takema Y . Rapid desensitization of lipolysis in visceral and subcutaneous adipocytes of rats. Lipids 2007; 42: 307–314.

Tavernier G, Galitzky J, Valet P, Remaury A, Bouloumie A, Lafontan M et al. Molecular mechanisms underlying regional variations of catecholamine-induced lipolysis in rat adipocytes. Am J Physiol Endocrinol Metab 1995; 31: E1135–E1142.

Morimoto C, Kameda K, Tsujita T, Okuda H . Relationships between lipolysis induced by various lipolytic agents and hormone-sensitive lipase in rat fat cells. J Lipid Res 2001; 42: 120–127.

Greenberg AS, Shen WJ, Muliro K, Patel S, Sruza SC, Roth RA et al. Stimulation of lipolysis and hormone-sensitive lipase via the extracellular signal-related kinase pathway. J Biol Chem 2001; 276: 45456–45461.

Wu JJ, Roth RJ, Anderson EJ, Hong E-G, Lee M-K, Choi CS et al. Mice lacking MAP kinase phosphatase-1 have enhanced MAP kinase activity and resistance to diet-induced obesity. Cell Metab 2006; 4: 61–73.

Agustsson T, Ryden M, Hoffstedt J, Van Harmelen V, Dicker A, Laurencikiene J et al. Mechanism of increased lipolysis in cancer cachexia. Cancer Res 2007; 67: 5531–5537.

Haemmerle G, Lass A, Zimmerman R, Gorkiewicz G, Meyer C, Rozman J et al. Defective lipolysis and altered energy metabolism in mice lacking adipose triglyceride lipase. Science 2006; 312: 734–737.

Steinburg GR, Kemp BE, Watt MJ . Adipocyte triglyceride lipase expression in human obesity. Am J Physiol Endocrinol Metab 2007; 293: E958–E964.

Berndt J, Kralisch S, Kloting N, Ruschke K, Kern M, Fasshauer M et al. Adipose triglyceride lipase gene expression in human visceral obesity. Exp Clin Endocrinol Diabetes 2008; 116: 203–210.

Jocken JWE, Langin D, Smit E, Saris WHM, Valle C, Hul GB et al. Adipose triglyceride lipase and hormone-sensitive lipase protein expression is decreased in the obese insulin-resistant state. J Clin Endocrinol Metab 2007; 92: 2292–2299.

Russell ST, Tisdale MJ . The role of glucocorticoids in the induction of zinc-α2-glycoprotein expression in adipose tissue in cancer cachexia. Br J Cancer 2005; 92: 876–881.

Bao Y, Bing C, Hunter L, Jenkins JR, Wabitsch M, Trayhurn P . Zinc-α2-glycoprotein, a lipid mobilizing factor, is expressed and secreted by human (SGBS) adipocytes. FEBS Lett 2005; 579: 41–47.

Mracek T, Gao D, Tzanavari T, Bao Y, Xiao X, Stocker C et al. Downregulation of zinc-α2-glycoprotein in adipose tissue and liver of obese ob/ob mice and by tumour necrosis factor-α in adipocytes. J Endocrinol 2010; 204: 165–172.

Gettys TW, Ramkumar V, Uhing RJ, Singer L, Taylor IL . Alterations in mRNA levels, expression and function of GTP-binding regulatory proteins in adipocytes from obese mice (C57BL/6J-ob/ob). J Biol Chem 1991; 266: 15949–15955.

Islam-Ali B, Khan S, Price SA, Tisdale MJ . Modulation of adipocyte G-protein expression in cancer cachexia by a lipid-mobilizing factor (LMF). Br J Cancer 2001; 85: 758–762.
Acknowledgements
This work was supported by Halsa Pharmaceuticals, TX, USA, which also provided salary for one of us (ST Russell).
Ethics declarations
Competing interests
The authors declare no conflict of interest.
About this article
Cite this article
Russell, S., Tisdale, M. Studies on the antiobesity effect of zinc-α2-glycoprotein in the ob/ob mouse. Int J Obes 35, 345–354 (2011). https://doi.org/10.1038/ijo.2010.150
Received:

Revised:

Accepted:

Published:

Issue Date:

DOI: https://doi.org/10.1038/ijo.2010.150
Keywords
This article is cited by
Neda Roshanravan
Mohammad Alizadeh
Ali Tarighat-Esfanjani

International Journal of Diabetes in Developing Countries (2019)

J. Olechnowicz
A. Tinkov
Joanna Suliburska

The Journal of Physiological Sciences (2018)

Xin Liao
Xuemei Wang
Lin Gao

Scientific Reports (2016)