Abstract
Objectives:
The orexigenic hormone ghrelin circulates mainly in two forms, acylated and desacyl ghrelin. We evaluated the impact of obesity and obesity-associated type 2 diabetes (T2D) on ghrelin forms and the potential role of acylated and desacyl ghrelin in the control of adipogenesis in humans.
Methods:
Plasma concentrations of the different ghrelin forms were measured in 80 subjects. The expression of the ghrelin receptor (growth hormone secretagogue receptor, GHS-R) was analyzed in omental adipose tissue using western blot and immunohistochemistry, and the effect of acylated ghrelin and desacyl ghrelin (0.1–1000 pmol l−1) on adipogenesis was determined in vitro in omental adipocytes.
Results:
Circulating concentrations of acylated ghrelin were increased, whereas desacyl ghrelin levels were decreased, in obesity and obesity-associated T2D. Body mass index, waist circumference, insulin and HOMA (homeostasis model assessment) index were positively correlated with acylated ghrelin levels. Obese individuals showed a lower protein expression of GHS-R in omental adipose tissue. In differentiating omental adipocytes, incubation with both acylated and desacyl ghrelin significantly increased PPARγ (peroxisome proliferator-activated receptor γ) and SREBP1 (sterol-regulatory element binding protein-1) mRNA levels, as well as several fat storage-related proteins, including acetyl-CoA carboxylase, fatty acid synthase, lipoprotein lipase and perilipin. Consequently, both the ghrelin forms stimulated intracytoplasmatic lipid accumulation.
Conclusions:
Both acylated and desacyl ghrelin stimulate lipid accumulation in human visceral adipocytes. Given the lipogenic effect of acylated ghrelin on visceral adipocytes, the herein-reported elevation of its circulating concentrations in obese individuals may play a role in excessive fat accumulation in obesity.
Relevant articles
Open Access articles citing this article.
Nejmeddine Ouerghi

,

Moncef Feki

…

Anissa Bouassida

Sports Medicine Open Access 10 August 2021

N. Auclair

,

N. Patey

…

D. H. St-Pierre

Scientific Reports Open Access 29 November 2019
Access options
Subscribe to Journal
Get full journal access for 1 year
$119.00
only $9.92 per issue
All prices are NET prices.
VAT will be added later in the checkout.
Tax calculation will be finalised during checkout.
Buy article
Get time limited or full article access on ReadCube.
$32.00
All prices are NET prices.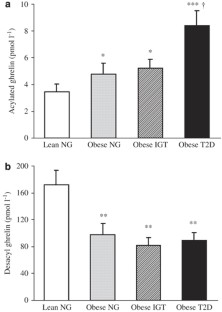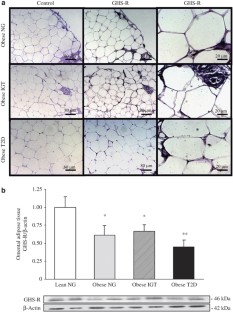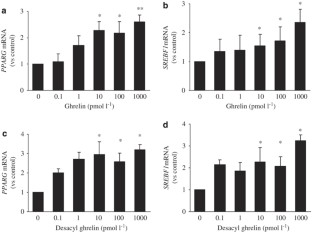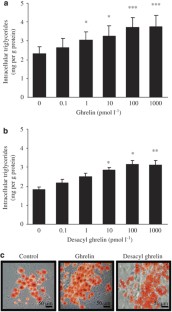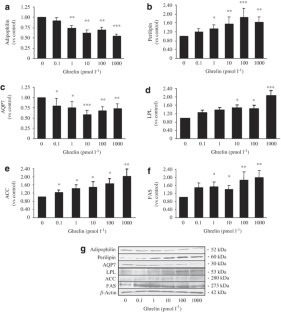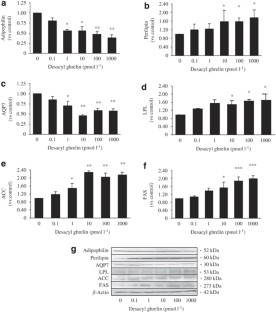 References
Kojima M, Hosoda H, Date Y, Nakazato M, Matsuo H, Kangawa K . Ghrelin is a growth-hormone releasing acylated peptide from stomach. Nature 1999; 402: 656–660.

Tschöp M, Weyer C, Tataranni A, Devanarayan V, Ravussin E, Heiman ML . Circulating ghrelin levels are decreased in human obesity. Diabetes 2001; 50: 707–709.

Ikezaki A, Hosoda H, Ito K, Iwama S, Miura N, Matsuoka H et al. Fasting plasma ghrelin levels are negatively correlated with insulin resistance and PAI-1, but not with leptin, in obese children and adolescents. Diabetes 2002; 51: 3408–3411.

Shiiya T, Nakazato M, Mizuta M, Date Y, Mondal MS, Tanaka M et al. Plasma ghrelin levels in lean and obese humans and the effect of glucose on ghrelin secretion. J Clin Endocrinol Metab 2002; 87: 240–244.

Hosoda H, Kojima M, Matsuo H, Kangawa K . Ghrelin and des-acyl ghrelin: two major forms of rat ghrelin peptide in gastrointestinal tissue. Biochem Biophys Res Commun 2000; 279: 909–913.

Tschöp M, Smiley DL, Heiman ML . Ghrelin induces adiposity in rodents. Nature 2000; 407: 908–913.

Wren AM, Small CJ, Ward HL, Murphy KG, Dakin CL, Taheri S et al. The novel hypothalamic peptide ghrelin stimulates food intake and growth hormone secretion. Endocrinology 2000; 141: 4325–4328.

Wren AM, Small CJ, Abbott CR, Dhillo WS, Seal LJ, Cohen MA et al. Ghrelin causes hyperphagia and obesity in rats. Diabetes 2001; 50: 2540–2547.

Chen HY, Trumbauer ME, Chen AS, Weingarth DT, Adams JR, Frazier EG et al. Orexigenic action of peripheral ghrelin is mediated by neuropeptide Y and agouti-related protein. Endocrinology 2004; 145: 2607–2612.

Druce MR, Wren AM, Park AJ, Milton JE, Patterson M, Frost G et al. Ghrelin increases food intake in obese as well as lean subjects. Int J Obes (Lond) 2005; 29: 1130–1136.

López M, Lage R, Saha AK, Pérez-Tilve D, Vézquez MJ, Varela L et al. Hypothalamic fatty acid metabolism mediates the orexigenic action of ghrelin. Cell Metab 2008; 7: 389–399.

Dezaki K, Hosoda H, Kakei M, Hashiguchi S, Watanabe M, Kangawa K et al. Endogenous ghrelin in pancreatic islets restricts insulin release by attenuating Ca2+ signaling in beta-cells: implication in the glycemic control in rodents. Diabetes 2004; 53: 3142–3151.

Gauna C, Delhanty PJ, Hofland LJ, Janssen JA, Broglio F, Ross RJ et al. Ghrelin stimulates, whereas des-octanoyl ghrelin inhibits, glucose output by primary hepatocytes. J Clin Endocrinol Metab 2005; 90: 1055–1060.

Sun Y, Asnicar M, Saha PK, Chan L, Smith RG . Ablation of ghrelin improves the diabetic but not obese phenotype of ob/ob mice. Cell Metab 2006; 3: 379–386.

Asakawa A, Inui A, Fujimiya M, Sakamaki R, Shinfuku N, Ueta Y et al. Stomach regulates energy balance via acylated ghrelin and desacyl ghrelin. Gut 2005; 54: 18–24.

Broglio F, Gottero C, Prodam F, Gauna C, Muccioli G, Papotti M et al. Non-acylated ghrelin counteracts the metabolic but not the neuroendocrine response to acylated ghrelin in humans. J Clin Endocrinol Metab 2004; 89: 3062–3065.

Rosen ED, MacDougald OA . Adipocyte differentiation from the inside out. Nat Rev Mol Cell Biol 2006; 7: 885–896.

Theander-Carrillo C, Wiedmer P, Cettour-Rose P, Nogueiras R, Perez-Tilve D, Pfluger P et al. Ghrelin action in the brain controls adipocyte metabolism. J Clin Invest 2006; 116: 1983–1993.

Choi K, Roh SG, Hong YH, Shrestha YB, Hishikawa D, Chen C et al. The role of ghrelin and growth hormone secretagogues receptor on rat adipogenesis. Endocrinology 2003; 144: 754–759.

Thompson NM, Gill DA, Davies R, Loveridge N, Houston PA, Robinson IC et al. Ghrelin and des-octanoyl ghrelin promote adipogenesis directly in vivo by a mechanism independent of the type 1a growth hormone secretagogue receptor. Endocrinology 2004; 145: 234–242.

Giovambattista A, Gaillard RC, Spinedi E . Ghrelin gene-related peptides modulate rat white adiposity. Vitam Horm 2008; 77: 171–205.

Zhang W, Zhao L, Lin TR, Chai B, Fan Y, Gantz I et al. Inhibition of adipogenesis by ghrelin. Mol Biol Cell 2004; 15: 2484–2491.

Youm YH, Yang H, Sun Y, Smith RG, Manley NR, Vandanmagsar B et al. Deficient ghrelin receptor mediated signaling compromises thymic stromal cell microenvironment by accelerating thymic adiposity. J Biol Chem 2008; in press, published online ahead of print, PMID: 19054770, doi: 10.1074/jbc.M808302200.

Genuth S, Alberti KG, Bennett P, Buse J, Defronzo R, Kahn R et al. Follow-up report on the diagnosis of diabetes mellitus. Diabetes Care 2003; 26: 3160–3167.

Catalán V, Gómez-Ambrosi J, Rodríguez A, Silva C, Rotellar F, Gil MJ et al. Expression of caveolin-1 in human adipose tissue is upregulated in obesity and obesity-associated type 2 diabetes mellitus and related to inflammation. Clin Endocrinol 2008; 68: 213–219.

Matthews DR, Hosker JP, Rudenski AS, Naylor BA, Treacher DF, Turner RC . Homeostasis model assessment: insulin resistance and beta-cell function from fasting plasma glucose and insulin concentrations in man. Diabetologia 1985; 28: 412–419.

Katz A, Nambi SS, Mather K, Baron AD, Follmann DA, Sullivan G et al. Quantitative insulin sensitivity check index: a simple, accurate method for assessing insulin sensitivity in humans. J Clin Endocrinol Metab 2000; 85: 2402–2410.

Shu SY, Ju G, Fan LZ . The glucose oxidase-DAB-nickel method in peroxidase histochemistry of the nervous system. Neurosci Lett 1988; 85: 169–171.

Rodríguez A, Fortuño A, Gómez-Ambrosi J, Zalba G, Díez J, Frühbeck G . The inhibitory effect of leptin on angiotensin II-induced vasoconstriction in vascular smooth muscle cells is mediated via a nitric oxide-dependent mechanism. Endocrinology 2007; 148: 324–331.

Rodríguez A, Catalán V, Becerril S, Gil MJ, Mugueta C, Gómez-Ambrosi J et al. Impaired adiponectin-AMPK signalling in insulin-sensitive tissues of hypertensive rats. Life Sci 2008; 83: 540–549.

Ramírez-Zacarías JL, Castro-Munozledo F, Kuri-Harcuch W . Quantitation of adipose conversion and triglycerides by staining intracytoplasmic lipids with oil red O. Histochemistry 1992; 97: 493–497.

Rodríguez A, Catalán V, Gómez-Ambrosi J, Frühbeck G . Role of aquaporin-7 in the pathophysiological control of fat accumulation in mice. FEBS Lett 2006; 580: 4771–4776.

Tontonoz P, Kim JB, Graves RA, Spiegelman BM . ADD1: a novel helix-loop-helix transcription factor associated with adipocyte determination and differentiation. Mol Cell Biol 1993; 13: 4753–4759.

Barazzoni R, Zanetti M, Ferreira C, Vinci P, Pirulli A, Mucci M et al. Relationships between desacylated and acylated ghrelin and insulin sensitivity in the metabolic syndrome. J Clin Endocrinol Metab 2007; 92: 3935–3940.

Lanyi E, Csernus K, Erhardt E, Toth K, Urban B, Lenard L et al. Plasma levels of acylated ghrelin during an oral glucose tolerance test in obese children. J Endocrinol Invest 2007; 30: 133–137.

Zwirska-Korczala K, Konturek SJ, Sodowski M, Wylezol M, Kuka D, Sowa P et al. Basal and postprandial plasma levels of PYY, ghrelin, cholecystokinin, gastrin and insulin in women with moderate and morbid obesity and metabolic syndrome. J Physiol Pharmacol 2007; 58 (Suppl 1): 13–35.

Marzullo P, Verti B, Savia G, Walker GE, Guzzaloni G, Tagliaferri M et al. The relationship between active ghrelin levels and human obesity involves alterations in resting energy expenditure. J Clin Endocrinol Metab 2004; 89: 936–939.

Akamizu T, Shinomiya T, Irako T, Fukunaga M, Nakai Y, Kangawa K . Separate measurement of plasma levels of acylated and desacyl ghrelin in healthy subjects using a new direct ELISA assay. J Clin Endocrinol Metab 2005; 90: 6–9.

Knerr I, Herzog D, Rauh M, Rascher W, Horbach T . Leptin and ghrelin expression in adipose tissues and serum levels in gastric banding patients. Eur J Clin Invest 2006; 36: 389–394.

Weickert MO, Loeffelholz CV, Arafat AM, Schofl C, Otto B, Spranger J et al. Euglycemic hyperinsulinemia differentially modulates circulating total and acylated-ghrelin in humans. J Endocrinol Invest 2008; 31: 119–124.

Katsuki A, Urakawa H, Gabazza EC, Murashima S, Nakatani K, Togashi K et al. Circulating levels of active ghrelin is associated with abdominal adiposity, hyperinsulinemia and insulin resistance in patients with type 2 diabetes mellitus. Eur J Endocrinol 2004; 151: 573–577.

St-Pierre DH, Karelis AD, Coderre L, Malita F, Fontaine J, Mignault D et al. Association of acylated and nonacylated ghrelin with insulin sensitivity in overweight and obese postmenopausal women. J Clin Endocrinol Metab 2007; 92: 264–269.

Nishi Y, Hiejima H, Hosoda H, Kaiya H, Mori K, Fukue Y et al. Ingested medium-chain fatty acids are directly utilized for the acyl modification of ghrelin. Endocrinology 2005; 146: 2255–2264.

Yang J, Brown MS, Liang G, Grishin NV, Goldstein JL . Identification of the acyltransferase that octanoylates ghrelin, an appetite-stimulating peptide hormone. Cell 2008; 132: 387–396.

Howard AD, Feighner SD, Cully DF, Arena JP, Liberator PA, Rosenblum CI et al. A receptor in pituitary and hypothalamus that functions in growth hormone release. Science 1996; 273: 974–977.

Baldanzi G, Filigheddu N, Cutrupi S, Catapano F, Bonissoni S, Fubini A et al. Ghrelin and des-acyl ghrelin inhibit cell death in cardiomyocytes and endothelial cells through ERK1/2 and PI 3-kinase/AKT. J Cell Biol 2002; 159: 1029–1037.

Dixit VD, Schaffer EM, Pyle RS, Collins GD, Sakthivel SK, Palaniappan R et al. Ghrelin inhibits leptin- and activation-induced proinflammatory cytokine expression by human monocytes and T cells. J Clin Invest 2004; 114: 57–66.

Geelissen SM, Beck IM, Darras VM, Kuhn ER, Van der Geyten S . Distribution and regulation of chicken growth hormone secretagogue receptor isoforms. Gen Comp Endocrinol 2003; 134: 167–174.

Luque RM, Kineman RD, Park S, Peng XD, Gracia-Navarro F, Castaño JP et al. Homologous and heterologous regulation of pituitary receptors for ghrelin and growth hormone-releasing hormone. Endocrinology 2004; 145: 3182–3189.

Kola B, Hubina E, Tucci SA, Kirkham TC, Garcia EA, Mitchell SE et al. Cannabinoids and ghrelin have both central and peripheral metabolic and cardiac effects via AMP-activated protein kinase. J Biol Chem 2005; 280: 25196–25201.

Londos C, Brasaemle DL, Schultz CJ, Segrest JP, Kimmel AR . Perilipins, ADRP, and other proteins that associate with intracellular neutral lipid droplets in animal cells. Semin Cell Dev Biol 1999; 10: 51–58.

Coe NR, Simpson MA, Bernlohr DA . Targeted disruption of the adipocyte lipid-binding protein (aP2 protein) gene impairs fat cell lipolysis and increases cellular fatty acid levels. J Lipid Res 1999; 40: 967–972.

Catalán V, Gómez-Ambrosi J, Pastor C, Rotellar F, Silva C, Rodríguez A et al. Influence of morbid obesity and insulin resistance on gene expression levels of AQP7 in visceral adipose tissue and AQP9 in liver. Obes Surg 2008; 18: 695–701.

Kim KH, Song MJ, Yoo EJ, Choe SS, Park SD, Kim JB . Regulatory role of glycogen synthase kinase 3 for transcriptional activity of ADD1/SREBP1c. J Biol Chem 2004; 279: 51999–52006.
Acknowledgements
We gratefully acknowledge the valuable collaboration of all the Surgery Department for their technical support. This work was funded by the Instituto de Salud Carlos III (FIS PI061458 and FISPI06/90288) from the Spanish Ministerio de Sanidad y Consumo; and by Grants from the Department of Health (20/2005 and 4/2006) and Education of the Gobierno de Navarra, Spain. CIBER de Fisiopatología de la Obesidad y Nutrición (CIBEROBN) is an initiative of the Instituto de Salud Carlos III, Spain.
About this article
Cite this article
Rodríguez, A., Gómez-Ambrosi, J., Catalán, V. et al. Acylated and desacyl ghrelin stimulate lipid accumulation in human visceral adipocytes. Int J Obes 33, 541–552 (2009). https://doi.org/10.1038/ijo.2009.40
Received:

Revised:

Accepted:

Published:

Issue Date:

DOI: https://doi.org/10.1038/ijo.2009.40
Keywords
ghrelin

adipogenesis

visceral adipocytes

type 2 diabetes mellitus