Abstract
Objective:
The current set of studies describe the in vivo metabolic actions of the novel amylin-mimetic peptide davalintide (AC2307) in rodents and compares these effects with those of the native peptide.
Research design and methods:
The anti-obesity effects of davalintide were examined after intraperitoneal injection or sustained peripheral infusion through subcutaneously implanted osmotic pumps. The effect of davalintide on food intake after lesioning of the area postrema (AP) and neuronal activation as measured by c-Fos, were also investigated.
Results:
Similar to amylin, davalintide bound with high affinity to amylin, calcitonin and calcitonin gene-related peptide receptors. Acutely, davalintide displayed greater suppression of dark-cycle feeding and an extended duration of action compared with amylin (23 versus 6 h). Davalintide had no effect on locomotor activity or kaolin consumption at doses that decreased food intake. Davalintide-induced weight loss through infusion was dose dependent, durable up to 8 weeks, fat-specific and lean-sparing, and was associated with a shift in food preference away from high-fat (palatable) chow. Metabolic rate was maintained during active weight loss. Both davalintide and amylin failed to suppress food intake after lesioning of the AP and activated similar brain nuclei, with davalintide displaying an extended duration of c-Fos expression compared with amylin (8 versus 2 h).
Conclusion:
Davalintide displayed enhanced in vivo metabolic activity over amylin while retaining the beneficial properties possessed by the native molecule. In vitro receptor binding, c-Fos expression and AP lesion studies suggest that the metabolic actions of davalintide and amylin occur through activation of similar neuronal pathways.
Relevant articles
Open Access articles citing this article.
Rania Soudy

,

Ryoichi Kimura

…

Jack Jhamandas

Scientific Reports Open Access 29 July 2019
Access options
Subscribe to Journal
Get full journal access for 1 year
$119.00
only $9.92 per issue
All prices are NET prices.
VAT will be added later in the checkout.
Tax calculation will be finalised during checkout.
Buy article
Get time limited or full article access on ReadCube.
$32.00
All prices are NET prices.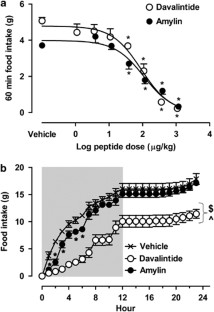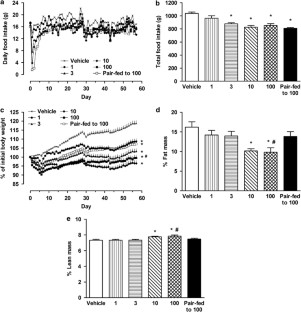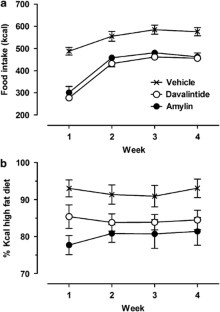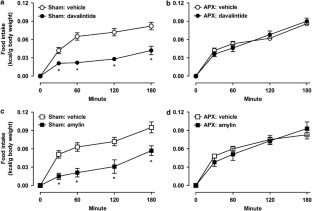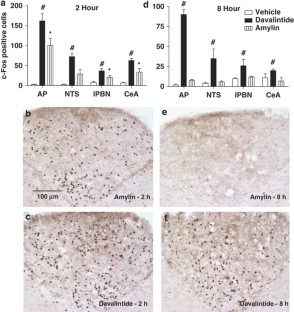 References
Young A . Amylin: Physiology and Pharmacology. In: August JT, Murad F, Granner, D (eds). Amylin: Physiology and Pharmacology. Elsevier Academic Press: San Diego, CA, USA, 2005, pp 1–18.

Young AA . Amylin's physiology and its role in diabetes. Curr Opin Endocrinol Diabetes 1997; 4: 282–290.

Janes S, Gaeta L, Beaumont K, Beeley N, Rink T . The selection of pramlintide for clinical evaluation. Diabetes 1996; 45 (Suppl 2): 865 (abstract).

Young AA, Vine W, Gedulin BR, Pittner R, Janes S, Gaeta L et al. Preclinical pharmacology of pramlintide in the rat: comparisons with human and rat amylin. Drug Dev Res 1996; 37: 231–248.

Weyer C, Maggs DG, Young AA, Kolterman OG . Amylin replacement with pramlintide as an adjunct in type 1 and type 2 diabetes mellitus: a physiological approach toward improved metabolic control. Curr Pharm Des 2001; 7: 1353–1373.

Hoogwerf BJ, Doshi KB, Diab D . Pramlintide, the synthetic analogue of amylin: physiology, pathophysiology, and effects on glycemic control, body weight, and selected markers of vascular risk. Vasc Health Risk Manag 2008; 4: 355–362.

Edelman S, Maier H, Wilhelm K . Pramlintide in the treatment of diabetes mellitus. Biodrugs 2008; 22: 375–386.

Lutz TA . Amylinergic control of food intake. Physiol Behav 2006; 89: 465–471.

Chelikani PK, Haver AC, Reidelberger RD . Relative potencies of anorexigenic substances in suppressing food intake in free feeding rats. Appetite 2006; 46: 344 (abstract).

Lutz TA, Tschudy S, Rushing PA, Scharrer E . Amylin receptors mediate the anorectic action of salmon calcitonin. Peptides 2000; 21: 233–238.

Mack C, Wilson J, Athanacio J, Reynolds J, Laugero K, Guss S et al. Pharmacological actions of the peptide hormone amylin in the long-term regulation of food intake, food preference, and body weight. Am J Physiol Regul Integr Comp Physiol 2007; 293: R1855–R1863.

Morley JE, Suarez MD, Mattamal M, Flood JF . Amylin and food intake in mice: effects on motivation to eat and mechanism of action. Pharmacol Biochem Behav 1997; 56: 123–129.

Rushing PA, Seeley RJ, Air EL, Lutz TA, Woods SC . Acute 3rd-ventricular amylin infusion potently reduces food intake but does not produce aversive consequences. Peptides 2002; 23: 985–988.

Lutz TA, Senn M, Althaus J, Del Prete E, Ehrensperger F, Scharrer E . Lesion of the area postrema/nucleus of the solitary tract (AP/NTS) attenuates the anorectic effects of amylin and calcitonin gene-related peptide (CGRP) in rats. Peptides 1998; 19: 309–317.

Riediger T, Schmid HA, Lutz T, Simon E . Amylin potently activates AP neurons possibly via formation of the excitatory second messenger cGMP. Am J Physiol Regul Integr Comp Physiol 2001; 281: R1833–R1843.

Lutz TA, Mollet A, Rushing PA, Riediger T, Scharrer E . The anorectic effect of a chronic peripheral infusion of amylin is abolished in area postrema/nucleus of the solitary tract (AP/NTS) lesioned rats. Int J Obes Relat Metab Disord 2001; 25: 1005–1011.

Riediger T, Zuend D, Becskei C, Lutz TA . The anorectic hormone amylin contributes to feeding-related changes of neuronal activity in key structures of the gut–brain axis. Am J Physiol Regul Integr Comp Physiol 2004; 286: R114–R122.

Rowland NE, Crews EC, Gentry RM . Comparison of Fos induced in rat brain by GLP-1 and amylin. Regul Pept 1997; 71: 171–174.

Rushing PA, Hagan MM, Seeley RJ, Lutz TA, D'Alessio DA, Air EL et al. Inhibition of central amylin signaling increases food intake and body adiposity in rats. Endocrinology 2001; 142: 5035–5038.

Reidelberger RD, Haver AC, Arnelo U, Smith DD, Schaffert CS, Permert J . Amylin receptor blockade stimulates food intake in rats. Am J Physiol Regul Integr Comp Physiol 2004; 287: R568–R574.

Roth JD, Hughes H, Kendall E, Baron AD, Anderson CM . Antiobesity effects of the β-cell hormone amylin in diet-induced obese rats: effects on food intake, body weight, composition, energy expenditure, and gene expression. Endocrinology 2006; 147: 5855–5864.

Bhavsar S, Watkins J, Young A . Synergy between amylin and cholecystokinin for inhibition of food intake in mice. Physiol Behav 1998; 64: 557–561.

Roth JD, Coffey T, Jodka CM, Maier H, Athanacio JR, Mack CM et al. Combination therapy with amylin and peptide YY[3–36] in obese rodents: anorexigenic synergy and weight loss additivity. Endocrinology 2007; 148: 6054–6061.

Roth JD, Roland BL, Cole RL, Trevaskis JL, Weyer C, Koda JE et al. Leptin responsiveness restored by amylin agonism in diet-induced obesity: evidence from nonclinical and clinical studies. Proc Natl Acad Sci USA 2008; 105: 7257–7262.

Roth JD, Trevaskis JL, Wilson J, Lei C, Athanacio J, Mack C et al. Antiobesity effects of the β-cell hormone amylin in combination with phentermine or sibutramine in diet-induced obese rats. Int J Obes 2008; 32: 1201–1210.

Pullman J, Darsow T, Frias JP . Pramlintide in the management of insulin-using patients with type 2 and type 1 diabetes. Vasc Health Risk Manag 2006; 2: 203–212.

Aronne L, Fujioka K, Aroda V, Chen K, Halseth A, Kesty NC et al. Progressive reduction in body weight after treatment with the amylin analogue pramlintide in obese subjects: a phase 2, randomized, placebo-controlled, dose-escalation study. J Clin Endocrinol Metab 2007; 92: 2977–2983.

Smith SR, Blundell JE, Burns C, Ellero C, Schroeder BE, Kesty NC et al. Pramlintide treatment reduces 24-h caloric intake and meal sizes and improves control of eating in obese subjects: a 6-wk translational research study. Am J Physiol Endocrinol Metab 2007; 293: E620–E627.

Smith SR, Aronne LJ, Burns CM, Kesty NC, Halseth AE, Weyer C . Sustained weight loss following 12-month pramlintide treatment as an adjunct to lifestyle intervention in obesity. Diabetes Care 2008; 31: 1816–1823.

Roth JD, Mack CM, Soares CJ, Ghosh SS, Parkes DG . Amylin-based pharmacotherapy-past, present and future. Immun Endoc Metab Agents in Med Chem 2008; 8: 317–324.

Gedulin B, Smith P, Ghosh S, Young AA, Soares C, Parkes D et al. Prolonged duration of gastric emptying and plasma glucose reduction in rats treated with the amylinomimetic peptide AC2307. Obesity 2007; 15: A181–A182 (abstract).

Laugero KD, Mack C, Hanley M, Baron A, Parkes D . Rat amylin prevents stress-related feeding behavior. Soc Neurosci 2005; 530.17 (abstract).

Eiden S, Daniel C, Steinbrueck A, Schmidt I, Simon E . Salmon calcitonin—a potent inhibitor of food intake in states of impaired leptin signaling on laboratory rodents. J Physiol 2002; 541: 1041–1048.

Hay DL, Christopoulus G, Christopoulus A, Sexton PM . Amylin receptors: molecular composition and pharmacology. Biochem Soc Trans 2004; 32: 865–867.

Sexton PM, Morfis M, Tilakaratne N, Hay DL, Udawela M, Christopoulos G et al. Complexing receptor pharmacology: modulation of family B G protein-coupled receptor function by RAMPs. Ann NY Acad Sci 2006; 1070: 90–104.

Muff R, Born W, Fischer JA . Calcitonin, calcitonin gene-related peptide, adrenomedullin and amylin: homologous peptides, separate receptors and overlapping biological actions. Eur J Endocrinol 1995; 133: 17–20.

Barth SW, Riediger T, Lutz TA, Rechkemmer G . Differential effects of amylin and salmon calcitonin on neuropeptide gene expression in the lateral hypothalamic area and the arcuate nucleus of the rat. Neurosci Lett 2003; 341: 131–134.

Chapman I, Parker B, Doran S, Feinle-Bisset C, Wishart J, Strobel S et al. Effect of pramlintide on satiety and food intake in obese subjects and subjects with type 2 diabetes. Diabetologia 2005; 48: 838–848.

Nicandro JPA, Ellero C, Pannacciulli N, Kesty NC, Deng W, Weyer C et al. AC2307, an amylin mimetic, reduced 24-h food intake in obese subjects (Abstract). Diabetes 2008; 57 (Suppl 1): A433 (abstract).

Roth JD, Mack C, Parkes DG, Kesty NC, Weyer C . Integrated neurohormonal approach to the treatment of obesity: the amylin agonist pramlintide and its interactions with leptin and PYY signaling pathways. In: Bray GA, and Bouchard C (eds). Handbook of Obesity, 3rd edn. Informa Heathcare: New York, 2008. pp 341–361.
Acknowledgements
The authors are grateful to A Albert for her expert editorial review and submission of this paper.
About this article
Cite this article
Mack, C., Soares, C., Wilson, J. et al. Davalintide (AC2307), a novel amylin-mimetic peptide: enhanced pharmacological properties over native amylin to reduce food intake and body weight. Int J Obes 34, 385–395 (2010). https://doi.org/10.1038/ijo.2009.238
Received:

Revised:

Accepted:

Published:

Issue Date:

DOI: https://doi.org/10.1038/ijo.2009.238
Keywords
AC2307

davalintide

amylin

food intake

body weight

area postrema