Abstract
Background:
In vitro and animal studies suggested that soy protein and isoflavones promote weight and body fat loss. However, clinical trials in humans were few and the effects remained uncertain.
Objectives:
To examine whether soy protein with isoflavones and isoflavone extracts exert beneficial effects on body composition among postmenopausal women.
Design:
A double-blind randomized placebo-controlled trial was conducted among 180 postmenopausal Chinese women with mild hyperglycemia. After a 2-week adaptation, participants were randomly assigned to one of the three arms to receive 15 g soy protein and 100 mg isoflavones (Soy group), or 15 g milk protein and 100 mg isoflavones (Iso group), or 15 g milk protein (placebo group) on a daily basis for 6 months.
Results:
We observed a mild but significant favorable effect of soy protein with isoflavones on the changes of body weight (BW), body mass index, and body fat percentage relative to isoflavone extracts and milk protein after 6-month supplementation. The mean differences of BW between the Soy and the Iso groups were −0.75 kg (95% CI: −1.363 to −0.136, P=0.017), and between the Soy and the placebo groups were −0.60 kg (95% CI: −1.209 to −0.019, P=0.047). The mean difference of change percentage in body fat percentage between the Soy and the Iso groups was −3.74% (95% CI: −6.88 to −0.60%, P=0.02), and between the Soy and the placebo groups was −2.54% (95% CI: −5.69 to 0.12%. P=0.08).
Conclusions:
Six-month supplementation of soy protein with isoflavones had a mild favorable effect on body composition in postmenopausal women.
Your institute does not have access to this article
Relevant articles
Open Access articles citing this article.
Afsaneh Bakhtiari

,

Karimollah Hajian-Tilaki

…

Fatemeh Nasiri-Amiri

Diabetology & Metabolic Syndrome Open Access 20 June 2019
Access options
Subscribe to Journal
Get full journal access for 1 year
$119.00
only $9.92 per issue
All prices are NET prices.
VAT will be added later in the checkout.
Tax calculation will be finalised during checkout.
Buy article
Get time limited or full article access on ReadCube.
$32.00
All prices are NET prices.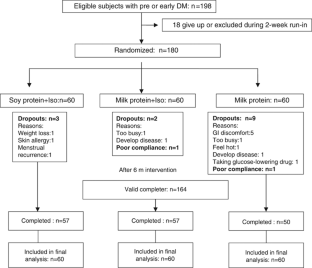 References
Koskova I, Petrasek R, Vondra K, Skibova J . Weight, body composition and fat distribution changes of Czech women in the different reproductive phases: a longitudinal study. Prague Med Rep 2007; 108: 226–242.

Misso ML, Jang C, Adams J, Tran J, Murata Y, Bell R et al. Differential expression of factors involved in fat metabolism with age and the menopause transition. Maturitas 2005; 51: 299–306.

Jacobsen DE, Samson MM, Kezic S, Verhaar HJ . Postmenopausal HRT and tibolone in relation to muscle strength and body composition. Maturitas 2007; 58: 7–18.

Delibasi T, Berker D, Aydin Y, Pinar T, Ozbek M . Effects of combined female sex hormone replacement therapy on body fat percentage and distribution. Adv Ther 2006; 23: 263–273.

Manson JE, Hsia J, Johnson KC, Rossouw JE, Assaf AR, Lasser NL et al. Estrogen plus progestin and the risk of coronary heart disease. N Engl J Med 2003; 349: 523–534.

Hendrix SL, Wassertheil-Smoller S, Johnson KC, Howard BV, Kooperberg C, Rossouw JE et al. Effects of conjugated equine estrogen on stroke in the women's health initiative. Circulation 2006; 113: 2425–2434.

Aoyama T, Fukui K, Takamatsu K, Hashimoto Y, Yamamoto T . Soy protein isolate and its hydrolysate reduce body fat of dietary obese rats and genetically obese mice (yellow KK). Nutrition 2000; 16: 349–354.

Naaz A, Yellayi S, Zakroczymski MA, Bunick D, Doerge DR, Lubahn DB et al. The soy isoflavone genistein decreases adipose deposition in mice. Endocrinology 2003; 144: 3315–3320.

Nagasawa A, Fukui K, Kojima M, Kishida K, Maeda N, Nagaretani H et al. Divergent effects of soy protein diet on the expression of adipocytokines. Biochem Biophys Res Commun 2003; 311: 909–914.

Goodman-Gruen D, Kritz-Silverstein D . Usual dietary isoflavone intake and body composition in postmenopausal women. Menopause 2003; 10: 427–432.

Yamori Y . Worldwide epidemic of obesity: hope for Japanese diets. Clin Exp Pharmacol Physiol 2004; 31 (Suppl 2): S2–S4.

Sites CK, Cooper BC, Toth MJ, Gastaldelli A, Arabshahi A, Barnes S . Effect of a daily supplement of soy protein on body composition and insulin secretion in postmenopausal women. Fertil Steril 2007; 88: 1609–1617.

Liao FH, Shieh MJ, Yang SC, Lin SH, Chien YW . Effectiveness of a soy-based compared with a traditional low-calorie diet on weight loss and lipid levels in overweight adults. Nutrition 2007; 23: 551–556.

Allison DB, Gadbury G, Schwartz LG, Murugesan R, Kraker JL, Heshka S et al. A novel soy-based meal replacement formula for weight loss among obese individuals: a randomized controlled clinical trial. Eur J Clin Nutr 2003; 57: 514–522.

Kok L, Kreijkamp-Kaspers S, Grobbee DE, Lampe JW, van der Schouw YT . Soy isoflavones, body composition, and physical performance. Maturitas 2005; 52: 102–110.

Moeller LE, Peterson CT, Hanson KB, Dent SB, Lewis DS, King DS et al. Isoflavone-rich soy protein prevents loss of hip lean mass but does not prevent the shift in regional fat distribution in perimenopausal women. Menopause 2003; 10: 322–331.

Yang Y (ed). China Food Composition 2004. Peking University Medical Press: Beijing, 2004, pp 79–201.

Lukaski HC, Johnson PE, Bolonchuk WW, Lykken GI . Assessment of fat-free mass using bioelectrical impedance measurements of the human body. Am J Clin Nutr 1985; 41: 810–817.

Cope MB, Erdman Jr JW, Allison DB . The potential role of soyfoods in weight and adiposity reduction: an evidence-based review. Obes Rev 2008; 9: 219–235.

Weickert MO, Reimann M, Otto B, Hall WL, Vafeiadou K, Hallund J et al. Soy isoflavones increase preprandial peptide YY (PYY), but have no effect on ghrelin and body weight in healthy postmenopausal women. J Negat Results Biomed 2006; 5: 11.

Aubertin-Leheudre M, Lord C, Khalil A, Dionne IJ . Effect of 6 months of exercise and isoflavone supplementation on clinical cardiovascular risk factors in obese postmenopausal women: a randomized, double-blind study. Menopause 2007; 14: 624–629.

Mori M, Aizawa T, Tokoro M, Miki T, Yamori Y . Soy isoflavone tablets reduce osteoporosis risk factors and obesity in middle-aged Japanese women. Clin Exp Pharmacol Physiol 2004; 31 (Suppl 2): S39–S41.

Matthan NR, Jalbert SM, Ausman LM, Kuvin JT, Karas RH, Lichtenstein AH . Effect of soy protein from differently processed products on cardiovascular disease risk factors and vascular endothelial function in hypercholesterolemic subjects. Am J Clin Nutr 2007; 85: 960–966.

Cassidy A . Factors affecting the bioavailability of soy isoflavones in humans. J AOAC Int 2006; 89: 1182–1188.

Cederroth CR, Nef S . Soy, phytoestrogens and metabolism: a review. Mol Cell Endocrinol 2009; 304: 30–42.

Deibert P, Konig D, Schmidt-Trucksaess A, Zaenker KS, Frey I, Landmann U et al. Weight loss without losing muscle mass in pre-obese and obese subjects induced by a high-soy-protein diet. Int J Obes Relat Metab Disord 2004; 28: 1349–1352.

Li Z, Hong K, Saltsman P, DeShields S, Bellman M, Thames G et al. Long-term efficacy of soy-based meal replacements vs an individualized diet plan in obese type II DM patients: relative effects on weight loss, metabolic parameters, and C-reactive protein. Eur J Clin Nutr 2005; 59: 411–418.

Mokdad AH, Ford ES, Bowman BA, Nelson DE, Engelgau MM, Vinicor F et al. Diabetes trends in the US: 1990–1998. Diabetes Care 2000; 23: 1278–1283.

Anderson JW, Konz EC . Obesity and disease management: effects of weight loss on comorbid conditions. Obes Res 2001; 9 (Suppl 4): 326S–334S.

Norris SL, Zhang X, Avenell A, Gregg E, Schmid CH, Kim C et al. Efficacy of pharmacotherapy for weight loss in adults with type 2 diabetes mellitus: a meta-analysis. Arch Intern Med 2004; 164: 1395–1404.

Greenway F . Obesity medications and the treatment of type 2 diabetes. Diabetes Technol Ther 1999; 1: 277–287.

Yalcin AS . Emerging therapeutic potential of whey proteins and peptides. Curr Pharm Des 2006; 12: 1637–1643.

Sites CK, L'Hommedieu GD, Toth MJ, Brochu M, Cooper BC, Fairhurst PA . The effect of hormone replacement therapy on body composition, body fat distribution, and insulin sensitivity in menopausal women: a randomized, double-blind, placebo-controlled trial. J Clin Endocrinol Metab 2005; 90: 2701–2707.

Chen Z, Bassford T, Green SB, Cauley JA, Jackson RD, LaCroix AZ et al. Postmenopausal hormone therapy and body composition—a substudy of the estrogen plus progestin trial of the Women's Health Initiative. Am J Clin Nutr 2005; 82: 651–656.

Thorneycroft IH, Lindsay R, Pickar JH . Body composition during treatment with conjugated estrogens with and without medroxyprogesterone acetate: analysis of the women's Health, Osteoporosis, Progestin, Estrogen (HOPE) trial. Am J Obstet Gynecol 2007; 197: 137 e1-7.

Guo SS, Zeller C, Chumlea WC, Siervogel RM . Aging, body composition, and lifestyle: the Fels Longitudinal Study. Am J Clin Nutr 1999; 70: 405–411.

Orgaard A, Jensen L . The effects of soy isoflavones on obesity. Exp Biol Med 2008; 233: 1066–1080.

Harmon AW, Patel YM, Harp JB . Genistein inhibits CCAAT/enhancer-binding protein beta (C/EBPbeta) activity and 3T3-L1 adipogenesis by increasing C/EBP homologous protein expression. Biochem J 2002; 367 (Part 1): 203–208.

Anderson GH, Tecimer SN, Shah D, Zafar TA . Protein source, quantity, and time of consumption determine the effect of proteins on short-term food intake in young men. J Nutr 2004; 134: 3011–3015.

Prentice AM, Jebb SA . Beyond body mass index. Obes Rev 2001; 2: 141–147.

Lee SY, Gallagher D . Assessment methods in human body composition. Curr Opin Clin Nutr Metab Care 2008; 11: 566–572.

Vasudev S, Mohan A, Mohan D, Farooq S, Raj D, Mohan V . Validation of body fat measurement by skinfolds and two bioelectric impedance methods with DEXA—the Chennai Urban Rural Epidemiology Study [CURES-3]. J Assoc Physicians India 2004; 52: 877–881.

Ritchie JD, Miller CK, Smiciklas-Wright H . Tanita foot-to-foot bioelectrical impedance analysis system validated in older adults. J Am Diet Assoc 2005; 105: 1617–1619.

Boneva-Asiova Z, Boyanov MA . Body composition analysis by leg-to-leg bioelectrical impedance and dual-energy X-ray absorptiometry in non-obese and obese individuals. Diabetes Obes Metab 2008; 10: 1012–1018.

Ellis KJ . Human body composition: in vivo methods. Physiol Rev 2000; 80: 649–680.

Wu J, Oka J, Ezaki J, Ohtomo T, Ueno T, Uchiyama S et al. Possible role of equol status in the effects of isoflavone on bone and fat mass in postmenopausal Japanese women: a double-blind, randomized, controlled trial. Menopause 2007; 14: 866–874.

Muthyala RS, Ju YH, Sheng S, Williams LD, Doerge DR, Katzenellenbogen BS et al. Equol, a natural estrogenic metabolite from soy isoflavones: convenient preparation and resolution of R- and S-equols and their differing binding and biological activity through estrogen receptors alpha and beta. Bioorg Med Chem 2004; 12: 1559–1567.
Acknowledgements
We acknowledge University Grant Council of Hong Kong for the funding support and Solbar industries Ltd (Israel) for supplying the raw materials of isoflavones and isolated soy protein for this study. The trial was supported by grant from the University Grant Council with grant ID CUHK4450/06 M and registered at clinicaltrials.gov with reg. no. NCT00856882.
About this article
Cite this article
Liu, Zm., Ho, S., Chen, Ym. et al. A mild favorable effect of soy protein with isoflavones on body composition—a 6-month double-blind randomized placebo-controlled trial among Chinese postmenopausal women. Int J Obes 34, 309–318 (2010). https://doi.org/10.1038/ijo.2009.236
Received:

Revised:

Accepted:

Published:

Issue Date:

DOI: https://doi.org/10.1038/ijo.2009.236
Keywords
soy protein

isoflavones

body weight

body fat percentage

body mass index
Further reading
Afsaneh Bakhtiari
Karimollah Hajian-Tilaki
Fatemeh Nasiri-Amiri

Diabetology & Metabolic Syndrome (2019)

Kristen M. Beavers
M. M. Gordon
M. Z. Vitolins

The journal of nutrition, health & aging (2015)