Abstract
Objective:
To test the effect on satiety of a formulation comprising plant extracts naturally containing 5-hydroxytryptophan, delivered as sublingual spray (5HTP-Nat Exts), administered five times a day for 2 months.
Design:
Two-month, randomized, double-blind, placebo-controlled trial.
Subjects:
A total of 27 healthy, adult overweight women were randomly assigned to the treatment (14) or the placebo group (13).
Measurements:
Visual analog scales were used to assess appetite sensations every day. Moreover, the study evaluated the bioavailability of 5-hydroxytryptophan following sublingual delivery over 8 weeks, by comparing 24-h urinary excretion of 5-hydroxy-3-indoleacetic acid (5-HIAA), determined at baseline and after 2 months. Other secondary end points of the study were to compare body composition, depressive symptoms, severity of binge eating and quality of life. Finally, the study tested whether a single administration of 5HTP-Nat Exts in fasting state has an effect on amino-acid profile and on appetite ratings and whether 5HTP-Nat Exts administered before a fixed test meal has any effect on satiety.
Results:
The group using the 5HTP-Nat Exts experienced a significantly greater increase in their sensation of satiety over an 8-week timeframe and in fasting state following administration of 5HTP-Nat Exts than the placebo group did (AUC=305.2 (52.8) vs 236.6 (59.4), mean difference −68.7 (95% confidence interval (CI) −116.2 to −21.2), P=0.007; mean difference in Haber score change 2.5 (95% CI 0.62–3.12, P=0.007)). A difference was observed between the groups for the mean change in 5-HIAA. All the amino acids evaluated after a single administration of 5HTP-Nat Exts were found to be similar. Differences were found for the mean change in body mass index, skinfold thicknesses and hip circumference. The other parameters were found to be similar.
Conclusion:
All these findings suggest that 5HTP-Nat Exts may be safely used to treat the problem of appetite control in overweight women during a weight loss program.
Access options
Subscribe to this journal
Receive 12 print issues and online access
$259.00 per year
only $21.58 per issue
Rent or buy this article
Get just this article for as long as you need it
$39.95
Prices may be subject to local taxes which are calculated during checkout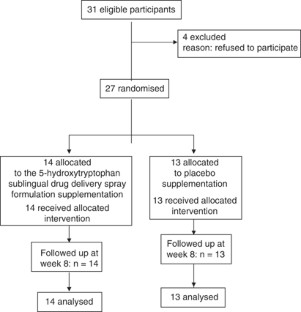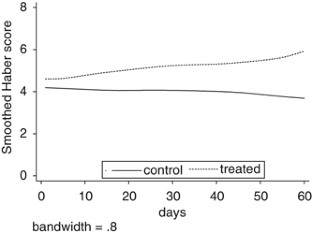 References
Blundell JE, Leshem MB . The effect of 5-hydroxytryptophan on food intake and on the anorexic action of amphetamine and fenfluramine. J Pharm Pharmacol 975; 27: 3l–37.

Leibowitz SF . The role of serotonin in eating disorders. Drugs Suppl 1990; 39: 33–48.

Ashley DV, Coscina DV, Anderson GH . Selective decrease in protein intake following brain serotonin depletion. Life Sci 1979; 24: 973–984.

Haleem DJ . Exaggerated feedback control decreases brain serotonin concentration and elicits hyperactivity in a rat model of diet-restriction-induced anorexia nervosa. Appetite 2009; 52: 44–50.

Shor-Posner G, Grinker JA, Marinescu C, Brown O, Leibowitz SF . Hypothalamic serotonin in the control of meal patterns and macronutrient selection. Brain Res Bull 1986; 17: 663–671.

Pijl H, Koppeschaar HP, Iestra JA, Schoemaker HC, Frölich M, Onkenhout W et al. Evidence for brain serotonin-mediated control of carbohydrate consumption in normal weight and obese humans. Int J Obes Relat Metab Disord 1993; 17: 513–520.

Markus CR, Panhuysen G, Tuiten A, Koppeschaar H, Fekkes D, Peters ML . Does carbohydrate-rich, protein-poor food prevent a deterioration of mood and cognitive performance of stress-prone subjects when subjected to a stressful task? Appetite 1998; 31: 49–65.

Lam DD, Przydzial MJ, Ridley SH, Yeo GS, Rochford JJ, O'Rahilly S et al. Serotonin 5-HT2C receptor agonist promotes hypophagia via downstream activation of melanocortin 4 receptors. Endocrinology 2008; 149: 1323–1328.

Silverstone T, Goodall E . Serotoninergic mechanisms in human feeding: the pharmacological evidence. Appetite Suppl 1986; 7: 85–97.

Curzon G . Serotonin and appetite. Ann NY Acad Sci 1990; 600: 521–530.

Sze JY, Victor M, Loer C, Shi Y, Ruvkun G . Food and metabolic signalling defects in a Caenorhabditis elegans serotonin-synthesis mutant. Nature 2000; 403: 560–564.

Vickers SP, Clifton PG, Dourish CT, Tecott LH . Reduced satiating effect of D-fenfluramine in serotonin 5-HT(2C) receptor mutant mice. Psychopharmacology 1999; 143: 309–314.

Fernstrom JD, Wurtman RJ . Brain serotonin content: physiological regulation by plasma neutral amino acids. Science 1972; 178: 414–416.

Pardridge WM, Oldendorf WH . Kinetic analysis of blood–brain barrier transport of amino acids. Biochim Biophys Acta 1975; 401: 128–136.

Fernstrom JD . Aromatic amino acids and monoamine synthesis in the central nervous system: influence of the diet. J Nutr Biochem 1990; 1: 508–517.

Fernstrom MH, Fernstrom JD . Brain tryptophan concentrations and serotonin synthesis remain responsive to food consumption after the ingestion of sequential meals. Am J Clin Nutr 1995; 61: 312–319.

Caballero B, Finer N, Wurtman RJ . Plasma amino acids and insulin levels in obesity: response to carbohydrate intake and tryptophan supplements. Metabolism 1988; 37: 672–676.

Ashley DV, Fleury MO, Golay A, Maeder E, Leathwood PD . Evidence for diminished brain 5-hydroxytryptamine biosynthesis in obese diabetic and non-diabetic humans. Am J Clin Nutr 1985; 42: 1240–1245.

Breum L, Rasmussen MH, Hilsted J, Fernstrom JD . Twenty-four-hour plasma tryptophan concentrations and ratios are below normal in obese subjects and are not normalized by substantial weight reduction. Am J Clin Nutr 2003; 77: 1112–1118.

Breum L, Moller SE, Andersen T, Astrup A . Long-term effect of dexfenfluramine on amino acid profiles and food selection in obese patients during weight loss. Int J Obes Relat Metab Disord 1996; 20: 147–153.

Gatti E, Porrini M, Noè D, Crovetti R, Testolin G . Plasma amino acid changes in obese patients on very low-calorie diets. Int J Vitam Nutr Res 1994; 64: 81–85.

Goodwin GM, Cowen PJ, Fairburn CG, Parry-Billings M, Calder PC, Newsholme EA . Plasma concentrations of tryptophan and dieting. BMJ 1990; 300: 1499–1500.

Wolfe BE, Metzger ED, Stollar C . The effects of dieting on plasma tryptophan concentration and food intake in healthy women. Physiol Behav 1997; 61: 537–541.

Attenburrow MJ, Williams C, Odontiadis J, Powell J, Van de Ouderaa F, Williams M et al. The effect of a nutritional source of tryptophan on dieting-induced changes in brain 5-HT function. Psychol Med 2003; 33: 1381–1386.

Jeffery RW, Drewnowski A, Epstein LH, Stunkard AJ, Wilson GT, Wing RR et al. Long-term maintenance of weight loss: current status. Health Psychol 2000; 19: 5–16.

Fernstrom ID . Role of precursor availability in control of monoamine biosynthesis in brain. Physiol Rev 1983; 63: 484–546.

Ceci F, Cangiano C, Cairella M, Cascino A, Del Ben M, Muscaritoli M et al. The effects of oral 5-hydroxytryptophan administration on feeding behaviour in obese adult female subjects. J Neural Transm 1989; 76: 109–117.

Cangiano C, Ceci F, Cascino A, Del Ben M, Laviano A, Muscaritoli M et al. Eating behaviour and adherence to dietary prescriptions in obese adult subjects treated with 5-hydroxytryptophan. Am J Clin Nutr 1992; 56: 863–867.

Cangiano C, Laviano A, Del Ben M, Preziosa I, Angelico F, Cascino A et al. Effects of oral 5-hydroxy-tryptophan on energy intake and macronutrient selection for in non-insulin dependent diabetic patients. Int J Obes Relat Metab Disord 1998; 22: 648–654.

Veldhorst MA, Nieuwenhuizen AG, Hochstenbach-Waelen A, Westerterp KR, Engelen MP, Brummer RJ et al. A breakfast with alpha-lactalbumin, gelatin, or gelatin + TRP lowers energy intake at lunch compared with a breakfast with casein, soy, whey, or whey-GMP. Clin Nutr 2009; 28: 147–155.

Yamada J, Sugimoto Y, Ujikawa M . Involvement of leptin in hypophagia induced by the serotonin precursor 5-hydroxytryptophan (5-HTP) in mice. Biol Pharm Bull 2006; 29: 557–559.

Yamada J, Sugimoto Y, Ujikawa M . The serotonin precursor 5-hydroxytryptophan elevates serum leptin levels in mice. Eur J Pharmacol 1999; 383: 49–51.

Fruhbeck G, Jebb SA, Prentice AM . Leptin: physiology and pathophysiology. Clin Physiol 1998; 18: 399–419.

Kurosaki Y, Takatori T, Nishimura H, Nakayama T, Kimura T . Regional variation in oral mucosal drug absorption permeability and degree of keratinization in hamster oral cavity. Pharm Res 1991; 8: 1297–1301.

Tuner EH, Loftis JM, Blackwell AD . Serotonin a la carte: supplementation with the serotonin precursor 5-hydroxytryptophan. Pharmacol Ther 2006; 109: 325–338.

Lemaire PA, Adosraku RK . An HPLC method for the direct assay of the serotonin precursor, 5-hydroxytrophan, in seeds of Griffonia simplicifolia. Phytochem Anal 2002; 13: 333–337.

Lima WP, Carnevali Jr LC, Eder R, Costa Rosa LF, Bacchi EM, Seelaender MC . Lipid metabolism in trained rats: effect of guaranà (Paullinia cupana Mart.) supplementation. Clin Nutr 2005; 24: 1019–1028.

Brinkhaus B, Lindner M, Schuppan D, Hahn EG . Chemical, pharmacolo and clinical profile of the East Asian medical plant Centella asiatica. Phytomedicine 2000; 7: 427–448.

Schütz K, Carle R, Schieber A . Taraxacum—a review on its phytochemical and pharmacological profile. J Ethnopharmacol 2006; 107: 313–323.

Moglia A, Lanteri S, Comino C, Acquadro A, de Vos R, Beekwilder J . Stress-induced biosynthesis of dicaffeoylquinic acids in globe artichoke. J Agric Food Chem 2008; 56: 8641–8649.

Naranjo CA, Tremblay LK, Busto UE . The role of the brain reward system in depression. Prog Neuropsychopharmacol Biol Psychiatry 2001; 25: 781–823.

American Psychiatric Association. Mood disorders. In: American Psychiatric Association (eds) Diagnostic and Statistical Manual of Mental Disorders 4th edn American Psychiatric Association: Washington, DC, 1994. pp 317–345.

Wurtman JJ, Brzezinski A, Wurtman RJ, Laferrere B . Effect of nutrient intake on premenstrual depression. Am J Obstet Gynecol 1989; 161: 1228–1234.

Haber GB, Heaton KW, Murphy D, Burroughs LF . Depletion and disruption of dietary fibre. Effects on satiety, plasma-glucose, and serum-insulin. Lancet 1977; 2: 679–682.

Udenfriend S, Titus E, Weissabach H . The identification of 5-hydroxy-3-indoleacetic acid in normal urine and a method for its assay. J Biol Chem 955; 2l6: 449–505.

Frisancho AR . New standards of weight and body composition by frame size and height for assessment of nutritional status of adults and the elderly. Am J Clin Nutr 1984; 40: 808–819.

World Health Organization. Energy and Protein Requirements Report of a Joint FAO/WHO/UNU Expert Consultation. WHO Technical Report Series No. 724 WHO: Geneva, Switzerland, 1985.

Gormally J, Black S, Daston S, Rardin D . The assessment of binge eating severity among obese persons. Addict Behav 1982; 7: 47–55.

Steer RA, Ball R, Ranieri WF, Beck AT . Dimensions of the Beck Depression Inventory-II in clinically depressed outpatients. J Clin Psychol 1999; 55: 117–128.

Ware JE, Snow KK, Kosinski M, Gandek B (eds). SF-36 Health Survey: Manual and Interpretation Guide. The Health Institute: Boston, MA, 1993.

Das YT, Bagchi M, Bagchi D, Preuss HG . Safety of 5-hydroxy-L-tryptophan. Toxicol Lett 2004; 150: 111–122.

Rodriguez-Fragoso L, Reyes-Esparza J, Burchiel SW, Herrera Ruiz D, Torres E . Risk and benefits of commonly used herbal medicines in Mexico. Toxicol Appl Pharmacol 2008; 227: 125–135.

Pittler MH, Thompson CO, Ernst E . Artichoke leaf extract for treating hypercholesterolemia. Cochrane Database Syst Rev 2002; 3: CD003335.

Doucet E, Imbeault P, St-Pierre S, Alméras N, Mauriège P, Richard D . Appetite after weight loss by energy restriction and low-fat diet exercise follow up. Int J Obes Relat Metab Disord 2000; 24: 906–914.

Pathan SA, Iqbal Z, Sahani JK, Talegaonkar S, Khar RK, Ahmad FJ . Buccoadhesive drug delivery systems—extensive review on recent patents. Recent Pat Drug Deliv Formul 2008; 2: 177–188.
About this article
Cite this article
Rondanelli, M., Klersy, C., Iadarola, P. et al. Satiety and amino-acid profile in overweight women after a new treatment using a natural plant extract sublingual spray formulation. Int J Obes 33, 1174–1182 (2009). https://doi.org/10.1038/ijo.2009.155
Received:

Revised:

Accepted:

Published:

Issue Date:

DOI: https://doi.org/10.1038/ijo.2009.155
Keywords
5-hydroxytryptophan

sublingual drug delivery spray formulation

weight loss

satiety

appetite