Abstract
Background:
The major aim of this study was to investigate whether the motivational salience of food cues (as reflected by their attention-grabbing properties) differs between obese and normal-weight subjects in a manner consistent with altered reward system function in obesity.
Methodology/Principal Findings:
A total of 18 obese and 18 normal-weight, otherwise healthy, adult women between the ages of 18 and 35 participated in an eye-tracking paradigm in combination with a visual probe task. Eye movements and reaction time to food and non-food images were recorded during both fasted and fed conditions in a counterbalanced design. Eating behavior and hunger level were assessed by self-report measures. Obese individuals had higher scores than normal-weight individuals on self-report measures of responsiveness to external food cues and vulnerability to disruptions in control of eating behavior. Both obese and normal-weight individuals demonstrated increased gaze duration for food compared to non-food images in the fasted condition. In the fed condition, however, despite reduced hunger in both groups, obese individuals maintained the increased attention to food images, whereas normal-weight individuals had similar gaze duration for food and non-food images. Additionally, obese individuals had preferential orienting toward food images at the onset of each image. Obese and normal-weight individuals did not differ in reaction time measures in the fasted or fed condition.
Conclusions/Significance:
Food cue incentive salience is elevated equally in normal-weight and obese individuals during fasting. Obese individuals retain incentive salience for food cues despite feeding and decreased self-report of hunger. Sensitization to food cues in the environment and their dysregulation in obese individuals may play a role in the development and/or maintenance of obesity.
Relevant articles
Open Access articles citing this article.
Misba Hussain

,

Madalina Unchiasu

…

Michail Mantzios

Journal of Cognitive Enhancement Open Access 27 June 2022

Scott E. Kanoski

&

Kerri N. Boutelle

Reviews in Endocrine and Metabolic Disorders Open Access 28 April 2022

Elizabeth Schneider

,

Maartje S. Spetter

…

Suzanne Higgs

International Journal of Obesity Open Access 09 April 2022
Access options
Subscribe to this journal
Receive 12 print issues and online access
$259.00 per year
only $21.58 per issue
Rent or buy this article
Get just this article for as long as you need it
$39.95
Prices may be subject to local taxes which are calculated during checkout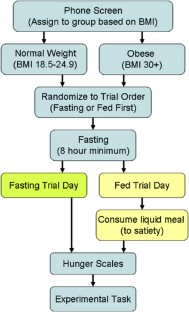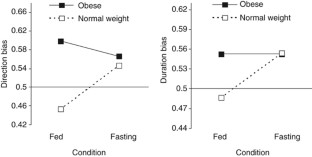 References
Denton D . The Primordial Emotions: The Dawning of Consciousness. Oxford University Press: New York, NY, 2005.

Ogden CL, Carroll MD, Curtin LR, McDowell MA, Tabak CJ, Flegal KM . Prevalence of overweight and obesity in the United States, 1999–2004. JAMA 2006; 295: 1549–1555.

Fontaine KR, Redden DT, Wang C, Westfall AO, Allison DB . Years of life lost due to obesity. JAMA 2003; 289: 187–193.

Kelley AE, Berridge KC . The neuroscience of natural rewards: relevance to addictive drugs. J Neurosci 2002; 22: 3306–3311.

Wise RA . Drug-activation of brain reward pathways. Drug Alcohol Depend 1998; 51: 13–22.

Rada P, Avena NM, Hoebel BG . Daily bingeing on sugar repeatedly releases dopamine in the accumbens shell. Neuroscience 2005; 134: 737–744.

Avena NM, Rada P, Hoebel BG . Evidence for sugar addiction: behavioral and neurochemical effects of intermittent, excessive sugar intake. Neurosci Biobehav Rev 2008; 32: 20–39.

Spangler R, Wittkowski KM, Goddard NL, Avena NM, Hoebel BG, Leibowitz SF . Opiate-like effects of sugar on gene expression in reward areas of the rat brain. Brain Res Mol Brain Res 2004; 124: 134–142.

Kelley AE, Bakshi VP, Fleming S, Holahan MR . A pharmacological analysis of the substrates underlying conditioned feeding induced by repeated opioid stimulation of the nucleus accumbens. Neuropsychopharmacology 2000; 23: 455–467.

Avena NM, Long KA, Hoebel BG . Sugar-dependent rats show enhanced responding for sugar after abstinence: evidence of a sugar deprivation effect. Physiol Behav 2005; 84: 359–362.

South T, Huang XF . High-fat diet exposure increases dopamine D2 receptor and decreases dopamine transporter receptor binding density in the nucleus accumbens and caudate putamen of mice. Neurochem Res 2008; 33: 598–605.

Davis JF, Tracy AL, Schurdak JD, Tschop MH, Lipton JW, Clegg DJ et al. Exposure to elevated levels of dietary fat attenuates psychostimulant reward and mesolimbic dopamine turnover in the rat. Behav Neurosci 2008; 122: 1257–1263.

Huang XF, Yu Y, Zavitsanou K, Han M, Storlien L . Differential expression of dopamine D2 and D4 receptor and tyrosine hydroxylase mRNA in mice prone, or resistant, to chronic high-fat diet-induced obesity. Brain Res Mol Brain Res 2005; 135: 150–161.

Robinson TE, Berridge KC . Addiction. Annu Rev Psychol 2003; 54: 25–53.

Robinson TE, Berridge KC . Incentive-sensitization and addiction. Addiction 2001; 96: 103–114.

Schultz W, Dayan P, Montague PR . A neural substrate of prediction and reward. Science 1997; 275: 1593–1599.

Wickelgren I . Getting the brain's attention. Science 1997; 278: 35–37.

Franken IH . Drug craving and addiction: integrating psychological and neuropsychopharmacological approaches. Prog Neuropsychopharmacol Biol Psychiatry 2003; 27: 563–579.

Carter BL, Tiffany ST . Cue-reactivity and the future of addiction research. Addiction 1999; 94: 349–351.

Garavan H, Pankiewicz J, Bloom A, Cho JK, Sperry L, Ross TJ et al. Cue-induced cocaine craving: neuroanatomical specificity for drug users and drug stimuli. Am J Psychiatry 2000; 157: 1789–1798.

Bradley BP, Mogg K, Wright T, Field M . Attentional bias in drug dependence: vigilance for cigarette-related cues in smokers. Psychol Addict Behav 2003; 17: 66–72.

Waters AJ, Shiffman S, Bradley BP, Mogg K . Attentional shifts to smoking cues in smokers. Addiction 2003; 98: 1409–1417.

Field M, Mogg K, Zetteler J, Bradley BP . Attentional biases for alcohol cues in heavy and light social drinkers: the roles of initial orienting and maintained attention. Psychopharmacology (Berl) 2004; 176: 88–93.

Townshend JM, Duka T . Attentional bias associated with alcohol cues: differences between heavy and occasional social drinkers. Psychopharmacology (Berl) 2001; 157: 67–74.

Yeomans MR, Javaherian S, Tovey HM, Stafford LD . Attentional bias for caffeine-related stimuli in high but not moderate or non-caffeine consumers. Psychopharmacology (Berl) 2005; 181: 477–485.

Lubman DI, Peters LA, Mogg K, Bradley BP, Deakin JF . Attentional bias for drug cues in opiate dependence. Psychol Med 2000; 30: 169–175.

Field M, Mogg K, Bradley BP . Cognitive bias and drug craving in recreational cannabis users. Drug Alcohol Depend 2004; 74: 105–111.

Henderson JM, Hollingworth A . Eye movements during scene viewing: an overview. In: Underwood G (ed). Eye Guidance in Reading and Scene Perception. Elsevier Science Ltd: Oxford, UK, 1998, pp 269–293.

Bradley BP, Garner M, Hudson L, Mogg K . Influence of negative affect on selective attention to smoking-related cues and urge to smoke in cigarette smokers. Behav Pharmacol 2007; 18: 255–263.

Mogg K, Field M, Bradley BP . Attentional and approach biases for smoking cues in smokers: an investigation of competing theoretical views of addiction. Psychopharmacology (Berl) 2005; 180: 333–341.

Field M, Mogg K, Bradley BP . Eye movements to smoking-related cues: effects of nicotine deprivation. Psychopharmacology (Berl) 2004; 173: 116–123.

Mogg K, Bradley BP, Field M, De HJ . Eye movements to smoking-related pictures in smokers: relationship between attentional biases and implicit and explicit measures of stimulus valence. Addiction 2003; 98: 825–836.

Field M, Eastwood B, Bradley BP, Mogg K . Selective processing of cannabis cues in regular cannabis users. Drug Alcohol Depend 2006; 85: 75–82.

Leland DS, Pineda JA . Effects of food-related stimuli on visual spatial attention in fasting and nonfasting normal subjects: Behavior and electrophysiology. Clin Neurophysiol 2006; 117: 67–84.

Placanica JL, Faunce GJ, Soames Job RF . The effect of fasting on attentional biases for food and body shape/weight words in high and low Eating Disorder Inventory scorers. Int J Eat Disord 2002; 32: 79–90.

Mogg K, Bradley BP, Hyare H, Lee S . Selective attention to food-related stimuli in hunger: are attentional biases specific to emotional and psychopathological states, or are they also found in normal drive states? Behav Res Ther 1998; 36: 227–237.

Braet C, Crombez G . Cognitive interference due to food cues in childhood obesity. J Clin Child Adolesc Psychol 2003; 32: 32–39.

Soetens B, Braet C . Information processing of food cues in overweight and normal weight adolescents. Br J Health Psychol 2007; 12 (Part 2): 285–304.

Nijs IM, Franken IH, Muris P . Food cue-elicited brain potentials in obese and healthy-weight individuals. Eat Behav 2008; 9: 462–470.

Cloninger CR, Przybeck TR, Syrakic DM, Wetzel RD . The Temperament and Character Inventory (TCI): A Guide to Its Development and Use. Center for Psychobiology of Personality, Washington University: St Louis, MO, 1994.

Carver CS, White TL . Behavioral-inhibition, behavioral activation, and affective responses to impending reward and punishment—the Bis Bas scales. J Pers Soc Psychol 1994; 67: 319–333.

Stunkard AJ, Messick S . The three-factor eating questionnaire to measure dietary restraint, disinhibition and hunger. J Psychosom Res 1985; 29: 71–83.

van Strien T, Frijters JER, Bergers GPA, Defares PB . The dutch eating behavior questionnaire (DEBQ) for assessment of restrained, emotional, and external eating behavior. Int J Eat Disord 1986; 5: 295–315.

Beaver JD, Lawrence AD, van DJ, Davis MH, Woods A, Calder AJ . Individual differences in reward drive predict neural responses to images of food. J Neurosci 2006; 26: 5160–5166.

Lindroos AK, Lissner L, Mathiassen ME, Karlsson J, Sullivan M, Bengtsson C et al. Dietary intake in relation to restrained eating, disinhibition, and hunger in obese and nonobese Swedish women. Obes Res 1997; 5: 175–182.

Provencher V, Drapeau V, Tremblay A, Despres JP, Lemieux S . Eating behaviors and indexes of body composition in men and women from the Quebec family study. Obes Res 2003; 11: 783–792.

Gerra G, Zaimovic A, Timpano M, Zambelli U, Begarani M, Marzocchi GF et al. Neuroendocrine correlates of temperament traits in abstinent opiate addicts. J Subst Abuse 2000; 11: 337–354.

NIH. Clinical Guidelines on the Identification, Evaluation, and Treatment of Overweight and Obesity in Adults. NIH: Bethesda, MD, 1998.

Grand S . Color-word interference. II. An investigation of the role of vocal conflict and hunger in associative priming. J Exp Psychol 1968; 77: 31–40.

Gautier JF, Chen K, Salbe AD, Bandy D, Pratley RE, Heiman M et al. Differential brain responses to satiation in obese and lean men. Diabetes 2000; 49: 838–846.

Carroll JF, Kaiser KA, Franks SF, Deere C, Caffrey JL . Influence of BMI and gender on postprandial hormone responses. Obesity (Silver Spring) 2007; 15: 2974–2983.

Davis C, Fox J . Sensitivity to reward and body mass index (BMI): evidence for a non-linear relationship. Appetite 2008; 50: 43–49.

Kampov-Polevoy AB, Eick C, Boland G, Khalitov E, Crews FT . Sweet liking, novelty seeking, and gender predict alcoholic status. Alcohol Clin Exp Res 2004; 28: 1291–1298.

Hale RL, Whiteman S, Muehl K, Faynberg E . Tridimensional personality traits of college student marijuana users. Psychol Rep 2003; 92: 661–666.

Zald DH, Cowan RL, Riccardi P, Baldwin RM, Ansari MS, Li R et al. Midbrain dopamine receptor availability is inversely associated with novelty-seeking traits in humans. J Neurosci 2008; 28: 14372–14378.

Wang GJ, Volkow ND, Felder C, Fowler JS, Levy AV, Pappas NR et al. Enhanced resting activity of the oral somatosensory cortex in obese subjects. Neuroreport 2002; 13: 1151–1155.

Thanos PK, Michaelides M, Piyis YK, Wang GJ, Volkow ND . Food restriction markedly increases dopamine D2 receptor (D2R) in a rat model of obesity as assessed with in-vivo muPET imaging ([11C] raclopride) and in-vitro ([3H] spiperone) autoradiography. Synapse 2008; 62: 50–61.

Geiger BM, Behr GG, Frank LE, Caldera-Siu AD, Beinfeld MC, Kokkotou EG et al. Evidence for defective mesolimbic dopamine exocytosis in obesity-prone rats. FASEB J 2008; 22: 2740–2746.

Volkow ND, Wise RA . How can drug addiction help us understand obesity? Nat Neurosci 2005; 8: 555–560.

Kelley AE, Bakshi VP, Haber SN, Steininger TL, Will MJ, Zhang M . Opioid modulation of taste hedonics within the ventral striatum. Physiol Behav 2002; 76: 365–377.
Acknowledgements
We thank two anonymous reviewers for their contributions to improving this article.
About this article
Cite this article
Castellanos, E., Charboneau, E., Dietrich, M. et al. Obese adults have visual attention bias for food cue images: evidence for altered reward system function. Int J Obes 33, 1063–1073 (2009). https://doi.org/10.1038/ijo.2009.138
Received:

Revised:

Accepted:

Published:

Issue Date:

DOI: https://doi.org/10.1038/ijo.2009.138
Keywords
human obesity

incentive salience

eye tracking

visual probe

reward system