Abstract
Objective:
To evaluate the efficacy of diethylpropion on a long-term basis, with emphasis in cardiovascular and psychiatric safety aspects.
Design:
Randomized, double-blind, placebo-controlled trial
Measurements:
Following a 2-week screening period, 69 obese healthy adults received a hypocaloric diet and were randomized to diethylpropion 50 mg BID (n=37) or placebo (n=32) for 6 months. After this period, all participants received diethylpropion in an open-label extension for an additional 6 months. The primary outcome was percentage change in body weight. Electrocardiogram (ECG), echocardiography and clinical chemistry were performed at baseline and every 6 months. Psychiatric evaluation and application of Hamilton rating scales for depression and anxiety were also performed by experienced psychiatrists at baseline and every 3 months.
Results:
After 6 months, the diethylpropion group lost an average of 9.8% (s.d. 6.9%) of initial body weight vs 3.2% (3.7%) in the placebo group (P<0.0001). From baseline to month 12, the mean weight loss produced by diethylpropion was 10.6% (8.3%). Participants in the placebo group who were switched to diethylpropion after 6 months lost an average of 7.0% (7.7%) of initial body weight. The difference between groups at month 12 was not significant (P=0.07). No differences in blood pressure, pulse rate, ECG and psychiatric evaluation were observed. Dry mouth and insomnia were the most frequent adverse events.
Conclusion:
Diethylpropion plus diet produced sustained and clinically significant weight loss over 1 year. It seems to be safe in relation to cardiovascular and psychiatric aspects in a well-selected population.
Relevant articles
Open Access articles citing this article.
Jing Hong Liang

,

Yu Zhao

…

Ya Jun Chen

BMC Medicine Open Access 02 September 2022

Dan Osei Mensah Bonsu

,

Constance Afoakwah

&

Maria de la Paz Aguilar-Caballos

Forensic Toxicology Open Access 02 January 2021

Magdalena Gómez-Silva

,

Everardo Piñeyro-Garza

…

Rafael B. R. León-Cachón

Scientific Reports Open Access 28 November 2019
Access options
Subscribe to this journal
Receive 12 print issues and online access
$259.00 per year
only $21.58 per issue
Rent or buy this article
Get just this article for as long as you need it
$39.95
Prices may be subject to local taxes which are calculated during checkout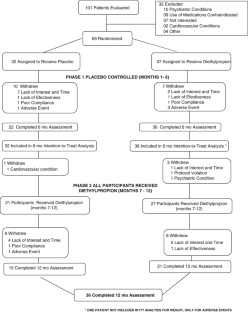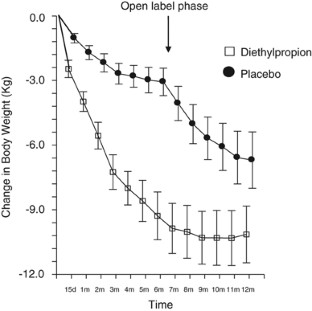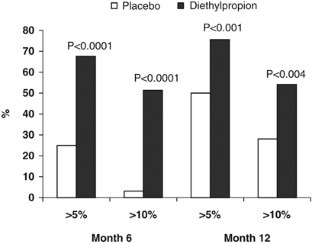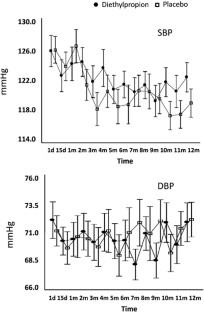 References
Calle EE, Thun MJ, Petrelli JM, Rodriguez C, Heath Jr W . Body-mass index and mortality in a prospective cohort of US adults. N Engl J Med 1999; 341: 1097–1105.

Winter Y, Rohrmann S, Linseisen J, Lanczik O, Ringleb PA, Hebebrand J et al. Contribution of obesity and abdominal fat mass to risk of stroke and transient ischemic attacks. Stroke 2008; 39: 3145–3151.

Cercato C, Mancini MC, Arguello AM, Passos VQ, Villares SM, Halpern A . Systemic hypertension, diabetes mellitus, and dyslipidemia in relation to body mass index: evaluation of a Brazilian population. Rev Hosp Clin Fac Med Sao Paulo 2004; 59: 113–118.

Bray GA . Medications for weight reduction. Endocrinol Metab Clin North Am 2008; 37: 923–942.

Halpern A, Mancini MC . Treatment of obesity: an update on anti-obesity medications. Obes Rev 2003; 4: 25–42.

Silverstone T . Appetite suppressants. A review. Drugs 1992; 43: 820–836.

Cohen S . Diethylpropion (tenuate): an infrequently abused anorectic. Psychosomatics 1977; 18: 28–33.

Colman E . Anorectics on trial: a half century of federal regulation of prescription appetite suppressants. Ann Intern Med 2005; 143: 380–385.

Haddock CK, Poston WS, Dill PL, Foreyt JP, Ericsson M . Pharmacotherapy for obesity: a quantitative analysis of four decades of published randomized clinical trials. Int J Obes Relat Metab Disord 2002; 26: 262–273.

Glazer G . Long-term pharmacotherapy of obesity 2000: a review of efficacy and safety. Arch Intern Med 2001; 161: 1814–1824.

Silverstone JJ, Solomon T . The long-term management of obesity in general practice. Br J Clin Pract 1965; 19: 395–398.

McKay RHG . Long-term use of diethylpropion in obesity. Curr Med Res Opin 1973; 1: 489–493.

Matthews DR, Hosker JP, Rudenski AS, Naylor BA, Treacher DF, Turner RC . Homeostasis model assessment: insulin resistance and beta-cell function from fasting plasma glucose and insulin concentrations in man. Diabetologia 1985; 28: 412–419.

Walker GA . Common Statistical Methods for Clinical Research with SAS Examples 2nd edn. SAS Institute: Cary, NC, 2002.

Daniel WW . Biostatistics: A Foundation for Analysis in the Health Sciences 6th edn. Wiley: New York, 1995.

Fisher LD, Van Belle G . Biostatistics—A Methodology for the Health Sciences 1st edn. John Wiley & Sons: New York, 1993.

Andelman MC, Jones C, Nathan S . Treatment of obesity in underprivileged adolescents: comparison of diethylpropion hydrochloride with placebo in a double-blind study. Clin Pediatr 1967; 6: 327–330.

Bolding OT . Diethylpropion hydrochloride: an effective appetite supressant. Curr Ther Res 1975; 16: 40–48.

Boileau PA . Control of weight gain during pregnancy: use of dietylpropion hydrochloride. Appl Ther 1968; 10: 763–765.

Bolding OT . A double-blind evaluation of tenuate dospan in overweight patients from a private gynecologic practice. J Med Assoc State of Alabama 1968; 38: 209–212.

McQuarrie HG . Clinical assessment of the use of an anorectic drug in a total weight reduction program. Curr Ther Res 1975; 17: 437–443.

Abramson R, Garg M, Cioffari A, Rotman PA . An evaluation of behavioral techniques reinforced with an anorectic drug in a double-blind weight loss study. J Clin Psychiatry 1980; 41: 234–237.

Li Z, Maglione M, Tu W, Mojica W, Arterburn D, Shugarman LR et al. Meta-analysis: pharmacologic treatment of obesity. Ann Intern Med 2005; 142: 532–546.

Coutinho W . Consenso Latino-Americano de obesidade Arq. bras. Endocrinol Metab 1999; 43: 21–67.

Rucker D, Padwal R, Li SK, Curioni C, Lau DC . Long term pharmacotherapy for obesity and overweight: updated meta-analysis. BMJ 2007; 335: 1194–1199.

Astrup A, Madsbad S, Breum L, Jensen TJ, Kroustrup JP, Larsen TM . Effect of tesofensine on bodyweight loss, body composition, and quality of life in obese patients: a randomised, double-blind, placebo-controlled trial. Lancet 2008; 372: 1906–1913.

Astrup A, Andersen T, Christensen NJ, Bülow J, Madsen J, Breum L et al. Impaired glucose-induced thermogenesis and arterial norepinephrine response persist after weight reduction in obese humans. Am J Clin Nutr 1990; 51: 331–337.

Flaa A, Sandvik L, Kjeldsen SE, Eide IK, Rostrup M . Does sympathoadrenal activity predict changes in body fat? An 18-y follow-up study. Am J Clin Nutr 2008; 87: 1596–1601.

Seedat YK, Reddy J . Diethylpropion hydrochloride (Tenuate Dospan) in combination with hypotensive agents in the treatment of obesity associated with hypertension. Curr Ther Res Clin Exp 1974; 16: 398–413.

Russek HI . Control of obesity in patients with angina pectoris: a double-blind study with diethylpropion hydrochloride. Am J Med Sci 1966; 251: 461–464.

Abenhaim L, Moride Y, Brenot F, Rich S, Benichou J, Kurz X et al. Appetite supressant drugs and the risk of primary pulmonary hypertension. International Primary Pulmonary Hypertension Study Group. N Engl J Med 1996; 29: 609–616.

Gurtner HP . Aminorex and pulmonary hypertension. A review. Cor Vasa 1985; 27: 160–171.

Kramer MS, Lane DA . Aminorex, dexfenfluramine, and primary pulmonary hypertension. J Clin Epidemiol 1998; 51: 361–364.

Wang HL . The serotonin receptor and transporter as potential therapeutic targets for pulmonary hypertension. Curr Opin Investig Drugs 2004; 5: 963–966.

Abramowicz MJ, Van Haecke P, Demedts M, Delcroix M . Primary pulmonary hypertension after amfepramone (diethylpropion) with BMPR2 mutation. Eur Respir J 2003; 22: 560–562.

Thomas SH, Butt AY, Corris PA, Egan JJ, Higenbottam TW, Madden BP et al. Appetite suppressants and primary pulmonary hypertension in the United Kingdom. Br Heart J 1995; 74: 660–663.

Friström S, Airaksinen MM, Halmekoski J . Release of platelet 5-hydroxytryptamine by some anorexic and other sympathomimetics and their acetyl derivatives. Acta Pharmacol Toxicol (Copenh) 1977; 41: 218–224.

Haque AK, Gadre S, Taylor J, Haque SA, Freeman D, Duarte A . Pulmonary and cardiovascular complications of obesity: an autopsy study of 76 obese subjects. Arch Pathol Lab Med 2008; 132: 1397–1404.

de Sousa AG, Cercato C, Mancini MC, Halpern A . Obesity and obstructive sleep apnea-hypopnea syndrome. Obes Rev 2008; 9: 340–354.

Preston IR . Clinical perspective of hypoxia-mediated pulmonary hypertension. Antioxid Redox Signal 2007; 9: 711–721.

Padwal R, Li S, Lau D . Long-term pharmacotherapy for overweight and obesity: a systematic review and meta-analysis of randomized controlled trials. Int J Obes Relat Metab Disord 2003; 27: 1437–1446.

Gadbury GL, Coffey CS, Allison DB . Modern statistical methods for handling missing repeated measurements in obesity trial data: beyond LOCF. Obes Rev 2003; 4: 175–184.
Acknowledgements
We are grateful to Dr Michele Leao França for assistance with patients at the beginning of the study. We thank Dr Enrico Repetto for excellent technical assistance. We acknowledge the Medley Pharmaceutical for providing the placebo and diethylpropion treatment.
About this article
Cite this article
Cercato, C., Roizenblatt, V., Leança, C. et al. A randomized double-blind placebo-controlled study of the long-term efficacy and safety of diethylpropion in the treatment of obese subjects. Int J Obes 33, 857–865 (2009). https://doi.org/10.1038/ijo.2009.124
Received:

Revised:

Accepted:

Published:

Issue Date:

DOI: https://doi.org/10.1038/ijo.2009.124
Keywords
diethylpropion

treatment

appetite-suppressant drugs

sympathomimetic