Abstract
Objective:
Limited data are available on the prevalence and patterns of body weight discrimination from representative samples. This study examined experiences of weight/height discrimination in a nationally representative sample of US adults and compared their prevalence and patterns with discrimination experiences based on race and gender.
Method and procedures:
Data were from the National Survey of Midlife Development in the United States, a 1995–1996 community-based survey of English-speaking adults aged 25–74 (N=2290). Reported experiences of weight/height discrimination included a variety of institutional settings and interpersonal relationships. Multivariate regression analyses were used to predict weight/height discrimination controlling for sociodemographic characteristics and body weight status.
Results:
The prevalence of weight/height discrimination ranged from 5% among men to 10% among women, but these average percentages obscure the much higher risk of weight discrimination among heavier individuals (40% for adults with body mass index (BMI) of 35 and above). Younger individuals with a higher BMI had a particularly high risk of weight/height discrimination regardless of their race, education and weight status. Women were at greater risk for weight/height discrimination than men, especially women with a BMI of 30–35 who were three times more likely to report weight/height discrimination compared to male peers of a similar weight.
Discussion:
Weight/height discrimination is prevalent in American society and is relatively close to reported rates of racial discrimination, particularly among women. Both institutional forms of weight/height discrimination (for example, in employment settings) and interpersonal mistreatment due to weight/height (for example, being called names) were common, and in some cases were even more prevalent than discrimination due to gender and race.
Relevant articles
Open Access articles citing this article.
Jessica Koran-Scholl

,

Jenenne Geske

…

Birgit Khandalavala

BMC Medical Education Open Access 16 May 2023

Susannah Westbury

,

Oyinlola Oyebode

…

Thomas M. Barber

Current Obesity Reports Open Access 14 February 2023
Access options
Subscribe to this journal
Receive 12 print issues and online access
$259.00 per year
only $21.58 per issue
Rent or buy this article
Prices vary by article type
from$1.95
to$39.95
Prices may be subject to local taxes which are calculated during checkout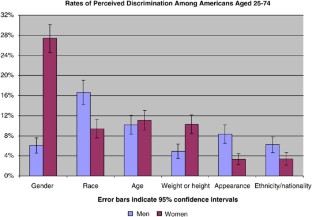 References
Brownell KD, Puhl R, Schwartz MB, Rudd R (eds). Weight Bias: Nature, Consequences, and Remedies. Guilford Publications: New York, 2005.

Puhl R, Brownell KD . Bias, discrimination, and obesity. Obes Res 2001; 9: 788–805.

Paul RJ, Townsend JB . Shape up or ship out? Employment discrimination against the overweight. Empl Respons Rights J 1995; 8: 133–145.

Roehling MV . Weight-based discrimination in employment: psychological and legal aspects. Pers Psychol 1999; 52: 969–1017.

Berryman DE, Dubale GM, Manchester DS, Mittelstaed R . Dietetic students possess negative attitudes toward obesity similar to nondietetic students. J Am Dietetic Assoc 2006; 106: 1678–1682.

Davis-Coelho K, Waltz J, Davis-Coelho B . Awareness and prevention of bias against fat clients in psychotherapy. Prof Psychol: Res Pract 2000; 31: 682–684.

Kristeller JL, Hoerr RA . Physician attitudes toward managing obesity: differences among six specialty groups. Am J Prev Med 1997; 26: 542–549.

Schwartz MB, O'Neal H, Brownell KD, Blair S, Billington C . Weight Bias among health professionals specializing in obesity. Obes Res 2003; 11: 1033–1039.

Teachman BA, Brownell KD . Implicit anti-fat bias among health professionals: is anyone immune? Int J Obes Relat Metab Disord 2001; 25: 1525–1531.

Greenleaf C, Weiller K . Perceptions of youth obesity among physical educators. Soc Psychol Educ 2005; 8: 407–423.

Neumark-Sztainer D, Story M, Harris T . Beliefs and attitudes about obesity among teachers and school health care providers working with adolescents. J Nutr Educ 1999; 31: 3–9.

O'Brien KS, Hunter JA, Banks M . Implicit anti-fat bias in physical educators: physical attributes, ideology, and socialisation. Int J Obes 2007; 31: 308–314.

Puhl R, Brownell KD . Confronting and coping with weight stigma: An investigation of overweight and obese individuals. Obesity 2006; 14: 1802–1815.

Eisenberg ME, Neumark-Sztainer D, Story M . Associations of weight-based teasing and emotional well-being among adolescents. Arch Pediatr Adolesc Med 2003; 157: 733–738.

Friedman KE, Reichmann SK, Costanzo PR, Zelli A, Ashmore JA, Musante GJ . Weight stigmatization and ideological beliefs: relation to psychological functioning in obese adults. Obes Res 2005; 13: 907–916.

Amy NK, Aalborg A, Lyons P, Keranen L . Barriers to routine gynecological cancer screening for White and African-American obese women. Int J Obes 2006; 30: 147–155.

Haines J, Neumark-Sztainer D, Eisenberg ME, Hannan PJ . Weight teasing and disordered eating behaviors in adolescents: longitudinal findings from Project EAT (Eating Among Teens). Pediatrics 2006; 117: 209–215.

Neumark-Sztainer D, Falkner N, Story M, Perry C, Hannan PJ, Mulert S . Weight-teasing among adolescents: correlations with weight status and disordered eating behaviors. Int J Obes 2002; 26: 123–131.

Puhl R, Moss-Racusin C, Schwartz MB . Internalization of weight bias: implications for binge eating and emotional well-being. Obesity (Silver Spring) 2007; 15: 19–23.

Faith MS, Leone MA, Ayers TS, Moonseong H, Pietrobelli A . Weight criticism during physical activity, coping skills, and reported physical activity in children. Pediatrics 2002; 110 (2 Part1): e23.

Storch EA, Milsom VA, DeBraganza N, Lewin AB, Geffken GR, Silverstein JH . Peer victimization, psychosocial adjustment, and physical activity in overweight and at-risk-for-overweight youth. J Pediat Psychol 2007; 32: 80–89.

Vartanian LR, Shaprow JG . Effects of weight stigma on motivation to exercise and exercise behavior: a preliminary investigation among college-aged females. Health Psychol 2008; 13: 131–138.

Allport GW . The Nature of Prejudice. Addison-Wesley: Cambridge, MA, 1954.

Carr D, Friedman MA . Is obesity stigmatizing? Body weight, perceived discrimination, and psychological well-being in the United States. J Health Soc Behav 2005; 46: 244–259.

Brim OG, Baltes PB, Bumpass LL, Cleary PD, Featherman DL, Hazzard WR et al. National Survey of Midlife Development in the United States (MIDUS), 1995–1996, 2nd ICPSR version. Inter-university Consortium for Political and Social Research (distributor): Ann Arbor, MI, 2003.

National Institute of Health, National Heart, Lung and Blood Institute. Clinical Guidelines on the Identification, Evaluation and Treatment of Overweight and Obesity in Adults: The Evidence Report. National Institutes of Health: Rockville, MD, 1998.

Kemper KA, Sargent RG, Drane JW, Valois RF, Hussey JR . Black and white females' perceptions of ideal body size and social norms. Obes Res 1994; 2: 117–126.

Averett SL, Korenman S . Black-white differences in social and economic consequences of obesity. Int J Obes 1999; 23: 166–173.

Paeratakul S, White MA, Williamson DA, Ryan DH, Bray GA . Sex, race/ethnicity, socioeconomic status, and BMI in relation to self-perception of overweight. Obes Res 2002; 10: 345–350.

Falkner NH, French SA, Jeffery RW, Neumark-Sztainer D, Sherwood NE, Morton M . Mistreatment due to weight: prevalence and sources of perceived mistreatment in women and men. Obes Res 1999; 7: 572–576.

Griffiths LJ, Wolke D, Page AS, Horwood JP . Obesity and bullying: different effects for boys and girls. Arch Dis Child 2006; 91: 121–125.

Hayden-Wade HA, Stein RI, Ghaderi A, Saelens BE, Zabinski MF, Wilfley DE . Prevalence, characteristics, and correlates of teasing experiences among overweight children vs non-overweight peers. Obes Res 2005; 13: 1381–1392.

Janssen I, Craig WM, Boyce WF, Pickett W . Associations between overweight and obesity with bullying behaviors in school-aged children. Pediatrics 2004; 113: 1187–1194.

Pearce MJ, Boergers J, Prinstein MJ . Adolescent obesity, overt and relational peer victimization, and romantic relationships. Obes Res 2002; 10: 386–393.

Bellizzi JA, Klassen ML, Belonax JJ . Stereotypical beliefs about overweight and smoking and decision-making assignments to sales territories. Percept and Mot Skills 1989; 69: 419–429.

Hebl MR, Turchin JM . The stigma of obesity: what about men? Basic and Appl Soc Psychol 2005; 3: 267–275.

Jasper CR, Klassen ML . Perceptions of salespersons' appearance and evaluation of job performance. Percept Mot Skills 1990; 71: 563–566.

Theran EA . Legal theory on weight discrimination. In: Brownell KD, Puhl RM, Schwartz MB, Rudd L (eds). Weight Bias: Nature, Consequences, and Remedies. Guilford Press: New York, pp 2005; 195–211.

Annis NM, Cash TF, Hrabosky JI . Body image and psychosocial differences among stable average weight, currently overweight, and formerly overweight women: the role of stigmatizing experiences. Body Image 2004; 2: 155–167.

Hebl MR, Heatherton TF . The stigma of obesity in women: the difference is black and white. Pers Soc Psychol Bull 1998; 24: 417–426.

Kuczmarski MF, Kuczmarski RJ, Najjar M . Effects of age on validity of self-reported height, weight, and body mass index: findings from the Third National Health and Nutrition Examination Survey, 1988–1994. J Am Diet Assoc 2001; 101: 28–34.

Palta M, Prineas RJ, Berman R, Hannan P . Comparison of self-reported and measured height and weight. Am J Epidemiol 1982; 115: 223–230.

Rowland ML . Self-reported weight and height. Am J Clin Nutr 1990; 52: 1125–1133.

Huebner DM, Davis MC . Perceived antigay discrimination and physical health outcomes. Health Psychol 2007; 26: 627–634.

Borrell LN, Kiefe CI, Williams DR, Diez-Roux AV, Gordon-Larsen P . Self-reported health, perceived racial discrimination, and skin color in African Americans in the CARDIA study. Soc Sci Med 2006; 63: 1415–1427.

Krieger N . Does racism harm health? Did child abuse exist before 1962? On explicit questions, critical science, and current controversies: an ecosocial perspective. Am J Public Health 2003; 93: 194–199.

Krieger N, Smith K, Naishadham D, Hartman C, Barbeau EM . Experiences of discrimination: validity and reliability of a self-report measure for population health research on racism and health. Soc Sci Med 2005; 61: 1576–1596.

Andreyeva T, Puhl RM, Brownell KD . Changes in perceived weight discrimination among Americans, 1995–1996 through 2004–06. Obesity. (in press).
Acknowledgements
This research was funded by the Rudd Center for Food Policy and Obesity at Yale University.
About this article
Cite this article
Puhl, R., Andreyeva, T. & Brownell, K. Perceptions of weight discrimination: prevalence and comparison to race and gender discrimination in America. Int J Obes 32, 992–1000 (2008). https://doi.org/10.1038/ijo.2008.22
Received:

Revised:

Accepted:

Published:

Issue Date:

DOI: https://doi.org/10.1038/ijo.2008.22
Keywords
discrimination

bias

gender

race