Abstract
The aim of this study was to investigate the effect of the anti-inflammatory and anti-fibrotic actions of ANX1 on erectile function (EF). Forty-eight male Wistar rats were randomly distributed into four equal groups: one group (sham operation—control) and three groups (bilateral cavernous nerve (CN) crush injury). Crush injury groups were treated prior to injury with an intravascular injection of either ANX1 (50 or 100 μg kg−1) or vehicle. EF was assessed by CN electrical stimulation at 2 and 7 days after CN injury with histomorphometric and immunohistochemical analysis. ANX1 demonstrated functional preservation as the increase in intracavernous pressure (ICP). A dose–response relationship regarding the effect on penile tissue was confirmed, and preservation of the penile dorsal nerves and anti-apoptotic effects in the corpus cavernosum (real P-value vs injured control). ANX1 treatment prevented collagen deposition and smooth muscle loss in the penis. ANX1 normalized the expression of vascular endothelial growth factor and decreased tumor necrosis factor-α in the lumen of the blood vessels of the organ. ANX1 proved effective in preserving EF in a rat model of neurogenic erectile dysfunction. ANX1 treatment before CN injury in rats improved erectile recovery, enhanced vascular regeneration and preserved the micro-architecture of the corpus cavernosum. The clinical availability of this compound merits application in penile rehabilitation studies following radical prostatectomy.
Access options
Subscribe to Journal
Get full journal access for 1 year
$299.00
only $49.83 per issue
All prices are NET prices.
VAT will be added later in the checkout.
Rent or Buy article
Get time limited or full article access on ReadCube.
from$8.99
All prices are NET prices.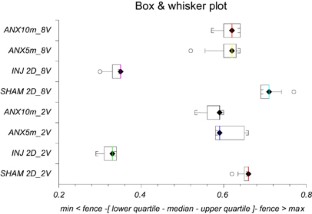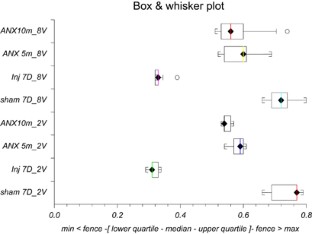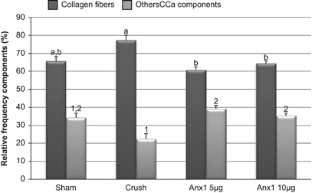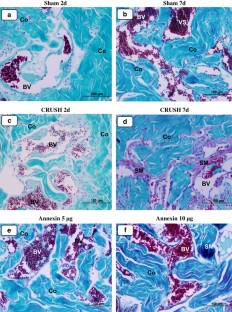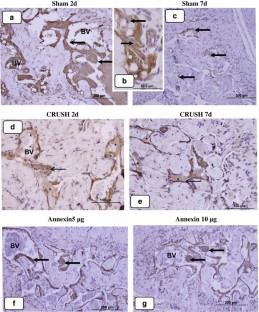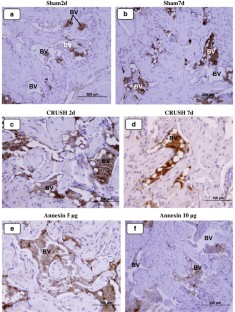 References
1

Wang R . Penile rehabilitation after radical prostatectomy: where do we stand and where are we going? J Sex Med 2007; 4 (4 Pt 2): 1085–1097.

2

Burnett AL . Erectile dysfunction following radical prostatectomy. JAMA 2005; 293: 2648–2653.

3

Burnett AL, Lue TF . Neuromodulatory therapy to improve erectile function recovery outcomes after pelvic surgery. J Urol 2006; 176: 882–887.

4

Walsh PC . Anatomical radical retropubic prostatectomy: detailed description of the surgical technique. J Urol 2004; 171: 2114.

5

Walsh PC, Marschke P, Ricker D, Burnett AL . Patient-reported urinary continence and sexual function after anatomic radical prostatectomy. Urology 2000; 55: 58–61.

6

Kundu SD, Roehl KA, Eggener SE, Antenor JA, Han M, Catalona WJ . Potency, continence and complications in 3,477 consecutive radical retropubic prostatectomies. J Urol 2004; 172: 2227–2231.

7

Montorsi F, Guazzoni G, Strambi LF, Da Pozzo LF, Nava L, Barbieri L et al. Recovery of spontaneous erectile function after nerve-sparing radical retropubic prostatectomy with and without early intercavernous injections of alprostadil: results of a prospective, randomized trial. J Urol 1997; 158: 1408–1410.

8

Gerke V, Creutz C, Moss E, S . E Annexins: linking Ca 2+signalling to membrane dynamics. Nat Rev Mol Cell Biol 2005; 6: 449–461.

9

Solito E, Kamal A, Russo-Marie F, Buckingham JC, Marullo S, Perretti M . A novel calcium-dependent proapoptotic effect of annexin 1 on human neutrophils. F ASEB J, 2003; 17: 1544–1546.

10

Perretti M, Flower RJ . Annexin 1 and the biology of the neutrophil. J Leukoc Biol 2004; 76: 25–29.

11

Oliani SM, Paul-Clark MJ, Christian H, Flower RJ, Perretti M . Neutrophil interaction with inflamed post-capillary venule endothelium alters annexin 1 expression. Am J Phatol 2001; 158: 603–615.

12

Gavins F, Yona S, Kamal AM, Flower RJ, Perretti M . Leukocyte antiadhesive actions of annexin 1: ALXR- and FPR-related anti-infl ammatory mechanisms. Blood 2003; 101: 4140–4147.

13

Canguven O, Burnett A . Cavernous nerve injury using rodent animal models. J Sex Med 2008; 5: 1776–1785.

14

Musicki B, Liu T, Lagoda G, Strong T, Sezen S, Johnson J et al. Hypercholesterolemia-induced erectile dysfunction: endothelial nitric oxide synthase (eNOS) uncoupling in the mouse penis by NAD(P)H oxidase. J Sex Med 2010; 7: 3023–3032.

15

Canguven O, Lagoda G, Sezen SF, Burnett AL . Losartan Preserves Erectile Function After Bilateral Cavernous Nerve Injury via Antifibrotic Mechanisms in Male Rats. J Urol 2009; 181: 2816–2822.

16

Lagoda G, Lebrfeld T, Jin L, Liu T, Burnett AL . FK506 and sildenafil promote erectile function recovery after cavernosus nerve injury through anti-oxidative mechanisms. J Sex Med 2007; 4: 908–916.

17

Weibel E . R.. Principles and methods for the morphometric study of the lung and others organs. Lab Invest 1963; 12: 131–134.

18

Babbin BA, Laukoetter MG, Nava P, Koch S, Lee WY, Capaldo CT . Annexin A1 regulates intestinal mucosal injury, inflammation and repair. J Immunol 2008; 181: 5035–5544.

19

La M, D'Amico M, Bandiera S, Di Filippo C, Oliani SM, Gavins FN et al. Annexin 1 peptides protect against experimental myocardial ischemia–reperfusion: analysis of their mechanism of action. FASEB J 2001; 15: 2247–2256.

20

Gavins FN, Dalli J, Flower RJ, Granger DN, Perretti M . Activation of the annexin 1 counter-regulatory circuit affords protection in the mouse brain microcirculation. FASEB J 2007; 21: 1751–1758.

21

Facio FN Jr . Burnett AL . Protective effect of annexin-A1 against irreversible damage to cavernous tissue after cavernous nerve injury in the rat. BJU Int 2012; 110: 1346–1351.

22

Hwang EC, Oh KJ, Jung SI, Kim NN, Ahn K, Park K . Effects of androgen on the expression of vascular endothelial growth factor in the penilecorpus cavernosum. Urology 2011; 77: 1381–1386.

23

Park K, Ahn KY, Kim MK, Lee SE, Kang TW, Ryu SB . Intracavernosal injection of vascular endothelial growth factor improves erectile function in aged rats. Eur Urol 2004; 46: 403–407.

24

Siroky MB, Azadzoi KM . Vasculogenic erectile dysfunction: newer therapeutic strategies. J Urol 2003; 170: 24–30.

25

Jeong HH, Piao S, Ha JN, Kim IG, Oh SH, Lee JH et al. Combined therapeutic effect of udenafil and adipose-derived stem cell (ADSC)/brain derived neurotrophic factor (BDNF)-membrane system in a rat model of cavernous nerve injury. Urology 2013; 81: 1108, e7-14.

26

Liu X, Lin CS, Graziottin T, Resplande J, Lue TF . Vascular endothelial growth factor promotes proliferation and migration of cavernous smooth muscle cells. J Urol 2001; 166: 354–360.

27

Matos G, Hirotsu C, Alvarenga TA, Cintra F, Bittencourt L, Tufik S et al. The association between TNF-α and erectile dysfunction complaints. Andrology 2013; 1: 872–878.

28

Nishimatsu H, Suzuki E, Saito Y, Niimi A, Nomiya A, Fukuhara H et al. Senescent Cells Impair Erectile Function through Induction of Endothelial Dysfunction and Nerve Injury in Mice. PLoS One 2015; 10: e0124129.
Acknowledgements
This study was funded by SLAMS Latin American Society for Sexual Medicine.
Ethics declarations
Competing interests
The authors declare no conflict of interest.
About this article
Cite this article
Facio, F., Facio, M., Spessoto, L. et al. Anti-inflammatory and anti-fibrotic effects of annexin1 on erectile function after cavernous nerve injury in rats. Int J Impot Res 28, 221–227 (2016). https://doi.org/10.1038/ijir.2016.32
Received:

Revised:

Accepted:

Published:

Issue Date:
Further reading
Fabiano B. Calmasini

,

Nicole Klee

,

R. Clinton Webb

&

Fernanda Priviero

Sexual Medicine Reviews (2019)

Nora M. Haney

,

Hoang M.T. Nguyen

,

Matthew Honda

,

Asim B. Abdel-Mageed

&

Wayne J.G. Hellstrom

Sexual Medicine Reviews (2018)