Abstract
This work aims to identify factors that contribute and those that impair the ability to experience orgasm during sexual activity. It compared women (n=96) aged 18–61 (M=38.5 years) in a stable relationship that, after a normal arousal phase, do not have an orgasm (OD) with those that do (OA) regarding sociodemographic data, sexual frequency, talking about sex with their physician, talking about sex with their partner, sexual education, masturbation, sexual desire, sexual satisfaction, depression and anxiety. We found differences between the OD and OA groups with regard to level of education (P=0.022), sex education during childhood and/or adolescence (P<0.001), masturbation (P=0.017), sexual satisfaction (P<0.001), anxiety (P<0.001) and sexual desire (P<0.001). The final model of logistic regression for orgasm problems included the variables 'masturbation', 'high school', 'sexual desire' and 'anxiety'. Orgasm difficulties are influenced by personal factors, such as anxiety and low sexual desire. Increased levels of anxiety also increase orgasmic difficulties. Women who masturbate and/or have completed high school are considerably more likely to reach orgasm during sexual activity.
Access options
Subscribe to this journal
Receive 8 print issues and online access
$259.00 per year
only $32.38 per issue
Rent or buy this article
Prices vary by article type
from$1.95
to$39.95
Prices may be subject to local taxes which are calculated during checkout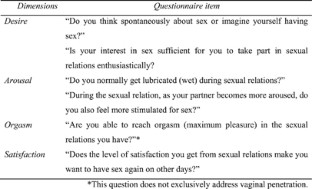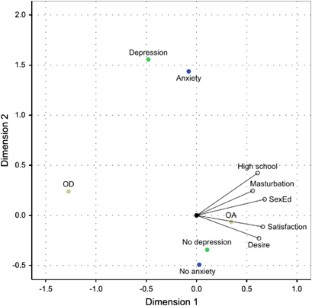 References
Meston CM, Seal BN, Hamilton LD . Problems with arousal and orgasm in women. In: Rowland DL, Incrocci L, eds Handbook of Sexual and Gender Identity Disorders. John Wiley & Sons: Hoboken, NJ, USA, 2008 pp 188–219.

Fugl-Meyer KS, Oberg K, Lundberg PO, Lewin B, Fugl-Meyer A . On orgasm, sexual techniques, and erotic perceptions in 18- to 74-year-old Swedish women. J Sex Med 2006; 3: 56–68.

Mulhall J, King R, Glina S, Hvidsten K . Importance of and satisfaction with sex among men and women worldwide: results of the Global Better Sex Survey. J Sex Med 2008; 5: 788–795.

Laumann E, Paik A, Rosen R . Sexual dysfunction in the United States: prevalence and predictors. JAMA 1999; 281: 537–544.

Abdo CHN, Oliveira WM, Moreira ED, Fittipaldi JaS . Prevalence of sexual dysfunctions and correlated conditions in a sample of Brazilian women—results of the Brazilian study on sexual behavior (BSSB). Int J Impot Res 2004; 16: 160–166.

American Psychiatric Association. Diagnostic and statistical manual of mental disorders. DSM-IV 4th edn American Psychiatric Association: Washington DC, 2002.

World Health Organization. ICD-10: International Statistical Classification of Diseases and Related Health Problems 10th edn World Health Organization: Geneva, 1992.

Mah K, Binik Y . The nature of human orgasm: a critical review of major trends. Clin Psychol Rev 2001; 21: 823–856.

Mah K, Binik Y . Orgasms in the mind or the body? psychosocial versus physiological correlates of orgasmic pleasure and satisfaction. J Sex Marital Ther 2005; 31: 2000.

Frohlich P, Meston C . Sexual functioning and self-reported depressive symptoms among college women. J Sex Res 2002; 39: 321–325.

Birnbaum GE . The meaning of heterosexual intercourse among women with female orgasmic disorder. Arch Sex Behav 2003; 32: 61–71.

Brody S, Costa R . Vaginal orgasm is associated with less use of immature psychological defense mechanisms. J Sex Med 2008; 1167–1176.

Burri AV, Cherkas LM, Spector TD . Emotional intelligence and its association with orgasmic frequency in women. J Sex Med 2009; 6: 1930–1937.

Ojomu F, Thacher T, Obadofin M . Sexual problems among married Nigerian women. Int J Impot Res 2007; 19: 310–316.

Birnbaum G, Glaubman H, Mikulincer M . Women's experience of heterosexual intercourse: Scale construction, factor structure, and relations to orgasmic disorder. J Sex Res 2001; 8: 191–204.

Graham C . The DSM diagnostic criteria for female orgasmic disorder. Arch Sex Behav 2010; 39: 256–270.

Dobkin RD, Leiblum SR, Rosen RC, Menza M, Marin H . Depression and sexual functioning in minority women: current status and future directions. J Sex Marital Ther 2006; 32: 23–36.

Sidi H, Puteh SEW, Abdullah N, Midin M . The prevalence of sexual dysfunction and potential risk factors that may impair sexual function in Malaysian women. J Sex Med 2007; 4: 311–321.

Beck A, Steer R, Brown G . Manual for the Beck Depression Inventory-II. Psychological Corporation: San Antonio, TX, USA, 1996.

Beck A, Steer R . Beck Anxiety Inventory Manual. Psychological Corporation: San Antonio, TX, USA, 1993.

Tozo I, Lima J, Rolim S, Gonçalves N, Auge A, Rossi L et al. Sexuality evaluation in women submitted to hysterectomy for the treatment of uterine leiomyoma. Rev Bras Ginecol Obstet 2009; 31: 503–507.

Ribeiro M, Nakamura M, Abdo C, Torloni M, Scanavino M, Mattar R . Pregnancy and gestational diabetes: a prejudicial combination to female sexual function. Rev Bras Ginecol Obstet 2011; 33: 219–224.

Manganiello A, Hoga L, Reberte L, Miranda C, Rocha C . Sexuality and quality of life of breast cancer patients post mastectomy. Eur J Oncol Nurs 2011; 15: 167–172.

Ferreira D, Nakamura M, Souza E, Mariani C, Ribeiro M, Santana T et al. Sexual function and quality of life of low-risk pregnant women. Rev Bras Ginecol Obstet 2012; 34: 409–413.

Abdo C . Development and validation of Female Sexual Quotient—a questionnaire to assess female sexual function. Rev Bras Med 2006; 63: 477–482, (In Portuguese).

Linting M, Meulman J, Groenen P, van der Koojj A . Nonlinear principal components analysis: Introduction and application. Psychol Methods 2007; 12: 336–358.

Lewis RW, Fugl-Meyer KS, Corona G, Hayes RD, Laumann EO, Moreira ED et al. Definitions/epidemiology/risk factors for sexual dysfunction. J Sex Med 2010; 7: 1598–1607.

Shaeer O, Shaeer K, Shaeer E . The Global Online Sexuality Survey (GOSS): female sexual dysfunction among Internet users in the reproductive age group in the Middle East. J Sex Med 2012; 9: 411–424.

Oberg K, Fugl-Meyer AR, Fugl-Meyer KS . On categorization and quantification of women's sexual dysfunctions: an epidemiological approach. Int J Impot Res 2004; 16: 261–269.

Hawton K, Gath D, Day A . Sexual function in a community sample of middle-aged women with partners: effects of age, marital, socio-economic, psychiatric, gynecological, and menopausal factors. Arch Sex Behav 1994; 23: 375–395.

Najafabady MT, Salmani Z, Abedi P . Prevalence and related factors for anorgasmia among reproductive aged women in Hesarak, Iran. Clinics 2011; 66: 83–86.

Richters J, Grulich A, Visser R, Smith A, Rissel C . Sex in Australia: sexual difficulties in a representative sample of adults. Aust N Z J Public Health 2003; 27: 164–170.

Laumann E, Nicolosi A, Glasser D . Sexual problems among women and men aged 40–80 years: prevalence and correlates identified in the Global Study of Sexual Attitudes and Behaviors. Int J Impot Res 2004; 17: 39–57.

Abdo CH, Valadares ALR, Oliveira WM, Scanavino MT, Afif-Abdo J . Hypoactive sexual desire disorder in a population-based study of Brazilian women: associated factors classified according to their importance. Menopause 2010; 17: 1114–1121.

Woods NF, Mitchell ES, Julio KS . Sexual desire during the menopausal transition and Early Postmenopause: Observations from the Seattle Midlife Women's Health Study. J Womens Health 2010; 19: 209–218.

Basson R . Women's sexual function and dysfunction: current uncertainties, future directions. Int J Impot Res 2008; 20: 466–478.

Frank E, Anderson C, Rubinstein D . Frequency of sexual dysfunction in 'normal' couples. N Engl J Med 1978; 299: 111–115.

Bancroft J, Loftus J, Long JS . Distress about sex: a National Survey of Women in Heterosexual Relationships. Arch Sex Behav 2003; 32: 193–208.

Laurent SM, Simons AD . Sexual dysfunction in depression and anxiety: conceptualizing sexual dysfunction as part of an internalizing dimension. Clin Psychol Rev 2009; 29: 573–585.
Acknowledgements
We would like to thank Professor Edmund Chada Baracat for making the Gynecological Clinic available for our study. This work was partially supported by the Coordination for the Improvement of Higher Education Personnel (CAPES, Brazil).
Ethics declarations
Competing interests
The authors declare no conflict of interest.
About this article
Cite this article
de Lucena, B., Abdo, C. Personal factors that contribute to or impair women's ability to achieve orgasm. Int J Impot Res 26, 177–181 (2014). https://doi.org/10.1038/ijir.2014.8
Received:

Revised:

Accepted:

Published:

Issue Date:

DOI: https://doi.org/10.1038/ijir.2014.8
This article is cited by
Ana Isabel Arcos-Romero
Juan Carlos Sierra

International Journal of Impotence Research (2023)

Jonathan G. Kimmes
Allen B. Mallory
Özlem Köse

Gezinstherapie Wereldwijd (2016)

A R M Elnashar
N H Ibrahim
M A Elgawady

International Journal of Impotence Research (2015)