Abstract
We describe psychological determinants of erectile dysfunction (ED) among middle-aged men with no identifiable medical risk factors and compare them with a sample of young individuals. Two groups of young (⩽30 years, n=59) and middle-aged men (⩾40 years, n=63) who scored ⩽25 on the erectile functioning domain of the International Index of Erectile Functioning were enrolled. Patients were included if they had no metabolic diseases, prostate problems or external genitalia abnormalities. Patients were not included if they were smokers, excessive drinkers or took medications known to cause ED. To assess psychopathology, symptom check list 90-revised (SCL-90-R) was administered. Structural equation modeling was performed to assess the relationship between psychopathology and ED. One in five men had severe ED, and the proportion was not different between the two groups. Middle-aged men had lower scores on different SCL-90-R domains. In both age groups, somatization and interpersonal sensitivity contributed to ED. Among younger individuals, anxiety and psychosis-related domains were also associated with ED. Unique contributors to ED in middle-aged men were depression and additional questions. In conclusion, among middle-aged men, psychological factors significantly contribute to ED when no medical risk factors are present. The pattern and composition of distress depicts distinct features, not seen in young age.
Your institute does not have access to this article
Access options
Subscribe to Journal
Get full journal access for 1 year
$119.00
only $14.88 per issue
All prices are NET prices.
VAT will be added later in the checkout.
Tax calculation will be finalised during checkout.
Buy article
Get time limited or full article access on ReadCube.
$32.00
All prices are NET prices.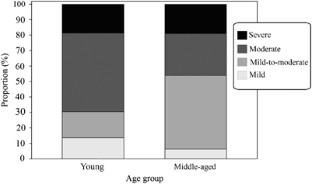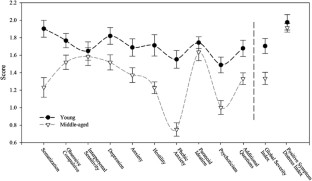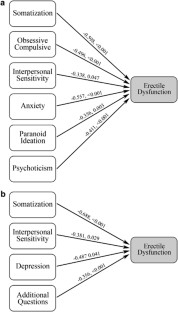 References
Laumann EO, Paik A, Rosen RC . Sexual dysfunction in the united states: Prevalence and predictors. JAMA 1999; 281: 537–544.

Bivalacqua TJ, Champion HC, Hellstrom WJ, Kadowitz PJ . Pharmacotherapy for erectile dysfunction. Trends Pharmacol Sci 2000; 21: 484–489.

Potts A, Grace V, Gavey N, Vares T . "Viagra stories": challenging 'erectile dysfunction'. Soc Sci Med 2004; 59: 489–499.

Johannes CB, Araujo AB, Feldman HA, Derby CA, Kleinman KP, McKinlay JB . Incidence of erectile dysfunction in men 40 to 69 years old: longitudinal results from the Massachusetts male aging study. J Urol 2000; 163: 460–463.

Feldman HA, Goldstein I, Hatzichristou DG, Krane RJ, McKinlay JB . Impotence and its medical and psychosocial correlates: results of the Massachusetts Male Aging Study. J Urol 1994; 151: 54–61.

Ponholzer A, Temml C, Mock K, Marszalek M, Obermayr R, Madersbacher S . Prevalence and risk factors for erectile dysfunction in 2869 men using a validated questionnaire. Eur Urol 2005; 47: 80–85.

Dunn KM, Croft PR, Hackett GI . Association of sexual problems with social, psychological, and physical problems in men and women: a cross sectional population survey. J Epidemiol Community Health 1999; 53: 144–148.

Rosen RC, Riley A, Wagner G, Osterloh IH, Kirkpatrick J, Mishra A . The international index of erectile function (IIEF): a multidimensional scale for assessment of erectile dysfunction. Urology 1997; 49: 822–830.

Safarinejad MR . Prevalence and risk factors for erectile dysfunction in a population-based study in Iran. Int J Impot Res 2003; 15: 246–252.

Mehraban D, Naderi GH, Yahyazadeh SR, Amirchaghmaghi M . Sexual dysfunction in aging men with lower urinary tract symptoms. Urol J 2008; 5: 260–264.

Feldman HA, Johannes CB, Derby CA, Kleinman KP, Mohr BA, Araujo AB et al. Erectile dysfunction and coronary risk factors: prospective results from the Massachusetts male aging study. Prev Med 2000; 30: 328–338.

Bacon CG, Mittleman MA, Kawachi I, Giovannucci E, Glasser DB, Rimm EB . A prospective study of risk factors for erectile dysfunction. J Urol 2006; 176: 217–221.

O'Connor DB, Lee DM, Corona G, Forti G, Tajar A, O'Neill TW et al. The Relationships between Sex Hormones and Sexual Function in Middle-Aged and Older European Men. J Clin Endocrinol Metab 2011; 96: E1577–E1587.

Wu FCW, Tajar A, Beynon JM, Pye SR, Silman AJ, Finn JD et al. Identification of late-onset hypogonadism in middle-aged and elderly men. N Engl J Med 2010; 363: 123–135.

Goldstein I, Lue TF, Padma-Nathan H, Rosen RC, Steers WD, Wicker PA . Oral sildenafil in the treatment of erectile dysfunction. N Engl J Med 1998; 338: 1397–1404.

Banner LL, Anderson RU . Integrated sildenafil and cognitive-behavior sex therapy for psychogenic erectile dysfunction: a pilot study. J Sex Med 2007; 4: 1117–1125.

Araujo AB, Johannes CB, Feldman HA, Derby CA, McKinlay JB . Relation between psychosocial risk factors and incident erectile dysfunction: prospective results from the Massachusetts Male Aging Study. Am J Epidemiol 2000; 152: 533–541.

Rosen RC . Psychogenic erectile dysfunction: classification and management. Urol Clin North Am 2001; 28: 269–278.

Lee IC, Surridge D, Morales A, Heaton JP . The prevalence and influence of significant psychiatric abnormalities in men undergoing comprehensive management of organic erectile dysfunction. Int J Impot Res 2000; 12: 47–51.

Althof S . When an erection alone is not enough: biopsychosocial obstacles to lovemaking. Int J Impot Res 2002; 14: 1.

Cappelleri JC, Rosen RC, Smith MD, Mishra A, Osterloh IH . Diagnostic evaluation of the erectile function domain of the International Index of Erectile Function. Urology 1999; 54: 346–351.

Mehraban D, Shabaninia S, Naderi GH, Esfahani F . Farsi International Index of Erectile Dysfunction and Doppler Ultrasonography in the evaluation of male impotence. Iran J Surg 2006.

Derogatis LR, Unger R . Symptom Checklist-90-Revised. The Corsini Encyclopedia of Psychology. John Wiley & Sons Inc.: Hoboken, NJ, USA, 2010.

Derogatis LR . SCL-90-R: Administration, Scoring & Procedures Manual-II for the R (evised) Version and Other Instruments of the Psychopathology Rating Scale Series. Clinical Psychometric Research Inc.: Baltimore, MD, 1992.

Corona G, Ricca V, Bandini E, Mannucci E, Petrone L, Fisher AD et al. Association between psychiatric symptoms and erectile dysfunction. J Sex Med 2008; 5: 458–468.

Mallis D, Moysidis K, Nakopoulou E, Papaharitou S, Hatzimouratidis K, Hatzichristou D . Psychiatric morbidity is frequently undetected in patients with erectile dysfunction. J Urol 2005; 174: 1913–1916.

Safir MP, Almagor M . Psychopathology associated with sexual dysfunction. J Clin Psychol 1991; 47: 17–27.

Derogatis LR, Meyer JK, King KM . Psychopathology in individuals with sexual dysfunction. Am J Psychiatry 1981; 138: 757–763.

JORM AF . Does old age reduce the risk of anxiety and depression? A review of epidemiological studies across the adult life span. Psychol Med 2000; 30: 11–22.

CHRISTENSEN H, JORM AF, MACKINNON AJ, KORTEN AE, JACOMB PA, HENDERSON AS et al. Age differences in depression and anxiety symptoms: a structural equation modelling analysis of data from a general population sample. Psychol Med 1999; 29: 325–339.

Blazer D, Burchett B, Service C, George LK . the association of age and depression among the elderly: an epidemiologic exploration. J Gerontol 1991; 46: M210–M215.

Jorm AF, Windsor TD, Dear KBG, Anstey KJ, Christensen H, Rodgers B . Age group differences in psychological distress: the role of psychosocial risk factors that vary with age. Psychol Med 2005; 35: 1253–1263.

Norton GR, Jehu D . The role of anxiety in sexual dysfunctions: A review. Arch Sex Behav 1984; 13: 165–183.

Shiri R, Koskimaki J, Tammela TL, Hakkinen J, Auvinen A, Hakama M . Bidirectional relationship between depression and erectile dysfunction. J Urol 2007; 177: 669–673.

Levine SB . GUEST EDITORIAL: the first principle of clinical sexuality. J Sex Med 2007; 4: 853–854.
Ethics declarations
Competing interests
The authors declare no conflict of interest.
About this article
Cite this article
Aghighi, A., Grigoryan, V. & Delavar, A. Psychological determinants of erectile dysfunction among middle-aged men. Int J Impot Res 27, 63–68 (2015). https://doi.org/10.1038/ijir.2014.34
Received:

Revised:

Accepted:

Published:

Issue Date:

DOI: https://doi.org/10.1038/ijir.2014.34