Abstract
Factors related to sexual arousal are different in men and women. The conditions for women to become aroused are more complex. However, the conventional audio-visual stimulation (AVS) materials used to evaluate sexual arousal are universal. In the present study, we investigated sexual differences in the response to different types of AVS by studying activated areas of the brain using functional magnetic resonance imaging (fMRI). fMRI was performed during two types of AVS in 20 healthy heterosexual volunteers (aged 20–28 years, 10 men and 10 women). The two AVS types were: (1) mood type, erotic video clips with a concrete story and (2) physical type, directly exposing sexual intercourse and genitalia. fMRI images were analyzed and compared for each stimulation with a Mann–Whitney U test, with statistical significance set at P<0.05. Men preferred the physical type of AVS to the mood type (mean arousal score 2.14 vs 1.86 in females) and women preferred the mood type (mean arousal score 2.14 vs 1.86 in males) (P<0.05). Degrees of activation in brain areas differed between genders and types of AVS for each gender. This should be considered when applying the AVS method to evaluate and diagnose female sexual dysfunction.
Access options
Subscribe to Journal
Get full journal access for 1 year
$119.00
only $14.88 per issue
All prices are NET prices.
VAT will be added later in the checkout.
Tax calculation will be finalised during checkout.
Buy article
Get time limited or full article access on ReadCube.
$32.00
All prices are NET prices.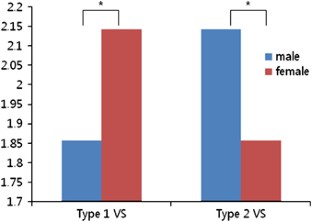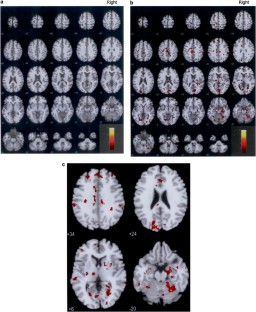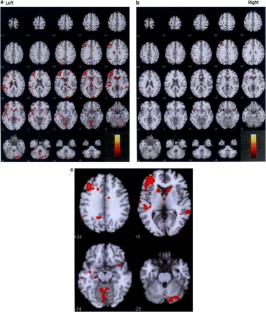 References
Laan E, Everaerd W, van Bellen G . Women's sexual and emotional responses to male- and female-produced erotica. Arch Sex Behav 1994; 23: 153–169.

Muren SK, Stockton M . Gender and self reported arousal in response to sexual stimuli: a meta-analytic review. Sex Roles 1997; 37: 135–153.

Spiering M, Everaerd W, Laan E . Conscious processing of sexual information: mechanisms of appraisal. Arch Sex Behav 2004; 33: 369–380.

Joseph R . The limbic system: emotion, laterality, and unconscious mind. Psychoanal Rev 1992; 79: 405–456.

Dagi TF, Poletti CE . Reformulation of the Papez circuit: absence of hippocampal influence on cingulate cortex unit activity in the primate. Brain Res 1983; 259: 229–236.

Murnen SK, Stockton M . Gender and self-reported sexual arousal in response to sexual stimuli: a meta-analytic review. Sex Roles 1997; 37: 135–153.

Suschinsky KD, Lalumière ML . Is sexual concordance related to awareness of physiological states? Arch Sex Behav 2012; 41: 199–208.

Janssen E, Carpenter D, Graham CA . Selecting films for sex research: gender differences in erotic film preferences. Arch Sex Behav 2003; 32: 243–251.

Rupp HA, Wallen K . Sex differences in response to visual sexual stimuli: a review. Arch Sex Behav 2008; 37: 206–218.

Hu SH, Wang QD, Xu Y, Liao ZL, Xu LJ, Liao ZL et al. Haemodynamic brain response to visual sexual stimuli is different between homosexual and heterosexual men. J Int Med Res 2011; 39: 199–211.

Karama S, Lecours AR, Leroux JM, Bourgouin P, Beaudoin G, Joubert S et al. Areas of brain activation in males and females during viewing of erotic film excerpts. Hum Brain Mapp 2002; 16: 1–13.

Hamann S, Herman RA, Nolan CL, Wallen K . Men and women differ in amygdala response to visual sexual stimuli. Nat Neurosci 2004; 7: 411–416.

Park K, Seo JJ, Kang HK, Ryu SB, Kim HJ, Jeong GW . A new potential of blood oxygenation level dependent (BOLD) functional MRI for evaluating cerebral centers of penile erection. Int J Impot Res 2001; 13: 73–81.

Arnow BA, Desmond JE, Banner LL, Glover GH, Solomon A, Polan ML et al. Brain activation and sexual arousal in healthy, heterosexual males. Brain 2002; 125: 1014–1023.

Park K, Kang HK, Seo JJ, Kim HJ, Ryu SB, Jeong GW . Blood oxygenation-level-dependent functional magnetic resonance imaging for evaluating cerebral regions of female sexual arousal response. Urology 2001; 57: 1189–1194.

Gizewski ER, Krause E, Schlamann M, Happich F, Ladd ME, Forsting M et al. Specific cerebral activation due to visual erotic stimuli in male-to-female transsexuals compared with male and female controls: an fMRI study. J Sex Med 2009; 6: 440–448.

Zhu X, Wang X, Parkinson C, Cai C, Gao S, Hu P . Brain activation evoked by erotic films varies with different menstrual phases: an fMRI study. Behav Brain Res 2010; 206: 279–285.
Acknowledgements
This study was partially supported by a grant from Ewha Womans University Mokdong Hospital Clinical Research Grant 2008. We would like to thank Mr Keun Tack Ryu and Dr Su Hyun Kim for their technical support and for evaluating and analyzing fMRI data.
Ethics declarations
Competing interests
The authors declare no conflict of interest.
About this article
Cite this article
Chung, W., Lim, S., Yoo, J. et al. Gender difference in brain activation to audio-visual sexual stimulation; do women and men experience the same level of arousal in response to the same video clip?. Int J Impot Res 25, 138–142 (2013). https://doi.org/10.1038/ijir.2012.47
Received:

Revised:

Accepted:

Published:

Issue Date:

DOI: https://doi.org/10.1038/ijir.2012.47
Keywords
audio-visual stimulation

functional brain MRI

gender

sexual response
This article is cited by
International Journal of Impotence Research (2015)