Abstract
Ginseng is beneficial for many aspects of human physiology, including sexual function. In this study, we have evaluated the efficacy and safety of an extract of ginseng berry, which has a ginsenoside profile distinct from other parts of the plant, on sexual function in men with erectile dysfunction. In all, 119 men with mild-to-moderate ED participated in a multicenter, randomized, double-blind, parallel, placebo-controlled clinical study. They were administered 4 tablets of either standardized Korean ginseng berry (SKGB, 350 mg ginseng berry extract per tablet), or placebo, daily, for 8 weeks. Efficacy was assessed with the International Index of Erectile Function (IIEF)-15 and premature ejaculation diagnostic tool (PEDT) at the end of the 4th and 8th week. We observed that the total and each of the individual domain scores of IIEF-15 increased from 40.95±7.05 to 46.19±12.69 significantly in the SKGB by the 8th week (P<0.05). The erectile function domain of IIEF changed slightly from 17.17±2.57 to 18.59±5.99 in the SKGB group by the 8th week (P<0.05). In addition, PEDT scores significantly improved from 9.14±4.57 to 7.97±4.4 and 7.53±4.26 in the SKGB group after 4 and 8 weeks of treatment (P<0.05). Safety markers including hormone and lipid in the blood were assessed at the end of the 4th and 8th week and they remained unchanged. Oral administration of the SKGB extract improved all domains of sexual function. It can be used as an alternative medicine to improve sexual life in men with sexual dysfunction.
Relevant articles
Open Access articles citing this article.
Jukkarin Srivilai

,

Panatpong Boonnoun

…

Kornkanok Ingkaninan

Scientific Reports Open Access 09 April 2022
Access options
Subscribe to this journal
Receive 8 print issues and online access
$259.00 per year
only $32.38 per issue
Rent or buy this article
Prices vary by article type
from$1.95
to$39.95
Prices may be subject to local taxes which are calculated during checkout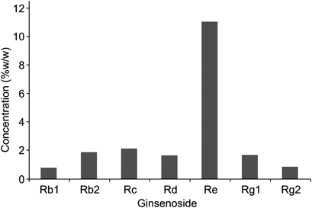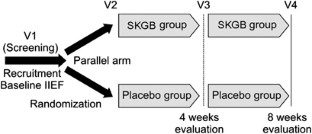 References
Feldman HA, Goldstein I, Hatzichristou DG, Krane RJ, McKinlay JB . Impotence and its medical and psychosocial correlates: results of the Massachusetts Male Aging Study. J Urol 1994; 151: 54–61.

Laumann EO, Nicolosi A, Glasser DB, Paik A, Gingell C, Moreira E et al. Sexual problems among women and men aged 40–80 y: prevalence and correlates identified in the Global Study of Sexual Attitudes and Behaviors. Int J Impot Res 2005; 17: 39–57.

Moreira SG, Brannigan RE, Spitz A, Orejuela FJ, Lipshultz LI, Kim ED . Side-effect profile of Sildenafil Citrate (Viagra) in clinical practice. J Urol 2000; 56: 474–476.

Ferguson JM . SSRI antidepressant medications: adverse effects and tolerability. Prim Care J Clin Psychiatry 2011; 3: 22–27.

Nam KY . Clinical application and efficacy of Korean ginseng. J Ginseng Res 2002; 26: 111–131.

The Korean Society of Ginseng. All about Korean Ginseng. The Korean Society of Ginseng: Seoul, 2008 pp 80–86.

Attele AS, Wu JA, Yuan CS . Multiple pharmacological effects of ginseng. Biochem Pharmacol 1999; 58: 1685–1693.

Wang CZ, Zhang B, Song WX, Wang A, Ni M, Luo X et al. Steamed American ginseng berry: ginsenoside analyses and anticancer activities. J Agric Food Chem 2006; 54: 9936–9942.

Attele AS, Zhou YP, Xie JT, Wu JA, Zhang L, Dey L et al. Antidiabetic effects of Panax ginseng berry extract and the identification of an effective component. Diabetes 2002; 51: 1851–1858.

Li Z, Niwa Y, Sakamoto S, Shono M, Chen X, Nakaya Y . Induction of inducible nitric oxide synthase by ginsenosides in cultured porcine endothelial cells. Life Sci 2000; 67: 2983–2989.

Scott GI, Colligan PB, Ren BH, Ren J . Ginsenosides Rb1 and Re decrease cardiac contraction in adult rat ventricular myocytes: role of nitric oxide. Br J Pharmacol 2001; 134: 1159–1165.

Kim ND, Kim EM, Kang KW, Cho MK, Choi SY, Kim SG . Ginsenoside Rg3 inhibits phenylephrine-induced vascular contraction through induction of nitric oxide synthase. Br J Pharmacol 2003; 140: 661–670.

Bai CX, Takahashi C, Masumiya H, Sawanobori T, Furukawa T . Nitric oxide-dependent modulation of the delayed rectifier K+ current and the L-type Ca2+ current by ginsenoside Re, an ingredient of Panax ginseng, in guinea-pig cardiomyocytes. Br J Pharmacol 2004; 142: 567–575.

Wang X, Chu S, Qian T, Chen J, Zhang J . Ginsenoside Rg1 improves male copulatory behavior via nitric oxide/cyclic guanosine moniphosphate pathway. J Sex Med 2010; 7: 743–750.

Kam SC, Han DH, Huh JH, Lee SW . Development and validation of a Korean version of the Premature Ejaculation Diagnostic Tool (PEDT). Korean J Androl 2009; 27: 439–444.

Chung TG, Lee TK, Chung S, Lee MS, Kim YS, Ahn TY . The Korean Version of the International Index of Erectile Function(IIEF): reliability and validation study. Korean J Urol 1999; 40: 1334–1343.

Angulo J, Peiro C, Sanchez-Ferrer CF, Gabancho S, Cuevas P, Gupta S et al. Differential effects of serotonin reuptake inhibitors on erectile responses, NO-production, and neuronal NO synthase expression in rat corpus cavernosum tissue. Br J Pharmacol 2001; 134: 1190–1194.

Burnett AL, Lowenstein CJ, Bredt DS, Chang TS, Snyder SH . Nitric oxide: a physiologic mediator of penile erection. Science 1992; 257: 401–403.

Garban H, Vernet D, Freedman A, Rajfer J, Gonzalez-Cadavid N . Effect of aging on nitric oxide-mediated penile erection in rats. Am J Physiol 1995; 268: H467–H475.

De Andrade E, de Mesquita AA, de Almeida CJ, de Andrade PM, Ortiz V, Paranhos M et al. Study of the efficacy of Korean Red Ginseng in the treatment of erectile dysfunction. Asian J Androl 2007; 9: 241–244.

Oh KJ, Chae MJ, Lee HS, Hong HD, Park KS . Effects of Korean red ginseng on sexual arousal in menopausal women: placebo-controlled, double-blind crossover clinical study. J Sex Med 2010; 7: 1469–1477.

Kim TH, Jeon SH, Hahn EJ, Paek KY, Park JK, Youn NY et al. Effects of tissue-cultured mountain ginseng (Panax ginseng CA Meyer) extract on male patients with erectile dysfunction. Asian J Androl 2009; 11: 356–361.

Jang DJ, Lee MS, Shin BC, Lee YC, Ernst E . Red ginseng for treating erectile dysfunction a systematic review. Br J Clin Pharmacol 2008; 66: 444–450.

Shamloul R . Natural aphrodisiacs. J Sex Med 2010; 7: 39–49.

Choi HK, Seong DH, Rha KH . Clinical efficacy of Korean red ginseng for erectile dysfunction. Int J Impot Res 1995; 7: 181–186.

Hong B, Ji YH, Hong JH, Nam KIY, Ahn TY . A double-blind crossover study evaluating the efficacy of Korean red ginseng in patients with erectile dysfunction: a preliminary report. J Urol 2002; 168: 2040–2073.

Ho CCK, Tan HM . Rise of herbal and traditional medicine in erectile dysfunction management. Curr Urol Rep 2011; 12: 470–478.

Rosen RC, Allen KR, Ni X, Araujo AB . Minimal clinically important differences in the erectile function domain of the International Index of Erectile Function scale. Eur Urol 2011; 60: 1010–1016.

Zenico T, Cicero AFG, Valmorri L, Mercuriali M, Bercovich E . Subjective effects of Lepidium meyenii (Maca) extract on well-being and sexual performances in patients with mild erectile dysfunction: a randomised, double-blind clinical trial. Andrologia 2009; 41: 95–99.

Aoki H, Nagao J, Ueda T, Strong JM, Schonlau F, Song YJ et al. Clinical assessment of a supplement of Pycnogenol® and L-arginine in Japanese patients with mild to moderate erectile dysfunction. Phytother Res 2012; 26: 204–207.

Tharakan B, Manyam BV . Botanical therapies in sexual dysfunction. Phytother Res 2005; 19: 457–463.

Sung HH, Chae MR, So I, Jeon JH, Park JK, Lee SW . Effects of ginsenoside on large-conductance K(Ca) channels in human corporal smooth muscle cells. Int J Impot Res 2011; 23: 193–199.

Tachikawa E, Kudo K, Harada K, Kashimoto T, Miyate Y, Kakizaki A . Effects of ginseng saponins on responses induced by various receptor stimuli. Eur J Pharmacol 1999; 369: 23–32.

Mehendale SR, Wang CZ, Shao ZH, Li CQ, Zie JT, Aung HH et al. Chronic pretreatment with American ginseng berry and its polyphenolic constituents attenuate oxidant in cardiomyocytes. Eur J Pharrmacol 2006; 553: 209–214.

Furukawa T, Bai CX, Kaihara A, Ozaki E, Kawano T, Nakaya Y et al. Ginsenoside Re, a main phytosterol of Panax ginseng, activates cardiac potassium channels via a nongenomic pathway of sex hormones. Mol Pharmacol 2006; 70: 1916–1924.

Tsang D, Yeung HW, Tso WW, Peck H . Ginseng saponins: influence on neurotransmitter uptake in rat brain synaptosomes. Planta Med 1985; 51: 221–224.

D'Angelo L, Grimaldi R, Caravaggi M . A double-blind, placebo-controlled clinical study on the effect of a standardized ginseng extract on psychomotor performance in healthy volunteers. J Ethnopharmacol 1986; 16: 15–22.

Spector IP, Carey MP . Incidence and prevalence of sexual dysfunctions: a critical review of the empirical literature. Arch Sex Behav 1990; 19: 389–408.

American Psychiatric Association. Diagnostic and Statistical Manual of Mental Disorders, 4 edn, text revision (DSM-IV-TR). American Psychiatric Association: Washington, DC, 2000 pp 552–554.

McMahon CG, McMahon CN, Liang JL, Winestock CG . Efficacy of type-5 phosphodiesterase inhibitors in the drug treatment of premature ejaculation: a systematic review. BJU Int 2006; 98: 259–272.
Acknowledgements
This study was supported by a grant from the Korea Healthcare Technology R&D Project, Ministry for Health, Welfare and Family Affairs, Republic of Korea (A084120) and Amorepacific.
Ethics declarations
Competing interests
The authors declare no conflict of interest.
About this article
Cite this article
Choi, Y., Park, C., Jang, J. et al. Effects of Korean ginseng berry extract on sexual function in men with erectile dysfunction: a multicenter, placebo-controlled, double-blind clinical study. Int J Impot Res 25, 45–50 (2013). https://doi.org/10.1038/ijir.2012.45
Received:

Revised:

Accepted:

Published:

Issue Date:

DOI: https://doi.org/10.1038/ijir.2012.45
Keywords
ejaculation

erection

ginseng berry

sexual function