Abstract
This study compared genital and penile response patterns in men with and without premature ejaculation (PE) so as to identify the potential anomalous psychosomatic relationships among men with PE. Genital and heart rate response profiles of 25 men with PE were compared with those of 13 age-matched sexually functional counterparts during visual sexual stimulation presented in combination with vibrotactile penile stimulation. Although no differences were found between men with PE and controls on maximum penile circumference change, overall penile response was significantly lower in the PE group and PE men who ejaculated during the session exhibited shorter latencies to maximum circumference change. Furthermore, significant differences were found between groups in patterns of heart rate. These findings indicate differences in physiological responses between men with PE and sexually functional counterparts during erectile tumescence and progression toward ejaculation. Such differences might be explained by 'premature' sympathetic activation during the sexual response cycle in men with PE, thereby diminishing parasympathetically controlled penile response and triggering sympathetically mediated seminal emission prematurely.
Access options
Subscribe to Journal
Get full journal access for 1 year
$119.00
only $14.88 per issue
All prices are NET prices.
VAT will be added later in the checkout.
Tax calculation will be finalised during checkout.
Buy article
Get time limited or full article access on ReadCube.
$32.00
All prices are NET prices.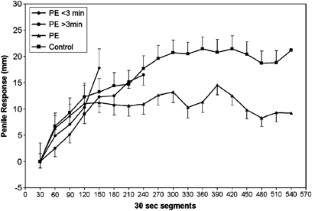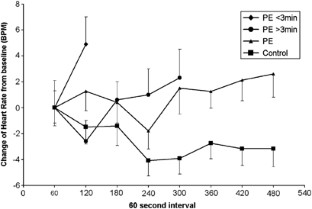 References
McKenna KE . Central nervous system pathways in the control of penile erection. Annu Rev Sex Res 1999; 10: 157–183.

Rowland DL, Cooper SE, Slob AK, Houtsmuller EJ . The study of ejaculatory response in the psychophysiological laboratory. J Sex Res 1997; 34: 161–166.

Rowland DL, Strassberg DS, de Gouveia Brazao CA, Slob AK . Ejaculatory latency and control in men with premature ejaculation: an analysis across sexual activities using multiple sources of information. J Psychosomatic Res 2000; 48: 69–77.

Motofei I, Rowland DL . The physiological basis of human sexual arousal: neuroendocrine sexual asymmetry. Int J Androl 2004; 27: 78–87.

Kaplan HS . The New Sex Therapy. Brunner/Mazel: New York, 1974.

Waldinger MD . The neurobiological approach to premature ejaculation. J Urol 2002; 168: 2359–2367.

Kockott G, Feil W, Ferstl R, Aldenhoff J, Besinger U . Psychophysiological aspects of male sexual inadequacy: results of an experimental study. Arch Sex Behav 1980; 9: 477–493.

Strassberg DS, Kelly MP, Carroll C, Kircher JC . The psychophysiological nature of premature ejaculation. Arch Sex Behav 1987; 16: 327–336.

Rowland DL, Slob AK . Premature ejaculation: psychophysiological considerations in theory, research, and treatment. Annu Rev Sex Res 1997; 8: 224–254.

Rowland DL, Cooper SE, Slob AK . Genital and psychoaffective response to erotic stimulation in sexually functional and dysfunctional men. J Abnorm Psychol 1996; 105: 194–203.

Rowland DL, Tai W, Slob AK . Preliminary exploration of emotional response in men with premature ejaculation: effects of clomipramine treatment. Arch Sex Behav 2003; 32: 145–154.

Vargas VM, Torres D, Corona F, Vergara M, Gomez LE, Delgado-Lezama R et al. Cholinergic facilitation of erection and ejaculation in spinal cord transected rats. Int J Impot Res 2004; 16: 86–90.

Cerny J, Bruce T . The assessment of sexual dysfunctions. In: Byrne D (ed.) Behavioral Medicine: International Perspectives Vol. 3. Ablex Publishing: Westport, CT, 1995; 75–105.

Assalian P . Clomipramine in the treatment of premature ejaculation. J Sex Res 1988; 24: 213–215.

Ertekin C, Colakoglu Z, Altay B . Hand and genital sympathetic skin potentials in flaccid and erecile penile states in normal potent men and patients with premature ejaculation. J Urol 1995; 153: 76–79.

Kinsey AC, Pomeroy WB, Martin C, Gebhard P . Sexual Behavior in the Human Female. WB Saunders Co.: Philadelphia, 1953.

Kruger T, Exton MS, Pawlak C, von zur Muhlen A, Hartmann U, Schedlowski M . Neuroendocrine and cardiovascular response to sexual arousal and orgasm in men. Psychoneuroendocrinology 1998; 23: 401–411.

Masters W, Johnson V . Human Sexual Response. Little, Brown: Boston, 1966.

Nemec ED, Mansfield L, Kennedy JW . Heart rate and blood pressure during sexual activity in normal males. Am Heart J 1976; 92: 274–277.

Slob AK, Groeneveld WH, van der Werff ten Bosch JJ . Physiological changes during copulation in male and female stumptail macaques (Macaca arctoides). Physiol Behav 1986; 38: 891–895.

Briddell DW, Rimm DC, Caddy GR, Krawitz G, Sholis D, Wunderlin RJ . Effects of alcohol and cognitive set on sexual arousal to deviant stimuli. J Abnorm Psychol 1978; 87: 418–430.

Farkas GM, Rosen RC . The effects of ethanol on male sexual arousal. J Stud Alcohol 1976; 37: 265–272.

Wood DM, Obrist PA . Minimal and maximal sensory intake and exercise as unconditioned stimuli in human heart rate conditioning. J Exp Psychol 1968; 76: 254–262.

Greenwald MK, Cook EW, Lang PJ . Affective judgment and psychophysiological response: dimensional covariation in the evaluation of pictorial stimuli. J Psychophysiol 1968; 3: 51–64.

Bancroft J . Human Sexuality and Its Problems, 2nd edn. Churchill Livingstone: Edinburgh, 1989.

Rosen RC, Shapiro D, Schwartz G . Voluntary control of penile tumescence. Psychosom Med 1975; 37: 479–483.

Strassberg DS, Mahoney JM, Schaugaard M, Hale VE . The role of anxiety in premature ejaculation. Arch Sex Beh 1990; 19: 251–257.

Zung WW, Richards CB, Short MJ . Self-rating depression scale in an outpatient clinic: further validation of the SDS. Arch Gen Psychiatry 1965; 13: 508–515.

Rowland DL, Cooper SE, Schneider M . Defining premature ejaculation for experimental and clinical investigations. Arch Sex Behav 2001; 30: 235–253.

Rowland DL, Perelman M, Althof S, Barada J, McCullough A, Bull S et al. Self reported premature ejaculation and aspects of sexual functioning and satisfaction. J Sex Med 2004; 1: 221–228.

Shabsigh R, Rowland DL . The diagnostic and statistical manual of mental disorders, fourth edition, text revision as an appropriate diagnostic for premature ejaculation. J Sex Med 2007; 4: 1468–1478.

Rosen RC, McMahon CG, Niederberger C, Broderick GA, Jamieson C, Gagnon DD . Correlates to the clinical diagnosis of premature ejaculation: results from a large observational study of men and their partners. J Urol 2007; 177: 1059–1064.

Patrick DL, Althof SE, Barada JH, Ho KF, Jamieson C, McNulty P et al. Premature ejaculation: an observational study of men and their partners. J Sex Med 2005; 2: 358–367.

Rowland DL, den Ouden AH, Slob AK . The use of vibrotactile stimulation for determining sexual potency in the laboratory in men with erectile problems: methodological considerations. Int J Impot Res 1994; 6: 153–161.

Slob AK, Blom JHM, van der Werff ten Bosch JJ . Erection problems in medical practice: differential diagnosis with a relatively simple method. J Urol 1990; 143: 46–50.

Strassberg DS, de Gouveia Brazao CA, Rowland DL, Tan P, Slob AK . Clomipramine in the treatment of rapid (premature) ejaculation. J Sex Marital Ther 1999; 25: 89–101.

McMahon CG, Althof SE, Waldinger MD, Porst H, Dean J, Sharlip I et al. An evidence-based definition of lifelong premature ejaculation: report of the International Society for Sexual Medicine (ISSM) Ad Hoc Committee for the definition of premature ejaculation. J Sex Med 2008; 5: 1590–1606.

Meston CM . Sympathetic nervous system activity and female sexual arousal. Am J Cardiol 2000; 86: 30F–34F.

de Jong D . The role of attention in sexual arousal: implications for treatment of sexual dysfunction. J Sex Res 2009; 46: 237–248.

Motofei I, Rowland DL . Neurophysiology of the ejaculatory process: developing perspectives. BJU Int 2005; 96: 1333–1338.

Sipski ML, Alexander CJ, Rosen RC . Sexual arousal and orgasm in women: effects of spinal cord injury. Ann Neurol 2001; 49: 35–44.
Ethics declarations
Competing interests
The author declares no conflict of interest.
About this article
Cite this article
Rowland, D. Genital and heart rate response to erotic stimulation in men with and without premature ejaculation. Int J Impot Res 22, 318–324 (2010). https://doi.org/10.1038/ijir.2010.22
Received:

Revised:

Accepted:

Published:

Issue Date:

DOI: https://doi.org/10.1038/ijir.2010.22
Keywords
autonomic nervous system

heart rate

penile response

premature ejaculation

sexual dysfunction

sympathetic nervous system
This article is cited by
Eveline E. Schippers
Wineke J. Smid
Johannes H. Smit

Archives of Sexual Behavior (2022)

David Rowland
Amanda Tuohy
Jennifer Humpfer

Current Sexual Health Reports (2014)