Abstract
The aim of this study was to assess the relationship between body fat mass (BFM) and erectile dysfunction (ED) in Korean men. This study was a cross-sectional study using data on 208 men (the mean age=67.4±8.2). ED was diagnosed by the International Index of Erectile Function (IIEF)-5 and body fat percentage (BF%) was quantified with bioelectrical impedance. BF% was divided into quintiles (quintile 1: ⩽20.5%, quintile 2: 20.6–23.2%, quintile 3: 23.3–25.8%, quintile 4: 25.9–28.8%, quintile 5: ⩾28.9%). Using subjects with quintile 3 of BF% as reference, the adjusted odds ratios of subjects with the lowest quintile of BF% and with the highest quintile were 9.29 (95% CI: 2.29–37.72) and 4.99 (95% CI: 1.37–18.09), respectively. This study showed that BFM and ED had a U-shaped relationship in Korean men. These findings suggest that not only obesity but also a low BFM may be a risk factor of ED in Asians.
Relevant articles
Open Access articles citing this article.
Hong Ji Song

,

Sohee Oh

…

Dong-Hyun Kim

BMC Geriatrics Open Access 25 January 2014
Access options
Subscribe to this journal
Receive 8 print issues and online access
$259.00 per year
only $32.38 per issue
Rent or buy this article
Prices vary by article type
from$1.95
to$39.95
Prices may be subject to local taxes which are calculated during checkout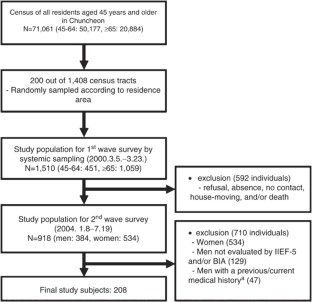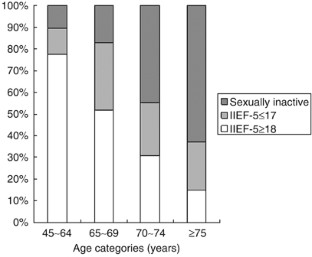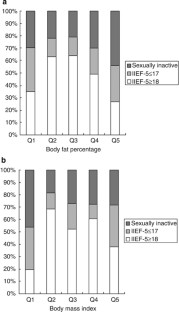 References
NIH Consensus Development Panel on Impotence. NIH Consensus Conference: impotence. JAMA 1993; 270: 83–90.

Litwin MS, Nied RJ, Dhanani N . Health-related quality of life in men with erectile dysfunction. J Gen Intern Med 1998; 13: 159–166.

Feldman HA, Goldstein I, Hatzichristou DG, Krane RJ, McKinlay JB . Impotence and its medical and psychosocial correlates: results of the Massachusetts Male Aging Study. J Urol 1994; 151: 54–61.

Ahn TY, Park JK, Lee SW, Hong JH, Park NC, Kim JJ et al. Prevalence and risk factors for erectile dysfunction in Korean men: Results of an epidemiological study. J Sex Med 2007; 4: 1269–1276.

Feldman HA, Johannes CB, Derby CA, Kleinman KP, Mohr BA, Araujo AB et al. Erectile dysfunction and coronary risk factors: Prospective results from the Massachusetts Male Aging Study. Prev Med 2000; 30: 328–338.

Esposito K, Guugliano F, Di Palo C, Giugliano G, Marfella R, D'Andrea F et al. Effect of lifestyle changes on erectile dysfunction in obese men. JAMA 2004; 291: 2978–2984.

Solomon H, Man JW, Jackson G . Erectile dysfunction and the cardiovascular patient: endothelial dysfunction is the common denominator. Heart 2003; 89: 251–253.

Billups KL . Erectile dysfunction as an early sign of cardiovascular disease. Int J Impot Res 2005; 17: S19–S24.

Jackson G . Vascular risk factors and erectile dysfunction: 'sexing-up' the importance of lifestyle changes. Int J Clin Pract 2007; 61: 1421–1422.

Bacon CG, Mittleman MA, Kawachi I, Giovannucci E, Glasser DB, Rimm EB . A prospective study of risk factors for erectile dysfunction. J Urol 2006; 176: 217–221.

Derby CA, Mohr BA, Goldstein I, Feldman HA, Johannes CB, McKinlay JB . Modifiable risk factors and erectile dysfunction: can lifestlye changes modify risk? Urology 2000; 56: 302–306.

Mulhall J, Teloken P, Brock G, Kim E . Obesity, dyslipidemias and erectile dysfunction: a report of a subcommittee of the sexual medicine society of North America. J Sex Med 2006; 3: 778–786.

Chung WS, Sohn JH, Park YY . Is obesity an underlying factor in erectile dysfunction? Eur Urol 1999; 36: 68–70.

Tan JK, Hong CY, Png DJC, Liew LCH, Wong ML . Erectile dysfunction in Singapore: prevalence and its associated factors—A population-based study. Singapore Med J 2003; 44: 20–26.

Cho BL, Kim YS, Choi YS, Hong MH, Seo HG, Lee SY et al. Prevalence and risk factors for erectile dysfunction in primary care: results of a Korean study. Int J Impot Res 2003; 15: 323–328.

WHO/IASO/IOTF. The Asia-Pacific Perspective: Redefining Obesity and its Treatment. Melbourne: Health Communications Australia Pty Ltd, 2000.

Cheng JYW, Ng EML . Body mass index, physical activity and erectile dysfunction: an U-shaped relationship from population-based study. Int J Obes 2007; 31: 1571–1578.

Zamboni M, Mazzali G, Zoico E, Harris TB, Meigs JB, Di Francesco V et al. Health consequences of obesity in the elderly: a review of four unresolved questions. Int J Obes 2005; 29: 1011–1029.

Yesavage JA, Brink TL, Rose TL, Lum O, Huang V, Adey M et al. Development and validation of a geriatric depression screening scale; a preliminary report. J Psychiatr Res 1982–1983; 17: 37–49.

Jung IK, Kwak DI, Shin DK, Lee MS, Lee HS, Kim JY . A reliability and validity study of geriatric depression scale. J Korean Neuropsychiatr Assoc 1997; 36: 103–112.

Rosen RC, Cappelleri JC, Smith MD, Lipsky J, Pena BM . Development and evaluation of an abridged, 5-item version of the International Index of Erectile Function (IIEF-5) as a diagnostic tool for erectile dysfunction. Int J Impot Res 1999; 11: 319–326.

Ahn TY, Lee DS, Kang WC, Hong JH, Kim YS . Validation of an abridged Korean version of the International Index of Erectile Function (IIEF-5) as a diagnostic tool for erectile dysfunction. Korean J Urol 2001; 42: 535–540.

Fung MM, Bettencourt R, Barrett-Connor E . Heart disease risk factors predict erectile dysfunction 25 years later. The Rancho Bernardo Study. J Am Coll Cardiol 2004; 43: 1405–1411.

Jeong DW, Lee SY, Min HG, Kim YJ, Choi SH, Kim YJ et al. Measuring performance evaluation of body fat measuring instrument applying body measuring value method. Korean J Health Promot Dis Prev 2006; 6: 79–87.

Seidell JC, Visscher TLS . Body weight and weight change and their health implications for the elderly. Eur J Clin Nutr 2000; 54: S33–S39.

Matsuo T, Sairenchi T, Iso H, Irie F, Tanaka K, Fukasawa N et al. Age- and gender-specific BMI in terms of the lowest mortality in Japanese general population. Obesity 2008; 16: 2348–2355.

Allison DB, Gallagher D, Heo M, Pi-Sunyer FX, Heymsfield SB . Body mass index and all-cause mortality among people age 70 and over: the Longitudinal Study of Aging. Int J Obes 1997; 21: 424–431.

Virag R, Bouilly P, Frydman D . Is impotence an arterial disorder? A study of arterial risk factors in 440 impotent men. Lancet 1985; 1: 181–184.

Jackson G, Rosen RC, Kloner RA, Kostis JB . The second Princeton consensus on sexual dysfunction and cardiac risk: new guidelines for sexual medicine. J Sex Med 2006; 3: 28–36.

Brevetti G, Schiano V, Chiariello M . Endothelial dysfunction: A key to the pathophysiology and natural history of peripheral arterial disease? Atherosclerosis 2008; 197: 1–11.

Ross R . The pathogenesis of atherosclerosis-an update. N Engl J Med 1986; 314: 488–500.

Davignon J, Ganz P . Role of endothelial dysfunction in atherosclerosis. Circulation 2004; 109 (Suppl III): III-27–III-32.

Vallance P, Collier J, Moncada S . Effects of endothelium-derived nitric oxide on peripheral arteriolar tone in man. Lancet 1989; 2: 997–1000.

Rubanyi GM, Vanhoutte PM . Oxygen-derived free radicals, endothelium, and the responsiveness of vascular smooth muscle. Am J Physiol 1986; 250: H815–H821.

Suwaidi JA, Higano ST, Holmes Jr DR, Lennon RL, Lerman A . Obesity is independently associated with coronary endothelial dysfunction in patients with normal or mildly diseased coronary arteries. J Am Coll Cardiol 2001; 37: 1523–1528.

Meyers MR, Gokce N . Endothelial dysfunction in obesity: etiological role in atherosclerosis. Curr Opin Endocrinol Diabetes Obes 2007; 14: 365–369.

Ziccardi P, Nappo F, Giugliano G, Esposito K, Marfella R, Cioffi M et al. Reduction of inflammatory cytokine concentrations and improvement of endothelial functions in obese women after weight loss over one year. Circulation 2002; 105: 804–809.

Higashi Y, Sasaki S, Nakagawa K, Kimura M, Noma K, Sasaki S et al. Low body mass index is a risk factor for impaired endothelium-dependent vasodilation in humans: role of nitric oxide and oxidative stress. J Am Coll Cardiol 2003; 42: 256–263.

Araujo AB, Durante R, Feldman HA, Goldstein I, Mckinlay JB . The relationship between depressive symptoms and male erectile dysfunction: cross-sectional results from the Massachusetts Male Aging Study. Psychosom Med 1998; 60: 458–465.

Roose SP . Depression: links with ischemic heart disease and erectile dysfunction. J Clin Psychiatry 2003; 64 (Suppl 10): 26–30.
Acknowledgements
This work was supported by grants from the Korea Research Foundation (047-BM1028) and the Hallym University (HRF-2004-49).
About this article
Cite this article
Cho, YG., Song, HJ., Lee, SK. et al. The relationship between body fat mass and erectile dysfunction in Korean men: Hallym Aging Study. Int J Impot Res 21, 179–186 (2009). https://doi.org/10.1038/ijir.2009.8
Received:

Revised:

Accepted:

Published:

Issue Date:

DOI: https://doi.org/10.1038/ijir.2009.8
Keywords
body fat mass

erectile dysfunction

obesity

low body weight