Abstract
Penile erection is a neurovascular process controlled by numerous tightly regulated events, and occurs in response to the activation of pro-erectile autonomic pathways. It is dependent on an adequate inflow of blood to the erectile tissue through both endothelium-dependent vasodilatation and corporal smooth muscle relaxation. Pathologic alteration in the endothelium of penile vasculature and/or erectile tissue and/or impairment of neurovascular processes can result in erectile dysfunction (ED). Both cardiovascular disease (CVD) and ED have been linked to endothelial dysfunction. Endothelial dysfunction is a vascular condition resulting in a diminished vasodilatory response to pharmacologic and physiologic stressors. Endothelial dysfunction may be a pathophysiologic mechanism underlying both ED and CVD, forming a unifying link between these two conditions. Furthermore, in the general population and in men with diabetes or obesity, ED may be a valuable early marker for serious subclinical CVD, coronary artery disease and atherosclerosis.
Your institute does not have access to this article
Access options
Subscribe to Journal
Get full journal access for 1 year
$119.00
only $14.88 per issue
All prices are NET prices.
VAT will be added later in the checkout.
Tax calculation will be finalised during checkout.
Buy article
Get time limited or full article access on ReadCube.
$32.00
All prices are NET prices.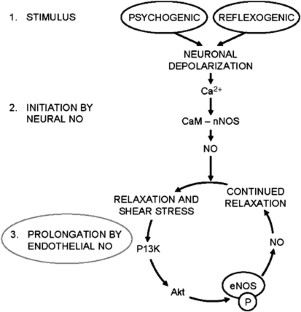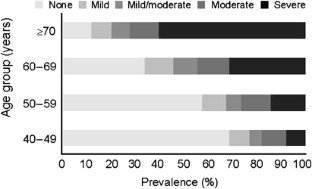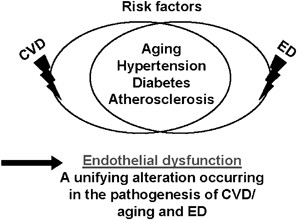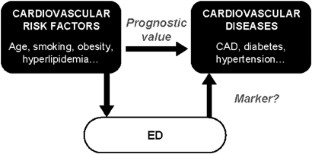 References
Burnett AL . Nitric oxide in the penis—science and therapeutic implications from erectile dysfunction to priapism. J Sex Med 2006; 3: 578–582.

Dean RC, Lue TF . Physiology of penile erection and pathophysiology of erectile dysfunction. Urol Clin North Am 2005; 32: 379–395.

Lue TF . Erectile dysfunction. N Engl J Med 2000; 342: 1802–1813.

Bivalacqua TJ, Usta MF, Champion HC, Kadowitz PJ, Hellstrom WJG . Endothelial dysfunction in erectile dysfunction: role of the endothelium in erectile physiology and disease. J Androl 2003; 24 (Suppl 6): S17–S37.

Prieto D . Physiological regulation of penile arteries and veins. Int J Impot Res 2008; 20: 17–29.

Furchgott RE, Zawadzki JV . The obligatory role of endothelial cells in the relaxation of arterial smooth muscle by acetylcholine. Nature 1980; 288: 373–376.

Behrendt D, Ganz P . Endothelial function: from vascular biology to clinical applications. J Am Coll Cardiol 2002; 90: 40L–48L.

Maxwell AJ . Mechanisms of dysfunction of the nitric oxide pathway in vascular diseases. Nitric Oxide 2002; 6: 101–124.

Kendirci M, Nowfar S, Hellstrom AJG . The impact of vascular risk factors on erectile function. Drugs of Today 2005; 41: 65–74.

Selvin E, Burnett AL, Platz EA . Prevalence and risk factors for erectile dysfunction in the US. Am J Med 2007; 120: 151–157.

Toda N, Ayajiki K, Okamura T . Nitric oxide and penile erectile function. Pharmacol Ther 2005; 106: 233–266.

Carson CC, Lue TF . Phosphodiesterase type 5 inhibitors for erectile dysfunction. BJU Int 2005; 96: 257–280.

Hurt KJ, Musicki B, Palese MA, Crone JK, Becker RE, Moriarity JL et al. Akt-dependent phosphorylation of endothelial nitric-oxide synthase mediates penile erection. Proc Natl Acad Sci USA 2002; 99: 4061–4066.

NIH Consensus Development Panel on Impotence. NIH Consensus Conference: impotence. JAMA 1993; 270: 83–90.

Seftel AD, Sun P, Swindle R . The prevalence of hypertension, hyperlipidemia, diabetes mellitus and depression in men with erectile dysfunction. J Urol 2004; 171: 2341–2345.

Kubin M, Wagner G, Fugl-Meyer AR . Epidemiology of erectile dysfunction. Int J Impot Res 2003; 15: 63–71.

Ayta A, McKinlay JB, Krane RJ . The likely world-wide increase in erectile dysfunction between 1995 and 2025 and some possible policy consequences. BJU Int 1999; 84: 50–56.

Johannes CB, Araujo AB, Feldman HA, Derby CA, Kleinman KP, McKinlay JB . Incidence of erectile dysfunction in men 40–69 years old: longitudinal results from the Massachusetts male aging study. J Urol 2000; 163: 460–463.

Prins J, Blanker MH, Bohen AM, Thomas S, Bosch JL . Prevalence of erectile dysfunction: a systematic review of population-based studies. Int J Impot Res 2002; 14: 422–432.

Lindau ST, Schumm P, Laumann EO, Levnison W, O'Muircheartaigh CA, Waite LJ . A study of sexuality and health among older adults in the United States. N Engl J Med 2007; 347: 762–774.

Grover SA, Lowensteyn I, Kaouache M, Marchand S, Coupal L, DeCarolis E et al. The prevalence of erectile dysfunction in the primary care setting: importance of risk factors for diabetes and vascular disease. Arch Intern Med 2006; 166: 213–219.

Kuvin JT, Karas RH . Clinical utility of endothelial function testing: ready for prime time? Circulation 2003; 107: 3243–3247.

Taddei S, Virdis A, Mattei P, Ghiadoni L, Gennari A, Fasolo CB et al. Aging and endothelial function in normotensive subjects and patients with essential hypertension. Circulation 1995; 91: 1981–1987.

Kirby M, Jackson G, Betteridge J, Friedli K . Is erectile dysfunction a marker for cardiovascular disease? Int J Clin Pract 2001; 55: 614–618.

Thompson IM, Goodman PJ, Tangen CM, Lucia MS, Miller GJ, Ford LG et al. The influence of finasteride on the development of prostate cancer. N Engl J Med 2003; 349: 215–224.

Thompson IM, Tangen CM, Goodman PJ, Probstfield JL, Moinpour CM, Coltman CA . Erectile dysfunction and subsequent cardiovascular disease. JAMA 2005; 294: 2996–3002.

Sullivan ME, Keoghane SR, Miller MAW . Vascular risk factors and erectile dysfunction. BJU Int 2001; 87: 838–845.

Gazzaruso C, Giordanetti S, De Amici E, Bertone G, Falcone C, Geroldi D et al. Relationship between erectile dysfunction and silent myocardial ischemia in apparently uncomplicated type 2 diabetic patients. Circulation 2004; 110: 22–26.

Giugliano F, Esposito K, Di Palo C, Ciotola M, Giugliano G, Marfella R et al. Erectile dysfunction associates with endothelial dysfunction and raised proinflammatory cytokine levels in obese men. J Endocrinol Invest 2004; 27: 665–669.

Esposito K, Giugliano F, Ciotola M, De Sio M, DiArmiento M, Giugliano D . Obesity and sexual dysfunction, male and female. Int J Impot Res 2008; 20: 358–365.

Mulhall J, Telokem P, Brock G, Kim E . Obesity, dyslipidemias and erectile dysfunction: a report of a subcommittee of sexual medicine society of North America. J Sex Med 2006; 3: 778–786.

Chiurlia E, D'Amico R, Ratti C, Granata AR, Romagnoli R, Modena MG . Subclinical coronary artery atherosclerosis in patients with erectile dysfunction. J Am Coll Cardiol 2005; 46: 1503–1506.

Billups KL, Bank AJ, Padma-Nathan H, Katz S, Williams R . Erectile dysfunction is a marker for cardiovascular disease: results of the Minority Health Institute Expert Advisory Panel. J Sex Med 2005; 2: 40–52.
Acknowledgements
The author would like to acknowledge medical writing support by Jackie Phillipson of Gardiner-Caldwell Communications; this support was funded by Eli Lilly and Company. Diane Stothard (Eli Lilly and Company) provided support by reviewing this article.
Additional information
Disclosure
The author is a paid consultant for Pfizer, Eli Lilly and Company and an investigator for Pfizer and Bayer.
About this article
Cite this article
Giuliano, F. New horizons in erectile and endothelial dysfunction research and therapies. Int J Impot Res 20, S2–S8 (2008). https://doi.org/10.1038/ijir.2008.46
Published:

Issue Date:

DOI: https://doi.org/10.1038/ijir.2008.46
Further reading
B G Schwartz
C Economides
R A Kloner

International Journal of Impotence Research (2010)

International Journal of Impotence Research (2009)