Abstract
The neurobiology of sexual behavior involves the interrelationships between sex steroids and neurotransmitters that result in both central nervous system (CNS) effects and effects in the genitalia. Tools such as positron emission tomography (PET) and functional magnetic resonance imaging (fMRI) scanning can help determine what areas of the brain are activated under sexual stimulation. Our understanding of the role of various neurotransmitters, neurosteroids and other CNS-acting compounds is improving. The role of CNS-acting compounds such as dopamine agonists in the treatment of male sexual dysfunction is under active investigation. Melanocortins have CNS and peripheral roles in a wide variety of bodily functions. The melanocortin agonist bremelanotide appears to act in the CNS to promote erections in preclinical models, and may also stimulate behaviors that facilitate sexual activity beyond their erectogenic effects.
Access options
Subscribe to this journal
Receive 8 print issues and online access
$259.00 per year
only $32.38 per issue
Rent or buy this article
Get just this article for as long as you need it
$39.95
Prices may be subject to local taxes which are calculated during checkout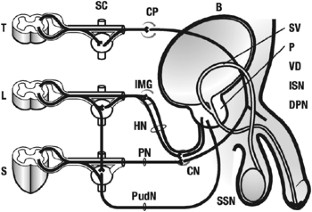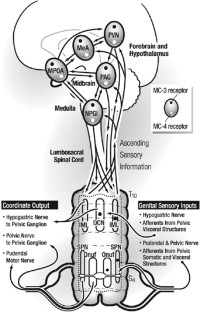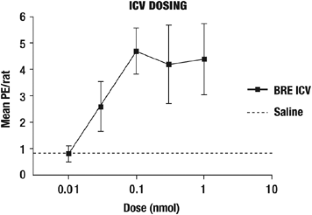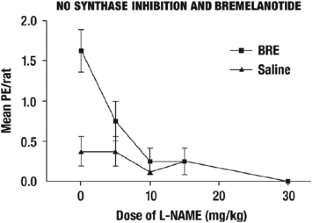 References
Dean RC, Lue TF . Physiology of penile erection and pathophysiology of erectile dysfunction. Urol Clin North Am 2005; 32: 379–395, v.

Arnow BA, Desmond JE, Banner LL, Glover GH, Solomon A, Polan ML et al. Brain activation and sexual arousal in healthy, heterosexual males. Brain 2002; 125: 1014–1023.

Stoleru S, Redouté J, Costes N, Lavenne F, Bars DL, Dechaud H et al. Brain processing of visual sexual stimuli in men with hypoactive sexual desire disorder. Psychiatry Res 2003; 124: 67–86.

Hamann S, Herman RA, Nolan CL, Wallen K . Men and women differ in amygdala response to visual sexual stimuli. Nat Neurosci 2004; 7: 411–416.

Marson L, Platt KB, McKenna KE . Central nervous system innervation of the penis as revealed by the transneuronal transport of pseudorabies virus. Neuroscience 1993; 55: 263–280.

Mallick HN, Manchanda SK, Kumar VM . Sensory modulation of the medial preoptic area neuronal activity by dorsal penile nerve stimulation in rats. J Urol 1994; 151: 759.

Hull EM, Lorrain DS, Du J, Matuszewich L, Lumley LA, Putnam SK et al. Hormone-neurotransmitter interactions in the control of sexual behavior. Behav Brain Res 1999; 105: 105–116.

Saenz de Tejada I, Angulo J, Cellek S, Gonzalez-Cadavid N, Heaton J, Pickard R et al. Physiology of erectile function and pathophysiology of erectile dysfunction. In: Lue TF, Basson R, Rosen R, Giuliano F, Khoury S, Montorsi F (eds). Sexual Medicine, Health Publications, Paris, 2004. International Society for Sexual Medicine: Online edition. Available athttp://www.issm.info/, accessed 1 July 2007.

Giuliano F, Bernabé J, Brown K, Droupy S, Benoit G, Rampin O . Erectile response to hypothalamic stimulation in rats: role of peripheral nerves. Am J Physiol 1997; 273: R1990–R1997.

Giuliano F, Rampin O . Neural control of erection. Physiol Behav 2004; 83: 189–201.

Andersson KJ, Hedlund P . New directions for erectile dysfunction therapies. Int J Impot Res 2002; 14 (Suppl 1): S82–S92.

Cornil CA, Balthazart J, Motte P, Massotte L, Seutin V . Dopamine activates noradrenergic receptors in the preoptic area. J Neuroscience 2002; 22: 9320–9330.

Huyn JS, Baig MR, Yang DY, Leungwattanakij S, Kim KD, Abdel-Mageed AM et al. Localization of peripheral dopamine D1 and D2 receptors in rat and human seminal vesicles. J Androl 2002; 23: 114–120.

Both S, Everaerd W, Laan E, Gooren L . Effect of a single dose of levodopa on sexual response in men and women. Neuropsychopharmacology 2005; 30: 173–183.

Fumero B, Fernandez-Vera JR, Gonzalez-Lora JL, Mas M . Changes in monoamine turnover in forebrain areas associated with masculine sexual behavior: a microdialysis study. Brain Res 1994; 662: 233–239.

Heaton JP . Central neuropharmacological agents and mechanisms in erectile dysfunction: the role of dopamine. Neurosci Biobehav Rev 2000; 24: 561–569.

Halaris A . Neurochemical aspects of the sexual response cycle. CNS Spectrums 2003; 8: 211–216.

Buvat J . Hyperprolactinemia and sexual function in men: a short review. Int J Impot Res 2003; 15: 373–377.

Melis MR, Argiolas A . Central oxytocinergic neurotransmission: a drug target for the therapy of psychogenic erectile dysfunction. Curr Drug Targets 2003; 4: 55–66.

Insel TR . A neurobiological basis of social attachment. Am J Psychiatry 1997; 154: 726–735.

Stoffel-Wagner B . Neurosteroid metabolism in the human brain. Eur J Endocrinol 2001; 145: 669–679.

Andersson K . Pharmacology of penile erection. Pharmacol Rev 2001; 53: 417–450.

Scepkowski LA, Georgescu M, Pfaus JG . Neuroendocrine factors in sexual desire and motivation. In: Goldstein I, Traish A, Davis S, Meston C (eds). Women's Sexual Function and Dysfunction. Taylor & Francis Ltd: London, 2005, pp 159–168.

Hull EM, Du J, Lorrain DS, Matuszewich L . Testosterone, preoptic dopamine, and copulation in male rats. Brain Res Bull 1997; 44: 327–333.

Voisey J, Carroll L, van Daal A . Melanocortins and their receptors and antagonists. Curr Drug Targets 2003; 4: 586–597.

Gantz I, Fong TM . The melanocortin system. Am J Physiol Endocrinol Metab 2003; 284: E468–E474.

Giuliano F . Control of penile erection by the melanocortinergic system: experimental evidences and therapeutic perspectives. J Androl 2004; 25: 683–691.

Van der Ploeg LH, Martin WJ, Howard AD, Nargund RP, Austin CP, Guan X et al. A role for the melanocortin 4 receptor in sexual function. Proc Nat Acad Sci USA 2002; 99: 11381–11386.

Argiolas A, Melis MR, Murgia S, Schioth HB . ACTH- and alpha-MSH-induced grooming, stretching, yawning and penile erection in male rats: site of action in the brain and role of melanocortin receptors. Brain Res Bull 2000; 51: 425–431.

Wikberg JE, Muceniece R, Mandrika I, Prisis P, Lindblom J, Post C et al. New aspects on the melanocortins and their receptors. Pharmacol Res 2000; 42: 393–420.

Vemapalli R, Kurowski S, Salisbury B, Parker E, Davis H . Activation of central melanocortin receptors by MT-II increases cavernosal pressure in rabbits by the neuronal release of NO. Br J Pharmacology 2001; 134: 1705–1710.

Wessells H, Hruby VJ, Hackett J, Han G, Balse-Srinivasan P, Vanderah TW . Ac-Nle-c[Asp-His-DPhe-Arg-Trp-Lys]-NH2 induces penile erection via brain and spinal melanocortin receptors. Neuroscience 2003; 118: 755–762.

Molinoff PB, Shadiack AM, Earle D, Diamond LE, Quon CY . PT-141: a melanocortin agonist for the treatment of sexual dysfunction. Ann NY Acad Sci 2003; 994: 96–102.

Shadiack AM, Herbert GW, Silvester KR, Padron JM . Elucidating the mechanism of the erectogenic effects of PT-141, a synthetic melanocortin agonist. Program no. 399.4. Abstract. Society for Neuroscience: New Orleans, LA, 2003.

Pfaus JG, Shadiack A, Van Soest T, Tse M, Molinoff P . Selective facilitation of sexual solicitation in the female rat by a melanocortin receptor agonist. Proc Nat Acad Sci USA 2004; 101: 10201–10204.
Acknowledgements
This work was supported by a grant from Palatin Technologies, Inc. Editorial support for the development of this paper was provided by Kevin Kehres.
Additional information
Disclosure
Dr Shadiack was employed by Palatin until 28 September 2007. She holds stock in Palatin and several patents, and has served as an expert witness for Palatin after leaving the company. Dr Althof is an advisory board member consultant and principal investigator for Palatin. He also serves as a consultant, investigator, advisory board member and/or speakers bureau member for Auxilium, Boehringer Ingelheim, BioSante, Johnson & Johnson, Lilly/ICOS, Pfizer, Palatin and Plethora.
About this article
Cite this article
Shadiack, A., Althof, S. Preclinical effects of melanocortins in male sexual dysfunction. Int J Impot Res 20 (Suppl 1), S11–S16 (2008). https://doi.org/10.1038/ijir.2008.17
Published:

Issue Date:

DOI: https://doi.org/10.1038/ijir.2008.17
Keywords
erectile dysfunction

neuroanatomy

neurophysiology

CNS-acting agents

melanocortins

bremelanotide
This article is cited by
Erin Semple
Firas Shalabi
Jennifer W. Hill

Molecular Neurobiology (2019)