Abstract
Advances in genomics and gene therapy could offer solutions to many diseases that remain incurable today, however, one of the critical reasons halting clinical progress is due to the difficulty in designing efficient and safe delivery vectors for the appropriate genetic cargo. Safety and large-scale production concerns counter-balance the high gene transfer efficiency achieved with viral vectors, while non-viral strategies have yet to become sufficiently efficient. The extraordinary physicochemical, optical and photothermal properties of graphene-based materials (GBMs) could offer two-dimensional components for the design of nucleic acid carrier systems. We discuss here such properties and their implications for the optimization of gene delivery. While the design of such vectors is still in its infancy, we provide here an exhaustive and up-to-date analysis of the studies that have explored GBMs as gene transfer vectors, focusing on the functionalization strategies followed to improve vector performance and on the biological effects attained.
Relevant articles
Open Access articles citing this article.
Philippa M. Shellard

,

Thunyaporn Srisubin

…

Christopher F. Blanford

Journal of Materials Science Open Access 09 May 2020

Irene de Lázaro

&

Kostas Kostarelos

Scientific Reports Open Access 29 August 2019
Access options
Subscribe to this journal
Receive 12 print issues and online access
$259.00 per year
only $21.58 per issue
Rent or buy this article
Get just this article for as long as you need it
$39.95
Prices may be subject to local taxes which are calculated during checkout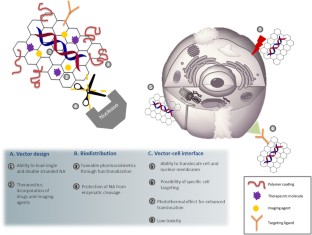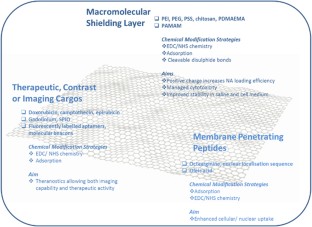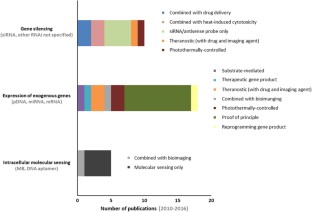 References
Vectors used in gene therapy clinical trials. J Gene Med 2015, Available online at http://www.abedia.com/wiley/vectors.php (Accessed on January 2016).

Liu YP, Berkhout B . miRNA cassettes in viral vectors: problems and solutions. Biochim Biophys Acta 2011; 1809: 732–745.

Yin H, Kanasty RL, Eltoukhy AA, Vegas AJ, Dorkin JR, Anderson DG . Non-viral vectors for gene-based therapy. Nat Rev Genet 2014; 15: 541–555.

Hunter AC . Molecular hurdles in polyfectin design and mechanistic background to polycation induced cytotoxicity. Adv Drug Deliv Rev 2006; 58: 1523–1531.

Novoselov KS, Geim AK, Morozov SV, Jiang D, Zhang Y, Dubonos SV et al. Electric field effect in atomically thin carbon films. Science 2004; 306: 666–669.

Geim AK, Novoselov KS . The rise of graphene. Nat Mater 2007; 6: 183–191.

Geim AK . Graphene: status and prospects. Science 2009; 324: 1530–1534.

Park S, Ruoff RS . Chemical methods for the production of graphenes. Nat Nanotechnol 2009; 4: 217–224.

Bitounis D, Ali-Boucetta H, Hong BH, Min DH, Kostarelos K . Prospects and challenges of graphene in biomedical applications. Adv Mater 2013; 25: 2258–2268.

Chua CK, Pumera M . Covalent chemistry on graphene. Chem Soc Rev 2013; 42: 3222–3233.

Dreyer DR, Park S, Bielawski CW, Ruoff RS . The chemistry of graphene oxide. Chem Soc Rev 2010; 39: 228–240.

Yan L, Zheng YB, Zhao F, Li S, Gao X, Xu B et al. Chemistry and physics of a single atomic layer: strategies and challenges for functionalization of graphene and graphene-based materials. Chem Soc Rev 2012; 41: 97–114.

Yang K, Wan J, Zhang S, Zhang Y, Lee ST, Liu Z . In vivo pharmacokinetics, long-term biodistribution, and toxicology of PEGylated graphene in mice. ACS Nano 2011; 5: 516–522.

Liu Z, Robinson JT, Sun X, Dai H . PEGylated nanographene oxide for delivery of water-insoluble cancer drugs. J Am Chem Soc 2008; 130: 10876–10877.

Sun X, Liu Z, Welsher K, Robinson JT, Goodwin A, Zaric S et al. Nano-graphene oxide for cellular imaging and drug delivery. Nano Res 2008; 1: 203–212.

Lu CH, Yang HH, Zhu CL, Chen X, Chen GN . A graphene platform for sensing biomolecules. Angew Chem Int Ed Engl 2009; 48: 4785–4787.

Varghese N, Mogera U, Govindaraj A, Das A, Maiti PK, Sood AK et al. Binding of DNA nucleobases and nucleosides with graphene. Chemphyschem 2009; 10: 206–210.

Patil AJ, Vickery JL, Scott TB, Mann S . Aqueous stabilization and self-assembly of graphene sheets into layered bio-nanocomposites using DNA. Adv Mater 2009; 21: 3159-+.

Cui L, Chen ZR, Zhu Z, Lin XY, Chen X, Yang CJ . Stabilization of ssRNA on graphene oxide surface: an effective way to design highly robust RNA probes. Anal Chem 2013; 85: 2269–2275.

He SJ, Song B, Li D, Zhu CF, Qi WP, Wen YQ et al. A graphene nanoprobe for rapid, sensitive, and multicolor fluorescent DNA analysis. Adv Funct Mater 2010; 20: 453–459.

Tang LH, Chang HX, Liu Y, Li JH . Duplex DNA/graphene oxide biointerface: from fundamental understanding to specific enzymatic effects. Adv Funct Mater 2012; 22: 3083–3088.

Zhao XC . Self-assembly of DNA segments on graphene and carbon nanotube arrays in aqueous solution: a molecular simulation study. J Phys Chem C 2011; 115: 6181–6189.

Lei H, Mi L, Zhou X, Chen J, Hu J, Guo S et al. Adsorption of double-stranded DNA to graphene oxide preventing enzymatic digestion. Nanoscale 2011; 3: 3888–3892.

Lu CH, Zhu CL, Li J, Liu JJ, Chen X, Yang HH . Using graphene to protect DNA from cleavage during cellular delivery. Chem Commun 2010; 46: 3116–3118.

Tang Z, Wu H, Cort JR, Buchko GW, Zhang Y, Shao Y et al. Constraint of DNA on functionalized graphene improves its biostability and specificity. Small 2010; 6: 1205–1209.

Seferos DS, Prigodich AE, Giljohann DA, Patel PC, Mirkin CA . Polyvalent DNA nanoparticle conjugates stabilize nucleic acids. Nano Lett 2009; 9: 308–311.

Wu YR, Phillips JA, Liu HP, Yang RH, Tan WH . Carbon nanotubes protect DNA strands during cellular delivery. ACS Nano 2008; 2: 2023–2028.

Sasidharan A, Panchakarla LS, Chandran P, Menon D, Nair S, Rao CNR et al. Differential nano-bio interactions and toxicity effects of pristine versus functionalized graphene. Nanoscale 2011; 3: 2461–2464.

Huang J, Zong C, Shen H, Liu M, Chen BA, Ren B et al. Mechanism of cellular uptake of graphene oxide studied by surface-enhanced raman spectroscopy. Small 2012; 8: 2577–2584.

Mu QX, Su GX, Li LW, Gilbertson BO, Yu LH, Zhang Q et al. Size-dependent cell uptake of protein-coated graphene oxide nanosheets. ACS Appl Mater Interfaces 2012; 4: 2259–2266.

Yue H, Wei W, Yue ZG, Wang B, Luo NN, Gao YJ et al. The role of the lateral dimension of graphene oxide in the regulation of cellular responses. Biomaterials 2012; 33: 4013–4021.

Tu YS, Lv M, Xiu P, Huynh T, Zhang M, Castelli M et al. Destructive extraction of phospholipids from Escherichia coli membranes by graphene nanosheets. Nat Nanotechnol 2013; 8: 594–601.

Li YF, Yuan HY, von dem Bussche A, Creighton M, Hurt RH, Kane AB et al. Graphene microsheets enter cells through spontaneous membrane penetration at edge asperities and corner sites. Proc Natl Acad Sci USA 2013; 110: 12295–12300.

Feng LZ, Yang XZ, Shi XZ, Tan XF, Peng R, Wang J et al. Polyethylene glycol and polyethylenimine dual-functionalized nano-graphene oxide for photothermally enhanced gene delivery. Small 2013; 9: 1989–1997.

Bussy C, Ali-Boucetta H, Kostarelos K . Safety considerations for graphene: lessons learnt from carbon nanotubes. Accounts Chem Res 2013; 46: 692–701.

Bussy C, Jasim D, Lozano N, Terry D, Kostarelos K . The current graphene safety landscape - a literature mining exercise. Nanoscale 2015; 7: 6432–6435.

Chen BA, Liu M, Zhang LM, Huang J, Yao JL, Zhang ZJ . Polyethylenimine-functionalized graphene oxide as an efficient gene delivery vector. J Mater Chem 2011; 21: 7736–7741.

Kim H, Namgung R, Singha K, Oh IK, Kim WJ . Graphene oxide-polyethylenimine nanoconstruct as a gene delivery vector and bioimaging tool. Bioconjug Chem 2011; 22: 2558–2567.

Kim H, Kim WJ . Photothermally controlled gene delivery by reduced graphene oxide-polyethylenimine nanocomposite. Small 2014; 10: 117–126.

Paul A, Hasan A, Al Kindi H, Gaharwar AK, Rao VTS, Nikkhah M et al. Injectable graphene oxide/hydrogel-based angiogenic gene delivery system for vasculogenesis and cardiac repair. ACS Nano 2014; 8: 8050–8062.

Qin SY, Feng J, Rong L, Jia HZ, Chen S, Liu XJ et al. Theranostic GO-based nanohybrid for tumor induced imaging and potential combinational tumor therapy. Small 2014; 10: 599–608.

Ren TB, Li L, Cai XJ, Dong HQ, Liu SM, Li YY . Engineered polyethylenimine/graphene oxide nanocomposite for nuclear localized gene delivery. Polym Chem 2012; 3: 2561–2569.

Xu C, Yang DR, Mei L, Lu BG, Chen LB, Li QH et al. Encapsulating gold nanoparticles or nanorods in graphene oxide shells as a novel gene vector. ACS Appl Mater Interfaces 2013; 5: 2715–2724.

Zhi F, Dong HF, Jia XF, Guo WJ, Lu HT, Yang YL et al. Functionalized graphene oxide mediated adriamycin delivery and miR-21 gene silencing to overcome tumor multidrug resistance in vitro. PLos One 2013; 8: e60034.

Zhou X, Laroche F, Lamers GEM, Torraca V, Voskamp P, Lu T et al. Ultra-small graphene oxide functionalized with polyethylenimine (PEI) for very efficient gene delivery in cell and zebrafish embryos. Nano Res 2012; 5: 703–709.

Tripathi SK, Goyal R, Gupta KC, Kumar P . Functionalized graphene oxide mediated nucleic acid delivery. Carbon 2013; 51: 224–235.

Yin D, Li Y, Lin H, Guo BF, Du YW, Li X et al. Functional graphene oxide as a plasmid-based Stat3 siRNA carrier inhibits mouse malignant melanoma growth in vivo. Nanotechnology 2013; 24: 105102.

Dong HF, Ding L, Yan F, Ji HX, Ju HX . The use of polyethylenimine-grafted graphene nanoribbon for cellular delivery of locked nucleic acid modified molecular beacon for recognition of microRNA. Biomaterials 2011; 32: 3875–3882.

Li KY, Feng LZ, Shen JW, Zhang Q, Liu Z, Lee ST et al. Patterned substrates of nano-graphene oxide mediating highly localized and efficient gene delivery. ACS Appl Mater Interfaces 2014; 6: 5900–5907.

Cheng FF, Chen W, Hu LH, Chen G, Miao HT, Li CZ et al. Highly dispersible PEGylated graphene/Au composites as gene delivery vector and potential cancer therapeutic agent. J Mater Chem B 2013; 1: 4956–4962.

Lungwitz U, Breunig M, Blunk T, Gopferich A . Polyethylenimine-based non-viral gene delivery systems. Eur J Pharm Biopharm 2005; 60: 247–266.

Feng LZ, Zhang SA, Liu ZA . Graphene based gene transfection. Nanoscale 2011; 3: 1252–1257.

Prencipe G, Tabakman SM, Welsher K, Liu Z, Goodwin AP, Zhang L et al. PEG branched polymer for functionalization of nanomaterials with ultralong blood circulation. J Am Chem Soc 2009; 131: 4783–4787.

Dong HF, Dai WH, Ju HX, Lu HT, Wang SY, Xu LP et al. Multifunctional poly(L-lactide)-polyethylene glycol-grafted graphene quantum dots for intracellular microRNA imaging and combined specific-gene-targeting agents delivery for improved therapeutics. ACS Appl Mater Interfaces 2015; 7: 11015–11023.

Zhang LM, Wang ZL, Lu ZX, Shen H, Huang J, Zhao QH et al. PEGylated reduced graphene oxide as a superior ssRNA delivery system. J Mater Chem B 2013; 1: 749–755.

Bao HQ, Pan YZ, Ping Y, Sahoo NG, Wu TF, Li L et al. Chitosan-functionalized graphene oxide as a nanocarrier for drug and gene delivery. Small 2011; 7: 1569–1578.

Wang CY, Ravi S, Garapati US, Das M, Howell M, Mallela J et al. Multifunctional chitosan magnetic-graphene (CMG) nanoparticles: a theranostic platform for tumor-targeted co-delivery of drugs, genes and MRI contrast agents. J Mater Chem B 2013; 1: 4396–4405.

Agnihotri SA, Mallikarjuna NN, Aminabhavi TM . Recent advances on chitosan-based micro- and nanoparticles in drug delivery. J Control Release 2004; 100: 5–28.

Kean T, Roth S, Thanou M . Trimethylated chitosans as non-viral gene delivery vectors: Cytotoxicity and transfection efficiency. J Control Release 2005; 103: 643–653.

Esfand R, Tomalia DA . Poly(amidoamine) (PAMAM) dendrimers: from biomimicry to drug delivery and biomedical applications. Drug Discov Today 2001; 6: 427–436.

Liu XH, Ma DM, Tang H, Tan L, Xie QJ, Zhang YY et al. Polyamidoamine dendrimer and oleic acid-functionalized graphene as biocompatible and efficient gene delivery vectors. ACS Appl Mater Interfaces 2014; 6: 8173–8183.

Yang HW, Huang CY, Chih-Wen L, Liu HL, Huang CW, Liao SS et al. Gadolinium-functionalized nanographene oxide for combined drug and microRNA delivery and magnetic resonance imaging. Biomaterials 2014; 35: 6534–6542.

Imani R, Emami SH, Faghihi S . Synthesis and characterization of an octaarginine functionalized graphene oxide nano-carrier for gene delivery applications. Phys Chem Chem Phys 2015; 17: 6328–6339.

Yang XC, Zhao NN, Xu FJ . Biocleavable graphene oxide based-nanohybrids synthesized via ATRP for gene/drug delivery. Nanoscale 2014; 6: 6141–6150.

Fukuda S, Pelus LM . Survivin, a cancer target with an emerging role in normal adult tissues. Mol Cancer Ther 2006; 5: 1087–1098.

Wang Y, Li ZH, Hu DH, Lin CT, Li JH, Lin YH . Aptamer/graphene oxide nanocomplex for in situ molecular probing in living cells. J Am Chem Soc 2010; 132: 9274–9276.

Choi HY, Lee TJ, Yang GM, Oh J, Won J, Han J et al. Efficient mRNA delivery with graphene oxide-polyethylenimine for generation of footprint-free human induced pluripotent stem cells. J Control Release 2016; 235: 222–235.

Huang YP, Hung CM, Hsu YC, Zhong CY, Wang WR, Chang CC et al. Suppression of breast cancer cell migration by small interfering rna delivered by polyethylenimine-functionalized graphene oxide. Nanoscale Res Lett 2016; 11: 247.

Zhang W, Guo ZY, Huang DQ, Liu ZM, Guo X, Zhong HQ . Synergistic effect of chemo-photothermal therapy using PEGylated graphene oxide. Biomaterials 2011; 32: 8555–8561.

Imani R, Shao W, Taherkhani S, Emami SH, Prakash S, Faghihi S . Dual-functionalized graphene oxide for enhanced siRNA delivery to breast cancer cells. Colloids Surf B Biointerfaces 2016; 147: 315–325.
Acknowledgements
This work was partially supported by the Horizon 2020 RTD Framework Programme, Graphene Core1 project (H2020- SGA-RIA-696656-2014-20). Melissa Vincent is the recipient of the Louis Wong Hak Wood Presidential Doctoral Scholarship in Graphene and Biomedical Research at the Faculty of Biology, Medicine and Health, University of Manchester.
Ethics declarations
Competing interests
The authors declare no conflict of interest.
About this article
Cite this article
Vincent, M., de Lázaro, I. & Kostarelos, K. Graphene materials as 2D non-viral gene transfer vector platforms. Gene Ther 24, 123–132 (2017). https://doi.org/10.1038/gt.2016.79
Received:

Revised:

Accepted:

Published:

Issue Date:

DOI: https://doi.org/10.1038/gt.2016.79