Abstract
Xerostomia is a common side effect of ionizing radiation used to treat head and neck cancer. A groundbreaking Phase I human clinical trial using Adenoviral gene transfer of Aquaporin-1 (AQP1) to a single salivary gland of individuals suffering from radiation-induced xerostomia has recently been reported. Unfortunately, the limitations of the Adenoviral vector system used in this pioneering trial preclude its advancement to a Phase II trial, and we have thus undertaken to evaluate the therapeutic potential of ultrasound-assisted nonviral gene transfer (UAGT) as an alternative means of delivering AQP1 gene therapy to the salivary gland by comparing head-to-head with the canonical Adenoviral vector in a swine model. Swine irradiated unilaterally with a 10-Gy electron beam targeted at the parotid gland suffered from significant, sustained hyposalivation that was bilateral, despite irradiation being confined to the targeted gland. Unilateral AQP1 gene therapy with UAGT resulted in bilateral restoration of stimulated salivary flow at 48 h and 1 week post treatment (1.62±0.48 ml and 1.87±0.45 ml) to preinjury levels (1.34±0.14 ml) in a manner comparable to Adenoviral delivery (2.32±0.6 ml and 1.33±0.97 ml). UAGT can replace the Adenoviral vector as a means of delivering AQP1 gene therapy in the irradiated swine model, and it is a candidate for advancement to a Phase I human clinical trial.
Relevant articles
Open Access articles citing this article.
Jyoti Roy

,

Blake M. Warner

…

Frank I. Lin

EJNMMI Research Open Access 21 July 2021

Guy El Helou

,

Todd A. Ponzio

…

John W. Sanders

Tropical Diseases, Travel Medicine and Vaccines Open Access 03 June 2020
Access options
Subscribe to this journal
Receive 12 print issues and online access
$259.00 per year
only $21.58 per issue
Rent or buy this article
Prices vary by article type
from$1.95
to$39.95
Prices may be subject to local taxes which are calculated during checkout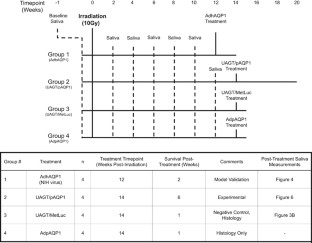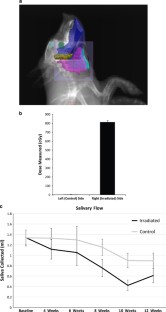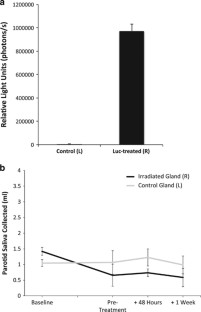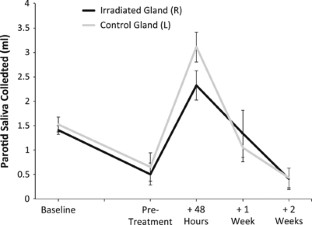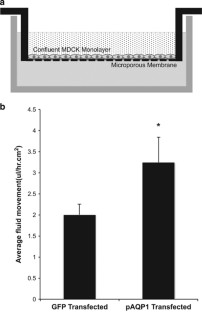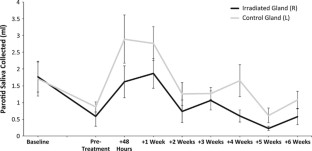 References
Jemal A, Siegel R, Xu J, Ward E . Cancer statistics, 2010. CA Cancer J Clin 2010; 60: 277–300.

NCI Statistics. Available at http://www.cancer.gov/statistics.

Chera BS, Eisbruch A, Murphy BA, Ridge JA, Gavin P, Reeve BB et al. Recommended patient-reported core set of symptoms to measure in head and neck cancer treatment trials. J Natl Cancer Inst 2014; 106: 127.

Baum BJ, Alevizos I, Zheng C, Cotrim AP, Liu S, McCullagh L et al. Early responses to adenoviral-mediated transfer of the aquaporin-1 cDNA for radiation-induced salivary hypofunction. Proc Natl Acad Sci USA 2012; 109: 19403–19407.

Baum BJ, Zheng C, Cotrim AP, Goldsmith CM, Atkinson JC, Brahim JS et al. Transfer of the AQP1 cDNA for the correction of radiation-induced salivary hypofunction. Biochim Biophys Acta 2006; 1758: 1071–1077.

Morral N, O'Neal W, Rice K, Leland M, Kaplan J, Piedra PA et al. Administration of helper-dependent adenoviral vectors and sequential delivery of different vector serotype for long-term liver-directed gene transfer in baboons. Proc Natl Acad Sci USA 1999; 96: 12816–12821.

Fontanellas A, Hervas-Stubbs S, Mauleon I, Dubrot J, Mancheno U, Collantes M et al. Intensive pharmacological immunosuppression allows for repetitive liver gene transfer with recombinant adenovirus in nonhuman primates. Mol Ther 2010; 18: 754–765.

Passineau MJ, Zourelias L, Machen L, Edwards PC, Benza RL . Ultrasound-assisted non-viral gene transfer to the salivary glands. Gene Therapy 2010; 17: 1318–1324.

Geguchadze R, Wang Z, Zourelias L, Perez-Riveros P, Edwards P, Machen L et al. Proteomic profiling of salivary gland after nonviral gene transfer mediated by conventional plasmids and minicircles. Mol Ther Methods Clin Dev 2014; 1: 14007.

Definity Package Insert. Available atm http://www.definityimaging.com/pdf/DEFINITY Prescribing information 515987-0413.pdf.

Baum BJ, Zheng C, Alevizos I, Cotrim AP, Liu S, McCullagh L et al. Development of a gene transfer-based treatment for radiation-induced salivary hypofunction. Oral Oncol 2010; 46: 4–8.

Markova SV, Golz S, Frank LA, Kalthof B, Vysotski ES . Cloning and expression of cDNA for a luciferase from the marine copepod Metridia longa. A novel secreted bioluminescent reporter enzyme. J Biol Chem 2004; 279: 3212–3217.

Delporte C, O'Connell BC, He X, Lancaster HE, O'Connell AC, Agre P et al. Increased fluid secretion after adenoviral-mediated transfer of the aquaporin-1 cDNA to irradiated rat salivary glands. Proc Natl Acad Sci USA 1997; 94: 3268–3273.

Shan Z, Li J, Zheng C, Liu X, Fan Z, Zhang C et al. Increased fluid secretion after adenoviral-mediated transfer of the human aquaporin-1 cDNA to irradiated miniature pig parotid glands. Mol Ther 2005; 11: 444–451.

Elmore S, Lanning L, Allison N, Vallant M, Nyska A . The transduction of rat submandibular glands by an adenoviral vector carrying the human growth hormone gene is associated with limited and reversible changes at the infusion site. Toxicol Pathol 2006; 34: 385–392.

Zheng C, Voutetakis A, Kok MR, Goldsmith CM, Smith GB, Elmore S et al. Toxicity and biodistribution of a first-generation recombinant adenoviral vector, in the presence of hydroxychloroquine, following retroductal delivery to a single rat submandibular gland. Oral Dis 2006; 12: 137–144.

Delporte C, Miller G, Kagami H, Lillibridge CD, O'Connell BC, Atkinson JC et al. Safety of salivary gland-administered replication-deficient recombinant adenovirus in rats. J Oral Pathol Med 1998; 27: 34–38.

Adesanya MR, Redman RS, Baum BJ, O'Connell BC . Immediate inflammatory responses to adenovirus-mediated gene transfer in rat salivary glands. Hum Gene Ther 1996; 7: 1085–1093.

Zheng C, Goldsmith CM, Mineshiba F, Chiorini JA, Kerr A, Wenk ML et al. Toxicity and biodistribution of a first-generation recombinant adenoviral vector, encoding aquaporin-1, after retroductal delivery to a single rat submandibular gland. Hum Gene Ther 2006; 17: 1122–1133.

Delporte C . Role of aquaporins in saliva secretion. OA Biochem 2013; 1840: 1524–1532.

Wong DT, Salivaomics J . Am Dent Assoc 2012; 143: 19S–24S.

Mastrangeli A, O'Connell B, Aladib W, Fox PC, Baum BJ . Crystal RG. Direct in vivo adenovirus-mediated gene transfer to salivary glands. Am J Physiol 1994; 266: G1146–G1155.

Vissink A, Mitchell JB, Baum BJ, Limesand KH, Jensen SB, Fox PC et al. Clinical management of salivary gland hypofunction and xerostomia in head-and-neck cancer patients: successes and barriers. Int J Radiat Oncol Biol Phys 2010; 78: 983–991.

Li J, Shan Z, Ou G, Liu X, Zhang C, Baum BJ et al. Structural and functional characteristics of irradiation damage to parotid glands in the miniature pig. Int J Radiat Oncol Biol Phys 2005; 62: 1510–1516.

Suwabe T, Fukami H, Bradley RM . Synaptic responses of neurons controlling the parotid and von Ebner salivary glands in rats to stimulation of the solitary nucleus and tract. J Neurophysiol 2008; 99: 1267–1273.

Kasarskis EJ, Hodskins J St, Clair WH . Unilateral parotid electron beam radiotherapy as palliative treatment for sialorrhea in amyotrophic lateral sclerosis. J Neurol Sci 2011; 308: 155–157.

Unzu C, Hervas-Stubbs S, Sampedro A, Mauleon I, Mancheno U, Alfaro C et al. Transient and intensive pharmacological immunosuppression fails to improve AAV-based liver gene transfer in non-human primates. J Transl Med 2012; 10: 122.

McIntosh JH, Cochrane M, Cobbold S, Waldmann H, Nathwani SA, Davidoff AM et al. Successful attenuation of humoral immunity to viral capsid and transgenic protein following AAV-mediated gene transfer with a non-depleting CD4 antibody and cyclosporine. Gene Therapy 2012; 19: 78–85.

Flotte TR . Recent developments in recombinant AAV-mediated gene therapy for lung diseases. Curr Gene Ther 2005; 5: 361–366.

Kok MR, Voutetakis A, Yamano S, Wang J, Cotrim A, Katano H et al. Immune responses following salivary gland administration of recombinant adeno-associated virus serotype 2 vectors. J Gene Med 2005; 7: 432–441.

Loo JA, Yan W, Ramachandran P, Wong DT . Comparative human salivary and plasma proteomes. J Dent Res 2010; 89: 1016–1023.

Gracey Maniar LE, Maniar JM, Chen ZY, Lu J, Fire AZ, Kay MA . Minicircle DNA vectors achieve sustained expression reflected by active chromatin and transcriptional level. Mol Ther 2013; 21: 131–138.

Lu J, Zhang F, Kay MA . A mini-intronic plasmid (MIP): a novel robust transgene expression vector in vivo and in vitro. Mol Ther 2013; 21: 954–963.

Chen ZY, Riu E, He CY, Xu H, Kay MA . Silencing of episomal transgene expression in liver by plasmid bacterial backbone DNA is independent of CpG methylation. Mol Ther 2008; 16: 548–556.

Nakai H, Yant SR, Storm TA, Fuess S, Meuse L, Kay MA . Extrachromosomal recombinant adeno-associated virus vector genomes are primarily responsible for stable liver transduction in vivo. J Virol 2001; 75: 6969–6976.

Lu J, Zhang F, Xu S, Fire AZ, Kay MA . The extragenic spacer length between the 5' and 3' ends of the transgene expression cassette affects transgene silencing from plasmid-based vectors. Mol Ther 2012; 20: 2111–2119.

Wu C, Liu T, Chen W, Oka S, Fu C, Jain MR et al. Redox regulatory mechanism of transnitrosylation by thioredoxin. Mol Cell Proteomics 2010; 9: 2262–2275.
Acknowledgements
These studies were supported by NIH grant #DE022973 (to MJP). The authors thank E. Day Werts, PhD for expert assistance in designing the irradiation protocol. The authors also gratefully acknowledge the assistance of Suzanne Ezzo, Tara Fraser and Ashley Wilferd with animal procedures, Carol Bain for assistance with preparation of histological specimens and Kelly Shields, PhD for assistance with statistical analyses.
Ethics declarations
Competing interests
The authors declare no conflict of interest.
About this article
Cite this article
Wang, Z., Zourelias, L., Wu, C. et al. Ultrasound-assisted nonviral gene transfer of AQP1 to the irradiated minipig parotid gland restores fluid secretion. Gene Ther 22, 739–749 (2015). https://doi.org/10.1038/gt.2015.36
Received:

Revised:

Accepted:

Published:

Issue Date:

DOI: https://doi.org/10.1038/gt.2015.36