Abstract
This report examines the commercialization of gene therapy in the context of innovation theories that posit a relationship between the maturation of a technology through its life cycle and prospects for successful product development. We show that the field of gene therapy has matured steadily since the 1980s, with the congruent accumulation of >35 000 papers, >16 000 US patents, >1800 clinical trials and >$4.3 billion in capital investment in gene therapy companies. Gene therapy technologies comprise a series of dissimilar approaches for gene delivery, each of which has introduced a distinct product architecture. Using bibliometric methods, we quantify the maturation of each technology through a characteristic life cycle S-curve, from a Nascent stage, through a Growing stage of exponential advance, toward an Established stage and projected limit. Capital investment in gene therapy is shown to have occurred predominantly in Nascent stage technologies and to be negatively correlated with maturity. Gene therapy technologies are now achieving the level of maturity that innovation research and biotechnology experience suggest may be requisite for efficient product development. Asynchrony between the maturation of gene therapy technologies and capital investment in development-focused business models may have stalled the commercialization of gene therapy.
Relevant articles
Open Access articles citing this article.
Julien Baruteau

,

Simon N. Waddington

…

Paul Gissen

Journal of Inherited Metabolic Disease Open Access 31 May 2017
Access options
Subscribe to this journal
Receive 12 print issues and online access
$259.00 per year
only $21.58 per issue
Rent or buy this article
Prices vary by article type
from$1.95
to$39.95
Prices may be subject to local taxes which are calculated during checkout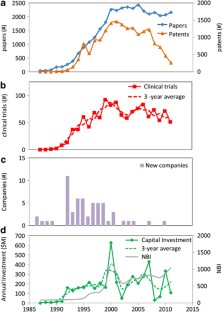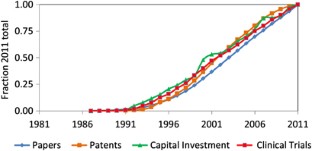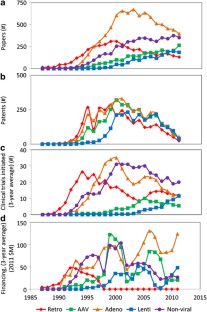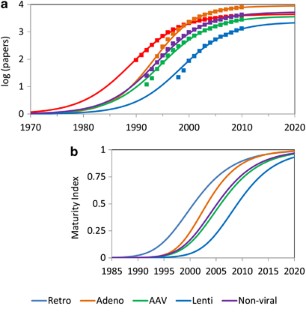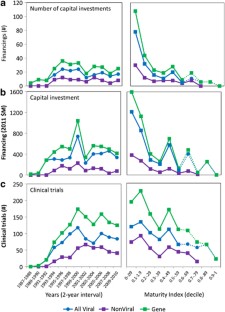 References
Friedmann T, Roblin R . Gene therapy for human genetic disease? Science 1972; 175: 949–955.

Wirth T, Yla-Herttuala S, Parker N . History of gene therapy. Gene 2013; 10: 162–169.

Alexander BL, Ali RR, Alton EW, Bainbridge JW, Braun S, Cheng SH et al. Progress and prospects: gene therapy clinical trials (part 1). Gene Ther 2007; 14: 1439–1447.

Alton E, Alexander BL, Ali RR, Bainbridge JW, Braun S, Cheng SH et al. Progress and prospects: gene therapy clinical trials (part 1). Gene Ther 2007; 14: 1439–1447.

Edelstein ML, Abedi MR, Wixon J . Gene therapy clinical trials worldwide to 2007—an update. J Gene Med 2007; 9: 833–842.

Nathwani AC, Tuddenham EG, Rangarajan S, Rosales C, McIntosh J, Linch DC et al. Adenovirus-associated virus vector-mediated gene transfer in hemophilia B. N Engl J Med 2011; 365: 2357–2365.

Bainbridge JW, Smith AJ, Barker SS, Robbie S, Henderson R, Balaggan K et al. Effect of gene therapy on visual function in Leber's congenital amaurosis. N Engl J Med 2008; 358: 2231–2239.

Maguire AM, Simonelli F, Pierce EA, Pugh EN Jr, Mingozzi F, Bennicelli J et al. Safety and efficacy of gene transfer for Leber's congenital amaurosis. N Engl J Med 2008; 358: 2240–2248.

Testa F, Maguire AM, Rossi S, Pierce EA, Melillo P, Marshall K et al. Three-year follow-up after unilateral subretinal delivery of adeno-associated virus in patients with Leber congenital Amaurosis type 2. Ophthalmology 2013; 120: 1283–1291.

Hacein-Bey-Abina S, Hauer J, Lim A, Picard C, Wang GP, Berry CC et al. Efficacy of gene therapy for X-linked severe combined immunodeficiency. N Engl J Med 2010; 363: 355–364.

Naldini L . Medicine. A comeback for gene therapy. Science 2009; 326: 805–806.

Persidis A, Tomczyk MS . Critical issues in gene therapy commercialization. Nat Biotechnol 1997; 15: 689–690.

Guo J, Xin H . Chinese gene therapy. Splicing out the West? Science 2006; 314: 1232–1235.

IuV C, Staroverov I, Nersesian E, Isaev A, Deev R . [Therapeutic angiogenesis in treatment of patients with chronic obliterating diseases of lower limb arteries]. Angiol Sosud Khir 2011; 18: 19–27.

Gruber K . Europe gives gene therapy the green light. Lancet 2012; 380: e10.

Buning H . Gene therapy enters the pharma market: the short story of a long journey. EMBO Mol Med 2013; 5: 1–3.

Gaudet D, Methot J, Dery S, Brisson D, Essiembre C, Tremblay G et al. Efficacy and long-term safety of alipogene tiparvovec (AAV1-LPLS447X) gene therapy for lipoprotein lipase deficiency: an open-label trial. Gene Ther 2013; 20: 361–369.

Salonius K, Simard N, Harland R, Ulmer JB . The road to licensure of a DNA vaccine. Curr Opin Investig Drugs 2007; 8: 635–641.

Grosenbaugh DA, Leard AT, Bergman PJ, Klein MK, Meleo K, Susaneck S et al. Safety and efficacy of a xenogeneic DNA vaccine encoding for human tyrosinase as adjunctive treatment for oral malignant melanoma in dogs following surgical excision of the primary tumor. Am J Vet Res 2011; 72: 1631–1638.

McNamee LM, Ledley FD . Making the biotech IPO work. Nat Biotechnol 2013; 31: 5–6.

Brown PA, Khan AS, Draghia-Akli R, Pope MA, Bodles-Brakhop AM, Kern DR . Effects of administration of two growth hormone–releasing hormone plasmids to gilts on sow and litter performance for the subsequent three gestations. Am J Vet Res 2012; 73: 1428–1434.

Johnson MW, Christensen CM, Kagermann H . Reinventing your business model. Harvard Bus Rev 2008; 86: 57–68.

Kola I, Landis J . Can the pharmaceutical industry reduce attrition rates? Nat Rev Drug Discov 2004; 3: 711–716.

Orkin SH, Motulsky AG . Report and Recommendations of the Panel to Assess the NIH Investment in Research on Gene Therapy 7. NIH: Maryland, 1995.

Schoonhoven CB, Eisenhardt KM, Lyman K . Speeding products to market: Waiting time to first product introduction in new firms. AdminSci Quart 1990: 177–207.

Wheeler SS, Langevin S, Woods L, Carroll BD, Vickers W, Morrison SA et al. Efficacy of three vaccines in protecting western Scrub-Jays (Aphelocoma californica) from experimental infection with West Nile virus: Implications for vaccination of island Scrub-Jays (Aphelocoma insularis). Vector Borne Zoonotic Dis 2011; 11: 1069–1080.

McNamee LM, Ledley FD . Patterns of technological innovation in biotech. Nat Biotechnol 2012; 30: 937–943.

Smith SL . Ten years of orthoclone OKT3 (muromonab-CD3): a review. J Transpl Coord 1996; 6: 109–119.

Reichert JM, Rosensweig CJ, Faden LB, Dewitz MC . Monoclonal antibody successes in the clinic. Nat Biotechnol 2005; 23: 1073–1078.

Reichert JM . Marketed therapeutic antibodies compendium. MAbs 2012; 4: 413–415.

Crofts C, Krimsky S . Emergence of a scientific and commercial research and development infrastructure for human gene therapy. Hum Gene Ther 2005; 16: 169–177.

Martin PA . Gene Therapy in Europe: exploitation and commercial development, studies on the socio-economic impact of biotechnology. Directorate-General for Research, European Commission: Brussels, 2001.

Jain K . A Special Report on Gene Therapy. Wiley: Hoboken, NJ, 2000.

Check E . Harmful potential of viral vectors fuels doubts over gene therapy. Nature 2003; 423: 573–574.

Gompers PA, Lerner J . The Venture Capital Cycle. MIT Press: Cambridge, MA, 2004.

Morgan IW Jr, Abetti PA . Private and public 'cradle to maturity' financing patterns of US biotech ventures (1970-2001). J PE 2004; 7: 9–25.

McDonald CL, Benson J, Cornetta K, Diggins M, Johnston JC, Sepelak S et al. Advancing translational research through the NHLBI Gene Therapy Resource Program (GTRP). Hum Gene Ther Clin Dev 2013; 24: 5–10.

Sheridan C . Gene therapy finds its niche. Nat Biotechnol 2011; 29: 121–128.

De Bie C . Genzyme: 15 years of cell and gene therapy research. Regen Med 2007; 2: 95–97.

Cavalla D . Architecture of R&D—a conceptual framework for collaboration. Drug Discov Today 1997; 2: 200–205.

Pisano GP . Science Business: The promise, the Reality, and the Future of Biotech. Harvard Business Press, 2006.

Guedj I, Scharfstein D . Organizational scope and investment: evidence from the drug development strategies and performance of biopharmaceutical firms. National Bureau of Economic Research 2004, NBER Working Paper No. 10933.

Metrick A, Nicholson S Does financing have a real effect on drug development? 2006, Working Paper referenced with permission of authors.

Michael A . Financing gene therapy beyond phase II. Gene Ther 1996; 3: 1035.

Ginn SL, Alexander IE, Edelstein ML, Abedi MR, Wixon J . Gene therapy clinical trials worldwide to 2012 - an update. J Gene Med 2013; 15: 65–77.

Agarwal P, Searls DB . Can literature analysis identify innovation drivers in drug discovery? Nat Rev Drug Discov 2009; 8: 865–878.

Garfield E, Melino G . The growth of the cell death field: an analysis from the ISI-Science citation index. Cell Death Differ 1997; 4: 352–361.

Marshall A . Trends in biotech literature 2008. Nat Biotechnol 2009; 27: 789.

Taroncher-Oldenburg G, Marshall A . Trends in biotech literature 2006. Nat Biotechnol 2007; 25: 961.

Taroncher-Oldenburg G, Marshall A . Trends in biotech literature 2007. Nat Biotechnol 2008; 26: 1062.
Acknowledgements
The authors acknowledge the invaluable contributions of Dr Rick Cleary to quantitative modeling and statistics, the work of our student researchers, Ege Candir, Eric Ndung'u and Cory Kalin, and the helpful comments of Dr Michael Boss, Dr Nancy Hsiung and Dr Frank Szoka. We thank Donna Connor for preparation of the manuscript. This work was supported, in part, by a grant from the National Biomedical Research Foundation.
Ethics declarations
Competing interests
The authors declare no conflict of interest.
Supplementary information
About this article
Cite this article
Ledley, F., McNamee, L., Uzdil, V. et al. Why commercialization of gene therapy stalled; examining the life cycles of gene therapy technologies. Gene Ther 21, 188–194 (2014). https://doi.org/10.1038/gt.2013.72
Received:

Revised:

Accepted:

Published:

Issue Date:

DOI: https://doi.org/10.1038/gt.2013.72
Keywords
This article is cited by
Julien Baruteau
Simon N. Waddington
Paul Gissen

Journal of Inherited Metabolic Disease (2017)

Farrah Rajabi
Jonathan D. Picker

Current Genetic Medicine Reports (2014)