Abstract
Newly isolated serotypes of AAV readily cross the endothelial barrier to provide efficient transgene delivery throughout the body. However, tissue-specific expression is preferred in most experimental studies and gene therapy protocols. Previous efforts to restrict gene expression to the myocardium often relied on direct injection into heart muscle or intracoronary perfusion. Here, we report an AAV vector system employing the cardiac troponin T (cTnT) promoter. Using luciferase and enhanced green fluorescence protein (eGFP), the efficiency and specificity of cardiac reporter gene expression using AAV serotype capsids: AAV-1, 2, 6, 8 or 9 were tested after systemic administration to 1-week-old mice. Luciferase assays showed that the cTnT promoter worked in combination with each of the AAV serotype capsids to provide cardiomyocyte-specific gene expression, but AAV-9 followed closely by AAV-8 was the most efficient. AAV9-mediated gene expression from the cTnT promoter was 640-fold greater in the heart compared with the next highest tissue (liver). eGFP fluorescence indicated a transduction efficiency of 96% using AAV-9 at a dose of only 3.15 × 1010 viral particles per mouse. Moreover, the intensity of cardiomyocyte eGFP fluorescence measured on a cell-by-cell basis revealed that AAV-mediated gene expression in the heart can be modeled as a Poisson distribution, requiring an average of nearly two vector genomes per cell to attain an 85% transduction efficiency.
Relevant articles
Open Access articles citing this article.
Chih-Min Liu

,

Yi-Chun Chen

&

Yu-Feng Hu

Journal of Biomedical Science Open Access 26 August 2023

Lei Han

,

Dayang Huang

…

Lei Yang

Nature Cell Biology Open Access 01 June 2023

Sara Thornby Bak

,

Eva Bang Harvald

…

Ditte Caroline Andersen

Basic Research in Cardiology Open Access 02 March 2023
Access options
Subscribe to this journal
Receive 12 print issues and online access
$259.00 per year
only $21.58 per issue
Rent or buy this article
Prices vary by article type
from$1.95
to$39.95
Prices may be subject to local taxes which are calculated during checkout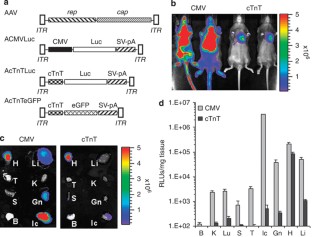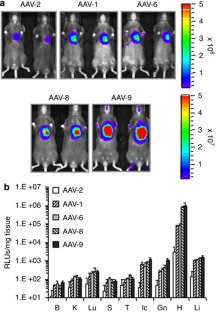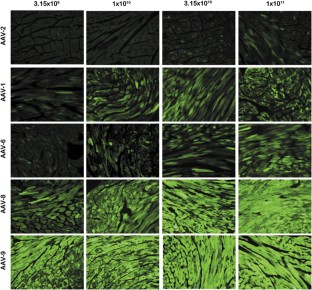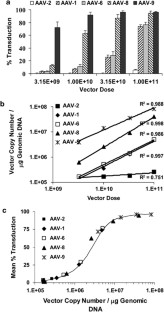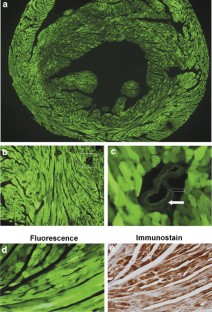 References
Su H, Lu R, Kan YW . Adeno-associated viral vector-mediated vascular endothelial growth factor gene transfer induces neovascular formation in ischemic heart. Proc Natl Acad Sci USA 2000; 97: 13801–13806.

Svensson EC, Marshall DJ, Woodard K, Lin H, Jiang F, Chu L et al. Efficient and stable transduction of cardiomyocytes after intramyocardial injection or intracoronary perfusion with recombinant adeno-associated virus vectors. Circulation 1999; 99: 201–205.

Champion HC, Georgakopoulos D, Haldar S, Wang L, Wang Y, Kass DA . Robust adenoviral and adeno-associated viral gene transfer to the in vivo murine heart: application to study of phospholamban physiology. Circulation 2003; 108: 2790–2797.

Iwatate M, Gu Y, Dieterle T, Iwanaga Y, Peterson KL, Hoshijima M et al. In vivo high-efficiency transcoronary gene delivery and Cre-LoxP gene switching in the adult mouse heart. Gene Therapy 2003; 10: 1814–1820.

Greelish JP, Su LT, Lankford EB, Burkman JM, Chen H, Konig SK et al. Stable restoration of the sarcoglycan complex in dystrophic muscle perfused with histamine and a recombinant adeno-associated viral vector. Nat Med 1999; 5: 439–443.

Aikawa R, Huggins GS, Snyder RO . Cardiomyocyte-specific gene expression following recombinant adeno-associated viral vector transduction. J Biol Chem 2002; 277: 18979–18985.

Prasad K-MR, Xu Y, Yang Z, Toufektsian M-C, Berr SS, French BA . Topoisomerase inhibition accelerates gene expression after adeno-associated virus-mediated gene transfer to the mammalian heart. Mol Ther: J Am Soc Gene Therapy 2007; 15: 764–771.

Wu Z, Asokan A, Samulski RJ . Adeno-associated virus serotypes: vector toolkit for human gene therapy. Mol Ther: J Am Soc Gene Therapy 2006; 14: 316–327.

Inagaki K, Fuess S, Storm TA, Gibson GA, McTiernan CF, Kay MA et al. Robust systemic transduction with AAV9 vectors in mice: efficient global cardiac gene transfer superior to that of AAV8. Mol Ther: J Am Soc Gene Therapy 2006; 14: 45–53.

Pacak CA, Mah CS, Thattaliyath BD, Conlon TJ, Lewis MA, Cloutier DE et al. Recombinant adeno-associated virus serotype 9 leads to preferential cardiac transduction in vivo. Circ Res 2006; 99: e3–e9.

Bostick B, Ghosh A, Yue Y, Long C, Duan D . Systemic AAV-9 transduction in mice is influenced by animal age but not by the route of administration. Gene Therapy 2007; 14: 1605–1609.

Gregorevic P, Blankinship MJ, Allen JM, Crawford RW, Meuse L, Miller DG et al. Systemic delivery of genes to striated muscles using adeno-associated viral vectors. Nat Med 2004; 10: 828–834.

Wang Z, Zhu T, Qiao C, Zhou L, Wang B, Zhang J et al. Adeno-associated virus serotype 8 efficiently delivers genes to muscle and heart. Nat Biotechnol 2005; 23: 321–328.

Thomas CE, Storm TA, Huang Z, Kay MA . Rapid uncoating of vector genomes is the key to efficient liver transduction with pseudotyped adeno-associated virus vectors. J Virol 2004; 78: 3110–3122.

Palomeque J, Chemaly ER, Colosi P, Wellman JA, Zhou S, Del Monte F et al. Efficiency of eight different AAV serotypes in transducing rat myocardium in vivo.[erratum appears in Gene Ther 2007 Jul;14(13):1055]. Gene Therapy 2007; 14: 989–997.

Yue Y, Ghosh A, Long C, Bostick B, Smith BF, Kornegay JN et al. A single intravenous injection of adeno-associated virus serotype-9 leads to whole body skeletal muscle transduction in dogs. Mol Ther: J Am Soc Gene Therapy 2008; 16: 1944–1952.

Gao G-P, Lu Y, Sun X, Johnston J, Calcedo R, Grant R et al. High-level transgene expression in nonhuman primate liver with novel adeno-associated virus serotypes containing self-complementary genomes. J. Virol 2006; 80: 6192–6194.

Marian AJ, Roberts R . The molecular genetic basis for hypertrophic cardiomyopathy. J Mol Cell Cardiol 2001; 33: 655–670.

Ma H, Sumbilla CM, Farrance IKG, Klein MG, Inesi G . Cell-specific expression of SERCA, the exogenous Ca2+ transport ATPase, in cardiac myocytes. Am J Physiol - Cell Physiol 2004; 286: C556–C564.

Nakai H, Fuess S, Storm TA, Muramatsu S-i, Nara Y, Kay MA . Unrestricted hepatocyte transduction with adeno-associated virus serotype 8 vectors in mice. J Virol 2005; 79: 214–224.

Kornowski R, Leon MB, Fuchs S, Vodovotz Y, Flynn MA, Gordon DA et al. Electromagnetic guidance for catheter-based transendocardial injection: a platform for intramyocardial angiogenesis therapy. Results in normal and ischemic porcine models. J Am Coll Cardiol 2000; 35: 1031–1039.

Su H, Kan YW . Adeno-associated viral vector-delivered hypoxia-inducible gene expression in ischemic hearts. Methods Mol Biol 2007; 366: 331–342.

Muller OJ, Leuchs B, Pleger ST, Grimm D, Franz W-M, Katus HA et al. Improved cardiac gene transfer by transcriptional and transductional targeting of adeno-associated viral vectors. Cardiovasc Res 2006; 70: 70–78.

Raake PW, Hinkel R, Muller S, Delker S, Kreuzpointner R, Kupatt C et al. Cardio-specific long-term gene expression in a porcine model after selective pressure-regulated retroinfusion of adeno-associated viral (AAV) vectors. Gene Therapy 2008; 15: 12–17.

Bish LT, Morine K, Sleeper MM, Sanmiguel J, Wu D, Gao G et al. AAV9 Provides global cardiac gene transfer superior to AAV1, AAV6, AAV7, and AAV8 in the mouse and rat. Hum Gene Therapy 2008; 19: 1359–1368.

Uijlenhoet R, Stricker JNM, Torfs PJJF, Creutin JD . Towards a stochastic model of rainfall for radar hydrology: testing the Poisson homogeneity hypothesis. Physics and Chemistry of the Earth, Part B: Hydrology, Oceans and Atmosphere 1999; 24: 747–755.

Duan D, Sharma P, Yang J, Yue Y, Dudus L, Zhang Y et al. Circular intermediates of recombinant adeno-associated virus have defined structural characteristics responsible for long-term episomal persistence in muscle tissue. (Erratum appears in J Virol 1999 Jan; 73(1):861). J Virol 1998; 72: 8568–8577.

Schnepp BC, Clark KR, Klemanski DL, Pacak CA, Johnson PR . Genetic fate of recombinant adeno-associated virus vector genomes in muscle. J Virol 2003; 77: 3495–3504.

Fehse B, Kustikova OS, Bubenheim M, Baum C . Pois(s)on – It's a Question of Dose. Gene Therapy 2004; 11: 879–881.

Vassalli G, Büeler H, Dudler J, von Segesser LK, Kappenberger L . Adeno-associated virus (AAV) vectors achieve prolonged transgene expression in mouse myocardium and arteries in vivo: a comparative study with adenovirus vectors. Inter J Cardiol 2003; 90: 229–238.

Du L, Kido M, Lee DV, Rabinowitz JE, Samulski RJ, Jamieson SW et al. Differential myocardial gene delivery by recombinant serotype-specific adeno-associated viral vectors. Mol Ther 2004; 10: 604–608.

Barker SD, Dmitriev IP, Nettelbeck DM, Liu B, Rivera AA, Alvarez RD et al. Combined transcriptional and transductional targeting improves the specificity and efficacy of adenoviral gene delivery to ovarian carcinoma. Gene Therapy 2003; 10: 1198–1204.

Prasad KM, Yang Z, Bleich D, Nadler JL . Adeno-associated virus vector mediated gene transfer to pancreatic beta cells. Gene Therapy 2000; 7: 1553–1561.

Xiao X, Li J, Samulski RJ . Production of high-titer recombinant adeno-associated virus vectors in the absence of helper adenovirus. J Virol 1998; 72: 2224–2232.

Collaco RF, Cao X, Trempe JP . A helper virus-free packaging system for recombinant adeno-associated virus vectors. Gene 1999; 238: 397–405.

Grimm D, Kay MA, Kleinschmidt JA . Helper virus-free, optically controllable, and two-plasmid-based production of adeno-associated virus vectors of serotypes 1 to 6. Mol Ther: J Am Soc Gene Therapy 2003; 7: 839–850.

Gao G, Vandenberghe LH, Alvira MR, Lu Y, Calcedo R, Zhou X et al. Clades of Adeno-associated viruses are widely disseminated in human tissues. J Virol 2004; 78: 6381–6388.

Gao G-P, Alvira MR, Wang L, Calcedo R, Johnston J, Wilson JM . Novel adeno-associated viruses from rhesus monkeys as vectors for human gene therapy. Proc Natl Acad Sci USA 2002; 99: 11854–11859.

Jordan M, Schallhorn A, Wurm FM . Transfecting mammalian cells: optimization of critical parameters affecting calcium-phosphate precipitate formation. Nucleic Acids Res 1996; 24: 596–601.

Ried MU, Girod A, Leike K, Buning H, Hallek M . Adeno-associated virus capsids displaying immunoglobulin-binding domains permit antibody-mediated vector retargeting to specific cell surface receptors. J Virol 2002; 76: 4559–4566.

Wu JC, Inubushi M, Sundaresan G, Schelbert HR, Gambhir SS . Optical imaging of cardiac reporter gene expression in living rats. Circulation 2002; 105: 1631–1634.

Acton ST, Mukherjee DP . Scale space classification using area morphology. IEEE Transactions on Image Processing 2000; 9: 623–635.
Acknowledgements
We acknowledge Dr James Trempe for pSH5, Dr Mark Kay for pDP1 and pDP6, Dr James Wilson for p5E18-VD2/8 and p5E18-VD2/9 and Daniel M O'Connor for technical contributions. This work was supported by NIH R01s HL058582 and HL069494 (to BAF).
Ethics declarations
Competing interests
The authors declare no conflict of interest.
Supplementary information
About this article
Cite this article
Prasad, KM., Xu, Y., Yang, Z. et al. Robust cardiomyocyte-specific gene expression following systemic injection of AAV: in vivo gene delivery follows a Poisson distribution. Gene Ther 18, 43–52 (2011). https://doi.org/10.1038/gt.2010.105
Received:

Revised:

Accepted:

Published:

Issue Date:

DOI: https://doi.org/10.1038/gt.2010.105
Keywords