Abstract
Hepatocyte growth factor (HGF) has been shown to induce angiogenesis in vivo and has potential as a candidate gene for 'therapeutic angiogenesis'. In vivo, two isoforms of HGF, HGF723 and HGF728, consisting of 723 and 728 amino acids, are generated through alternative splicing between exons 4 and 5, but the biological effects of their coexpression have not yet been elucidated. In this study, we generated a series of genomic–complementary DNA (cDNA) hybrids of the HGF gene by inserting various truncated intron 4 into the junction of exons 4 and 5 of HGF cDNA and analyzed the biological activities of these hybrid constructs. We showed that: (1) the hybrid called HGF-X7, which contained 1502 base pairs of intron 4, could drive a higher level of HGF expression than other hybrid constructs and cDNAs of each isoform alone; (2) the pCK vector was most efficient for the gene expression of HGF-X7; (3) coexpression of both isoforms of HGF could more efficiently induce the migration of human umbilical vein endothelial cell (HUVEC) and of the mouse myoblast cell line C2C12 myoblasts than a single isoform of HGF and human vascular endothelial growth factor (VEGF)165 at a given concentration; (4) intramuscular administration of pCK-HGF-X7 resulted in transient and localized HGF expression in the injected muscle without an increase in the HGF protein levels in other tissues including serum; and (5) intramuscular injection of pCK-HGF-X7 could more efficiently increase the number of angiographically recognizable collateral vessels, as well as improve an intra-arterial Doppler wire-measured blood flow in the rabbit model of hindlimb ischemia when compared with the identical vector encoding VEGF165 gene. These results showed that transfer of the genomic–cDNA hybrid of the HGF gene could be used as a potential therapeutic approach to human vascular diseases.
Relevant articles
Open Access articles citing this article.
Sang Hwan Lee

,

Subin Kim

…

Sunyoung Kim

Acta Neuropathologica Communications Open Access 12 June 2019

Kyeong Ryang Ko

,

Junghun Lee

…

Sunyoung Kim

Scientific Reports Open Access 29 May 2018

Marialaura Madrigal

,

Kosagisharaf S Rao

&

Neil H Riordan

Journal of Translational Medicine Open Access 11 October 2014
Access options
Subscribe to Journal
Get full journal access for 1 year
$119.00
only $9.92 per issue
All prices are NET prices.
VAT will be added later in the checkout.
Tax calculation will be finalised during checkout.
Buy article
Get time limited or full article access on ReadCube.
$32.00
All prices are NET prices.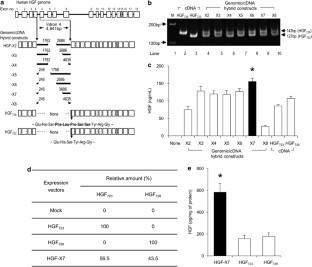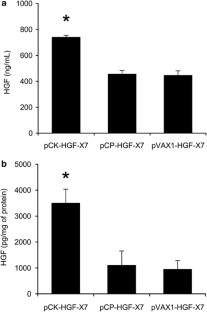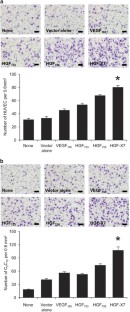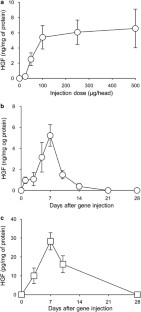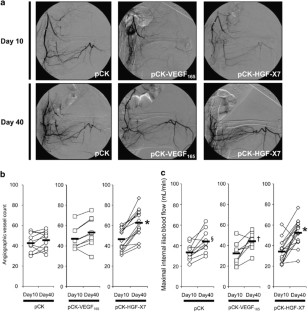 References
Criqui MH, Fronek A, Barrett-Connor E, Klauber MR, Gabriel S, Goodman D . The prevalence of peripheral arterial disease in a defined population. Circulation 1985; 71: 510–515.

Michaels J . Second European Consensus Document on Chronic Critical Limb Ichaemia. European journal of vascular surgery 1993; 7: 223.

Dormandy J, Mahir M, Ascady G, Balsano F, De Leeuw P, Blombery P et al. Fate of the patient with chronic leg ischaemia. A review article. J Cardiovasc Surg (Torino) 1989; 30: 50–57.

Most RS, Sinnock P . The epidemiology of lower extremity amputations in diabetic individuals. Diabetes Care 1983; 6: 87–91.

Beard JD . ABC of arterial and venous disease: chronic lower limb ischaemia. Br Med J 2000; 320: 854–857.

Hiatt WR . Medical treatment of peripheral arterial disease and claudication. N Engl J Med 2001; 344: 1608–1621.

Freedman SB . Clinical trials of gene therapy for atherosclerotic cardiovascular disease. Curr Opin Lipidol 2002; 13: 653–661.

Isner JM, Asahara T . Angiogenesis and vasculogenesis as therapeutic strategies for postnatal neovascularization. J Clin Invest 1999; 103: 1231–1236.

Miyagawa S, Sawa Y, Taketani S, Kawaguchi N, Nakamura T, Matsuura N et al. Myocardial regeneration therapy for heart failure: hepatocyte growth factor enhances the effect of cellular cardiomyoplasty. Circulation 2002; 105: 2556–2561.

Rajagopalan S, Mohler III ER, Lederman RJ, Mendelsohn FO, Saucedo JF, Goldman CK et al. Regional angiogenesis with vascular endothelial growth factor in peripheral arterial disease: a phase II randomized, double-blind, controlled study of adenoviral delivery of vascular endothelial growth factor 121 in patients with disabling intermittent claudication. Circulation 2003; 108: 1933–1938.

Kim HJ, Jang SY, Park JI, Byun J, Kim DI, Do YS et al. Vascular endothelial growth factor-induced angiogenic gene therapy in patients with peripheral artery disease. Exp Mol Med 2004; 36: 336–344.

Grines CL, Watkins MW, Mahmarian JJ, Iskandrian AE, Rade JJ, Marrott P et al. A randomized, double-blind, placebo-controlled trial of Ad5FGF-4 gene therapy and its effect on myocardial perfusion in patients with stable angina. J Am Coll Cardiol 2003; 42: 1339–1347.

Fortuin FD, Vale P, Losordo DW, Symes J, DeLaria GA, Tyner JJ et al. One-year follow-up of direct myocardial gene transfer of vascular endothelial growth factor-2 using naked plasmid deoxyribonucleic acid by way of thoracotomy in no-option patients. Am J Cardiol 2003; 92: 436–439.

Losordo DW, Vale PR, Hendel RC, Milliken CE, Fortuin FD, Cummings N et al. Phase 1/2 placebo-controlled, double-blind, dose-escalating trial of myocardial vascular endothelial growth factor 2 gene transfer by catheter delivery in patients with chronic myocardial ischemia. Circulation 2002; 105: 2012–2018.

Morishita R, Aoki M, Hashiya N, Makino H, Yamasaki K, Azuma J et al. Safety evaluation of clinical gene therapy using hepatocyte growth factor to treat peripheral arterial disease. Hypertension 2004; 44: 203–209.

Funatsu T, Sawa Y, Ohtake S, Takahashi T, Matsumiya G, Matsuura N et al. Therapeutic angiogenesis in the ischemic canine heart induced by myocardial injection of naked complementary DNA plasmid encoding hepatocyte growth factor. J Thorac Cardiovasc Surg 2002; 124: 1099–1105.

Morishita R, Aoki M, Hashiya N, Yamasaki K, Kurinami H, Shimizu S et al. Therapeutic angiogenesis using hepatocyte growth factor (HGF). Curr Gene Ther 2004; 4: 199–206.

Van Belle E, Witzenbichler B, Chen D, Silver M, Chang L, Schwall R et al. Potentiated angiogenic effect of scatter factor/hepatocyte growth factor via induction of vascular endothelial growth factor: the case for paracrine amplification of angiogenesis. Circulation 1998; 97: 381–390.

Seki T, Hagiya M, Shimonishi M, Nakamura T, Shimizu S . Organization of the human hepatocyte growth factor-encoding gene. Gene 1991; 102: 213–219.

Bell A, Chen Q, DeFrances MC, Michalopoulos GK, Zarnegar R . The five amino acid-deleted isoform of hepatocyte growth factor promotes carcinogenesis in transgenic mice. Oncogene 1999; 18: 887–895.

Shima N, Tsuda E, Goto M, Yano K, Hayasaka H, Ueda M et al. Hepatocyte growth factor and its variant with a deletion of five amino acids are distinguishable in their biological activity and tertiary structure. Biochem Biophys Res Commun 1994; 200: 808–815.

Ahmet I, Sawa Y, Yamaguchi T, Matsuda H . Gene transfer of hepatocyte growth factor improves angiogenesis and function of chronic ischemic myocardium in canine heart. Ann Thorac Surg 2003; 75: 1283–1287.

Jayasankar V, Woo YJ, Bish LT, Pirolli TJ, Chatterjee S, Berry MF et al. Gene transfer of hepatocyte growth factor attenuates postinfarction heart failure. Circulation 2003; 108 (Suppl 1): II230–II236.

Jin H, Wyss JM, Yang R, Schwall R . The therapeutic potential of hepatocyte growth factor for myocardial infarction and heart failure. Curr Pharm Des 2004; 10: 2525–2533.

Taniyama Y, Morishita R, Aoki M, Nakagami H, Yamamoto K, Yamazaki K et al. Therapeutic angiogenesis induced by human hepatocyte growth factor gene in rat and rabbit hindlimb ischemia models: preclinical study for treatment of peripheral arterial disease. Gene Therapy 2001; 8: 181–189.

Koike H, Morishita R, Iguchi S, Aoki M, Matsumoto K, Nakamura T et al. Enhanced angiogenesis and improvement of neuropathy by cotransfection of human hepatocyte growth factor and prostacyclin synthase gene. FASEB J 2003; 17: 779–781.

Lee Y, Park EJ, Yu SS, Kim DK, Kim S . Improved expression of vascular endothelial growth factor by naked DNA in mouse skeletal muscles: implication for gene therapy of ischemic diseases. Biochem Biophys Res Commun 2000; 272: 230–235.

Carlsson M, Osman NF, Ursell PC, Martin AJ, Saeed M . Quantitative MR measurements of regional and global left ventricular function and strain after intramyocardial transfer of VM202 into infarcted swine myocardium. Am J Physiol Heart Circ Physiol 2008; 295: H522–H532.

Saeed M, Martin A, Ursell P, Do L, Bucknor M, Higgins CB et al. MR assessment of myocardial perfusion, viability, and function after intramyocardial transfer of VM202, a new plasmid human hepatocyte growth factor in ischemic swine myocardium. Radiology 2008; 249: 107–118.

Cho KR, Choi JS, Hahn W, Kim DS, Park JS, Lee DS et al. Therapeutic angiogenesis using naked DNA expressing two isoforms of the hepatocyte growth factor in a porcine acute myocardial infarction model. Eur J Cardiothorac Surg 2008; 34: 857–863.

Kastrup J, Jorgensen E, Ruck A, Tagil K, Glogar D, Ruzyllo W et al. Direct intramyocardial plasmid vascular endothelial growth factor-A165 gene therapy in patients with stable severe angina pectoris A randomized double-blind placebo-controlled study: the Euroinject One trial. J Am Coll Cardiol 2005; 45: 982–988.

Vale PR, Losordo DW, Milliken CE, Maysky M, Esakof DD, Symes JF et al. Left ventricular electromechanical mapping to assess efficacy of phVEGF(165) gene transfer for therapeutic angiogenesis in chronic myocardial ischemia. Circulation 2000; 102: 965–974.

Baumgartner I, Pieczek A, Manor O, Blair R, Kearney M, Walsh K et al. Constitutive expression of phVEGF165 after intramuscular gene transfer promotes collateral vessel development in patients with critical limb ischemia. Circulation 1998; 97: 1114–1123.

Losordo DW, Vale PR, Symes JF, Dunnington CH, Esakof DD, Maysky M et al. Gene therapy for myocardial angiogenesis: initial clinical results with direct myocardial injection of phVEGF165 as sole therapy for myocardial ischemia. Circulation 1998; 98: 2800–2804.

Choi JS, Kim KB, Han W, Kim DS, Park JS, Lee JJ et al. Efficacy of therapeutic angiogenesis by intramyocardial injection of pCK-VEGF165 in pigs. Ann Thorac Surg 2006; 82: 679–686.

Tomita N, Morishita R, Taniyama Y, Koike H, Aoki M, Shimizu H et al. Angiogenic property of hepatocyte growth factor is dependent on upregulation of essential transcription factor for angiogenesis, ets-1. Circulation 2003; 107: 1411–1417.

Taniyama Y, Morishita R, Nakagami H, Moriguchi A, Sakonjo H, Shokei K et al. Potential contribution of a novel antifibrotic factor, hepatocyte growth factor, to prevention of myocardial fibrosis by angiotensin II blockade in cardiomyopathic hamsters. Circulation 2000; 102: 246–252.

Kim JM, Jeong JG, Ho SH, Hahn W, Park EJ, Kim S et al. Protection against collagen-induced arthritis by intramuscular gene therapy with an expression plasmid for the interleukin-1 receptor antagonist. Gene Therapy 2003; 10: 1543–1550.

Salbach PB, Bruckmann M, Turovets O, Kreuzer J, Kubler W, Walter-Sack I . Heparin-mediated selective release of hepatocyte growth factor in humans. Br J Clin Pharmacol 2000; 50: 221–226.

Suzuki J, Yamazaki Y, Li G, Kaziro Y, Koide H . Involvement of Ras and Ral in chemotactic migration of skeletal myoblasts. Mol Cell Biol 2000; 20: 4658–4665.

Watt DJ, Karasinski J, Moss J, England MA . Migration of muscle cells. Nature 1994; 368: 406–407.

Kim JM, Hahn W . Hybrid hepatocyte growth factor gene having high expression efficiency of two heterotypes of hepatocyte growth factor. US2005/0079581 A1.

Merkulova-Rainon T, England P, Ding S, Demerens C, Tobelem G . The N-terminal domain of hepatocyte growth factor inhibits the angiogenic behavior of endothelial cells independently from binding to the c-met receptor. J Biol Chem 2003; 278: 37400–37408.

Tsurumi Y, Takeshita S, Chen D, Kearney M, Rossow ST, Passeri J et al. Direct intramuscular gene transfer of naked DNA encoding vascular endothelial growth factor augments collateral development and tissue perfusion. Circulation 1996; 94: 3281–3290.
Acknowledgements
This work was supported by grants from the Korean Ministry of Knowledge Economy (grant no. 10031644) and also from the Science Research Center program of the Korea Science and Engineering Foundation (grant no. R11-2005-009-06003-0).
Ethics declarations
Competing interests
Woong Hahn, Dong-Sik Kim, Won-Sun Yoo, Sung-Dong Lee, Jung-Hee Won, Jong-Mook Kim and Sunyoung Kim are employees or shareholders of ViroMed Co., Ltd., whose potential product was studied in this work. Wook-Bum Pyun is the medical advisor of ViroMed Co., Ltd. The other authors declare no conflict of interest.
About this article
Cite this article
Pyun, WB., Hahn, W., Kim, DS. et al. Naked DNA expressing two isoforms of hepatocyte growth factor induces collateral artery augmentation in a rabbit model of limb ischemia. Gene Ther 17, 1442–1452 (2010). https://doi.org/10.1038/gt.2010.101
Received:

Accepted:

Published:

Issue Date:

DOI: https://doi.org/10.1038/gt.2010.101
Keywords
hepatocyte growth factor (HGF)

isoform

ischemic limb disease