Abstract
An ideal gene therapy vector should enable persistent transgene expression without limitations of safety and reproducibility. Here we report the development of a non-viral episomal plasmid DNA (pDNA) vector that appears to fulfil these criteria. This pDNA vector combines a scaffold/matrix attachment region (S/MAR) with a human liver-specific promoter (α1-antitrypsin (AAT)) in such a way that long-term expression is enabled in murine liver following hydrodynamic injection. Long-term expression is demonstrated by monitoring the longitudinal luciferase expression profile for up to 6 months by means of in situ bioluminescent imaging. All relevant control pDNA constructs expressing luciferase are unable to sustain significant transgene expression beyond 1 week post-administration. We establish that this shutdown of expression is due to promoter methylation. In contrast, the S/MAR element appears to inhibit methylation of the AAT promoter thereby preventing transgene silencing. Although this vector appears to be maintained as an episome throughout, we have no evidence for its establishment as a replicating entity. We conclude that the combination of a mammalian, tissue-specific promoter with the S/MAR element is sufficient to drive long-term episomal pDNA expression of genes in vivo.
Relevant articles
Open Access articles citing this article.
Eleana F. Stavrou

,

Emannuouil Simantirakis

…

Aglaia Athanassiadou

Scientific Reports Open Access 24 December 2019

Eleana F. Stavrou

,

Vassileios M. Lazaris

…

Aglaia Athanassiadou

Scientific Reports Open Access 20 January 2017

Rudolf Haase

,

Terese Magnusson

…

Manfred Ogris

BMC Biotechnology Open Access 04 June 2013
Access options
Subscribe to this journal
Receive 12 print issues and online access
$259.00 per year
only $21.58 per issue
Rent or buy this article
Get just this article for as long as you need it
$39.95
Prices may be subject to local taxes which are calculated during checkout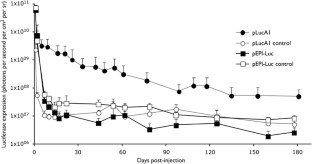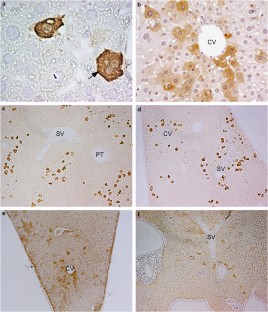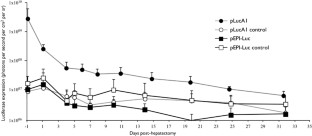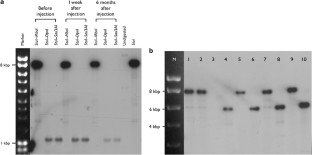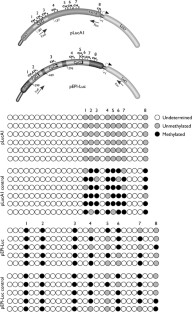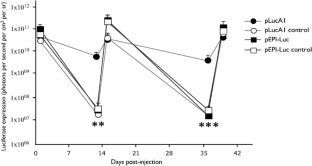 Abbreviations
AAT:

α1-antitrypsin

CMV:

cytomegalovirus

pDNA:

plasmid DNA

S/MAR:

scaffold/matrix attachment region.
References
Hacein-Bey-Abina S, von Kalle C, Schmidt M, Le Deist F, Wulffraat N, McIntyre E et al. A serious adverse event after successful gene therapy for X-linked severe combined immunodeficiency. N Engl J Med 2003; 348: 255–256.

Hacein-Bey-Abina S, Von Kalle C, Schmidt M, McCcormack MP, Wulffraat N, Leboulch P et al. LMO2-associated clonal T cell proliferation in two patients after gene therapy for SCID-X1. Science 2003; 302: 415–419.

Themis M, Waddington SN, Schmidt M, von Kalle C, Wang YH, Al-Allaf F et al. Oncogenesis following delivery of a nonprimate lentiviral gene therapy vector to fetal and neonatal mice. Mol Ther 2005; 12: 763–771.

Thomas CE, Ehrhardt A, Kay MA . Progress and problems with the use of viral vectors for gene therapy. Nat Rev Genet 2003; 4: 346–358.

Al-Dosari M, Zhang G, Knapp JE, Liu D . Evaluation of viral and mammalian promoters for driving transgene expression in mouse liver. Biochem Biophys Res Commun 2006; 339: 673–678.

Rettig GR, McAnuff M, Liu D, Kim JS, Rice KG . Quantitative bioluminescence imaging of transgene expression in vivo. Anal Biochem 2006; 355: 90–94.

Wilber A, Frandsen JL, Wangensteen KJ, Ekker SC, Wang X, McIvor RS . Dynamic gene expression after systemic delivery of plasmid DNA as determined by in vivo bioluminescence Imaging. Hum Gene Ther 2005; 16: 1325–1332.

Zhang G, Budker V, Wolff JA . High levels of foreign gene expression in hepatocytes after tail vein injections of naked plasmid DNA. Hum Gene Ther 1999; 10: 1735–1737.

Brooks AR, Harkins RN, Wang PY, Qian HS, Liu PX, Rubanyi GM . Transcriptional silencing is associated with extensive methylation of the CMV promoter following adenoviral gene delivery to muscle. J Gene Med 2004; 6: 395–404.

Kramer MG, Barajas M, Razquin N, Berraondo P, Rodrigo M, Wu C et al. In vitro and in vivo comparative study of chimeric liver-specific promoters. Mol Ther 2003; 7: 375–385.

Gribaudo G, Ravaglia S, Caliendo A, Cavallo R, Gariglio M, Martinotti MG et al. Interferons inhibit onset of murine cytomegalovirus immediate-early gene transcription. Virology 1993; 197: 303–311.

Alino SF, Crespo A, Dasi F . Long-term therapeutic levels of human alpha-1 antitrypsin in plasma after hydrodynamic injection of nonviral DNA. Gene Therapy 2003; 10: 1672–1679.

Ehrhardt A, Peng PD, Xu H, Meuse L, Kay MA . Optimization of cis-acting elements for gene expression from nonviral vectors in vivo. Hum Gene Ther 2003; 14: 215–225.

Bigger BW, Tolmachov O, Collombet JM, Fragkos M, Palaszewski I, Coutelle C . An araC-controlled bacterial cre expression system to produce DNA minicircle vectors for nuclear and mitochondrial gene therapy. J Biol Chem 2001; 276: 23018–23027.

Chen ZY, He CY, Kay MA . Improved production and purification of minicircle DNA vector free of plasmid bacterial sequences and capable of persistent transgene expression in vivo. Hum Gene Ther 2005; 16: 126–131.

Darquet AM, Rangara R, Kreiss P, Schwartz B, Naimi S, Delaere P et al. Minicircle: an improved DNA molecule for in vitro and in vivo gene transfer. Gene Therapy 1999; 6: 209–218.

Jackson DA, Juranek S, Lipps HJ . Designing nonviral vectors for efficient gene transfer and long-term gene expression. Mol Ther 2006; 14: 613–626.

Stoll SM, Sclimenti CR, Baba EJ, Meuse L, Kay MA, Calos MP . Epstein–Barr virus/human vector provides high-level, long-term expression of alpha1-antitrypsin in mice. Mol Ther 2001; 4: 122–129.

Jenke AC, Stehle IM, Herrmann F, Eisenberger T, Baiker A, Bode J et al. Nuclear scaffold/matrix attached region modules linked to a transcription unit are sufficient for replication and maintenance of a mammalian episome. Proc Natl Acad Sci USA 2004; 101: 11322–11327.

Lufino M, Manservigi R, Wade-Martins R . An S/MAR-based infectious episomal genomic DNA expression vector provides long-term regulated functional complementation of LDLR deficiency. Nucleic Acid Res 2007; 35: 10.

Piechaczek C, Fetzer C, Baiker A, Bode J, Lipps HJ . A vector based on the SV40 origin of replication and chromosomal S/MARs replicates episomally in CHO cells. Nucleic Acids Res 1999; 27: 426–428.

Jenke ACW, Scinteie MF, Stehle IM, Lipps HJ . Expression of a transgene encoded on a non-viral episomal vector is not subject to epigenetic silencing by cytosine methylation. Mol Biol Rep 2004; 31: 85–90.

Jenke BHC, Fetzer CP, Stehle IM, Jonsson F, Fackelmayer FO, Conradt H et al. An episomally replicating vector binds to the nuclear matrix protein SAF-A in vivo. EMBO Rep 2002; 3: 349–354.

Papapetrou EP, Ziros PG, Micheva ID, Zoumbos NC, Athanassiadou A . Gene transfer into human hematopoietic progenitor cells with an episomal vector carrying an S/MAR element. Gene Therapy 2006; 13: 40–51.

Mearini G, Nielsen PE, Fackelmayer FO . Localization and dynamics of small circular DNA in live mammalian nuclei. Nucleic Acids Res 2004; 32: 2642–2651.

Kipp M, Gohring F, Ostendorp T, van Drunen CM, van Driel R, Przybylski M et al. SAF-Box, a conserved protein domain that specifically recognizes scaffold attachment region DNA. Mol Cell Biol 2000; 20: 7480–7489.

Manzini S, Vargiolu A, Stehle IM, Bacci ML, Cerrito MG, Giovannoni R et al. Genetically modified pigs produced with a nonviral episomal vector. Proc Natl Acad Sci USA 2006; 103: 17672–17677.

Park F, Kay MA . Modified HIV-1 based lentiviral vectors have an effect on viral transduction efficiency and gene expression in vitro and in vivo. Mol Ther 2001; 4: 164–173.

Stehle IM, Scinteie MF, Baiker A, Jenke ACW, Lipps HJ . Exploiting a minimal system to study the epigenetic control of DNA replication: the interplay between transcription and replication. Chromosome Res 2003; 11: 413–421.

Miao CH, Thompson AR, Loeb K, Ye X . Long-term and therapeutic-level hepatic gene expression of human factor IX after naked plasmid transfer in vivo. Mol Ther 2001; 3: 947–957.

Stehle I, Postberg J, Rupprecht S, Cremer T, Jackson D, Lipps H . Establishment and mitotic stability of an extra-chromosomal mammalian replicon. BMC Cell Biol 2007; 8: 33.

Jenuwein T, Allis CD . Translating the histone code. Science 2001; 293: 1074–1080.

Fuks F . DNA methylation and histone modifications: teaming up to silence genes. Curr Opin Genet Dev 2005; 15: 490–495.

Riu E, Chen Z-Y, Xu H, He C-Y, Kay MA . Histone modifications are associated with the persistence or silencing of vector-mediated transgene expression in vivo. Mol Ther 2007; 15: 1348–1355.

Yew NS, Zhao HM, Przybylska M, Wu IH, Tousignant JD, Scheule RK et al. CpG-depleted plasmid DNA vectors with enhanced safety and long-term gene expression in vivo. Mol Ther 2002; 5: 731–738.

Hodges BL, Taylor KM, Joseph MF, Bourgeois SA, Scheule RK . Long-term transgene expression from plasmid DNA gene therapy vectors is negatively affected by CpG dinucleotides. Mol Ther 2004; 10: 269–278.

Siegfried Z, Eden S, Mendelsohn M, Feng X, Tsuberi BZ, Cedar H . DNA methylation represses transcription in vivo. Nat Genet 1999; 22: 203–206.

Hong K, Sherley J, Lauffenburger DA . Methylation of episomal plasmids as a barrier to transient gene expression via a synthetic delivery vector. Biomol Eng 2001; 18: 185–192.

Chang AH, Stephan MT, Sadelain M . Stem cell-derived erythroid cells mediate long-term systemic protein delivery. Nat Biotech 2006; 24: 1017–1021.

Cordier L, Gao GP, Hack AA, McNally EM, Wilson JM, Chirmule N et al. Muscle-specific promoters may be necessary for adeno-associated virus-mediated gene transfer in the treatment of muscular dystrophies. Hum Gene Ther 2001; 12: 205–215.

Schiedner S, Hertel S, Johnston M, Biermann V, Dries V, Kochanek S . Variables affecting in vivo performance of high-capacity adenovirus vectors. J Virol 2002; 76: 1600–1609.

Conese M, Auriche C, Ascenzioni F . Gene therapy progress and prospects: episomally maintained self-replicating systems. Gene Therapy 2004; 11: 1735–1741.

Turker MS . Gene silencing in mammalian cells and the spread of DNA methylation. Oncogene 2002; 21: 5388–5393.

Jahner D, Jaenisch R . Retrovirus-induced denovo methylation of flanking host sequences correlates with gene inactivity. Nature 1985; 315: 594–597.

Millar DS, Paul CL, Molloy PL, Clark SJ . A distinct sequence (ATAAA)n separates methylated and unmethylated domains at the 5′-end of the GSTP1 CpG island. J Biol Chem 2000; 275: 24893–24899.

Schubeler D, Mielke C, Maass K, Bode J . Scaffold/matrix-attached regions act upon transcription in a context-dependent manner. Biochemistry 1996; 35: 11160–11169.

Jenke ACW, Eisenberger T, Baiker A, Stehle IM, Wirth S, Lipps HJ . The nonviral episomal replicating vector pEPI-1 allows long-term inhibition of bcr-abl expression by shRNA. Hum Gene Ther 2005; 16: 533–539.

Loser P, Jennings GS, Strauss M, Sandig V . Reactivation of the previously silenced cytomegalovirus major immediate-early promoter in the mouse liver: involvement of NF kappa B. J Virol 1998; 72: 180–190.

Charrier S, Stockholm D, Seye K, Opolon P, Taveau M, Gross D et al. A lentiviral vector encoding the human Wiskott–Aldrich syndrome protein corrects immune and cytoskeletal defects in WASP knockout mice. Gene Therapy 2005; 7: 597–606.
Acknowledgements
The work was supported by the Medical Research Council. SNW is a Philip Gray Fellow of the Katharine Dormandy Trust.
Supplementary information
About this article
Cite this article
Argyros, O., Wong, S., Niceta, M. et al. Persistent episomal transgene expression in liver following delivery of a scaffold/matrix attachment region containing non-viral vector. Gene Ther 15, 1593–1605 (2008). https://doi.org/10.1038/gt.2008.113
Received:

Revised:

Accepted:

Published:

Issue Date:

DOI: https://doi.org/10.1038/gt.2008.113
Keywords
persistent expression

episomal maintenance

S/MAR plasmid

hydrodynamic delivery