Abstract
Purpose
To describe our experience with a large cohort (411 patients from 288 families) of various forms of skeletal dysplasia who were molecularly characterized.
Methods
Detailed phenotyping and next-generation sequencing (panel and exome).
Results
Our analysis revealed 224 pathogenic/likely pathogenic variants (54 (24%) of which are novel) in 123 genes with established or tentative links to skeletal dysplasia. In addition, we propose 5 genes as candidate disease genes with suggestive biological links (WNT3A, SUCO, RIN1, DIP2C, and PAN2). Phenotypically, we note that our cohort spans 36 established phenotypic categories by the International Skeletal Dysplasia Nosology, as well as 18 novel skeletal dysplasia phenotypes that could not be classified under these categories, e.g., the novel C3orf17-related skeletal dysplasia. We also describe novel phenotypic aspects of well-known disease genes, e.g., PGAP3-related Toriello–Carey syndrome–like phenotype. We note a strong founder effect for many genes in our cohort, which allowed us to calculate a minimum disease burden for the autosomal recessive forms of skeletal dysplasia in our population (7.16E-04), which is much higher than the global average.
Conclusion
By expanding the phenotypic, allelic, and locus heterogeneity of skeletal dysplasia in humans, we hope our study will improve the diagnostic rate of patients with these conditions.
Access options
Subscribe to Journal
Get full journal access for 1 year
$1,138.00
only $94.83 per issue
All prices are NET prices.
VAT will be added later in the checkout.
Rent or Buy article
Get time limited or full article access on ReadCube.
from$8.99
All prices are NET prices.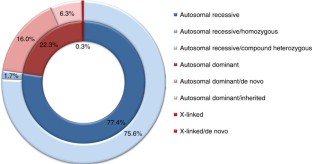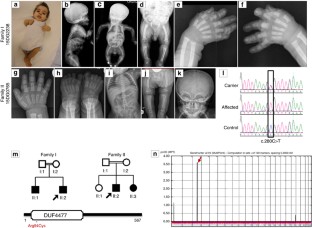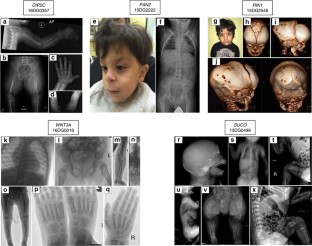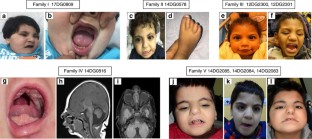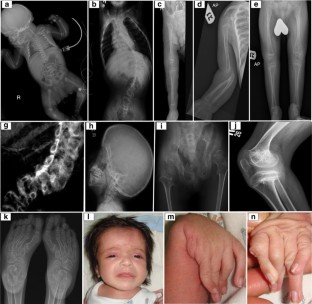 References
1

Dolk H, Loane M & Garne EThe prevalence of congenital anomalies in Europe. In: Posada de la Paz M, Groft SC (eds). Rare Diseases Epidemiology. Springer: Dordrecht, The Netherlands, 2010: 349–64.

2

Rimoin DL, Cohn D, Krakow D, Wilcox W, Lachman RS & Alanay Y. The skeletal dysplasias. Ann NY Acad Sci 2007;1117:302–9.

3

Spranger JW, Brill PW & Poznanski AK. Bone Dysplasias: An Atlas of Genetic Disorders of Skeletal Development. Oxford University Press: New York, 2002.

4

Barbosa-Buck CO, Orioli IM, da Graça Dutra M, Lopez-Camelo J, Castilla EE & Cavalcanti DP. Clinical epidemiology of skeletal dysplasias in South America. Am J Med Genet A 2012;158:1038–45.

5

Bonafe L, Cormier-Daire V, Hall C et al. Nosology and classification of genetic skeletal disorders: 2015 revision. Am J Med Genet A 2015;167:2869–92.

6

Hall CM. International nosology and classification of constitutional disorders of bone (2001). Am J Med Genet A 2002;113:65–77.

7

Lazarus S, Zankl A & Duncan E. Next-generation sequencing: a frameshift in skeletal dysplasia gene discovery. Osteoporos Int 2014;25:407–22.

8

Group SM. Comprehensive gene panels provide advantages over clinical exome sequencing for Mendelian diseases. Genome Biol 2015;16:1–14.

9

Alkuraya FS. The application of next-generation sequencing in the autozygosity mapping of human recessive diseases. Hum Genet 2013b;132:1197–211.

10

Alkuraya FS. Discovery of mutations for Mendelian disorders. Hum Genet 2016;135:615–23.

11

Richards S, Aziz N, Bale S et al. Standards and guidelines for the interpretation of sequence variants: a joint consensus recommendation of the American College of Medical Genetics and Genomics and the Association for Molecular Pathology. Genet Med 2015;17:405–23.

12

Abouelhoda M, Faquih T, El-Kalioby M & Alkuraya FS. Revisiting the morbid genome of Mendelian disorders. Genome Biol 2016a;17:235.

13

Shaheen R, Patel N, Shamseldin H et al. Accelerating matchmaking of novel dysmorphology syndromes through clinical and genomic characterization of a large cohort. Genet Med 2015;18:686–95.

14

Alkuraya FS. Genetics and genomic medicine in Saudi Arabia. Mol Genet Genomic Med 2014;2:369–78.

15

Abouelhoda M, Sobahy T, El-Kalioby M et al. Clinical genomics can facilitate countrywide estimation of autosomal recessive disease burden. Genet Med 2016b;18:1244–9.

16

Wang SR, Carmichael H, Andrew SF et al. Large-scale pooled next-generation sequencing of 1077 genes to identify genetic causes of short stature. J Clin Endocrinol Metab 2013;98:E1428–E37.

17

Bae J-S, Kim NK, Lee C et al. Comprehensive genetic exploration of skeletal dysplasia using targeted exome sequencing. Genet Med 2016;18:563.

18

Patel N, Aldahmesh MA, Alkuraya H et al. Expanding the clinical, allelic, and locus heterogeneity of retinal dystrophies. Genet Med 2016;18:554.

19

Patel N, Anand D, Monies D et al. Novel phenotypes and loci identified through clinical genomics approaches to pediatric cataract. Hum Genet 2017a;136:205–25.

20

Shaheen R, Alazami AM, Alshammari MJ et al. Study of autosomal recessive osteogenesis imperfecta in Arabia reveals a novel locus defined by TMEM38B mutation. J Med Genet 2012;49:630–5.

21

Anazi S, Maddirevula S, Faqeih E et al. Clinical genomics expands the morbid genome of intellectual disability and offers a high diagnostic yield. Mol Psychiatry 2017;22:615–24.

22

Marini JC, Forlino A, Bachinger HP et al. Osteogenesis imperfecta. Nat Rev Dis Primers 2017;3:17052.

23

Alkuraya F. Impact of new genomic tools on the practice of clinical genetics in consanguineous populations: the Saudi experience. Clin Genet 2013a;84:203–8.

24

Staal FJ, Luis TC & Tiemessen MM. WNT signalling in the immune system: WNT is spreading its wings. Nat Rev Immunol 2008;8:581.

25

Willert K, Brown JD, Danenberg E & Duncan AW. Wnt proteins are lipid-modified and can act as stem cell growth factors. Nature 2003;423:448.

26

Wang Y, Li Y-P, Paulson C et al. Wnt and the Wnt signaling pathway in bone development and disease. Front Biosci (Landmark Ed) 2014;19:379.

27

Leucht P, Jiang J, Cheng D et al. Wnt3a reestablishes osteogenic capacity to bone grafts from aged animals. J Bone Joint Surg Am 2013;95:1278.

28

Faqeih E, Shaheen R & Alkuraya FS. WNT1 mutation with recessive osteogenesis imperfecta and profound neurological phenotype. J Med Genet 2013;50:491–2.

29

Sohaskey ML, Jiang Y, Zhao JJ, Mohr A, Roemer F & Harland RM. Osteopotentia regulates osteoblast maturation, bone formation, and skeletal integrity in mice. J Cell Biol 2010;189:511–25.

30

Belyaeva OV & Kedishvili NY. Human pancreas protein 2 (PAN2) has a retinal reductase activity and is ubiquitously expressed in human tissues. FEBS Lett 2002;531:489–93.

31

Uchida N, Hoshino S-i & Katada T. Identification of a human cytoplasmic poly (A) nuclease complex stimulated by poly (A)-binding protein. J Biol Chem 2004;279:1383–91.

32

Shaheen R, Anazi S, Ben-Omran T et al. Mutations in SMG9, encoding an essential component of nonsense-mediated decay machinery, cause a multiple congenital anomaly syndrome in humans and mice. Am J Hum Genet 2016;98:643–52.

33

Yan YB. Deadenylation: enzymes, regulation, and functional implications. Wiley Interdiscip Rev RNA 2014;5:421–43.

34

Timberlake AT, Furey CG, Choi J et al. De novo mutations in inhibitors of Wnt, BMP, and Ras/ERK signaling pathways in non-syndromic midline craniosynostosis. Proc Natl Acad Sci USA 2017;114:201709255.

35

Bian C, Chen Q & Yu X. The zinc finger proteins ZNF644 and WIZ regulate the G9a/GLP complex for gene repression. Elife 2015;4:e05606.

36

Lindroth AM, Larsson C, He L, Ali MA, Pandzic T & Sjöblom T. Loss of DIP2C in RKO cells stimulates changes in DNA methylation and epithelial-mesenchymal transition. BMC Cancer 2017;17:487.

37

Patel N, Shamseldin HE, Sakati N et al. GZF1 mutations expand the genetic heterogeneity of Larsen syndrome. Am J Hum Genet 2017b;100:831–6.

38

Shamseldin HE, Maddirevula S, Faqeih E et al. Increasing the sensitivity of clinical exome sequencing through improved filtration strategy. Genet Med 2016;19:593–8.
Acknowledgments
This work was supported by the King Salman Center for Disability Research (F.S.A.), King Abdulaziz City for Science and Technology (13-BIO1113-20, F.S.A.), and the Saudi Human Genome Program (F.S.A.). We also thank the study families for their enthusiastic participation and the Sequencing and Genotyping Core Facilities at King Faisal Specialist Hospital and Research Centre for their technical help.
Ethics declarations
Disclosure
The authors declare no conflict of interest.
Electronic supplementary material
About this article
Received

Accepted

Published

Issue Date
Keywords
craniosynostosis

osteogenesis imperfecta

Toriello–Carey