Abstract
Numerous reports have suggested that immunogenetic factors may influence human immunodeficiency virus (HIV)-1 acquisition, yet replicated findings that translate between study cohorts remain elusive. Our work aimed to test several hypotheses about genetic variants within the IL10-IL24 gene cluster that encodes interleukin (IL)-10, IL-19, IL-20 and IL-24. In aggregated data from 515 Rwandans and 762 Zambians with up to 12 years of follow-up, 190 single-nucleotide polymorphisms passed quality control procedures. When HIV-1-exposed seronegative subjects (n=486) were compared with newly seroconverted individuals (n=313) and seroprevalent subjects (n=478) who were already infected at enrollment, rs12407485 (G>A) in IL19 showed a robust association signal in adjusted logistic regression models (odds ratio=0.64, P=1.7 × 10−4 and q=0.033). Sensitivity analyses demonstrated that (i) results from both cohorts and subgroups within each cohort were highly consistent; (ii) verification of HIV-1 infection status after enrollment was critical; and (iii) supporting evidence was readily obtained from Cox proportional hazards models. Data from public databases indicate that rs12407485 is part of an enhancer element for three transcription factors. Overall, these findings suggest that molecular features at the IL19 locus may modestly alter the establishment of HIV-1 infection.
This is a preview of subscription content
Access options
Subscribe to Journal
Get full journal access for 1 year
$119.00
only $14.88 per issue
All prices are NET prices.
VAT will be added later in the checkout.
Tax calculation will be finalised during checkout.
Buy article
Get time limited or full article access on ReadCube.
$32.00
All prices are NET prices.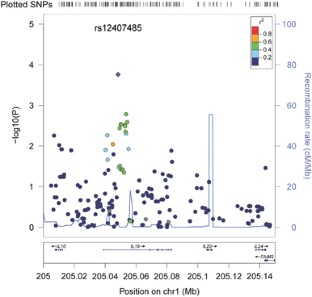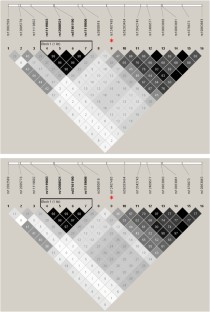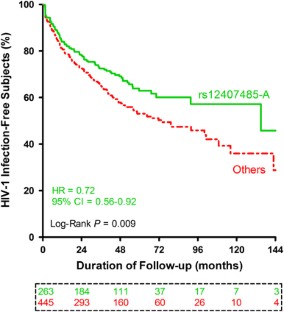 References
CDC National Center for HIV/AIDS VH, STD, and TB Prevention. HIV transmission risk; 2014. http://www.cdc.gov/hiv/pdf/policies_transmission_risk_factsheet.pdf.

Keele BF, Giorgi EE, Salazar-Gonzalez JF, Decker JM, Pham KT, Salazar MG et al. Identification and characterization of transmitted and early founder virus envelopes in primary HIV-1 infection. Proc Natl Acad Sci USA 2008; 105: 7552–7557.

Carlson JM, Schaefer M, Monaco DC, Batorsky R, Claiborne DT, Prince J et al. Selection bias at the heterosexual HIV-1 transmission bottleneck. Science 2014; 345: 1254031.

Kaslow RA, Dorak T, Tang JJ . Influence of host genetic variation on susceptibility to HIV type 1 infection. J Infect Dis 2005; 191 (Suppl 1): S68–S77.

Lederman MM, Alter G, Daskalakis DC, Rodriguez B, Sieg SF, Hardy G et al. Determinants of protection among HIV-exposed seronegative persons: an overview. J Infect Dis 2010; 202 (Suppl 3): S333–S338.

Telenti A, McLaren P . Genomic approaches to the study of HIV-1 acquisition. J Infect Dis 2010; 202 (Suppl 3): S382–S386.

Petrovski S, Fellay J, Shianna KV, Carpenetti N, Kumwenda J, Kamanga G et al. Common human genetic variants and HIV-1 susceptibility: a genome-wide survey in a homogeneous African population. AIDS 2011; 25: 513–518.

Lingappa JR, Petrovski S, Kahle E, Fellay J, Shianna K, McElrath MJ et al. Genomewide association study for determinants of HIV-1 acquisition and viral set point in HIV-1 serodiscordant couples with quantified virus exposure. PLoS ONE 2011; 6: e28632.

Limou S, Delaneau O, van Manen D, An P, Sezgin E, Le Clerc S et al. Multicohort genomewide association study reveals a new signal of protection against HIV-1 acquisition. J Infect Dis 2012; 205: 1155–1162.

Lane J, McLaren PJ, Dorrell L, Shianna KV, Stemke A, Pelak K et al. A genome-wide association study of resistance to HIV infection in highly exposed uninfected individuals with hemophilia A. Hum Mol Genet 2013; 22: 1903–1910.

McLaren PJ, Coulonges C, Ripke S, van den Berg L, Buchbinder S, Carrington M et al. Association study of common genetic variants and HIV-1 acquisition in 6,300 infected cases and 7,200 controls. PLoS Pathog 2013; 9: e1003515.

Shin HD, Winkler C, Stephens JC, Bream J, Young H, Goedert JJ et al. Genetic restriction of HIV-1 pathogenesis to AIDS by promoter alleles of IL10. Proc Natl Acad Sci USA 2000; 97: 14467–14472.

Vasilescu A, Heath SC, Ivanova R, Hendel H, Do H, Mazoyer A et al. Genomic analysis of Th1-Th2 cytokine genes in an AIDS cohort: identification of IL4 and IL10 haplotypes associated with the disease progression. Genes Immun 2003; 4: 441–449.

Wang C, Song W, Lobashevsky E, Wilson CM, Douglas SD, Mytilineos J et al. Cytokine and chemokine gene polymorphisms among ethnically diverse North Americans with HIV-1 infection. J Acquir Immune Defic Syndr 2004; 35: 446–454.

Shrestha S, Strathdee SA, Galai N, Oleksyk T, Fallin MD, Mehta S et al. Behavioral risk exposure and host genetics of susceptibility to HIV-1 infection. J Infect Dis 2006; 193: 16–26.

Erikstrup C, Kallestrup P, Zinyama-Gutsire RB, Gomo E, Butterworth AE, Pedersen BK et al. Reduced mortality and CD4 cell loss among carriers of the interleukin-10-1082G allele in a Zimbabwean cohort of HIV-1-infected adults. AIDS 2007; 21: 2283–2291.

Oleksyk TK, Shrestha S, Truelove AL, Goedert JJ, Donfield SM, Phair J et al. Extended IL10 haplotypes and their association with HIV progression to AIDS. Genes Immun 2009; 10: 309–322.

Naicker DD, Werner L, Kormuth E, Passmore JA, Mlisana K, Karim SA et al. Interleukin-10 promoter polymorphisms influence HIV-1 susceptibility and primary HIV-1 pathogenesis. J Infect Dis 2009; 200: 448–452.

Shrestha S, Wiener HW, Aissani B, Song W, Shendre A, Wilson CM et al. Interleukin-10 (IL-10) pathway: genetic variants and outcomes of HIV-1 infection in African American adolescents. PLoS ONE 2010; 5: e13384.

Brooks DG, Trifilo MJ, Edelmann KH, Teyton L, McGavern DB, Oldstone MB . Interleukin-10 determines viral clearance or persistence in vivo. Nat Med 2006; 12: 1301–1309.

International HapMap Consortium. A haplotype map of the human genome. Nature 2005; 437: 1299–1320.

International HapMap 3 Consortium, Altshuler DM, Gibbs RA, Peltonen L, Altshuler DM, Gibbs RA et al. Integrating common and rare genetic variation in diverse human populations. Nature 2010; 467: 52–58.

Prentice HA, Pajewski NM, He D, Zhang K, Brown EE, Kilembe W et al. Host genetics and immune control of HIV-1 infection: fine mapping for the extended human MHC region in an African cohort. Genes Immun 2014; 15: 275–281.

Fideli US, Allen SA, Musonda R, Trask S, Hahn BH, Weiss H et al. Virologic and immunologic determinants of heterosexual transmission of human immunodeficiency virus type 1 in Africa. AIDS Res Hum Retroviruses 2001; 17: 901–910.

Trask SA, Derdeyn CA, Fideli U, Chen Y, Meleth S, Kasolo F et al. Molecular epidemiology of human immunodeficiency virus type 1 transmission in a heterosexual cohort of discordant couples in Zambia. J Virol 2002; 76: 397–405.

Kempf MC, Allen S, Zulu I, Kancheya N, Stephenson R, Brill I et al. Enrollment and retention of HIV discordant couples in Lusaka, Zambia. J Acquir Immune Defic Syndr 2008; 47: 116–125.

Tang J, Shao W, Yoo YJ, Brill I, Mulenga J, Allen S et al. Human leukocyte antigen class I genotypes in relation to heterosexual HIV type 1 transmission within discordant couples. J Immunol 2008; 181: 2626–2635.

Merino AM, Song W, He D, Mulenga J, Allen S, Hunter E et al. HLA-B signal peptide polymorphism influences the rate of HIV-1 acquisition but not viral load. J Infect Dis 2012; 205: 1797–1805.

Haaland RE, Hawkins PA, Salazar-Gonzalez J, Johnson A, Tichacek A, Karita E et al. Inflammatory genital infections mitigate a severe genetic bottleneck in heterosexual transmission of subtype A and C HIV-1. PLoS Pathog 2009; 5: e1000274.

Song W, He D, Brill I, Malhotra R, Mulenga J, Allen S et al. Disparate associations of HLA class I markers with HIV-1 acquisition and control of viremia in an African population. PLoS ONE 2011; 6: e23469.

Farh KK, Marson A, Zhu J, Kleinewietfeld M, Housley WJ, Beik S et al. Genetic and epigenetic fine mapping of causal autoimmune disease variants. Nature 2014, e-pub ahead of print 29 October 2014; doi:10.1038/nature13835.

Cohen MS, Chen YQ, McCauley M, Gamble T, Hosseinipour MC, Kumarasamy N et al. Prevention of HIV-1 infection with early antiretroviral therapy. N Engl J Med 2011; 365: 493–505.

Young JM, Turpin JA, Musib R, Sharma OK . Outcomes of a National Institute of Allergy and Infectious Diseases Workshop on understanding HIV-exposed but seronegative individuals. AIDS Res Hum Retroviruses 2011; 27: 737–743.

Maartens G, Celum C, Lewin SR . HIV infection: epidemiology, pathogenesis, treatment, and prevention. Lancet 2014; 384: 258–271.

Tang J, Shelton B, Makhatadze NJ, Zhang Y, Schaen M, Louie LG et al. Distribution of chemokine receptor CCR2 and CCR5 genotypes and their relative contribution to human immunodeficiency virus type 1 (HIV-1) seroconversion, early HIV-1 RNA concentration in plasma, and later disease progression. J Virol 2002; 76: 662–672.

Corey L, Wald A, Celum CL, Quinn TC . The effects of herpes simplex virus-2 on HIV-1 acquisition and transmission: a review of two overlapping epidemics. J Acquir Immune Defic Syndr 2004; 35: 435–445.

Vince N, Bashirova AA, Lied A, Gao X, Dorrell L, McLaren PJ et al. HLA class I and KIR genes do not protect against HIV type 1 infection in highly exposed uninfected individuals with hemophilia A. J Infect Dis 2014; 210: 1047–1051.

Couper KN, Blount DG, Wilson MS, Hafalla JC, Belkaid Y, Kamanaka M et al. IL-10 from CD4CD25Foxp3CD127 adaptive regulatory T cells modulates parasite clearance and pathology during malaria infection. PLoS Pathog 2008; 4: e1000004.

Redpath S, Ghazal P, Gascoigne NR . Hijacking and exploitation of IL-10 by intracellular pathogens. Trends Microbiol 2001; 9: 86–92.

Romano MF, Lamberti A, Petrella A, Bisogni R, Tassone PF, Formisano S et al. IL-10 inhibits nuclear factor-kappa B/Rel nuclear activity in CD3-stimulated human peripheral T lymphocytes. J Immunol 1996; 156: 2119–2123.

England RN, Preston KJ, Scalia R, Autieri MV . Interleukin-19 decreases leukocyte-endothelial cell interactions by reduction in endothelial cell adhesion molecule mRNA stability. Am J Physiol Cell Physiol 2013; 305: C255–C265.

Ouyang W, Rutz S, Crellin NK, Valdez PA, Hymowitz SG . Regulation and functions of the IL-10 family of cytokines in inflammation and disease. Annu Rev Immunol 2011; 29: 71–109.

Hofmann SR, Rösen-Wolff A, Tsokos GC, Hedrich CM . Biological properties and regulation of IL-10 related cytokines and their contribution to autoimmune disease and tissue injury. Clin Immunol 2012; 143: 116–127.

Zhou JJ, Wang F, Xu Z, Lo WS, Lau CF, Chiang KP et al. Secreted histidyl-tRNA synthetase splice variants elaborate major epitopes for autoantibodies in inflammatory myositis. J Biol Chem 2014; 289: 19269–19275.

Fumagalli M, Pozzoli U, Cagliani R, Comi GP, Bresolin N, Clerici M et al. Genome-wide identification of susceptibility alleles for viral infections through a population genetics approach. PLoS Genet 2010; 6: e1000849.

Yamamoto-Furusho JK, Alvarez-Leon E, Fragoso JM, Gozalishvilli A, Vallejo M, Vargas-Alarcon G . Protective role of interleukin-19 gene polymorphisms in patients with ulcerative colitis. Hum Immunol 2011; 72: 1029–1032.

Kingo K, Mossner R, Koks S, Ratsep R, Kruger U, Vasar E et al. Association analysis of IL19, IL20 and IL24 genes in palmoplantar pustulosis. Br J Dermatol 2007; 156: 646–652.

Merino AM, Sabbaj S, Easlick J, Goepfert P, Kaslow RA, Tang J . Dimorphic HLA-B signal peptides differentially influence HLA-E- and natural killer cell-mediated cytolysis of HIV-1-infected target cells. Clin Exp Immunol 2013; 174: 414–423.

Merino A, Malhotra R, Morton M, Mulenga J, Allen S, Hunter E et al. Impact of a functional KIR2DS4 allele on heterosexual HIV-1 transmission among discordant Zambian couples. J Infect Dis 2011; 203: 487–495.

Browning BL, Yu Z . Simultaneous genotype calling and haplotype phasing improves genotype accuracy and reduces false-positive associations for genome-wide association studies. Am J Hum Genet 2009; 85: 847–861.

Manichaikul A, Mychaleckyj JC, Rich SS, Daly K, Sale M, Chen WM . Robust relationship inference in genome-wide association studies. Bioinformatics 2010; 26: 2867–2873.

Manichaikul A, Palmas W, Rodriguez CJ, Peralta CA, Divers J, Guo X et al. Population structure of Hispanics in the United States: the multi-ethnic study of atherosclerosis. PLoS Genet 2012; 8: e1002640.

Tian C, Kosoy R, Nassir R, Lee A, Villoslada P, Klareskog L et al. European population genetic substructure: further definition of ancestry informative markers for distinguishing among diverse European ethnic groups. Mol Med 2009; 15: 371–383.

Barrett JC, Fry B, Maller J, Daly MJ . Haploview: analysis and visualization of LD and haplotype maps. Bioinformatics 2005; 21: 263–265.

Gao X, Starmer J, Martin ER . A multiple testing correction method for genetic association studies using correlated single nucleotide polymorphisms. Genet Epidemiol 2008; 32: 361–369.

Purcell S, Neale B, Todd-Brown K, Thomas L, Ferreira MA, Bender D et al. PLINK: a tool set for whole-genome association and population-based linkage analyses. Am J Hum Genet 2007; 81: 559–575.

Pruim RJ, Welch RP, Sanna S, Teslovich TM, Chines PS, Gliedt TP et al. LocusZoom: regional visualization of genome-wide association scan results. Bioinformatics 2010; 26: 2336–2337.

Rosenbloom KR, Dreszer TR, Pheasant M, Barber GP, Meyer LR, Pohl A et al. ENCODE whole-genome data in the UCSC Genome Browser. Nucleic Acids Res 2010; 38 (Database issue): D620–D625.

ENCODE Project Consortium, Bernstein BE, Birney E, Dunham I, Green ED, Gunter C et al. An integrated encyclopedia of DNA elements in the human genome. Nature 2012; 489: 57–74.

Fairfax BP, Makino S, Radhakrishnan J, Plant K, Leslie S, Dilthey A et al. Genetics of gene expression in primary immune cells identifies cell type-specific master regulators and roles of HLA alleles. Nat Genet 2012; 44: 502–510.
Acknowledgements
This work was supported primarily by the National Institute of Allergy and Infectious Disease through R01 AI071906 (and its supplemental award) to RAK/JT and R01 AI064060 to EH. SA and EH received additional funding from the International AIDS Vaccine Initiative (Protocol C), with further support (UL1 RR025008) from the Clinical Translational Science Award program, National Center for Research Resources. We are grateful to members of the Rwanda–Zambia HIV-1 Research Group for their valuable contributions to patient enrollment. We also thank Paul Farmer, Naw Htee Khu, Hailin Lu and Travis R Porter for their assistance with sample inventories, genotyping and data management.
Ethics declarations
Competing interests
The authors declare no conflict of interest.
About this article
Cite this article
Li, X., Zhang, K., Pajewski, N. et al. Immunogenetic influences on acquisition of HIV-1 infection: consensus findings from two African cohorts point to an enhancer element in IL19 (1q32.2). Genes Immun 16, 213–220 (2015). https://doi.org/10.1038/gene.2014.84
Received:

Revised:

Accepted:

Published:

Issue Date:

DOI: https://doi.org/10.1038/gene.2014.84