Abstract
Killer cell Ig-like receptors (KIR) control the immune response of NK cells and some T cells to infections and tumors. KIR genes evolve rapidly and are variable between individuals in their number, type and sequence. Here, we determined the nature of KIR2DL5 gene polymorphism in four ethnic groups using direct DNA sequencing method. Nine new sequences were discovered. Within the panel of 248 KIR2DL5-positive individuals, 14 KIR2DL5-sequences differing in coding regions were observed. They differed at only seven amino acid positions, and such limited polymorphism is consistent with its conserved nature throughout the hominoid lineage. Ethnic deviation was seen in the distribution of KIR2DL5A, KIR2DL5B and their alleles. African Americans had more KIR2DL5 alleles than other populations indicating that more polymorphisms are yet to be discovered in Africans. Linkage between KIR2DL5-alleles and certain activating-KIR genes were observed, but frequency of these linked clusters differed substantially between populations. Consequently, KIR2DL5 alleles can be used as markers to predict the activating-KIR gene content. Typing system distinguishing A*001 and B*002 alleles can serve as a powerful screening test to assess the content of most variable activating-KIR genes that have been implicated in human disease and in the outcome of hematopoietic stem cell transplantation.
Relevant articles
Open Access articles citing this article.
David J. Margolis

,

Nandita Mitra

…

Elizabeth J. Phillips

Scientific Reports Open Access 31 January 2023

Marjan Hematian Larki

,

Elham Ashouri

…

Raja Rajalingam

Scientific Reports Open Access 14 October 2022

Elham Ashouri

,

Karan Rajalingam

…

Raja Rajalingam

Scientific Reports Open Access 12 April 2021
Access options
Subscribe to this journal
Receive 6 digital issues and online access to articles
$119.00 per year
only $19.83 per issue
Rent or buy this article
Prices vary by article type
from$1.95
to$39.95
Prices may be subject to local taxes which are calculated during checkout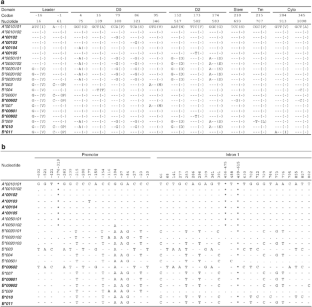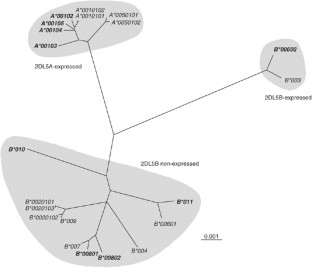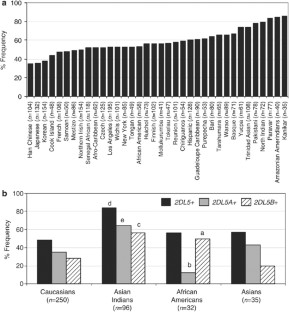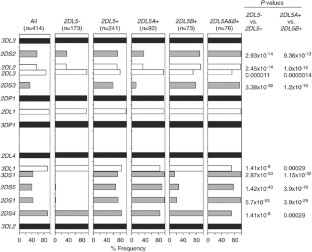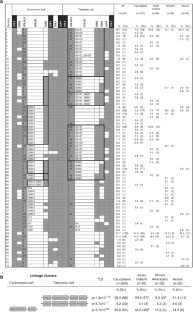 References
Biron CA, Nguyen KB, Pien GC, Cousens LP, Salazar-Mather TP . Natural killer cells in antiviral defense: function and regulation by innate cytokines. Annu Rev Immunol 1999; 17: 189–220.

Cerwenka A, Lanier LL . Natural killer cells, viruses and cancer. Nat Rev Immunol 2001; 1: 41–49.

Khakoo SI, Rajalingam R, Shum BP, Weidenbach K, Flodin L, Muir DG et al. Rapid evolution of NK cell receptor systems demonstrated by comparison of chimpanzees and humans. Immunity 2000; 12: 687–698.

Rajalingam R, Parham P, Abi-Rached L . Domain shuffling has been the main mechanism forming new hominoid killer cell Ig-like receptors. J Immunol 2004; 172: 356–369.

Vilches C, Rajalingam R, Uhrberg M, Gardiner CM, Young NT, Parham P . KIR2DL5, a novel killer-cell receptor with a D0-D2 configuration of Ig-like domains. J Immunol 2000; 164: 5797–5804.

Rajagopalan S, Bryceson YT, Kuppusamy SP, Geraghty DE, van der Meer A, Joosten I et al. Activation of NK cells by an endocytosed receptor for soluble HLA-G. PLoS Biol 2006; 4: e9.

Yusa S, Catina TL, Campbell KS . KIR2DL5 can inhibit human NK cell activation via recruitment of Src homology region 2-containing protein tyrosine phosphatase-2 (SHP-2). J Immunol 2004; 172: 7385–7392.

Estefania E, Flores R, Gomez-Lozano N, Aguilar H, Lopez-Botet M, Vilches C . Human KIR2DL5 is an inhibitory receptor expressed on the surface of NK and T lymphocyte subsets. J Immunol 2007; 178: 4402–4410.

Selvakumar A, Steffens U, Dupont B . NK cell receptor gene of the KIR family with two IG domains but highest homology to KIR receptors with three IG domains. Tissue Antigens 1996; 48: 285–294.

Wilson MJ, Torkar M, Haude A, Milne S, Jones T, Sheer D et al. Plasticity in the organization and sequences of human KIR/ILT gene families. Proc Natl Acad Sci USA 2000; 97: 4778–4783.

Yawata M, Yawata N, Abi-Rached L, Parham P . Variation within the human killer cell immunoglobulin-like receptor (KIR) gene family. Crit Rev Immunol 2002; 22: 463–482.

Kulkarni S, Single RM, Martin MP, Rajalingam R, Badwe R, Joshi N et al. Comparison of the rapidly evolving KIR locus in Parsis and natives of India. Immunogenetics 2008 (in press).

Vilches C, Gardiner CM, Parham P . Gene structure and promoter variation of expressed and nonexpressed variants of the KIR2DL5 gene. J Immunol 2000; 165: 6416–6421.

Gomez-Lozano N, Gardiner CM, Parham P, Vilches C . Some human KIR haplotypes contain two KIR2DL5 genes: KIR2DL5A and KIR2DL5B. Immunogenetics 2002; 54: 314–319.

Jacobs R, Hintzen G, Kemper A, Beul K, Kempf S, Behrens G et al. CD56bright cells differ in their KIR repertoire and cytotoxic features from CD56dim NK cells. Eur J Immunol 2001; 31: 3121–3127.

Kikuchi-Maki A, Yusa S, Catina TL, Campbell KS . KIR2DL4 is an IL-2-regulated NK cell receptor that exhibits limited expression in humans but triggers strong IFN-gamma production. J Immunol 2003; 171: 3415–3425.

Faure M, Long EO . KIR2DL4 (CD158d), an NK cell-activating receptor with inhibitory potential. J Immunol 2002; 168: 6208–6214.

Kikuchi-Maki A, Catina TL, Campbell KS . Cutting edge: KIR2DL4 transduces signals into human NK cells through association with the Fc receptor gamma protein. J Immunol 2005; 174: 3859–3863.

Meyers S, Downing JR, Hiebert SW . Identification of AML-1 and the (8;21) translocation protein (AML-1/ETO) as sequence-specific DNA-binding proteins: the runt homology domain is required for DNA binding and protein-protein interactions. Mol Cell Biol 1993; 13: 6336–6345.

Levanon D, Groner Y . Structure and regulated expression of mammalian RUNX genes. Oncogene 2004; 23: 4211–4219.

Felsenstein J . Evolutionary trees from DNA sequences: a maximum likelihood approach. J Mol Evol 1981; 17: 368–376.

Norman PJ, Abi-Rached L, Gendzekhadze K, Korbel D, Gleimer M, Rowley D et al. Unusual selection on the KIR3DL1/S1 natural killer cell receptor in Africans. Nat Genet 2007; 39: 1092–1099.

Tishkoff SA, Verrelli BC . Patterns of human genetic diversity: implications for human evolutionary history and disease. Annu Rev Genomics Hum Genet 2003; 4: 293–340.

Marth GT, Czabarka E, Murvai J, Sherry ST . The allele frequency spectrum in genome-wide human variation data reveals signals of differential demographic history in three large world populations. Genetics 2004; 166: 351–372.

Gardiner CM, Guethlein LA, Shilling HG, Pando M, Carr WH, Rajalingam R et al. Different NK cell surface phenotypes defined by the DX9 antibody are due to KIR3DL1 gene polymorphism. J Immunol 2001; 166: 2992–3001.

Single RM, Martin MP, Gao X, Meyer D, Yeager M, Kidd JR et al. Global diversity and evidence for coevolution of KIR and HLA. Nat Genet 2007; 39: 1114–1119.

Schellekens J, Tilanus MG, Rozemuller EH . The elucidation of KIR2DL4 gene polymorphism. Mol Immunol 2008; 45: 1900–1906.

Zhu FM, Jiang K, Lv QF, He J, Yan LX . Investigation of killer cell immunoglobulin-like receptor KIR2DL4 diversity by sequence-based typing in Chinese population. Tissue Antigens 2006; 67: 214–221.

Shulse C, Steiner NK, Hurley CK . Allelic diversity in KIR2DL4 in a bone marrow transplant population: description of three novel alleles. Tissue Antigens 2007; 70: 157–159.

Hou L, Chen M, Steiner NK, Belle I, Turino C, Ng J et al. Seventeen novel alleles add to the already extensive KIR3DL3 diversity. Tissue Antigens 2007; 70: 449–454.

Jones DC, Hiby SE, Moffett A, Trowsdale J, Young NT . Nature of allelic sequence polymorphism at the KIR3DL3 locus. Immunogenetics 2006; 58: 614–627.

Trundley AE, Hiby SE, Chang C, Sharkey AM, Santourlidis S, Uhrberg M et al. Molecular characterization of KIR3DL3. Immunogenetics 2006; 57: 904–916.

Pando MJ, Gardiner CM, Gleimer M, McQueen KL, Parham P . The protein made from a common allele of KIR3DL1 (3DL1*004) is poorly expressed at cell surfaces due to substitution at positions 86 in Ig domain 0 and 182 in Ig domain 1. J Immunol 2003; 171: 6640–6649.

VandenBussche CJ, Dakshanamurthy S, Posch PE, Hurley CK . A single polymorphism disrupts the killer Ig-like receptor 2DL2/2DL3 D1 domain. J Immunol 2006; 177: 5347–5357.

Hsu KC, Chida S, Geraghty DE, Dupont B . The killer cell immunoglobulin-like receptor (KIR) genomic region: gene-order, haplotypes and allelic polymorphism. Immunol Rev 2002; 190: 40–52.

Hsu KC, Liu XR, Selvakumar A, Mickelson E, O'Reilly RJ, Dupont B . Killer Ig-like receptor haplotype analysis by gene content: evidence for genomic diversity with a minimum of six basic framework haplotypes, each with multiple subsets. J Immunol 2002; 169: 5118–5129.

Khakoo SI, Carrington M . KIR and disease: a model system or system of models? Immunol Rev 2006; 214: 186–201.

Arnheim L, Dillner J, Sanjeevi CB . A population-based cohort study of KIR genes and genotypes in relation to cervical intraepithelial neoplasia. Tissue Antigens 2005; 65: 252–259.

Scquizzato E, Teramo A, Miorin M, Facco M, Piazza F, Noventa F et al. Genotypic evaluation of killer immunoglobulin-like receptors in NK-type lymphoproliferative disease of granular lymphocytes. Leukemia 2007; 21: 1060–1069.

Chewning JH, Gudme CN, Hsu KC, Selvakumar A, Dupont B . KIR2DS1-positive NK cells mediate alloresponse against the C2 HLA-KIR ligand group in vitro. J Immunol 2007; 179: 854–868.

McQueen KL, Dorighi KM, Guethlein LA, Wong R, Sanjanwala B, Parham P . Donor-recipient combinations of group A and B KIR haplotypes and HLA class I ligand affect the outcome of HLA-matched, sibling donor hematopoietic cell transplantation. Hum Immunol 2007; 68: 309–323.

Schellekens J, Rozemuller EH, Petersen EJ, van den Tweel JG, Verdonck LF, Tilanus MG . Activating KIRs exert a crucial role on relapse and overall survival after HLA-identical sibling transplantation. Mol Immunol 2008; 45: 2255–2261.

Du Z, Gjertson DW, Reed EF, Rajalingam R . Receptor-ligand analyses define minimal killer cell Ig-like receptor (KIR) in humans. Immunogenetics 2007; 59: 1–15.

Luo L, Du Z, Sharma SK, Cullen R, Spellman S, Reed EF et al. Chain-terminating natural mutations affect the function of activating KIR receptors 3DS1 and 2DS3. Immunogenetics 2007; 10: 779–792.

Thompson JD, Gibson TJ, Plewniak F, Jeanmougin F, Higgins DG . The CLUSTAL_X windows interface: flexible strategies for multiple sequence alignment aided by quality analysis tools. Nucleic Acids Res 1997; 25: 4876–4882.

Robinson J, Waller MJ, Stoehr P, Marsh SG . IPD—the immuno polymorphism database. Nucleic Acids Res 2005; 33: D523–D526.

Houtchens KA, Nichols RJ, Ladner MB, Boal HE, Sollars C, Geraghty DE et al. High-throughput killer cell immunoglobulin-like receptor genotyping by MALDI-TOF mass spectrometry with discovery of novel alleles. Immunogenetics 2007; 59: 525–537.

Page RD . TreeView: an application to display phylogenetic trees on personal computers. Comput Appl Biosci 1996; 12: 357–358.
Acknowledgements
This work was supported by start-up funds from the UCLA Department of Pathology and Laboratory Medicine to Dr Rajalingam, and by funding from the National Marrow Donor Program (NMDP) and the Department of the Navy, Office of Naval Research Cooperative Agreement no. N00014-99-2-0006 and Grant no. N00014-05-1-0859 to the NMDP. We thank Damian Goodridge, Conexio Genomics, Western Australia for his help in building and optimizing KIR sequence libraries for the use in Assign software, John Muramoto for providing DNA samples from the UCLA International DNA Exchange Program, and Cynthia Vierra-Green and Rebecca Cullen for providing DNA samples from the NMDP repository. Any opinions, findings, and conclusions or recommendations expressed in this material are those of the authors and do not necessarily reflect the views of the Office of Naval Research or the NMDP.
Supplementary information
About this article
Cite this article
Du, Z., Sharma, S., Spellman, S. et al. KIR2DL5 alleles mark certain combination of activating KIR genes. Genes Immun 9, 470–480 (2008). https://doi.org/10.1038/gene.2008.39
Received:

Revised:

Accepted:

Published:

Issue Date:

DOI: https://doi.org/10.1038/gene.2008.39
Keywords
killer cell immunoglobulin-like receptor

KIR2DL5

NK cell receptors

polymorphism

population diversity