Abstract
Background/Objectives:
Fat droplets in human milk (HM) are larger and surrounded by a phospholipid membrane compared with infant milk formulas (IMF). Since the physical structure of fat droplets might affect digestion and postprandial metabolism, an IMF was developed more mimicking HM lipid structure than current IMF.
Subjects/Methods:
A randomised, double-blind, crossover study was performed in 29 fasted healthy men (aged 18–25 years, BMI: 18–25 kg/m2) to compare 5-hour postprandial responses after consumption of an experimental IMF (Concept, Nuturis) with a current IMF (Control).
Results:
Postprandial triacylglycerol (TAG) concentrations tended to increase faster after intake of Concept IMF (P=0.054), but peaked 3 h after intakes at similar concentrations. ApoB48 increased steadily and peaked 3 h after consumption. Increases in plasma glucose concentrations were comparable, but peak concentrations were reached faster after consumption of Concept IMF (P<0.05). Peak insulin concentrations were higher and reached earlier after intake of Concept IMF, causing a sharper decremental glucose rebound (P<0.05) and an earlier time to nadir in non-esterified fatty acid (NEFA) concentrations (P<0.01). Changes in plasma amino acids (AA), apoB100 and apoA1 were comparable. The incremental or decremental areas under-the-curve did not differ between Concept and Control IMF. Satiety scores and changes in the satiety hormones ghrelin and peptide YY were comparable, while cholecystokinin responses were earlier and higher after consumption of Control IMF (P<0.05).
Conclusions:
This proof-of-concept study suggests that fats and carbohydrates from the Concept IMF with larger and phospholipid-coated fat droplets are more rapidly absorbed than those from the current IMF.
Relevant articles
Open Access articles citing this article.
Andrea Kodde

,

Mona Mischke

…

Kai-Dietrich Nüsken

Nutrition & Metabolism Open Access 27 November 2021

A. Smolinska

,

A. Baranska

…

F. J. van Schooten

Scientific Reports Open Access 24 January 2019
Access options
Subscribe to Journal
Get full journal access for 1 year
$119.00
only $9.92 per issue
All prices are NET prices.
VAT will be added later in the checkout.
Tax calculation will be finalised during checkout.
Buy article
Get time limited or full article access on ReadCube.
$32.00
All prices are NET prices.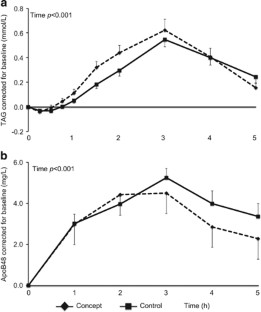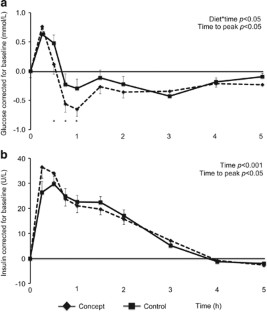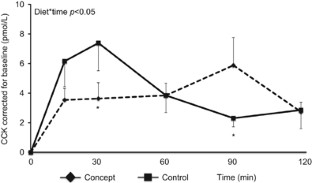 References
Kramer MS, Kakuma R . The Optimal Duration of Exclusive Breastfeeding—a Systematic Review. World Health Organization: Geneva, Switzerland, 2001. Accessed on June 2016.

Walker A . Breast milk as the gold standard for protective nutrients. J Pediatr 2010; 156: S3–S7.

Horta BL, Victoria CG . Long-Term Effects of Breastfeeding—a Systematic Review. World Health Organization: Geneva, Switzerland, 2013 Accessed on June 2016.

Singhal A . The role of infant nutrition in the global epidemic of non-communicable disease. Proc Nutr Soc 2016; 75: 162–168.

Delplanque B, Gibson R, Koletzko B, Lapillonne A, Strandvik B . Lipid quality in infant nutrition: current knowledge and future opportunities. J Pediatr Gastroenterol Nutr 2015; 61: 8–17.

Zou L, Pande G, Akoh CC . Infant formula fat analogs and human milk fat: New focus on infant developmental needs. Annu Rev Food Sci Technol 2016; 7: 139–165.

Gallier S, Vocking K, Post JA, Van De Heijning B, Acton D, Van Der Beek EM et al. A novel infant milk formula concept: Mimicking the human milk fat globule structure. Colloids Surf B Biointerfaces 2015; 136: 329–339.

Bourlieu C, Michalski MC . Structure-function relationship of the milk fat globule. Curr Opin Clin Nutr Metab Care 2015; 18: 118–127.

Armand M, Pasquier B, Andre M, Borel P, Senft M, Peyrot J et al. Digestion and absorption of 2 fat emulsions with different droplet sizes in the human digestive tract. Am J Clin Nutr 1999; 70: 1096–1106.

Michalski MC, Soares AF, Lopez C, Leconte N, Briard V, Geloen A . The supramolecular structure of milk fat influences plasma triacylglycerols and fatty acid profile in the rat. Eur J Nutr 2006; 45: 215–224.

Ohlsson L, Burling H, Duan RD, Nilsson A . Effects of a sphingolipid-enriched dairy formulation on postprandial lipid concentrations. Eur J Clin Nutr 2010; 64: 1344–1349.

Gallier S, Acton D, Garg M, Singh H . Natural and processed milk and oil body emulsions: Bioavailability, bioaccessibility and functionality. Food Structure; e-pub ahead of print 19 July 2016; doi:10.1016/j.foostr.2016.07.005.

Oosting A, Kegler D, Wopereis HJ, Teller IC, van de Heijning BJ, Verkade HJ et al. Size and phospholipid coating of lipid droplets in the diet of young mice modify body fat accumulation in adulthood. Pediatr Res 2012; 72: 362–369.

Baars A, Oosting A, Engels E, Kegler D, Kodde A, Schipper L et al. Milk fat globule membrane coating of large lipid droplets in the diet of young mice prevents body fat accumulation in adulthood. Br J Nutr 2016; 115: 1930–1937.

Friedewald WT, Levy RI, Fredrickson DS . Estimation of the concentration of low-density lipoprotein cholesterol in plasma, without use of the preparative ultracentrifuge. Clin Chem 1972; 18: 499–502.

van Eijk HM, Rooyakkers DR, Deutz NE . Rapid routine determination of amino acids in plasma by high-performance liquid chromatography with a 2-3 microns Spherisorb ODS II column. J Chromatogr 1993; 620: 143–148.

Brouns F, Bjorck I, Frayn KN, Gibbs AL, Lang V, Slama G et al. Glycaemic index methodology. Nutr Res Rev 2005; 18: 145–171.

Delorme V, Dhouib R, Canaan S, Fotiadu F, Carriere F, Cavalier JF . Effects of surfactants on lipase structure, activity, and inhibition. Pharm Res 2011; 28: 1831–1842.

Bourlieu C, Menard O, De La Chevasnerie A, Sams L, Rousseau F, Madec MN et al. The structure of infant formulas impacts their lipolysis, proteolysis and disintegration during in vitro gastric digestion. Food Chem 2015; 182: 224–235.

Feinle C, O'Donovan D, Doran S, Andrews JM, Wishart J, Chapman I et al. Effects of fat digestion on appetite, APD motility, and gut hormones in response to duodenal fat infusion in humans. Am J Physiol Gastrointest Liver Physiol 2003; 284: G798–G807.

van den Braak C, Thomassen G, Acton D, Ludwig T, Abrahamse E . A concept infant formula with large, phospholipid coated, droplets demonstrates slow in vitro gastric lipolysis as compared to a regular infant formula. J Pediatr Gastroenterol Nutr 2015; 60 (suppl 1), 740.

Maljaars PW, van der Wal RJ, Wiersma T, Peters HP, Haddeman E, Masclee AA . The effect of lipid droplet size on satiety and peptide secretion is intestinal site-specific. Clin Nutr 2012; 31: 535–542.

Peters HP, Bouwens EC, Schuring EA, Haddeman E, Velikov KP, Melnikov SM . The effect of submicron fat droplets in a drink on satiety, food intake, and cholecystokinin in healthy volunteers. Eur J Nutr 2014; 53: 723–729.

Hussein MO, Hoad CL, Wright J, Singh G, Stephenson MC, Cox EF et al. Fat emulsion intragastric stability and droplet size modulate gastrointestinal responses and subsequent food intake in young adults. J Nutr 2015; 145: 1170–1177.

Steingoetter A, Radovic T, Buetikofer S, Curcic J, Menne D, Fried M et al. Imaging gastric structuring of lipid emulsions and its effect on gastrointestinal function: a randomized trial in healthy subjects. Am J Clin Nutr 2015; 101: 714–724.

Seimon RV, Wooster T, Otto B, Golding M, Day L, Little TJ et al. The droplet size of intraduodenal fat emulsions influences antropyloroduodenal motility, hormone release, and appetite in healthy males. Am J Clin Nutr 2009; 89: 1729–1736.

Abrahamse E, Minekus M, van Aken GA, van de Heijning B, Knol J, Bartke N et al. Development of the digestive system-experimental challenges and approaches of infant lipid digestion. Food Dig 2012; 3: 63–77.
Acknowledgements
This research was financially supported by Nutricia Research.
Ethics declarations
Competing interests
BJMvdH and DA are employed by Nutricia Research. The remaining authors declare no conflict of interest.
Supplementary information
About this article
Cite this article
Baumgartner, S., van de Heijning, B., Acton, D. et al. Infant milk fat droplet size and coating affect postprandial responses in healthy adult men: a proof-of-concept study. Eur J Clin Nutr 71, 1108–1113 (2017). https://doi.org/10.1038/ejcn.2017.50
Received:

Revised:

Accepted:

Published:

Issue Date:

DOI: https://doi.org/10.1038/ejcn.2017.50
This article is cited by
Andrea Kodde
Mona Mischke
Kai-Dietrich Nüsken

Nutrition & Metabolism (2021)

A. Smolinska
A. Baranska
F. J. van Schooten

Scientific Reports (2019)