Abstract
Background/Objectives:
Delayed treatment failure occurs in a significant proportion of inflammatory bowel disease (IBD) patients treated with tumor necrosis factor-alpha (TNF) antagonists. Identification of predictors of loss of response (LOR) may help to optimize therapy. We sought to determine whether body composition parameters at the commencement of anti-TNF therapy were associated with earlier treatment failure.
Subjects/Methods:
A retrospective cohort study was performed on 68 patients who had undergone cross-sectional abdominal imaging coincident with the commencement of anti-TNF drugs. Analysis of the images at the third lumbar vertebra was performed using standard techniques to determine cross-sectional areas of skeletal muscle (SM), visceral adipose tissue, subcutaneous adipose tissue and intermuscular adipose tissue. Treatment failure was defined as: post-induction hospital admission or surgery for IBD, escalation of TNF dose or immunosuppressants for clinical LOR, emergence of a new fistula or Crohn's Disease Activity Index (CDAI) >150.
Results:
Two-thirds of patients had myopenia. Patients with less than gender-specific median SM area had a median time to failure of 520 (s.d. 135) days compared to 1100 (s.d. 151) days for those with more than median SM area (P=0.036). No difference was found in disease duration, inflammatory markers or CDAI between quartiles of SM area. No relation between outcomes and measures of adipose tissue, weight or body mass index was observed.
Conclusions:
Identifying low muscle mass at anti-TNF induction as a risk factor for treatment failure may contribute to a more tailored approach to IBD therapy.
Access options
Subscribe to Journal
Get full journal access for 1 year
$119.00
only $9.92 per issue
All prices are NET prices.
VAT will be added later in the checkout.
Tax calculation will be finalised during checkout.
Buy article
Get time limited or full article access on ReadCube.
$32.00
All prices are NET prices.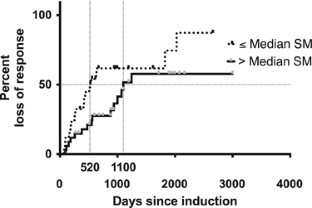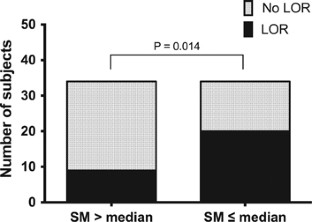 References
Dassopoulos T, Sultan S, Falck Ytter YT, Inadomi JM, Hanauer SB . American Gastroenterological Association Institute technical review on the use of thiopurines, methotrexate, and anti-TNF-α biologic drugs for the induction and maintenance of remission in inflammatory Crohn's disease. Gastroenterology 2013; 145: 1464–1478. e1–e5.

D'Haens GR, Panaccione R, Higgins PDR, Vermeire S, Gassull M, Chowers Y et al. The London Position Statement of the World Congress of Gastroenterology on Biological Therapy for IBD with the European Crohn's and Colitis Organization: when to start, when to stop, which drug to choose, and how to predict response? Am J Gastroenterol 2011; 106: 199–212.

Hanauer SB, Feagan BG, Lichtenstein GR, Mayer LF, Schreiber S, Colombel JF et al. Maintenance infliximab for Crohn's disease: the ACCENT I randomised trial. Lancet 2002; 359: 1541–1549.

Sandborn WJ, Hanauer SB, Rutgeerts P, Fedorak RN, Lukas M, MacIntosh DG et al. Adalimumab for maintenance treatment of Crohn's disease: results of the CLASSIC II trial. Gut 2007; 56: 1232–1239.

Ding NS, Hart A, De Cruz P . Systematic review: predicting and optimising response to anti-TNF therapy in Crohn's disease - algorithm for practical management. Aliment Pharmacol Ther 2015; 43: 30–51.

Kopylov U, Seidman E . Predicting durable response or resistance to antitumor necrosis factor therapy in inflammatory bowel disease. Therap Adv Gastroenterol 2016; 9: 513–526.

Bhalme M, Sharma A, Keld R, Willert R, Campbell S . Does weight-adjusted anti-tumour necrosis factor treatment favour obese patients with Crohn's disease? Eur J Gastroenterol Hepatol 2013; 25: 543–549.

Harper JW, Sinanan MN, Zisman TL . Increased body mass index is associated with earlier time to loss of response to infliximab in patients with inflammatory bowel disease. Inflamm Bowel Dis 2013; 19: 2118–2124.

Dotan I, Ron Y, Yanai H, Becker S, Fishman S, Yahav L et al. Patient factors that increase infliximab clearance and shorten half-life in inflammatory bowel disease: a population pharmacokinetic study. Inflamm Bowel Dis 2014; 20: 2247–2259.

Karagiannides I, Pothoulakis C . Obesity, innate immunity and gut inflammation. Curr Opin Gastroenterol 2007; 23: 661–666.

Blain A, Cattan S, Beaugerie L, Carbonnel F, Gendre J-P, Cosnes J . Crohn's disease clinical course and severity in obese patients. Clin Nutr 2002; 21: 51–57.

Shen W, Punyanitya M, Wang Z, Gallagher D, St-Onge M-P, Albu J et al. Visceral adipose tissue: relations between single-slice areas and total volume. Am J Clin Nutr 2004; 80: 271–278.

Mourtzakis M, Prado CMM, Lieffers JR, Reiman T, McCargar LJ, Baracos VE . A practical and precise approach to quantification of body composition in cancer patients using computed tomography images acquired during routine care. Appl Physiol Nutr Metab 2008; 33: 997–1006.

Shen W, Punyanitya M, Wang Z, Gallagher D, St-Onge M-P, Albu J et al. Total body skeletal muscle and adipose tissue volumes: estimation from a single abdominal cross-sectional image. J Appl Physiol 2004; 97: 2333–2338.

Hu HH, Chen J, Shen W . Segmentation and quantification of adipose tissue by magnetic resonance imaging. MAGMA 2016; 29: 259–276.

Holt DQ, Strauss BJG, Lau KK, Moore GT . Body composition analysis using abdominal scans from routine clinical care in patients with Crohn's disease. Scand J Gastroenterol 2016; 51: 842–847.

Maislin G, Ahmed MM, Gooneratne N, Thorne-Fitzgerald M, Kim C, Teff K et al. Single slice vs volumetric MR assessment of visceral adipose tissue: reliability and validity among the overweight and obese. Obesity 2012; 20: 2124–2132.

Baker ST, Strauss BJ, Prendergast LA, Panagiotopoulos S, Thomas GE, Vu T et al. Estimating dual-energy X-ray absorptiometry-derived total body skeletal muscle mass using single-slice abdominal magnetic resonance imaging in obese subjects with and without diabetes: a pilot study. Eur J Clin Nutr 2012; 66: 628–632.

Xia Y, Ergun DL, Wacker WK, Wang X, Davis CE, Kaul S . Relationship between dual-energy X-ray absorptiometry volumetric assessment and X-ray computed tomography-derived single-slice measurement of visceral fat. J Clin Densitom 2014; 17: 78–83.

Schweitzer L, Geisler C, Pourhassan M, Braun W, Gluer CC, Bosy-Westphal A et al. What is the best reference site for a single MRI slice to assess whole-body skeletal muscle and adipose tissue volumes in healthy adults? Am J Clin Nutr 2015; 102: 58–65.

Baumgartner RN, Koehler KM, Gallagher D, Romero L, Heymsfield SB, Ross RR et al. Epidemiology of sarcopenia among the elderly in New Mexico. Am J Epidemiol 1998; 147: 755–763.

Gallagher D, Visser M, De Meersman RE, Sepúlveda D, Baumgartner RN, Pierson RN et al. Appendicular skeletal muscle mass: effects of age, gender, and ethnicity. J Appl Physiol 1997; 83: 229–239.

Bryant RV, Trott MJ, Bartholomeusz FD, Andrews JM . Systematic review: body composition in adults with inflammatory bowel disease. Aliment Pharmacol Ther 2013; 38: 213–225.

Subramaniam K, Fallon K, Ruut T, Lane D, McKay R, Shadbolt B et al. Infliximab reverses inflammatory muscle wasting (sarcopenia) in Crohn's disease. Aliment Pharmacol Ther 2015; 41: 419–428.

Bultman E, de Haar C, van Liere-Baron A, Verhoog H, West RL, Kuipers EJ et al. Predictors of dose escalation of adalimumab in a prospective cohort of Crohn's disease patients. Aliment Pharmacol Ther 2011; 35: 335–341.

Fasanmade AA, Adedokun OJ, Blank M, Zhou H, Davis HM . Pharmacokinetic properties of infliximab in children and adults with Crohn's disease: a retrospective analysis of data from 2 phase III clinical trials. Clin Ther 2011; 33: 946–964.

Mould DR . The pharmacokinetics of biologics: a primer. Dig Dis 2015; 33 (Suppl 1), 61–69.

Bryant RV, Ooi S, Schultz CG, Goess C, Grafton R, Hughes J et al. Low muscle mass and sarcopenia: common and predictive of osteopenia in inflammatory bowel disease. Aliment Pharmacol Ther 2015; 41: 895–906.

Peyrin-Biroulet L, Chamaillard M, Gonzalez F, Beclin E, Decourcelle C, Antunes L et al. Mesenteric fat in Crohn's disease: a pathogenetic hallmark or an innocent bystander? Gut 2007; 56: 577–583.

Büning C, Kraft von C, Hermsdorf M, Gentz E, Wirth EK, Valentini L et al. Visceral adipose tissue in patients with Crohn's disease correlates with disease activity, inflammatory markers, and outcome. Inflamm Bowel Dis 2015; 21: 2590–2597.

Katznelson L, Fairfield WP, Zeizafoun N, Sands BE, Peppercorn MA, Rosenthal DI et al. Effects of growth hormone secretion on body composition in patients with Crohn's disease. J Clin Endocrinol Metab 2003; 88: 5468–5472.

Thangarajah D, Chappell KE, Gale C, Parkinson JR, Epstein J, Hyer W et al. P415 MRI assessment of body composition in paediatric Crohn's disease; intra-abdominal adipose tissue association with disease severity. J Crohns Colitis 2014; 8: S239.

Erhayiem B, Dhingsa R, Hawkey CJ, Subramanian V . Ratio of visceral to subcutaneous fat area is a biomarker of complicated Crohn's disease. Clin Gastroenterol Hepatol 2011; 9: 684–687. e1.

Csontos ÁA, Molnár A, Miheller P . Letter: body surface area and body muscle parameters may influence adalimumab trough levels. Aliment Pharmacol Ther 2015; 41: 700.

Kuo TT, Baker K, Yoshida M, Qiao S-W, Aveson VG, Lencer WI et al. Neonatal Fc receptor: from immunity to therapeutics. J Clin Immunol 2010; 30: 777–789.

Vugmeyster Y, Xu X, Theil F-P, Khawli LA, Leach MW . Pharmacokinetics and toxicology of therapeutic proteins: advances and challenges. World J Biol Chem 2012; 3: 73–92.

Fan Y-Y, Neubert H . Quantitative analysis of human neonatal Fc receptor (FcRn) tissue expression in transgenic mice by online peptide immuno-affinity LC-HRMS. Anal Chem 2016; 88: 4239–4247.

Ben-Horin S, Chowers Y . Review article: loss of response to anti-TNF treatments in Crohn's disease. Aliment Pharmacol Ther 2011; 33: 987–995.

Karmiris K, Paintaud G, Noman M, Magdelaine-Beuzelin C, Ferrante M, Degenne D et al. Influence of trough serum levels and immunogenicity on long-term outcome of adalimumab therapy in Crohn's disease. Gastroenterology 2009; 137: 1628–1640.
Acknowledgements
We thank the colleagues who have generously contributed data to this study: Dr David Devonshire, Dr Christopher Desmond, Dr Michael Swan, Dr Debra Nathan, Dr Edward Shelton, Dr Ilana Prideaux, Dr Catherine Sorell, Dr Ferry Rusli, Dr Luke Crantock, Dr Anouk Dev, Dr Dilip Ratnam and Dr Stephen Pianko.
Ethics declarations
Competing interests
This work was supported by Crohn's and Colitis Australia (the Angela McAvoy AM Fellowship to GT Moore). DQ Holt has received an emerging researcher fellowship from Monash Health, and honoraria from AbbVie and Janssen.
About this article
Cite this article
Holt, D., Varma, P., Strauss, B. et al. Low muscle mass at initiation of anti-TNF therapy for inflammatory bowel disease is associated with early treatment failure: a retrospective analysis. Eur J Clin Nutr 71, 773–777 (2017). https://doi.org/10.1038/ejcn.2017.10
Received:

Revised:

Accepted:

Published:

Issue Date:

DOI: https://doi.org/10.1038/ejcn.2017.10
This article is cited by
Saurabh Talathi
Pooja Nagaraj
Margaux J. Barnes

European Journal of Pediatrics (2020)