Abstract
Background/Objective:
Preservation of lung health requires understanding the modifiable risk factors of airflow limitation. This study investigates the association between diet and lung function in a population of Greenland Inuit residing in the Arctic (Greenland) or Western Europe (Denmark).
Subjects/Methods:
Two unselected Inuit populations were recruited, one living in Greenland (Urban (Nuuk) n=358; Rural (Uummannaq) n=207) and the other in Denmark (n=539). Lung function was measured using spirometry and diet by a food frequency questionnaire. Factors associated with airflow limitation were assessed using multiple linear regression models.
Results:
The dietary composition differed significantly in the two regions, with higher whale, seal and wild meat intake and lower fruit and vegetable intake in the Arctic regions compared with Denmark. Consumption of vegetables (P=0.004) and whale and/or seal (P<0.0001) was significantly and positively associated with FEV1, as well as with FVC (vegetables: P=0.001, whale and/or seal: P=0.002). Regular fruit intake was included in the statistical models; however, it did not reach statistical significance (FEV1: P=0.053; FVC: P=0.055).
Conclusions:
High dietary intake of vegetables as well as intake of arctic marine mammals had independent positive associations with lung function in this cohort of Greenlandic Inuit. These findings suggest an additive role of dietary intake of antioxidants and unsaturated fatty acids in lung health, which warrants prospective evaluation.
Access options
Subscribe to this journal
Receive 12 print issues and online access
$259.00 per year
only $21.58 per issue
Rent or buy this article
Get just this article for as long as you need it
$39.95
Prices may be subject to local taxes which are calculated during checkout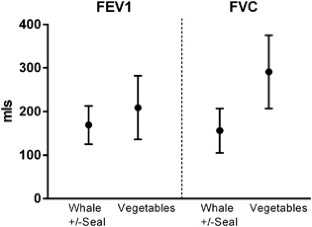 References
Hole DJ, Watt GCM, Davey-Smith G, Hart CL, Gillis CR, Hawthorne VM . Impaired lung function and mortality risk in men and women: findings from the Renfrew and Paisley prospective population study. BMJ 1996; 313: 711–715.

Schünemann HJ, Dorn J, Grant BJB, Winkelstein JW, Trevisan M . Pulmonary function is a long-term predictor of mortality in the general population*: 29-year follow-up of the buffalo health study. Chest 2000; 118: 656–664.

Buist AS, McBurnie MA, Vollmer WM, Gillespie S, Burney P, Mannino DM et al. International variation in the prevalence of COPD (The BOLD Study): a population-based prevalence study. Lancet 370: 741–750.

Thorleifsson S, Margretardottir O, Gudmundsson G, Olafsson I, Benediktsdottir B, Janson C et al. Chronic airflow obstruction and markers of systemic inflammation: results from the BOLD study in Iceland. Respir Med 2009; 103: 1548–1553.

Sin DD, Wu L, Man SFP . The relationship between reduced lung function and cardiovascular mortality*: A population-based study and a systematic review of the literature. Chest 2005; 127: 1952–1959.

James AL, Knuiman MW, Divitini ML, Hui J, Hunter ML, Mulrennan SA et al. Risk factors for respiratory symptoms in adults: The Busselton Health Study. Respirology 2013; 18: 1256–1260.

Ferrie JE, Singh-Manoux A, Kivimäki M, Mindell J, Breeze E, Smith GD et al. Cardiorespiratory risk factors as predictors of 40-year mortality in women and men. Heart 2009; 95: 1250–1257.

Varraso R, Fung T, Hu F, Willett W, Camargo C . Prospective study of dietary patterns and chronic obstructive pulmonary disease among US men. Thorax 2007; 62: 786–791.

Varraso R, Fung TT, Barr RG, Hu FB, Willett W, Camargo CA . Prospective study of dietary patterns and chronic obstructive pulmonary disease among US women. Am J Clin Nutr 2007; 86: 488–495.

Hirayama F, Lee AH, Binns CW, Hiramatsu N, Mori M, Nishimura K . Dietary intake of isoflavones and polyunsaturated fatty acids associated with lung function, breathlessness and the prevalence of chronic obstructive pulmonary disease: Possible protective effect of traditional Japanese diet. Mol Nutr Food Res 2010; 54: 909–917.

Young T . Are the circumpolar Inuit becoming obese? Am J Hum Biol 2007; 19: 181–189.

Deutch B, Dyerberg J, Pedersen H, Aschlund E, Hansen J . Traditional and modern Greenlandic food - dietary composition, nutrients and contaminants. Sci Total Environ 2007; 384: 106–119.

Deutch B, Pedersen H, Hansen J . Increasing overweight in Greenland: social, demographic, dietary and other life-style factors. Int J Circumpolar Health 2005; 64: 86–98.

Backer V, Nepper-Christensen S, Porsbjerg C, von Linstow M-L, Reersted P . Respiratory symptoms in Greenlanders living in Greenland and Denmark: a population-based study. Ann Allergy Asthma Immunol 2004; 93: 76–82.

Jørgensen M, Pedersen M, Siggaard C, Sørensen T, Mulvad G, Hansen J et al. Twenty-four-hour blood pressure among Greenlanders and Danes: relationship to diet and lifestyle. Scand J Clin Lab Invest 2002; 62: 413–422.

Jørgensen M, Pedersen M, Siggaard C, Sørensen T, Mulvad G, Hansen J et al. Ethnic, geographic and dietary influences upon vasoactive hormones and blood pressure among Greenland Inuit and Danes. Blood Press 2003; 12: 298–306.

Moustgaard H, Bjerregaard P, Borch-Johnsen K, Jørgensen M . Diabetes among Inuit migrants in Denmark. Int J Circumpolar Health 2005; 64: 354–364.

Bjerregaard P, Pedersen H, Mulvad G . The associations of a marine diet with plasma lipids, blood glucose, blood pressure and obesity among the inuit in Greenland. Eur J Clin Nutr 2000; 54: 732–737.

Miller MR, Crapo R, Hankinson J, Brusasco V, Burgos F, Casaburi R et al. General considerations for lung function testing. Eur Respir J 2005; 26: 153–161.

Jeppesen C, Bjerregaard P . Consumption of traditional food and adherance to nutrition recommendations in Greenland. Scand J Public Health 2012; 40: 475–481.

Deutch B, Pedersen HS, Hansen JC . Dietary composition in Greenland 2000, plasma fatty acids and persistent organic pollutants. Sci Total Environ 2004; 331: 177–188.

Wood L, Attia J, McElduff P, McEvoy M, Gibson P . Assessment of dietary fat intake and innate immune activation as risk factors for impaired lung function. Eur J Clin Nutr 2010; 64: 818–825.

James M, Gibson R, Cleland L . Dietary polyunsaturated fatty acids and inflammatory mediator production. Am J Clin Nutr 2000; 71: 343S–348S.

Mayer K, Meyer S, Reinholz-Muhly M, Maus U, Merfels M, Lohmeyer J et al. Short-time infusion of fish oil-based lipid emulsions, approved for parenteral nutrition, reduces monocyte proinflammatory cytokine generation and adhesive interaction with endothelium in humans. J Immunol 2003; 171: 4837–4843.

Williams-Bey Y, Boularan C, Vural A, Huang N-N, Hwang I-Y, Shan-Shi C et al. Omega-3 free fatty acids suppress macrophage inflammasome activation by inhibiting NF-κB activation and enhancing autophagy. PLoS ONE 2014; 9: e97957.

Root M, Houser S, Anderson J, Dawson H . Healthy Eating Index 2005 and selected macronutrients are correlated with improved lung function in humans. Nutr Res 2014; 34: 277–284.

Romieu I . Nutrition and lung health. Int J Tuberc Lung Dis 2005; 9: 362–374.

Romieu I, Meneses F, Ramirez M, Ruiz S, Padilla R, Sienra J et al. Antioxidant supplementation and respiratory functions among workers exposed to high levels of ozone. Am J Respir Crit Care Med 1998; 158: 226–232.

Bentley AR, Kritchevsky SB, Harris TB, Holvoet P, Jensen RL, Newman AB et al. Dietary antioxidants and forced expiratory volume in 1 s decline: the Health, Aging and Body Composition study. Eur Respir J 2012; 39: 979–984.

Berthon B, Macdonald-Wicks L, Gibson P, Wood L . Investigation of the association between dietary intake, disease severity and airway inflammation in asthma. Respirology 2013; 18: 447–454.

Varraso R, Willett W, Camargo C . Prospective study of dietary fibre and risk of chronic obstructive pulmonary disease among US women and men. Am J Epidemiol 2010; 171: 776–784.

Shahar E, Folsom AR, Melnick SL, Tockman MS, Comstock GW, Gennaro V et al. Dietary n-3 polyunsaturated fatty acids and smoking-related chronic obstructive pulmonary disease. N Engl J Med 1994; 331: 228–233.

Sharp DS, Rodriguez BL, Shahar E, Hwang LJ, Burchfiel CM . Fish consumption may limit the damage of smoking on the lung. Am J Respir Crit Care Med 1994; 150: 983–987.

Varraso R, Barr RG, Willett WC, Speizer FE, Camargo CA . Fish intake and risk of chronic obstructive pulmonary disease in 2 large U.S. cohorts. Am J Clin Nutr 2015; 101: 354–361.

Johansen P, Pars T, Bjerregaard P . Lead, cadmium, mercury and selenium intake by Greendlanders from local marine food. Sci Total Environ 2000; 245: 187–194.

Oh C-M, Oh I-H, Lee J-K, Park YH, Choe B-K, Yoon T-Y et al. Blood cadmium levels are associated with a decline in lung function in males. Environ Res 2014; 132: 119–125.

Leung T, Chan I, Liu T, Lam C, Wong G . Relationship between passive smoking exposure and urinary heavy metals and lung functions in preschool children. Pediatr Pulmonol 2013; 48: 1089–1097.
Acknowledgements
We acknowledge Peter Bjerregaard and the Greenlandic Population Study. This study was funded by the Bispebjerg University Hospital.
Author Contributions
Study design and conception: KJB, VB, PGG, HP and CMP. Data collection and interpretation: KJB, VB, PGG, HP and CMP. Data analysis: HP. Writing of the manuscript: KJB, VB, PGG, HP and CMP. Editing and review of the manuscript: KJB, VB, PGG, HP and CMP.
Ethics declarations
Competing interests
The authors declare no conflict of interest.
About this article
Cite this article
Baines, K., Backer, V., Gibson, P. et al. Investigating the effects of arctic dietary intake on lung health. Eur J Clin Nutr 69, 1262–1266 (2015). https://doi.org/10.1038/ejcn.2015.85
Received:

Revised:

Accepted:

Published:

Issue Date:

DOI: https://doi.org/10.1038/ejcn.2015.85