Abstract
Background/Objectives:
Evidence suggests that the long-term consumption of probiotics may help in reducing the incidence of or modifying acute respiratory infection (ARI). We assessed the role of the short-term use of probiotics in ARI in children.
Subjects/Methods:
This was a randomized, double-blind, controlled study that enrolled 315 children with 90 dropouts. On the first day of appearance of a sick household member, otherwise healthy children of both sexes aged 3–12 years were allocated to receive Lactobacillus acidophilus DDS-1 and Bifidobacterium lactis UABLA-12 (Up4-Junior) in a dose of 5 billion colony-forming units daily with 50 mg of fructooligosaccharide (the probiotic group) or rice maltodexrin (the control group). Test supplementation and follow-up lasted for 2 weeks or until the end of the secondary ARI in a child. The primary outcome measure was the incidence of ARI. Time to resolution and the severity of ARI served the secondary outcome measures.
Results:
In all, 64 of 113 children in the probiotic group (57%) and 73 of 112 children in the control group (65%) developed ARI (P=0.261). Time to resolution of the secondary ARI was shorter in the probiotic group (5.0 (interquartile range (IQR): 4.0–6.0) vs 7.0 (IQR: 6.0–8.0) days, P<0.001). The median severity of ARI was 240 (IQR: 163–350) score-days in the probiotic vs 525 (IQR: 364–736) score-days in the control group (P<0.001).
Conclusions:
The short-term use of probiotics does not reduce the incidence, but shortens ARI in preschool and elementary school children.
This is a preview of subscription content
Access options
Subscribe to Journal
Get full journal access for 1 year
$119.00
only $9.92 per issue
All prices are NET prices.
VAT will be added later in the checkout.
Tax calculation will be finalised during checkout.
Buy article
Get time limited or full article access on ReadCube.
$32.00
All prices are NET prices.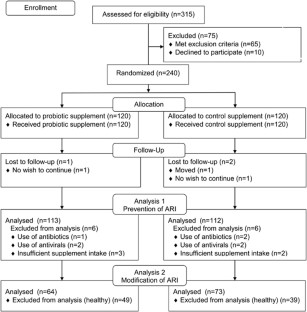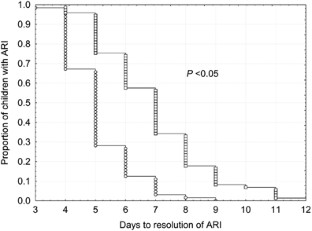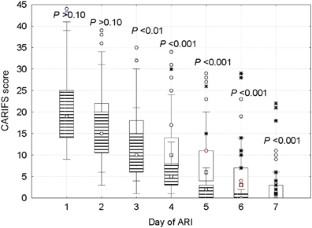 References
Chonmaitree T, Revai K, Grady JJ, Clos A, Patel JA, Nair S et al. Viral upper respiratory tract infection and otitis media complication in young children. Clin Infect Dis 2008; 46: 815–823.

Haskins R, Kotch J . Day care and illness: evidence, costs and public policy. Pediatrics 1986; 77: 951–982.

Nicholson KG, McNally T, Silverman M, Simons P, Stockton JD, Zambon MC . Rates of hospitalisation for influenza, respiratory syncytial virus and human metapneumovirus among infants and young children. Vaccine 2006; 24: 102–108.

Massin MM, Montesanti J, Gerard P, Lepage P . Spectrum and frequency of illness presenting to a pediatric emergency department. Acta Clin Belg 2006; 61: 161–165.

Olszewska W, Zambon M, Openshaw PJM . Development of vaccines against common colds. Br Med Bull 2002; 62: 99–111.

Sauro A, Barone F, Blasio G, Russo L, Santillo L . Do influenza and acute respiratory infective diseases weigh heavily on general practitioners' daily practice? Eur J Gen Pract 2006; 12: 34–36.

Lambert SB, Allen KM, Carter RC, Nolan TM . The cost of community-managed viral respiratory illnesses in a cohort of healthy preschool-aged children. Respir Res 2008; 9: 11.

Ehlken B, Ihorst G, Lippert B, Rohwedder A, Petersen G, Schumacher M et al. Economic impact of community-acquired and nosocomial lower respiratory tract infections in young children in Germany. Eur J Pediatr 2005; 164: 607–615.

Winkler P, de Vrese M, Laue Ch, Schrezenmeir J . Effect of a dietary supplement containing probiotic bacteria plus vitamins and minerals on common cold infections and cellular immune parameters. Int J Clin Pharmacol Ther 2005; 43: 318–326.

Berggren A, Lazou Ahron I, Larsson N, Onning G . Randomised, double-blind and placebo-controlled study using new probiotic lactobacilli for strengthening the body immune defence against viral infections. Eur J Nutr 2011; 50: 203–210.

Hojsak I, Abdovic S, Szajewska H, Milosevic M, Krznaric Z, Kolacek S . Lactobacillus GG in the prevention of nosocomial gastrointestinal and respiratory tract infections. Pediatrics 2010; 125: e1171–e1177.

Guillemard E, Tanguy J, Flavigny A, de la Motte S, Schrezenmeir J . Effects of consumption of a fermented dairy product containing the probiotic Lactobacillus casei DN-114 001 on common respiratory and gastrointestinal infections in shift workers in a randomized controlled trial. J Am Coll Nutr 2010; 29: 455–468.

West NP, Horn PL, Pyne DB, Gebski VJ, Lahtinen SJ, Fricker PA et al. Probiotic supplementation for respiratory and gastrointestinal illness symptoms in healthy physically active individuals. Clin Nutr 2014; 33: 581–587.

Luoto R, Ruuskanen O, Waris M, Kalliomäki M, Salminen S, Isolauri E . Prebiotic and probiotic supplementation prevents rhinovirus infections in preterm infants: a randomized, placebo-controlled trial. J Allergy Clin Immunol 2014; 133: 405–413.

de Vrese M, Winkler P, Rautenberg P, Harder T, Noah C, Laue C et al. Effect of Lactobacillus gasseri PA 16/8, Bifidobacterium longum SP 07/3, B. bifidum MF 20/5 on common cold episodes: a double blind, randomized, controlled trial. Clin Nutr 2005; 24: 481–491.

Haywood BA, Black KE, Baker D, McGarvey J, Healey P, Brown RC . Probiotic supplementation reduces the duration and incidence of infections but not severity in elite rugby union players. J Sci Med Sport 2014; 17: 356–360.

Leyer GJ, Li S, Mubasher ME, Reifer C, Ouwehand AC . Probiotic effects on cold and influenza-like symptom incidence and duration in children. Pediatrics 2009; 124: e172–e179.

Hojsak I, Snovak N, Abdovic S, Szajewska H, Misak Z, Kolacek S . Lactobacillus GG in the prevention of gastrointestinal and respiratory tract infections in children who attend day care centers: a randomized, double-blind, placebo-controlled trial. Clin Nutr 2010; 29: 312–316.

Garaiova I, Muchová J, Nagyová Z, Wang D, Li JV, Országhová Z et al. Probiotics and vitamin C for the prevention of respiratory tract infections in children attending preschool: a randomized controlled pilot study. Eur J Clin Nutr 2014; 69: 373–379.

Kang EJ, Kim SY, Hwang IH, Ji YJ . The effect of probiotics on prevention of common cold: a meta-analysis of randomized controlled trial studies. Korean J Fam Med 2013; 34: 2–10.

King S, Glanville J, Sanders ME, Fitzgerald A, Varley D . Effectiveness of probiotics on the duration of illness in healthy children and adults who develop common acute respiratory infectious conditions: a systematic review and meta-analysis. Br J Nutr 2014; 112: 41–54.

Jacobs B, Young NL, Dick PT, Ipp MM, Dutkowski R, Davies HD et al. Canadian Acute Respiratory Illness and Flu Scale (CARIFS). Development of a valid measure for childhood respiratory infections. J Clin Epidemiol 2000; 53: 793–799.

Gerasimov SV, Belova HA, Pavuk HL, Seniuk ІM, Strekalina YI . The Ukrainian version of the pediatric Canadian acute respiratory illness and flu scale: a linguistic validation study. Patient Relat Outcome Meas 2014; 5: 111–117.

Gerasimov SV, Vasjuta VV, Myhovych OO, Bondarchuk LI . Probiotic supplement reduces atopic dermatitis in preschool children: a randomized, double-blind, placebo-controlled, clinical trial. Am J Clin Dermatol 2010; 11: 351–361.

Pang IK, Iwasaki A . Control of antiviral immunity by pattern recognition and the microbiome. Immunol Rev 2012; 245: 209–226.

Taipale T, Pienihäkkinen K, Isolauri E, Larsen C, Brockmann E, Alanen P et al. Bifidobacterium animalis subsp. lactis BB-12 in reducing the risk of infections in infancy. Br J Nutr 2011; 105: 409–416.

de Vrese M, Winkler P, Rautenberg P, Harder T, Noah C, Laue C et al. Probiotic bacteria reduced duration and severity but not the incidence of common cold episodes in a double blind, randomized, controlled trial. Vaccine 2006; 24: 6670–6674.

Hao Q, Dong BR, Wu T . Probiotics for preventing acute upper respiratory tract infections. Cochrane Database Syst Rev 2015; (2), CD006895.

Agustina R, Kok FJ, van de Rest O, Fahmida U, Firmansyah A, Lukito W et al. Randomized trial of probiotics and calcium on diarrhea and respiratory tract infections in Indonesian children. Pediatrics 2012; 129: e1155–e1164.

Smith TJ, Rigassio-Radler D, Denmark R, Haley T, Touger-Decker R . Effect of Lactobacillus rhamnosus LGG® and Bifidobacterium animalis ssp. lactis BB-12® on health-related quality of life in college students affected by upper respiratory infections. Br J Nutr 2012; 1: 1–9.

Hatakka K, Savilahti E, Ponka A, Meurman JH, Poussa T, Nase L et al. Effect of long term consumption of probiotic milk on infections in children attending day care centres: double blind, randomised trial. BMJ 2001; 322: 1–5.

Weizman Z, Asli G, Alsheikh A . Effect of a probiotic infant formula on infections in child care centers: comparison of two probiotic agents. Pediatrics 2005; 115: 5–9.

Schwarze J, Mackenzie KJ . Novel insights into immune and inflammatory responses to respiratory viruses. Thorax 2013; 68: 108–110.

Heymann DL Influenza. In: Heymann DL (ed.) Control of Communicable Diseases Manual, 19th edn. American Public Health Association Press: Washington, DC, USA, 2008, pp 315–322.

Peltola V, Waris M, Osterback R, Susi P, Ruuskanen O, Hyypiä T . Rhinovirus transmission within families with children: incidence of symptomatic and asymptomatic infections. J Infect Dis 2008; 197: 382–389.

Turchet P, Laurenzano M, Auboiron S, Antoine JM . Effect of fermented milk containing the probiotic Lactobacillus casei DN-114001 on winter infections in free-living elderly subjects: a randomised, controlled pilot study. J Nutr Health Aging 2003; 7: 75–77.

König R, Stertz S, Zhou Y, Inoue A, Hoffmann HH, Bhattacharyya S et al. Human host factors required for influenza virus replication. Nature 2010; 463: 813–817.

Miller EK, Williams JV, Gebretsadik T, Carroll KN, Dupont WD, Mohamed YA et al. Host and viral factors associated with severity of human rhinovirus-associated infant respiratory tract illness. J Allergy Clin Immunol 2011; 127: 883–891.

Kawase M, He F, Kubota A, Yoda K, Miyazawa K, Hiramatsu M . Heat-killed Lactobacillus gasseri TMC0356 protects mice against influenza virus infection by stimulating gut and respiratory immune responses. FEMS Immunol Med Microbiol 2012; 64: 280–288.

Villena J, Chiba E, Tomosada Y, Salva S, Marranzino G, Kitazawa H et al. Orally administered Lactobacillus rhamnosus modulates the respiratory immune response triggered by the viral pathogen-associated molecular pattern poly(I:C). BMC Immunol 2012; 13: 53.

Salva S, Villena J, Alvarez S . Immunomodulatory activity of Lactobacillus rhamnosus strains isolated from goat milk: impact on intestinal and respiratory infections. Int J Food Microbiol 2010; 30: 82–89.

Gill HS, Rutherfurd KJ, Cross ML . Dietary probiotic supplementation enhances natural killer cell activity in the elderly: an investigation of age-related immunological changes. J Clin Immunol 2001; 21: 264–271.

Sheih YH, Chiang BL, Wang LH, Liao CK, Gill HS . Systemic immunity-enhancing effects in healthy subjects following dietary consumption of the lactic acid bacterium Lactobacillus rhamnosus HN001. J Am Coll Nutr 2001; 20: 149–156.

Pulendran B, Maddur MS . Innate immune sensing and response to influenza. Curr Top Microbiol Immunol 2015; 386: 23–71.

Merenstein D, Murphy M, Fokar A, Hernandez RK, Park H, Nsouli H et al. Use of a fermented dairy probiotic drink containing Lactobacillus casei (DN-114 001) to decrease the rate of illness in kids: the DRINK study. A patient-oriented, double-blind, cluster-randomized, placebo-controlled, clinical trial. Eur J Clin Nutr 2010; 64: 669–677.

West NP, Pyne DB, Cripps AW, Hopkins WG, Eskesen DC, Jairath A et al. Lactobacillus fermentum (PCC®) supplementation and gastrointestinal and respiratory-tract illness symptoms: a randomised control trial in athletes. Nutr J 2011; 10: 30.
Acknowledgements
We thank the family and pediatric physicians who helped to recruit children into this study, and the caregivers and children for taking part. The study was supported as a part of the program 'Optimization of the prognosis, prophylaxis and treatment of the most common pediatric illnesses and functional disorders' approved by the Health Ministry of Ukraine (0113U000209).
Ethics declarations
Competing interests
The authors declare no conflict of interest.
About this article
Cite this article
Gerasimov, S., Ivantsiv, V., Bobryk, L. et al. Role of short-term use of L. acidophilus DDS-1 and B. lactis UABLA-12 in acute respiratory infections in children: a randomized controlled trial. Eur J Clin Nutr 70, 463–469 (2016). https://doi.org/10.1038/ejcn.2015.171
Received:

Revised:

Accepted:

Published:

Issue Date:

DOI: https://doi.org/10.1038/ejcn.2015.171
Further reading
Sinjini Patra
Shivam Saxena
Anasuya Roychowdhury

Probiotics and Antimicrobial Proteins (2021)