Abstract
Objectives:
To compare the intake of total sugars, foods and drinks rich in added sugar, and energy in children on weekdays (Monday–Thursday), Fridays and weekends.
Methods:
Dietary intake (g, kJ, energy %) was assessed using a computerized 24-h recall method in a sample of 2- to 9-year-old children from Belgium, Cyprus, Estonia, Germany, Hungary, Italy, Spain and Sweden who were participating in the IDEFICS baseline study (2007–2008). Analyses were performed in 9497 children by selecting one 24-h recall per child (for comparison of weekdays vs weekends, and Fridays vs weekdays and weekends). Selected stratified analyses were performed by country and age group.
Results:
Intake of total sugars exceeded 20 energy % in all countries but one. In the non-stratified analyses, the intakes of total sugars and foods and drinks rich in added sugar were found to be higher on weekends compared with weekdays (both P<0.001), and intakes on Fridays were a mix between intakes on weekdays and weekends. Energy intake did not differ between weekdays and weekends. Results were somewhat heterogeneous, both across countries and age groups.
Conclusions:
High intake of sugar remains an important nutritional problem in children of many European countries. Interventions aiming to prevent this diet pattern may optimize their impact by targeting dietary habits on Fridays and weekends. Furthermore, when conducting dietary assessment in children, data from weekends and Fridays in combination with a selection of Mondays to Thursdays are needed to capture habitual sugar intake. Age and dietary cultures should also be considered in dietary intervention and assessment as effect modifications were seen for both age and country.
Relevant articles
Open Access articles citing this article.
Marieke De Craemer

,

Vicky Van Stappen

…

Greet Cardon

BMC Endocrine Disorders Open Access 24 August 2022

Vicky Van Stappen

,

Greet Cardon

…

Ruben Brondeel

International Journal of Behavioral Nutrition and Physical Activity Open Access 01 July 2021

Keith Brazendale

,

Michael W. Beets

…

Paul T. von Hippel

International Journal of Behavioral Nutrition and Physical Activity Open Access 26 July 2017
Access options
Subscribe to Journal
Get full journal access for 1 year
$119.00
only $9.92 per issue
All prices are NET prices.
VAT will be added later in the checkout.
Tax calculation will be finalised during checkout.
Buy article
Get time limited or full article access on ReadCube.
$32.00
All prices are NET prices.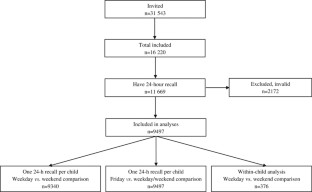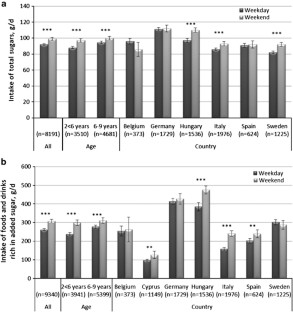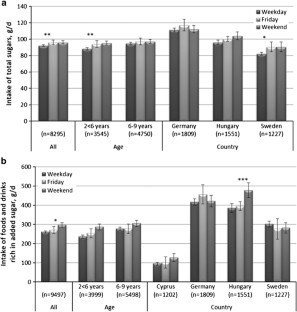 References
European Food Safety Authority (EFSA). Scientific Opinion on Dietary Reference Values for carbohydrates and dietary fibre. EFSA Journal 2010; 8: 1462.

Tinanoff N, Palmer CA . Dietary determinants of dental caries and dietary recommendations for preschool children. J Public Health Dent 2000; 60: 197–206.

Alexy U, Sichert-Hellert W, Kersting M . Associations between intake of added sugars and intakes of nutrients and food groups in the diets of German children and adolescents. Br J Nutr 2003; 90: 441–447.

Clabaugh K, Neuberger GB . Research evidence for reducing sugar sweetened beverages in children. Issues Compr Pediatr Nurs 2011; 34: 119–130.

Te Morenga L, Mallard S, Mann J . Dietary sugars and body weight: systematic review and meta-analyses of randomised controlled trials and cohort studies. BMJ 2013; 346: e7492.

Park MH, Falconer C, Viner RM, Kinra S . The impact of childhood obesity on morbidity and mortality in adulthood: a systematic review. Obes Rev 2012; 13: 985–1000.

Welsh JA, Sharma A, Cunningham SA, Vos MB . Consumption of added sugars and indicators of cardiovascular disease risk among US adolescents. Circulation 2011; 123: 249–257.

Lehtisalo J, Erkkola M, Tapanainen H, Kronberg-Kippilä C, Veijola R, Knip M et al. Food consumption and nutrient intake in day care and at home in 3-year-old Finnish children. Public Health Nutr 2010; 13: 957–964.

Garemo M, Lenner RA, Strandvik B . Swedish pre-school children eat too much junk food and sucrose. Acta Paediatr 2007; 96: 266–272.

Haines PS, Hama MY, Guilkey DK, Popkin BM . Weekend eating in the United States is linked with greater energy, fat, and alcohol intake. Obes Res 2003; 11: 945–949.

Frost Andersen L, Överby N, Lillegaard IT . Er det forskjell på hva barn spiser på hverdager og i helgen? Barn 2003; 2–3: 89–98.

Sepp H, Lennernäs M, Pettersson R, Abrahamsson L . Children's nutrient intake at preschool and at home. Acta Paediatr 2001; 90: 483–491.

Hart CN, Raynor HA, Osterholt KM, Jelalian E, Wing RR . Eating and activity habits of overweight children on weekdays and weekends. Int J Pediatr Obes 2011; 6: 467–472.

Rothausen BW, Matthiessen J, Hoppe C, Brockhoff PB, Andersen LF, Tetens I . Differences in Danish children's diet quality on weekdays v. weekend days. Public Health Nutr 2012; 15: 1653–1660.

Ahrens W, Bammann K, Siani A, Buchecker K, De Henauw S, Iacoviello L et al. The IDEFICS cohort: design, characteristics and participation in the baseline survey. Int J Obes (Lond) 2011; 35: S3–15.

Ahrens W, Bammann K, de Henauw S, Halford J, Palou A, Pigeot I et al. Understanding and preventing childhood obesity and related disorders–IDEFICS: a European multilevel epidemiological approach. Nutr Metab Cardiovasc Dis 2006; 16: 302–308.

Regber S, Novak M, Eiben G, Lissner L, Hense S, Sandström TZ et al. Assessment of selection bias in a health survey of children and families – the IDEFICS Sweden-study. BMC Public Health 2013; 13: 418.

Vereecken CA, Covents M, Matthys C, Maes L . Young adolescents' nutrition assessment on computer (YANA-C). Eur J Clin Nutr 2005; 59: 658–667.

Hebestreit A, Reinecke A, Huybrechts I . Computer based 24-hour dietary recall: the SACINA program. In: Bamman K, Ahrens W (eds) Measurement Tools for a Health Survey on Nutrition, Physical Activity and Lifestyle in Children: the European IDEFICS Study. Springer: New York, 2013.

Börnhorst C, Huybrechts I, Ahrens W, Eiben G, Michels N, Pala V et al. Prevalence and determinants of misreporting among European children in proxy-reported 24 h dietary recalls. Br J Nutr 2013; 109: 1257–1265.

UNESCO. International Standard Classification for Education ISCED 1997. UNESCO Institute for Statistics: Montreal, 2006.

Cole TJ, Bellizzi MC, Flegal KM, Dietz WH . Establishing a standard definition for child overweight and obesity worldwide: International survey. Br Med J 2000; 320: 1240–1243.

Yamaguchi A, Tanaka N, Eguchi Y, Kuno K, Wakikawa N, Sarukura N et al. Study on the necessary survey days for energy intake in school children assessed by 7 day survey. J Med Invest 2012; 59: 111–115.

Macdiarmid J, Loe J, Craig LC, Masson LF, Holmes B, McNeill G . Meal and snacking patterns of school-aged children in Scotland. Eur J Clin Nutr 2009; 63: 1297–1304.

Rothman KJ Greenland S Lash TL . Modern Epidemilogy. 3d edn. Lippincott Williams & Wilkins: Philadelphia, 2008.

Gibson RS . Principles of Nutritional Assessment. 2nd edn. Oxford University Press: New York, 2005.

Nishida C, Uauy R, Kumanyika S, Shetty P . The joint WHO/FAO expert consultation on diet, nutrition and the prevention of chronic diseases: process, product and policy implications. Public Health Nutr 2004; 7: 245–250.

Enghardt Barbieri H Pearson M Becker W . Riksmaten—barn 2003. Livsmedels- och näringsintag bland barn i Sverige. Livsmedelsverket: Uppsala, 2006.
Acknowledgements
The data have been made available for this publication by the IDEFICS Consortium (http://www.idefics.eu). Views expressed in this paper are those of the authors and may not reflect those of the IDEFICS Parties. The IDEFICS Study was funded by the European Community within the Sixth RTD Framework Programme Contract No. 016181 (FOOD). In addition, we acknowledge the FORTE Center EpiLife, and the research programs EpiLife Child and EpiLife Teens.
Ethics declarations
Competing interests
The authors declare no conflict of interest.
About this article
Cite this article
Svensson, Å., Larsson, C., Eiben, G. et al. European children's sugar intake on weekdays versus weekends: the IDEFICS study. Eur J Clin Nutr 68, 822–828 (2014). https://doi.org/10.1038/ejcn.2014.87
Received:

Revised:

Accepted:

Published:

Issue Date:

DOI: https://doi.org/10.1038/ejcn.2014.87