Abstract
Background/Objective:
Dairy protein seems to reduce appetite by increasing satiety and delaying the return of hunger and subsequently lowering energy intake compared with fat or carbohydrate. The aim of this study was to compare the effect of whey with that of casein proteins on satiety in overweight/obese individuals.
Methods/Subjects:
This was a randomized, parallel-design 12-week-long study. Seventy subjects with a body mass index between 25 and 40 kg/m2 and aged 18–65 years were randomized into one of three supplement groups: glucose control (n=25), casein (n=20) or whey (n=25) protein. Before commencing the study, at weeks 6 and 12 of the treatment, a Visual Analogue Scale (VAS) was used to measure subjective sensations of appetite before lunch and before dinner.
Results:
Rating for VAS (mm) at 6 and 12 weeks showed significantly higher satiety in the whey group compared with the casein (P=0.017 and P=0.025, respectively) or control (P=0.024 and P=0.032, respectively) groups when measured before lunch. Similarly, at 6 and 12 weeks, the score for fullness was also significantly higher in the whey group compared with both casein (P=0.038 and P=0.022, respectively) and control (P=0.020 and P=0.030, respectively) groups. However, these short-term effects on satiety from dairy whey proteins did not have any long-term effects on energy intake or body weight over 12 weeks compared with casein.
Conclusions:
Collectively, whey protein supplementation appears to have a positive and acute postprandial effect on satiety and fullness compared with casein and carbohydrate supplementation in overweight and obese individuals.
Relevant articles
Open Access articles citing this article.
Mathilde Simonson

,

Yves Boirie

&

Christelle Guillet

Reviews in Endocrine and Metabolic Disorders Open Access 21 August 2020

Dean M. Allerton

,

Daniel J. West

&

Emma J. Stevenson

European Journal of Nutrition Open Access 22 June 2020

Nutrition & Metabolism Open Access 29 September 2016
Access options
Subscribe to Journal
Get full journal access for 1 year
$119.00
only $9.92 per issue
All prices are NET prices.
VAT will be added later in the checkout.
Tax calculation will be finalised during checkout.
Buy article
Get time limited or full article access on ReadCube.
$32.00
All prices are NET prices.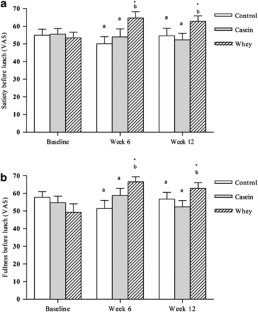 References
Latner JD, Schwartz M . The effects of a high-carbohydrate, high-protein or balanced lunch upon later food intake and hunger ratings. Appetite 1999; 33 (: 119–128.

Marmonier C, Chapelot D, Louis-Sylvestre J . Effects of macronutrient content and energy density of snacks consumed in a satiety state on the onset of the next meal. Appetite 2000; 34:( 161–168.

Anderson GH, Moore SE . Dietary proteins in the regulation of food intake and body weight in humans. J Nutr 2004; 134 (: 974S–979S.

Jequier E . Pathways to obesity. Int J Obes Relat Metab Disord 2002; 26 (Suppl 2): S12–S17.

Paddon-Jones D, Westman E, Mattes RD, Wolfe RR, Astrup A, Westerterp-Plantenga M . Protein, weight management, and satiety. Am J Clin Nutr 2008; 87: 1558S–1561S.

Weigle DS, Breen PA, Matthys CC, Callahan HS, Meeuws KE, Burden VR et al. A high-protein diet induces sustained reductions in appetite, ad libitum caloric intake, and body weight despite compensatory changes in diurnal plasma leptin and ghrelin concentrations. Am J Clin Nutr 2005; 82: 41–48.

Layman DK, Shiue H, Sather C, Erickson DJ, Baum J . Increased dietary protein modifies glucose and insulin homeostasis in adult women during weight loss. J Nutr 2003; 133: 405–410.

Krebs M, Brehm A, Krssak M, Anderwald C, Bernroider E, Nowotny P et al. Direct and indirect effects of amino acids on hepatic glucose metabolism in humans. Diabetologia 2003; 46: 917–925.

Hall WL, Millward DJ, Long SJ, Morgan LM . Casein and whey exert different effects on plasma amino acid profiles, gastrointestinal hormone secretion and appetite. Br J Nutr 2003; 89: 239–248.

Aimutis WR . Bioactive properties of milk proteins with particular focus on anticariogenesis. J Nutr 2004; 134: 989S–995S.

Boirie Y, Dangin M, Gachon P, Vasson MP, Maubois JL, Beaufrere B . Slow and fast dietary proteins differently modulate postprandial protein accretion. Proc Natl Acad Sci USA 1997; 94: 14930–14935.

Belobrajdic DP, McIntosh GH, Owens JA . A high-whey-protein diet reduces body weight gain and alters insulin sensitivity relative to red meat in wistar rats. J Nutr 2004; 134: 1454–1458.

Frid AH, Nilsson M, Holst JJ, Bjorck IM . Effect of whey on blood glucose and insulin responses to composite breakfast and lunch meals in type 2 diabetic subjects. Am J Clin Nutr 2005; 82: 69–75.

Nilsson M, Holst JJ, Bjorck IM . Metabolic effects of amino acid mixtures and whey protein in healthy subjects: studies using glucose-equivalent drinks. Am J Clin Nutr 2007; 85: 996–1004.

Nilsson M, Stenberg M, Frid AH, Holst JJ, Bjorck IM . Glycemia and insulinemia in healthy subjects after lactose-equivalent meals of milk and other food proteins: the role of plasma amino acids and incretins. Am J Clin Nutr 2004; 80: 1246–1253.

Ostman EM, Liljeberg Elmstahl HG, Bjorck IM . Inconsistency between glycemic and insulinemic responses to regular and fermented milk products. Am J Clin Nutr 2001; 74: 96–100.

Woods SC . Gastrointestinal satiety signals I. An overview of gastrointestinal signals that influence food intake. Am J Physiol Gastrointest Liver Physiol 2004; 286: G7–13.

Barkeling B, Rossner S, Sjoberg A . Methodological studies on single meal food intake characteristics in normal weight and obese men and women. Int J Obes Relat Metab Disord 1995; 19: 284–290.

Pal S, Radavelli-Bagatini S . The effects of whey protein on cardiometabolic risk factors. Obes Rev 2012; 14: 324–343.

Shiiya T, Nakazato M, Mizuta M, Date Y, Mondal MS, Tanaka M et al. Plasma ghrelin levels in lean and obese humans and the effect of glucose on ghrelin secretion. J Clin Endocrinol Metab 2002; 87: 240–244.

Bertenshaw EJ, Lluch A, Yeomans MR . Dose-dependent effects of beverage protein content upon short-term intake. Appetite 2009; 52: 580–587.

Halton TL, Hu FB . The effects of high protein diets on thermogenesis, satiety and weight loss: a critical review. J Am Coll Nutr 2004; 23: 373–385.

Bowen J, Noakes M, Clifton PM . Appetite regulatory hormone responses to various dietary proteins differ by body mass index status despite similar reductions in ad libitum energy intake. J Clin Endocrinol Metab 2006; 91: 2913–2919.

Bowen J, Noakes M, Clifton PM . Appetite hormones and energy intake in obese men after consumption of fructose, glucose and whey protein beverages. Int J Obes (Lond) 2007; 31: 1696–1703.

Bowen J, Noakes M, Trenerry C, Clifton PM . Energy intake, ghrelin, and cholecystokinin after different carbohydrate and protein preloads in overweight men. J Clin Endocrinol Metab 2006; 91: 1477–1483.

NHMRC . Clinical Practice Guidelines for the Management of Overweight and Obesity in Adults. National Health and Medical Research Council: Australia, 2003. http://consultations.nhmrc.gov.au/public_consultations/obesity-guidelines.

Pal S, Ellis V . The chronic effects of whey proteins on blood pressure, vascular function, and inflammatory markers in overweight individuals. Obesity (Silver Spring) 2010; 18: 1354–1359.

Pal S, Ellis V, Dhaliwal S . Effects of whey protein isolate on body composition, lipids, insulin and glucose in overweight and obese individuals. Br J Nutr 2010; 104: 716–723.

Pal S, Ellis V . The acute effects of four protein meals on insulin, glucose, appetite and energy intake in lean men. Br J Nutr 2010; 104: 1241–1248.

Flint A, Raben A, Blundell JE, Astrup A . Reproducibility, power and validity of visual analogue scales in assessment of appetite sensations in single test meal studies. Int J Obes Relat Metab Disord 2000; 24: 38–48.

Kauffman AS, Gottsch ML, Roa J, Byquist AC, Crown A, Clifton DK et al. Sexual differentiation of Kiss1 gene expression in the brain of the rat. Endocrinology 2007; 148: 1774–1783.

Anderson GH, Tecimer SN, Shah D, Zafar TA . Protein source, quantity, and time of consumption determine the effect of proteins on short-term food intake in young men. J Nutr 2004; 134: 3011–3015.

Veldhorst MA, Nieuwenhuizen AG, Hochstenbach-Waelen A, Westerterp KR, Engelen MP, Brummer RJ et al. Comparison of the effects of a high- and normal-casein breakfast on satiety, 'satiety' hormones, plasma amino acids and subsequent energy intake. Br J Nutr 2009; 101: 295–303.

Westerterp-Plantenga MS, Smeets A, Lejeune MP . Sensory and gastrointestinal satiety effects of capsaicin on food intake. Int J Obes (Lond) 2005; 29: 682–688.

Chungchunlam SM, Moughan PJ, Henare SJ, Ganesh S . Effect of time of consumption of preloads on measures of satiety in healthy normal weight women. Appetite 2012; 59: 281–288.

Harvey-Berino J, Gold BC, Lauber R, Starinski A . The impact of calcium and dairy product consumption on weight loss. Obes Res 2005; 13: 1720–1726.

Eisenstein J, Roberts SB, Dallal G, Saltzman E . High-protein weight-loss diets: are they safe and do they work? A review of the experimental and epidemiologic data. Nutr Rev 2002; 60 (7 Pt 1): 189–200.

Stubbs RJ, van Wyk MC, Johnstone AM, Harbron CG . Breakfasts high in protein, fat or carbohydrate: effect on within-day appetite and energy balance. Eur J Clin Nutr 1996; 50: 409–417.

Dougkas A, Reynolds CK, Givens ID, Elwood PC, Minihane AM . Associations between dairy consumption and body weight: a review of the evidence and underlying mechanisms. Nutr Res Rev 2011; 24: 72–95.

Thompson WG, Rostad Holdman N, Janzow DJ, Slezak JM, Morris KL, Zemel MB . Effect of energy-reduced diets high in dairy products and fiber on weight loss in obese adults. Obes Res 2005; 13: 1344–1353.

Zemel MB, Richards J, Milstead A, Campbell P . Effects of calcium and dairy on body composition and weight loss in African-American adults. Obes Res 2005; 13: 1218–1225.

Zemel MB, Richards J, Mathis S, Milstead A, Gebhardt L, Silva E . Dairy augmentation of total and central fat loss in obese subjects. Int J Obes (Lond) 2005; 29: 391–397.

Bowen J, Noakes M, Clifton PM . A high dairy protein, high-calcium diet minimizes bone turnover in overweight adults during weight loss. J Nutr 2004; 134: 568–573.

Claessens M, van Baak MA, Monsheimer S, Saris WH . The effect of a low-fat, high-protein or high-carbohydrate ad libitum diet on weight loss maintenance and metabolic risk factors. Int J Obes (Lond) 2009; 33: 296–304.

Aldrich ND, Reicks MM, Sibley SD, Redmon JB, Thomas W, Raatz SK . Varying protein source and quantity do not significantly improve weight loss, fat loss, or satiety in reduced energy diets among midlife adults. Nutr Res 2011; 31: 104–112.

Yalcin AS . Emerging therapeutic potential of whey proteins and peptides. Curr Pharm Des 2006; 12: 1637–1643.

Dangin M, Boirie Y, Guillet C, Beaufrere B . Influence of the protein digestion rate on protein turnover in young and elderly subjects. J Nutr 2002; 132: 3228S–3233S.

Ballinger AB, Clark ML . L-phenylalanine releases cholecystokinin (CCK) and is associated with reduced food intake in humans: evidence for a physiological role of CCK in control of eating. Metabolism 1994; 43: 735–738.

Layman DK, Baum JI . Dietary protein impact on glycemic control during weight loss. J Nutr 2004; 134: 968S–973S.

Cummings DE, Overduin J . Gastrointestinal regulation of food intake. J Clin Invest 2007; 117: 13–23.

Lang V, Bellisle F, Alamowitch C, Craplet C, Bornet FR, Slama G et al. Varying the protein source in mixed meal modifies glucose, insulin and glucagon kinetics in healthy men, has weak effects on subjective satiety and fails to affect food intake. Eur J Clin Nutr 1999; 53: 959–965.

Badman MK, Flier JS . The gut and energy balance: visceral allies in the obesity wars. Science 2005; 307: 1909–1914.

Nilsson M, Elmstahl H, Bjorck I . Glucose and insulin responses to porridge and gruel meals intended for infants. Eur J Clin Nutr 2005; 59: 646–650.

Calbet JA, MacLean DA . Plasma glucagon and insulin responses depend on the rate of appearance of amino acids after ingestion of different protein solutions in humans. J Nutr 2002; 132: 2174–2182.

Gannon MC, Nuttall FQ, Grant CT, Ercan-Fang S, Ercan-Fang N . Stimulation of insulin secretion by fructose ingested with protein in people with untreated type 2 diabetes. Diabetes Care 1998; 21: 16–22.

Vilsboll T, Krarup T, Sonne J, Madsbad S, Volund A, Juul AG et al. Incretin secretion in relation to meal size and body weight in healthy subjects and people with type 1 and type 2 diabetes mellitus. J Clin Endocrinol Metab 2003; 88: 2706–2713.

Schoeller DA, Bandini LG, Dietz WH . Inaccuracies in self-reported intake identified by comparison with the doubly labelled water method. Can J Physiol Pharmacol 1990; 68: 941–949.

Black AE, Prentice AM, Goldberg GR, Jebb SA, Bingham SA, Livingstone MBE et al. Measurements of total energy expenditure provide insights into the validity of dietary measurements of energy intake. J Am Diet Assoc 1993; 93: 572–579.

Schoeller DA . Limitations in the assessment of dietary energy intake by self-report. Metabolism 1995; 44: 18–22.

McCrory MA, Hajduk CL, Roberts SB . Procedures for screening out inaccurate reports of dietary energy intake. Public Health Nutr 2002; 5: 873–882.

Huang TTK, Roberts SB, Howarth NC, McCrory MA . Effect of screening out implausible energy intake reports on relationships between diet and BMI. Obes Res 2005; 13: 1205–1217.

Ventura AK, Loken E, Mitchell DC, Smiciklas‐Wright H, Birch LL . Understanding Reporting Bias in the Dietary Recall Data of 11‐Year‐Old Girls. Obesity 2006; 14: 1073–1084.

Lanctot JQ, Klesges RC, Stockton MB, Klesges LM . Prevalence and characteristics of energy underreporting in African-American girls. Obesity 2008; 16: 1407–1412.
Acknowledgements
This trial was funded by the Dairy Australia.
Disclaimer
Dairy Australia has not participated in the study design, data collection and analysis or in the preparation of the manuscript and the decision to publish it.
Author contributions
SP conceived and designed the study, supervised the study and the statistical analysis, and mentored the script. SR-B had input into the writing and reviewing of the manuscript. VE coordinated the trial, conducted data collection and statistical analysis, and provided input in the manuscript.
Ethics declarations
Competing interests
The authors declare no conflict of interest.
About this article
Cite this article
Pal, S., Radavelli-Bagatini, S., Hagger, M. et al. Comparative effects of whey and casein proteins on satiety in overweight and obese individuals: a randomized controlled trial. Eur J Clin Nutr 68, 980–986 (2014). https://doi.org/10.1038/ejcn.2014.84
Received:

Revised:

Accepted:

Published:

Issue Date:

DOI: https://doi.org/10.1038/ejcn.2014.84