Abstract
Background/objectives:
Although fish consumption has inversely been associated with several metabolic abnormalities, limited and inconsistent data have reported the relationship between fish consumption and metabolic syndrome. The aim of this study was to identify the association between fish consumption and metabolic syndrome and its components.
Subjects/methods:
In a cross-sectional study conducted on 420 Iranian female adults, usual fish consumption was assessed using a dish-based semiquantitative food frequency questionnaire (FFQ). Fasting blood samples were taken for biochemical assessment. Anthropometric and blood pressure measurements were carried out according to standard protocols. Metabolic syndrome was defined based on the National Cholesterol Education Program Adult Treatment Panel III guidelines. Multivariate logistic regression adjusted for lifestyle and dietary variables was applied to assess fish–metabolic syndrome association.
Results:
The prevalence of metabolic syndrome was 8.2%. Mean daily intake of fish was 14.4 g per day. Individuals in the highest tertile of fish intake were 65% less likely to have the metabolic syndrome than those in the lowest tertile (odds ratio: 0.35; 95% confidence interval (CI): 0.14–0.88). Controlling for potential confounders and dietary variables strengthened this association (odds ratio: 0.05; 95% CI: 0.004–0.64). After adjustment for potential cofounders, high fish intake was inversely associated with hypertriglyceridemia (odds ratio: 0.11; 95% CI: 0.01–0.85), low high-density lipoprotein cholesterol (odds ratio: 0.57; 95% CI: 0.19–0.89) and elevated blood pressure (odds ratio: 0.23; 95% CI: 0.14–0.89).
Conclusions:
We found that increased fish intake was independently related to the lower odds of metabolic syndrome and its features. Further prospective investigations are warranted to confirm this association.
Relevant articles
Open Access articles citing this article.
Mohammad Rashidmayvan

,

Reza Sahebi

…

Majid Ghayour-Mobarhan

Diabetology & Metabolic Syndrome Open Access 18 January 2023

Somaye Rigi

,

Seyed Mohammad Mousavi

…

Ahmad Esmaillzadeh

Scientific Reports Open Access 09 February 2021

Aslaug Drotningsvik

,

Åge Oterhals

…

Oddrun Anita Gudbrandsen

European Journal of Nutrition Open Access 14 May 2020
Access options
Subscribe to this journal
Receive 12 print issues and online access
$259.00 per year
only $21.58 per issue
Rent or buy this article
Prices vary by article type
from$1.95
to$39.95
Prices may be subject to local taxes which are calculated during checkout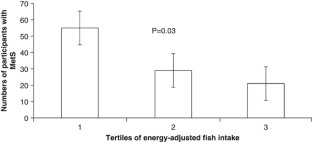 References
Hu G, Qiao Q, Tuomilehto J, Balkau B, Borch-Johnsen K, Pyorala K, DECODE Study Group. Prevalence of the metabolic syndrome and its relation to all-cause and cardiovascular mortality in nondiabetic European men and women. Arch Intern Med 2004; 164: 1066–1076.

Scuteri A, Najjar SS, Morrell CH, Lakatta EG . Cardiovascular Health Study. The metabolic syndrome in older individuals: prevalence and prediction of cardiovascular events: the Cardiovascular Health Study. Diabetes Care 2005; 28: 882–887.

Lorenzo C, Okoloise M, Williams K, Stern MP, Haffner SM . The metabolic syndrome as predictor of type 2 diabetes: the San Antonio Heart Study. Diabetes Care 2003; 26: 3153–3159.

Esmaillzadeh A, Azadbakht L . Dietary energy density and the metabolic syndrome among Iranian women. Eur J Clin Nutr 2011; 65: 598–605.

Lim S, Shin H, Song JH, Kwak SH, Kang SM, Won Yoon J et al. Increasing Prevalence of Metabolic Syndrome in Korea The Korean National Health and Nutrition Examination Survey for 1998–2007. Diabetes Care 2011; 34: 1323–1328.

Mozumdar A, Liguori G . Persistent increase of prevalence of metabolic syndrome among US adults: NHANES III to NHANES 1999–2006. Diabetes Care 2011; 34: 216–219.

Hillier TA, Fagot-Campagna A, Eschwege E, Vol S, Cailleau M, Balkau B . Weight change and changes in the metabolic syndrome as the French population moves towards overweight: the D.E.S.I.R. cohort. Int J Epidemiol 2006; 35: 190–196.

Delavari A, Forouzanfar MH, Alikhani S, Sharian A, Kelishadi R . First nationwide study of the prevalence of the metabolic syndrome and optimal cutoff points of waist circumference in the Middle East: The National Survey of Risk Factors for Noncommunicable Diseases of Iran. Diabetes Care 2009; 32: 1092–1097.

Hollenberg NK . Genetic versus environmental etiology of the metabolic syndrome among male and female twins. Curr Hypertens Rep 2002; 4: 178.

Esmaillzadeh A, Azadbakht L . Consumption of hydrogenated versus nonhydrogenated vegetable oils and risk of insulin resistance and the metabolic syndrome among Iranian adult women. Diabetes Care 2008; 31: 223–226.

Azadbakht L, Esmaillzadeh A . Red meat intake is associated with metabolic syndrome and the plasma C-reactive protein concentration in women. J Nutr 2009; 139: 335–339.

Esmaillzadeh A, Mirmiran P, Azizi F . Whole-grain consumption and the metabolic syndrome: a favorable association in Tehranian adults. Eur J Clin Nutr 2004; 59: 353–362.

He K, Liu K, Daviglus ML, Morris SJ, Loria CM, Van Horn L et al. Magnesium intake and incidence of metabolic syndrome among young adults. Circulation 2006; 113: 1675–1682.

Carlson JJ, Eisenmann JC, Norman GJ, Ortiz KA, Young PC . Dietary fiber and nutrient density are inversely associated with the metabolic syndrome in US adolescents. J Am Diet Assoc 2011; 111: 1688–1695.

McKeown NM, Meigs JB, Liu S, Saltzman E, Wilson PWF, Jacques PF . Carbohydrate nutrition, insulin resistance, and the prevalence of the metabolic syndrome in the Framingham Offspring Cohort. Diabetes Care 2004; 27: 538–546.

Esmaillzadeh A, Kimiagar M, Mehrabi Y, Azadbakht L, Hu FB, Willett WC . Dietary patterns, insulin resistance, and prevalence of the metabolic syndrome in women. Am J Clin Nutr 2007; 85: 910–918.

Amini M, Esmaillzadeh A, Shafaeizadeh S, Behrooz J, Zare M . Relationship between major dietary patterns and metabolic syndrome among individuals with impaired glucose tolerance. Nutrition 2010; 26: 986–992.

Denova‐Gutiérrez E, Castañón S, Talavera JO, Gallegos‐Carrillo K, Flores M, Dosamantes‐Carrasco D et al. Dietary patterns are associated with metabolic syndrome in an urban Mexican population. J Nutr 2010; 140: 1855–1863.

Panagiotakos DB, Pitsavos C, Skoumas Y, Stefanadis C . The association between food patterns and the metabolic syndrome using principal components analysis: The ATTICA Study. J Am Diet Assoc 2007; 107: 979–987.

Ebbesson SOE, Tejero ME, Nobmann ED, Lopez‐Alvarenga JC, Ebbesson L, Romenesko T et al. Fatty acid consumption and metabolic syndrome components: the GOCADAN study. J Cardiometab Syndr 2007; 2: 244–249.

Xun P, Hou N, Daviglus M, Liu K, Morris J, Shikany J et al. Fish oil, selenium and mercury in relation to incidence of hypertension: a 20‐year follow‐up study. J Intern Med 2011; 270: 175–186.

Noel SE, Newby P, Ordovas JM, Tucker KL . Adherence to an (n−3) fatty acid/fish intake pattern is inversely associated with metabolic syndrome among Puerto Rican adults in the Greater Boston area. J Nutr 2010; 140: 1846–1854.

Liu S, Song Y, Ford ES, Manson JAE, Buring JE, Ridker PM . Dietary calcium, vitamin D, and the prevalence of metabolic syndrome in middle-aged and older US women. Diabetes Care 2005; 28: 2926–2932.

Wang L, Manson JAE, Buring JE, Lee IM, Sesso HD . Dietary intake of dairy products, calcium, and vitamin D and the risk of hypertension in middle-aged and older women. Hypertension 2008; 51: 1073–1079.

Pittas AG, Harris SS, Stark PC, Dawson-Hughes B . The effects of calcium and vitamin D supplementation on blood glucose and markers of inflammation in nondiabetic adults. Diabetes Care 2007; 30: 980–986.

Ait-Yahia D, Madani S, Savelli JL, Prost J, Bouchenak M, Belleville J . Dietary fish protein lowers blood pressure and alters tissue polyunsaturated fatty acid composition in spontaneously hypertensive rats. Nutrition 2003; 19: 342–346.

Hu FB, Bronner L, Willett WC, Stampfer MJ, Rexrode KM, Albert CM et al. Fish and omega-3 fatty acid intake and risk of coronary heart disease in women. JAMA 2002; 287: 1815–1821.

Erkkilä AT, Lichtenstein AH, Mozaffarian D, Herrington DM . Fish intake is associated with a reduced progression of coronary artery atherosclerosis in postmenopausal women with coronary artery disease. Am J Clin Nutr 2004; 80: 32.

Nanri A, Mizoue T, Noda M, Takahashi Y, Matsushita Y, Poudel-Tandukar K et al. Fish intake and type 2 diabetes in Japanese men and women: the Japan Public Health Center-based Prospective Study. Am J Clin Nutr 2011; 94: 884–891.

He K, Rimm EB, Merchant A, Rosner BA, Stampfer MJ, Willett WC et al. Fish consumption and risk of stroke in men. JAMA 2002; 288: 3130–3136.

Ruidavets JB, Bongard V, Dallongeville J, Arveiler D, Ducimetière P, Perret B et al. High consumptions of grain, fish, dairy products and combinations of these are associated with a low prevalence of metabolic syndrome. J Epidemiol Community Health 2007; 61: 810–817.

Baik I, Abbott RD, Curb JD, Shin C . Intake of fish and n−3 fatty acids and future risk of metabolic syndrome. J Am Diet Assoc 2010; 110: 1018–1026.

Kouki R, Schwab U, Hassinen M, Komulainen P, Heikkilä H, Lakka T et al. Food consumption, nutrient intake and the risk of having metabolic syndrome: the DR's EXTRA Study. Eur J Clin Nutr 2010; 65: 368–377.

Freire RD, Cardoso MA, Gimeno SGA . Ferreira SRG. Dietary fat is associated with metabolic syndrome in Japanese Brazilians. Diabetes Care 2005; 28: 1779–1785.

Mennen LI, Lafay L, Feskens EJM, Novak M, Lépinay P, Balkau B . Possible protective effect of bread and dairy products on the risk of the metabolic syndrome. Nutr Res 2000; 20: 335–347.

Esmaillzadeh A, Azadbakht L . Major dietary patterns in relation to general obesity and central adiposity among Iranian women. J Nutr 2008; 138: 358–363.

Esmaillzadeh A, Azadbakht L . Legume consumption is inversely associated with serum concentrations of adhesion molecules and inflammatory biomarkers among Iranian women. J Nutr 2012; 142: 334–339.

Kimiagar S, Ghaffarpour M, Houshiar-Rad A, Hormozdyari H, Zellipour L . Food consumption pattern in the Islamic Republic of Iran and its relation to coronary heart disease. Eastern Mediterranean Health J 1998; 4: 539–547.

Keshteli AH, Esmaillzadeh A, Rajaie S, Askari G, Feinle-Bisset C, Adibi P . A dish-based semi-quantitative food frequency questionnaire for assessment of dietary intakes in epidemiologic studies in Iran: design and development. Int J Prev Med 2014; 5: 29–36.

Ghaffarpour M, Houshiar-Rad A, Kianfar H . The Manual for Household Measures, Cooking Yields Factors and Edible Portion of Foods. Keshaverzi Presls: Tehran, Iran, 1999, pp 1–46. (in Farsi).

Ainsworth BE, Haskell WL, Whitt MC, Irwin ML, Swartz AM, Strath SJ et al. Compendium of physical activities: an update of activity codes and MET intensities. Med Sci Sports Exerc 2000; 32 (Suppl), S498–S504.

Alberti K, Eckel RH, Grundy SM, Zimmet PZ, Cleeman JI, Donato KA et al. Harmonizing the metabolic syndrome: a joint interim statement of the International Diabetes Federation Task Force on Epidemiology and Prevention; National Heart, Lung, and Blood Institute; American Heart Association; World Heart Federation; International Atherosclerosis Society; and International Association for the Study of Obesity. Circulation 2009; 120: 1640–1645.

Shabnam AA, Homa K, Reza MT, Bagher L, Hossein FM, Hamidreza A . Cut-off points of waist circumference and body mass index for detecting diabetes, hypercholesterolemia and hypertension according to National Non-Communicable Disease Risk Factors Surveillance in Iran. Arch Med Sci 2012; 8: 614–621.

Davidson MH . Mechanisms for the hypotriglyceridemic effect of marine omega-3 fatty acids. Am J Cardiol 2006; 98: 27–33.

Harris WS, Bulchandani D . Why do omega-3 fatty acids lower serum triglycerides? Curr Opin Lipidol 2006; 17: 387–393.

Yoshikawa T, Shimano H, Yahagi N, Ide T, Amemiya-Kudo M, Matsuzaka T et al. Polyunsaturated fatty acids suppress sterol regulatory element-binding protein 1c promoter activity by inhibition of liver X receptor (LXR) binding to LXR response elements. J Biol Chem 2002; 277: 1705–1711.

Kim HJ, Takahashi M, Ezaki O . Fish oil feeding decreases mature sterol regulatory element-binding protein 1 (SREBP-1) by downregulation of SREBP-1c mRNA in mouse liver. J Biol Chem 1999; 274: 25892–25898.

Park Y, Harris WS . Omega-3 fatty acid supplementation accelerates chylomicron triglyceride clearance. J Lipid Res 2003; 44: 455–463.

Khan S, Minihane AM, Talmud PJ, Wright JW, Murphy MC, Williams CM et al. Dietary long-chain n−3 PUFAs increase LPL gene expression in adipose tissue of subjects with an atherogenic lipoprotein phenotype. J Lipid Res 2002; 43: 979–985.

Mori TA, Watts GF, Burke V, Hilme E, Puddey IB, Beilin LJ . Differential effects of eicosapentaenoic acid and docosahexaenoic acid on vascular reactivity of the forearm microcirculation in hyperlipidemic, overweight men. Circulation 2000; 102: 1264–1269.

Nestel P, Shige H, Pomeroy S, Cehun M, Abbey M, Raederstorff D . The n−3 fatty acids eicosapentaenoic acid and docosahexaenoic acid increase systemic arterial compliance in humans. Am J Clin Nutr 2002; 76: 326–330.

Das U . Long-chain polyunsaturated fatty acids interact with nitric oxide, superoxide anion, and transforming growth factor-β to prevent human essential hypertension. Eur J Clin Nutr 2004; 58: 195–203.

Engler MM, Engler MB, Pierson DM, Molteni LB, Molteni A . Effects of docosahexaenoic acid on vascular pathology and reactivity in hypertension. Exp Biol Med (Maywood) 2003; 228: 299–307.

Mozaffarian D . Fish, n−3 fatty acids, and cardiovascular haemodynamics. J Cardiovasc Med 2007; 8: S23–S26.
Ethics declarations
Competing interests
The authors declare no conflict of interest
About this article
Cite this article
Zaribaf, F., Falahi, E., Barak, F. et al. Fish consumption is inversely associated with the metabolic syndrome. Eur J Clin Nutr 68, 474–480 (2014). https://doi.org/10.1038/ejcn.2014.5
Received:

Revised:

Accepted:

Published:

Issue Date:

DOI: https://doi.org/10.1038/ejcn.2014.5
Keywords
fish intake

metabolic syndrome

cardiovascular risk factors

females

cross-sectional