Abstract
C-reactive protein (CRP), a marker of chronic inflammation, has a major role in the etiology of chronic disease. Vitamin E may have anti-inflammatory effects. However, there is no consensus on the effects of vitamin E supplementation on CRP levels in clinical trials. The aim of this study was to systematically review randomized controlled trials (RCTs) that report on the effects of vitamin E supplementation (α- and γ-tocopherols) on CRP levels. A systematic search of RCTs was conducted on Medline and EMBASE through PubMed, Scopus, Ovid and Science Direct, and completed by a manual review of the literature up to May 2014. Pooled effects were estimated by using random-effects models and heterogeneity was assessed by Cochran's Q and I2 tests. Subgroup analyses and meta-regression analyses were also performed according to intervention duration, dose of supplementation and baseline level of CRP. Of 4734 potentially relevant studies, only 12 trials met the inclusion criteria with 246 participants in the intervention arms and 249 participants in control arms. Pooled analysis showed a significant reduction in CRP levels of 0.62 mg/l (95% confidence interval=−0.92, −0.31; P<0.001) in vitamin E-treated individuals, with the evidence of heterogeneity across studies. This significant effect was maintained in all subgroups, although the univariate meta-regression analysis showed that the vitamin E supplementation dose, baseline level of CRP and duration of intervention were not the sources of the observed heterogeneity. The results of this meta-analysis suggest that supplementation with vitamin E in the form of either α-tocopherol or γ-tocopherol would reduce serum CRP levels.
Relevant articles
Open Access articles citing this article.
Omid Asbaghi

,

Mehdi Sadeghian

…

Omid Sadeghi

Scientific Reports Open Access 14 October 2020

Maryam Akbari

,

Vahidreza Ostadmohammadi

…

Zatollah Asemi

Nutrition & Metabolism Open Access 05 June 2018
Access options
Subscribe to Journal
Get full journal access for 1 year
$119.00
only $9.92 per issue
All prices are NET prices.
VAT will be added later in the checkout.
Tax calculation will be finalised during checkout.
Buy article
Get time limited or full article access on ReadCube.
$32.00
All prices are NET prices.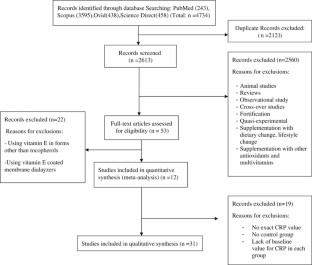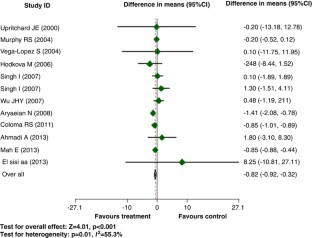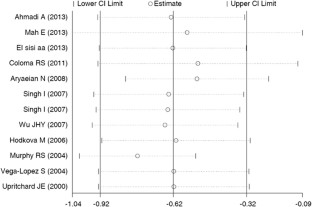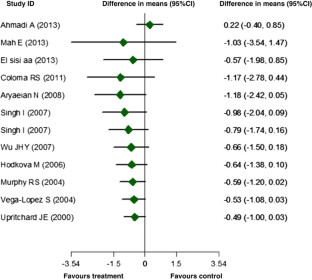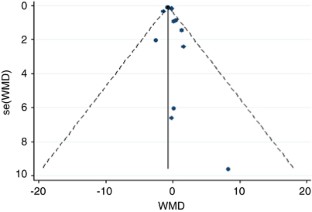 References
Tonelli M, Sacks F, Pfeffer M, Jhangri GS, Curhan G . Biomarkers of inflammation and progression of chronic kidney disease. Kidney Int 2005; 68: 237–245.

Witztum JL, Steinberg D . Role of oxidized low density lipoprotein in atherogenesis. J Clin Invest 1991; 88: 1785.

Matsumoto K, Sera Y, Abe Y, Tominaga T, Horikami K, Hirao K et al. High serum concentrations of soluble E-selectin correlate with obesity but not fat distribution in patients with type 2 diabetes mellitus. Metabolism 2002; 51: 932–934.

Pepys MB, Hirschfield GM . C-reactive protein: a critical update. J Clin Invest 2003; 111: 1805–1812.

Oliveira EBd, Gotschlich C, Liu T . Primary structure of human C-reactive protein. J Biol Chem 1979; 254: 489–502.

Singh U, Devaraj S . Vitamin E: inflammation and atherosclerosis. Vitam Horm 2007; 76: 519–549.

Cesari M, Penninx BW, Newman AB, Kritchevsky SB, Nicklas BJ, Sutton-Tyrrell K et al. Inflammatory markers and onset of cardiovascular events results from the Health ABC Study. Circulation 2003; 108: 2317–2322.

Blake GJ, Ridker PM . C-reactive protein and other inflammatory risk markers in acute coronary syndromes. J Am Coll Cardiol 2003; 41: S37–S42.

Kamal-Eldin A, Appelqvist L-Å . The chemistry and antioxidant properties of tocopherols and tocotrienols. Lipids 1996; 31: 671–701.

GAZIANO JM . Vitamin E and cardiovascular disease: observational studies. Ann N Y Acad Sci 2004; 1031: 280–291.

Jialal I, Devaraj S . Scientific evidence to support a vitamin E and heart disease health claim: research needs. J Nutr 2005; 135: 348–353.

DRÜEKE TB, Khoa TN, Massy ZA, Witko-Sarsat V, Lacour B, Descamps-Latscha B . Role of oxidized low-density lipoprotein in the atherosclerosis of uremia. Kidney Int 2001; 59: S114–S119.

Singh U, Devaraj S, Jialal I . Vitamin E, oxidative stress, and inflammation. Annu Rev Nutr 2005; 25: 151–174.

Devaraj S, Jialal I . The effects of alpha-tocopherol on critical cells in atherogenesis. Curr Opin Lipidol 1998; 9: 11–15.

Jialal I, Fuller CJ, Huet BA . The Effect of α-Tocopherol Supplementation on LDL Oxidation A Dose-Response Study. Arterioscler Thromb Vasc Biol 1995; 15: 190–198.

Aryaeian N, Shahram F, Djalali M, Eshragian MR, Djazayeri A, Sarrafnejad A et al. Effect of conjugated linoleic acid, vitamin E and their combination on lipid profiles and blood pressure of Iranian adults with active rheumatoid arthritis. Vasc Health Risk Manag 2008; 4: 1423.

Bhattacharya I, Saxena R, Gupta V . Efficacy of vitamin E in knee osteoarthritis management of North Indian geriatric population. Ther Adv Musculoskelet Dis 2011; 4: 11–19.

Jadad AR, Moore RA, Carroll D, Jenkinson C, Reynolds DJM, Gavaghan DJ et al. Assessing the quality of reports of randomized clinical trials: is blinding necessary? Control Clin Trials 1996; 17: 1–12.

Cochran WG . The combination of estimates from different experiments. Biometrics 1954; 10: 101–129.

Egger M, Smith GD, Schneider M, Minder C . Bias in meta-analysis detected by a simple, graphical test. BMJ 1997; 315: 629–634.

Ahmadi A, Mazooji N, Roozbeh J, Mazloom Z, Hasanzade J . Effect of Alpha-Lipoic Acid and Vitamin E Supplementation on Oxidative Stress, Inflammation, and Malnutrition in Hemodialysis Patients. Iran J Kidney Dis 2013; 7: 461–467.

Coloma RS, Jocson VRA . Effects of vitamin E on a biomarker of inflammation and precursors of atherogenesis in chronic hemodialysis patients. Phillippine J Intern Med 2011; 49: 206–215.

Mah E, Pei R, Guo Y, Ballard KD, Barker T, Rogers VE et al. γ-Tocopherol-rich supplementation additively improves vascular endothelial function during smoking cessation. Free Radic Biol Med 2013; 65: 1291–1299.

Murphy RT, Foley JB, Tome MT, Mulvihill NT, Murphy A, McCarroll N et al. Vitamin E modulation of C-reactive protein in smokers with acute coronary syndromes. Free Radic Biol Med 2004; 36: 959–965.

Singh I, Turner A, Sinclair A, Li D, Hawley J . Effects of gamma-tocopherol supplementation on thrombotic risk factors. Asia Pac J Clin Nutr 2007; 16: 422–428.

Upritchard JE, Sutherland W, Mann J . Effect of supplementation with tomato juice, vitamin E, and vitamin C on LDL oxidation and products of inflammatory activity in type 2 diabetes. Diabetes Care 2000; 23: 733–738.

Vega-López S, Kaul N, Devaraj S, Cai RY, German B, Jialal I . Supplementation with ω3 Polyunsaturated Fatty Acids and all-rac Alpha-Tocopherol Alone and in Combination Failed to Exert an Anti-inflammatory Effect in Human Volunteers. Metabolism 2004; 53: 236–240.

Wu JHY, Ward NC, Indrawan AP, Almeida CA, Hodgson JM, Proudfoot JM et al. Effects of α-tocopherol and mixed tocopherol supplementation on markers of oxidative stress and inflammation in type 2 diabetes. Clin Chem 2007; 53: 511–519.

Hodkova M, Dusilova-Sulkova S, Kalousova M, Soukupova J, Zima T, Mikova D et al. Influence of oral vitamin E therapy on micro-inflammation and cardiovascular disease markers in chronic hemodialysis patients. Renal Fail 2006; 28: 395–399.

El-Sisi AA, Hegazy SK, Salem KA, AbdElkawy KS . Atorvastatin improves erectile dysfunction in patients initially irresponsive to Sildenafil by the activation of endothelial nitric oxide synthase. Int J Impot Res 2013; 25: 143–148.

Cermak J, Key N, Bach R, Balla J, Jacob H, Vercellotti G . C-reactive protein induces human peripheral blood monocytes to synthesize tissue factor. Blood 1993; 82: 513–520.

Ricciarelli R, Tasinato A, Clement S, Ozer NK, Boscoboinik D, Azzi A . alpha-Tocopherol specifically inactivates cellular protein kinase C alpha by changing its phosphorylation state. Biochem J 1998; 334: 243–249.

Venugopal SK, Devaraj S, Yang T, Jialal I . α-Tocopherol decreases superoxide anion release in human monocytes under hyperglycemic conditions via inhibition of protein kinase C-α. Diabetes 2002; 51: 3049–3054.

Freedman JE, Keaney JF . Vitamin E inhibition of platelet aggregation is independent of antioxidant activity. J Nutr 2001; 131: 374S–377S.

Suzuki YJ, Packer L . Inhibition of NF-kappa B DNA binding activity by alpha-tocopheryl succinate. Biochem Mol Biol Int 1993; 31: 693–700.

Nakamura T, Goto M, Matsumoto A, Tanaka I . Inhibition of NF-κ B transcriptional activity by α-tocopheryl succinate. Biofactors 1998; 7: 21–30.

Cooney RV, Franke AA, Wilkens LR, Gill J, Kolonel LN . Elevated plasma γ-tocopherol and decreased α-tocopherol in men are associated with inflammatory markers and decreased plasma 25-OH vitamin D. Nutr Cancer 2008; 60: 21–29.

Devaraj S, Leonard S, Traber MG, Jialal I . Gamma-tocopherol supplementation alone and in combination with alpha-tocopherol alters biomarkers of oxidative stress and inflammation in subjects with metabolic syndrome. Free Radic Biol Med 2008; 44: 1203–1208.

Handelman GJ, Machlin LJ, Fitch K, Weiter J, Dratz EA . Oral-tocopherol supplements decrease plasma-tocopherol levels in humans. J Nutr 1985; 115: 807–813.

Öhrvall M, Vessby B, Sundlöf G . Gamma, but not alpha, tocopherol levels in serum are reduced in coronary heart disease patients. J Intern Med 1996; 239: 111–117.

Kontush A, Spranger T, Reich A, Baum K, Beisiegel U . Lipophilic antioxidants in blood plasma as markers of atherosclerosis: the role of α-carotene and γ-tocopherol. Atherosclerosis 1999; 144: 117–122.

Board IoMFaN Dietary Reference Intakes: Vitamin C, Vitamin E, Selenium, and Carotenoids. Washington, DC: National Academy Press, 2000.

Carr BR, Khan N, Adams-Huet B, Kakarla N, Havelock JC, Gell J . Effect of vitamin E supplementation with and without hormone therapy on circulatory inflammatory markers in postmenopausal women. Fertil Steril 2006; 85: 667–673.

Devaraj S, Li D, Jialal I . The effects of alpha tocopherol supplementation on monocyte function. Decreased lipid oxidation, interleukin 1 beta secretion, and monocyte adhesion to endothelium. J Clin Invest 1996; 98: 756.

van Tits LJ, Demacker PN, de Graaf J, Hak-Lemmers HL, Stalenhoef AF . α-Tocopherol supplementation decreases production of superoxide and cytokines by leukocytes ex vivo in both normolipidemic and hypertriglyceridemic individuals. Am J Clin Nutr 2000; 71: 458–464.

Miller ER, Pastor-Barriuso R, Dalal D, Riemersma RA, Appel LJ, Guallar E . Meta-analysis: high-dosage vitamin E supplementation may increase all-cause mortality. Ann Intern Med 2005; 142: 37–46.

Stanger O, Herrmann W, Pietrzik K, Fowler B, Geisel J, Dierkes J et al. DACH-LIGA homocystein (german, austrian and swiss homocysteine society): consensus paper on the rational clinical use of homocysteine, folic acid and B-vitamins in cardiovascular and thrombotic diseases: guidelines and recommendations. Clin Chem Lab Med 2003; 41: 1392–1403.

Floegel A, Chung SJ, von Ruesten A, Yang M, Chung CE, Song WO et al. Antioxidant intake from diet and supplements and elevated serum C-reactive protein and plasma homocysteine concentrations in US adults: a cross-sectional study. Public Health Nutr 2011; 14: 2055–2064.
Ethics declarations
Competing interests
The authors declare no conflict of interest.
About this article
Cite this article
Saboori, S., Shab-Bidar, S., Speakman, J. et al. Effect of vitamin E supplementation on serum C-reactive protein level: a meta-analysis of randomized controlled trials. Eur J Clin Nutr 69, 867–873 (2015). https://doi.org/10.1038/ejcn.2014.296
Received:

Revised:

Accepted:

Published:

Issue Date:

DOI: https://doi.org/10.1038/ejcn.2014.296
This article is cited by
Omid Asbaghi
Mehdi Sadeghian
Omid Sadeghi

Scientific Reports (2020)

Maryam Shokrpour
Zatollah Asemi

Biological Trace Element Research (2019)

Maryam Akbari
Vahidreza Ostadmohammadi
Zatollah Asemi

Nutrition & Metabolism (2018)