Abstract
Background/Objective:
Functional cobalamin (Cbl; vitamin B12) deficiency (that is, high levels of the Cbl-dependent metabolites, methylmalonic acid (MMA) and homocysteine (HCys), despite normal serum Cbl values) is common in the elderly and is associated with neurocognitive abnormalities, but its cause is unknown. As only reduced Cbls are metabolically active, the possibility that functional Cbl deficiency is associated with disorders having biomarkers indicative of increased oxidative stress (oxidant risks) was considered.
Subjects/Methods:
A retrospective record review of community-dwelling adults evaluated over a 12-year period for Cbl deficiency in a primary care setting who had serum Cbl values ⩾400 pg/ml (n=170).
Results:
When no oxidant risks were present, older subjects (⩾70 years) had higher metabolite values than younger individuals (<70 years). MMA values were even higher in the elderly when one oxidant risk was present and in younger subjects when two or more oxidant risks were present. Even at Cbl levels ⩾800 pg/ml, MMA values were increased in 73% of elderly subjects with at least one oxidant risk. HCys values were also higher in both age groups when at least two oxidant risks were present. Cyanocobalamin therapy decreased MMA and HCys values in 86 and 76% of subjects, respectively, with nonresponders more likely to have two or more oxidant risks.
Conclusion:
Functional Cbl deficiency is associated with disorders marked by increased oxidative stress particularly in the elderly; it occurs even when Cbl levels are high and is not consistently corrected with high-dose cyanocobalamin therapy. Thus, current approaches to recognizing and managing this disorder may be inadequate.
Access options
Subscribe to this journal
Receive 12 print issues and online access
$259.00 per year
only $21.58 per issue
Rent or buy this article
Get just this article for as long as you need it
$39.95
Prices may be subject to local taxes which are calculated during checkout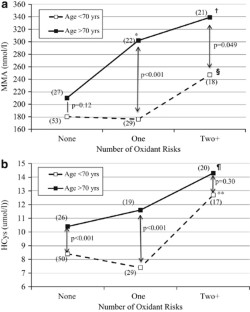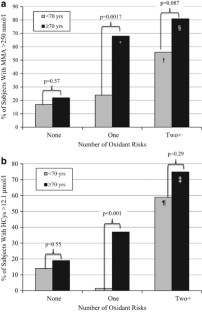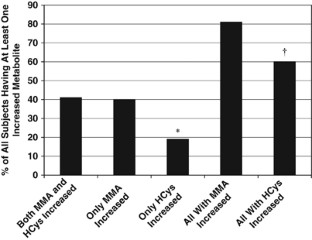 References
Carmel R . How I treat cobalamin (vitamin B12) deficiency. Blood 2008; 112: 2214–2221.

Solomon LR . Disorders of cobalamin (vitamin B12) metabolism: emerging concepts in pathophysiology, diagnosis and treatment. Blood Rev 2007; 21: 113–130.

Tangney CC, Tang Y, Evans DA, Morris MC . Biochemical indicators of vitamin B12 and folate insufficiency and cognitive decline. Neurology 2009; 72: 361–367.

Nardin RA, Amick ANH, Raynor EM . Vitamin B12 and methylmalonic acid levels in patients presenting with polyneuropathy. Muscle Nerve 2007; 36: 532–535.

Turner MR, Talbot K . Functional vitamin B12 deficiency. Pract Neurol 2009; 9: 37–41.

Lorenzl S, Vogener M, Muller-Schunk S, Pfister HW . Clinically and MRI documented funicular myelosis in a patient with metabolic vitamin B12 deficiency but normal vitamin B12 serum level. J Neurol 2003; 250: 1010–1011.

Morris MS, Jacques PF, Rosenberg I, Selhub J . Folate and vitamin B-12 status in relation to anemia, macrocytosis and cognitive impairment in older Americans in the age of folic acid fortification. Am J Clin Nutr 2007; 85: 193–200.

Graber JJ, Sherman FT, Kaufman H, Kolodny EH, Sathe S . Vitamin B12-responsive severe leukoencephalopathy and autonomic dysfunction in a patient with 'normal' serum B12 levels. J Neurol Neurosurg Psychiatry 2010; 81: 1369–1371.

Solomon LR . Cobalamin-responsive disorders in the ambulatory care setting: unreliability of cobalamin, methylmalonic acid and homocysteine testing. Blood 2005; 105: 978–985.

Solomon LR . Diabetes mellitus as a cause of clinically significant functional cobalamin deficiency. Diabetes Care 2011; 34: 1077–1080.

Schrempf W, Eulitz M, Neumeister V, Siegert G, Koch R, Reichmann H et al. Utility of measuring vitamin B12 and its active fraction, holotranscobalamin, in neurologic B12 deficiency syndromes. J Neurol 2011; 258: 393–401.

Pott JWR, Wassink-Ruiter JSK, van Vliet A . Methylmalonic acid and homocysteine assessment in the detection of vitamin B12 deficiency in patients with bilateral visual loss. Acta Ophtalmol 2012; 90: e252–e253.

Saperstein DS, Wolfe GI, Gronseth GS, Nations SP, Herbelin LL, Bryan WW et al. Challenges in the identification of cobalamin deficiency and polyneuropathy. Arch Neurol 2003; 60: 1296–1301.

Vogiatzoglu A, Oulhaj A, Smith DA, Nurk E, Drevon CA, Uekand PM et al. Determinants of plasma methylmalonic acid in a large population. Implications for the assessment of vitamin B12 status. Clin Chem 2009; 55: 2198–2206.

Suarez-Moreira E, Yun J, Birch CS, Williams JH, McCaddon A, Brasch NE . Vitamin B12 and redox homeostasis: cob(II)alamin reacts with superoxide at rates approaching superoxide dismutase. J Am Chem Soc 2009; 131: 15078–15079.

Wolthers KR, Scrutton NS . Cobalamin uptake and reactivation occurs through specific protein interactions in the methionine synthase-methionine synthase reductase complex. FEBS J 2009; 105: 14551–14559.

Obeid R, Shannon B, Herrmann W . Advanced glycation end products overload might explain cobalamin deficiency in renal dysfunction, diabetes and aging. Med Hypotheses 2011; 77: 884–888.

Selhub J, Morris MS, Jacques PF . In vitamin B12 deficiency, higher serum folate is associated with increased total homocysteine and methylmalonic acid concentrations. Proc Natl Acad Sci USA 2007; 104: 19995–20000.

Obeid R, Jung J, Falk J, Herrmann W, Geisel J, Friesenhahn-Ochs B et al. Serum vitamin B12 not reflecting vitamin B12 status in patients with type 2 diabetes. Biochimie 2013; 95: 1056–1061.

Sun AL, Ni YH, Li XB, Liu YT, Liu XH, Chen SH . Urinary methylmalonic acid as an indicator of early vitamin B12 deficiency and its role in polyneuropathy in type 2 diabetes. J Diabetes Res 2014; 2014: 921616.

Solomon LR . Advanced age is a risk factor for folate-associated functional cobalamin deficiency. J Am Geriatr Soc 2013; 61: 577–582.

Kregel KC, Zhang HJ . An integrated view of oxidative stress in ageing: basic mechanisms, functional effects and pathologic considerations. Am J Physiol Regul Integr Comp Physiol 2007; 292: R18–R36.

Vugteveen I, Hoeksma M, Monsen A-LB, Fokkema MR, Reijngoud DJ, van Rijn M et al. Serum vitamin B12 concentrations within reference values do not exclude functional vitamin B12 deficiency in PKU patients of various ages. Mol Genet Metab 2011; 102: 13–17.

Celik T, Kardesoglu E, Iyisoy A, Ozcan O, Kilic S, Yaman H . Urinary methylmalonic acid in patients with acute myocardial infarction. Med Princ Pract 2009; 18: 217–222.

Moreira ES, Brasch NE, Yun J . Vitamin B12 protects against superoxide induced cell injury in human aortic endothelial cells. Free Radical Biol Med 2011; 51: 876–883.

Scambi C, DeFrancheschi L, Guarini P, Poli F, Siciliano A, Pattini P et al. Preliminary evidence for cell membrane amelioration in children with cystic fibrosis by 5-MTHF and vitamin B12 supplementation: a single arm trial. PLoS O ne 2009; 4: e4782.

Mizukami H, Ogasawara S, Ymigishi S, Takahashi K, Yagihashi S . Methylcobalamin effects on diabetic neuropathy and nerve protein kinase C in rats. Eur J Clin Invest 2011; 41: 442–450.

James SJ, Melnyck S, Fuchs J, Reid T, Jernigan S, Pavliv O et al. Efficacy of methylcobalamin and folinic acid treatment on glutathione redox status in children with autism. Am J Clin Nutr 2009; 89: 425–430.

Mukherjee S, Das D, Mukherjee M, Das AS, Mitra C . Synergistic effect of folic acid and vitamin B12 in ameliorating arsenic-induced oxidative damage in pancreatic tissue of rat. J Nutr Biochem 2006; 17: 319–327.

Rocha JC, Martin MT . Oxidative stress in phenyketonuria: future directions. J Inherit Metab Dis 2012; 35: 381–398.

Herrnann M, Obeid R, Scharhag J, Kindermann W, Herrmann W . Altered vitamin B12 status in recreational endurance athletes. Int J Sport Nutr Exerc Metab 2005; 15: 433–441.

Vollard NBJ, Cooper CE, Shearman JP . Exercise-induced oxidative stress in overload training and tapering. Med Sci Sports Exerc 2006; 38: 1335–1341.

Steinberg JG, Ba A, Bregeron F, Deliaux S, Jammes Y . Cytokine and oxidative responses to maximal cycling exercise in sedentary subjects. Med Sci Sports Exerc 2007; 39: 964–968.

Smith AD, Refsum H . Do we need to reconsider the desirable blood level of vitamin B12? J Int Med 2011; 271: 179–182.

Lindenbaum J, Savage DG, Stabler SP, Allen RN . Diagnosis of cobalamin deficiency: II. Relative sensitivities of serum cobalamin, methylmalonic acid and total homocysteine concentrations. Am J Hematol 1990; 34: 99–107.

Magnus EM . Cobalamin and unsaturated transcobalamin values in pernicious anaemia: relation to treatment. Scand J Haematol 1986; 36: 4576–65.

Selhub J, Jacques PF, Dallal G, Choumenkovitch S, Rogers G . The use of blood concentrations of vitamins and theirs respective functional indicators to define folate and vitamin B12 status. Food Nutr Bull 2008; 29: 567–573.

Dalle-Donne I, Rossi R, Colombo R, Guestarini D, Milzani A . Biomarkers of oxidative damage in human disease. Clin Chem 2006; 52: 601–623.

Pfeiffer CM, Caudill SP, Gunter EW, Osterloh J, Sampson EJ . Biochemical indicators of B vitamin status in the US population after folic acid fortification: results from the National Health and Nutrition Examination Survey 1999–2003. Am J Clin Nutr 2005; 82: 442–450.

Carmel R, Agrawal YP . Failure of cobalamin assays in pernicious anemia. N Engl J Med 2012; 367: 385–386.

Hansen JM, Go Y-M, Jones DP . Nuclear and mitochondrial compartmentation of oxidative stress and redox signaling. Annu Rev Pharmacol Toxicol 2006; 46: 215–234.

Alt RS, Morrissey RP, Gang MA, Hoffman RS, Schaumburg HH . Severe myeloneuropathy from acute high-dose nitrous oxide (N2O) abuse. J Emerg Med 2011; 41: 378–380.

Solomon LR . Oral pharmacologic doses of cobalamin may not be as effective as parenteral cobalamin therapy in reversing hyperhomocysteinemia and methylmalonic acidemia in apparently normal subjects. Clin Lab Haematol 2006; 28: 275–278.

Kuwabara S, Nakazawa R, Azuma N, Suzuki M, Miyajima K, Fukutake T et al. Intravenous methylcobalamin treatment of uremic and diabetic neuropathy in chronic hemodialysis patients. Int Med 1999; 38: 472–475.

Szeto YT, Kwok TC, Benzie IF . Effects of long-term vegetarian diet on biomarkers of antioxidant status and cardiac risk. Nutrition 2004; 20: 863–866.

Sebekova K, Boor P, Valachovicova M, Blacizek P, Parrak V, Babinska K et al Mol Nutr Food Res 2006; 50: 858–868.

Krajcovicova-Kudlackova M, Valachovicova M, Paukova V, Dusinska M . Effects of diet and age on oxidative damage products in healthy subjects. Physiol Res 2008; 57: 647–651.

Sommannavar MS, Kodliwadmath MV . Correlation between oxidative stress and antioxidant defence in south Indian urban vegetarians and non-vegetarians. Eur Rev Med Pharmacol Sci 2011; 16: 351–354.

Kahleova H, Matoulek M, Malinska H, Olivarnik O, Kardova L, Neskudla T et al. Vegetarian diet improves insulin resistance and oxidative stress markers more than conventional diabetic diets in subjects with Type 2 diabetes. Diabet Med 2011; 28: 549–559.

Shobha V, Tarey SD, Singh RG, Shetty P, Unni US, Srinivasab K et al. Vitamin B12 deficiency and levels of metabolites in an apparently normal south Indian elderly population. Indian J Med Res 2011; 134: 432–439.

Herrmann W, Schorr H, Obeid R, Geisel J . Vitamin B12 status, particularly holotranscobalamin II and methylmalonic acid concentrations and hyperhomocysteinemia in vegetarians. Am J Clin Nutr 2003; 88: 131–136.

Refsum H, Yajnik CS, Gadkari M, Schneede J, Vollset SE, Orning L et al. Hyperhomocysteinemia and elevated methylmalonic acid indicate a high prevalence of cobalamin deficiency in Asian Indians. Am J Clin Nutr 2001; 74: 233–241.

Ozcan O, Ipcioglu M, Gultepe M, Basoglu C . Altered red cell membrane compositions related to functional vitamin B12 deficiency manifested by elevated urine methylmalonic acid concentrations in patients with schizophrenia. Ann Clin Biochem 2008; 46: 44–49.
Acknowledgements
I thank D Bonke (Merck, Darmstadt, Germany) for his suggestion regarding the possible effect of oxidative stress on cobalamin metabolism and R Green (Department of Medical Pathology and Laboratory Medicine, University of California Davis Medical Center, Sacramento, CA, USA) for his suggestion regarding the possible therapeutic role of methylcobalamin.
Ethics declarations
Competing interests
The author declares no conflict of interest.
Supplementary information
About this article
Cite this article
Solomon, L. Functional cobalamin (vitamin B12) deficiency: role of advanced age and disorders associated with increased oxidative stress. Eur J Clin Nutr 69, 687–692 (2015). https://doi.org/10.1038/ejcn.2014.272
Received:

Accepted:

Published:

Issue Date:

DOI: https://doi.org/10.1038/ejcn.2014.272
This article is cited by
Usha Kant Misra
Jayantee Kalita
Sushil Kumar Rahi

Molecular Neurobiology (2017)

Supportive Care in Cancer (2016)