Abstract
Background/objective:
A distinct suppressive effect of a whey protein (including glycomacropeptide)-enriched preload drink on subsequent food intake in comparison with a maltodextrin carbohydrate-enriched preload was demonstrated in an earlier companion study with the same female subjects; however, the potential mediators underlying the effect are unclear. The objective of this study was to investigate how the ingestion of a whey protein-enriched preload beverage affected postprandial plasma concentrations of several satiety-related gastrointestinal hormones and metabolites in comparison with a maltodextrin carbohydrate-enriched preload.
Subjects/methods:
Eighteen normal-weight women were studied in a single-blind, randomized block design. Blood samples were collected at various time intervals for 120 min after consumption of a test drink (300 ml, ~1300 kJ) enriched (45 g) with either maltodextrin carbohydrate or whey protein containing naturally present glycomacropeptide.
Results:
Plasma-active ghrelin concentrations decreased after both maltodextrin carbohydrate- and whey protein-enriched test drinks (P<0.05). The whey protein-enriched beverage led to increased plasma concentrations of cholecystokinin (CCK) at 60 and 75 min (P<0.05), glucagon-like peptide-1 (GLP-1) at 90 min (P<0.001), peptide tyrosine–tyrosine (PYY) at 90 and 120 min (P<0.01) and pancreatic polypeptide (PP) from 15 to 120 min (P<0.05) compared with maltodextrin carbohydrate. Total amino acid, urea and ammonia plasma concentrations were also higher after whey protein compared with maltodextrin carbohydrate ingestion (P<0.01).
Conclusions:
Increased plasma concentrations of some gastrointestinal hormones related to satiety, particularly PP, and of amino acids and their metabolites, may have acted either singly or together to mediate the observed satiety response to whey protein.
Your institute does not have access to this article
Relevant articles
Open Access articles citing this article.
Jeddidiah W. D. Griffin

&

Patrick C. Bradshaw

Theoretical Biology and Medical Modelling Open Access 31 July 2019

Linda H Münger

,

Mar Garcia-Aloy

…

Giulia Praticò

Genes & Nutrition Open Access 29 September 2018

Wolfgang Kemmler

,

Matthias Kohl

…

Simon von Stengel

BMC Geriatrics Open Access 09 March 2018
Access options
Subscribe to Journal
Get full journal access for 1 year
$119.00
only $9.92 per issue
All prices are NET prices.
VAT will be added later in the checkout.
Tax calculation will be finalised during checkout.
Buy article
Get time limited or full article access on ReadCube.
$32.00
All prices are NET prices.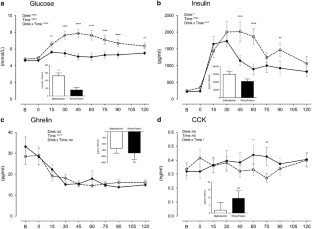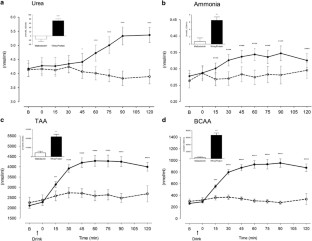 References
Van Kleef E, Van Trijp JCM, Van Den Borne JJGC, Zondervan C . Successful development of satiety enhancing food products: towards a multidisciplinary agenda of research challenges. Crit Rev Food Sci Nutr 2012; 52: 611–628.

Anderson GH, Moore SE . Dietary proteins in the regulation of food intake and body weight in humans. J Nutr 2004; 134: S974–S979.

Halton TL, Hu FB . The effects of high protein diets on thermogenesis, satiety and weight loss: a critical review. J Am Coll Nutr 2004; 23: 373–385.

Westerterp-Plantenga MS, Nieuwenhuizen A, Tome D, Soenen S, Westerterp KR . Dietary protein, weight loss, and weight maintenance. Annu Rev Nutr 2009; 29: 21–41.

Anderson GH, Tecimer SN, Shah D, Zafar TA . Protein source, quantity, and time of consumption determine the effect of proteins on short-term food intake in young men. J Nutr 2004; 134: 3011–3015.

Bertenshaw EJ, Lluch A, Yeomans MR . Satiating effects of protein but not carbohydrate consumed in a between-meal beverage context. Physiol Behav 2008; 93: 427–436.

Diepvens K, Haberer D, Westerterp-Plantenga M . Different proteins and biopeptides differently affect satiety and anorexigenic/orexigenic hormones in healthy humans. Int J Obes 2008; 32: 510–518.

Hall WL, Millward DJ, Long SJ, Morgan LM . Casein and whey exert different effects on plasma amino acid profiles, gastrointestinal hormone secretion and appetite. Br J Nutr 2003; 89: 239–248.

Pal S, Ellis V . The acute effects of four protein meals on insulin, glucose, appetite and energy intake in lean men. Br J Nutr 2010; 104: 1241–1248.

Veldhorst MA, Nieuwenhuizen AG, Hochstenbach-Waelen A, van Vught AJ, Westerterp KR, Engelen MP et al. Dose-dependent satiating effect of whey relative to casein or soy. Physiol Behav 2009; 96: 675–682.

Zafar TA, Waslien C, AlRaefaei A, Alrashidi N, AlMahmoud E . Whey protein sweetened beverages reduce glycemic and appetite responses and food intake in young females. Nutr Res 2013; 33: 303–310.

Abou-Samra R, Keersmaekers L, Brienza D, Mukherjee R, Mace K . Effect of different protein sources on satiation and short-term satiety when consumed as a starter. Nutr J 2011; 10: 139.

Potier M, Fromentin G, Lesdema A, Benamouzig R, Tome D, Marsset-Baglieri A . The satiety effect of disguised liquid preloads administered acutely and differing only in their nutrient content tended to be weaker for lipids but did not differ between proteins and carbohydrates in human subjects. Br J Nutr 2010; 104: 1406–1414.

Chungchunlam SMS, Moughan PJ, Henare SJ, Ganesh S . Effect of time of consumption of preloads on measures of satiety in healthy normal weight women. Appetite 2012; 52: 281–288.

Gilbert JA, Bendsen NT, Tremblay A, Astrup A . Effect of proteins from different sources on body composition. Nutr Metab Cardiovasc Dis 2011; 21: B16–B31.

Jakubowicz D, Froy O . Biochemical and metabolic mechanisms by which dietary whey protein may combat obesity and Type 2 diabetes. J Nutr Biochem 2013; 24: 1–5.

Luhovyy BL, Akhavan T, Anderson GH . Whey proteins in the regulation of food intake and satiety. J Am Coll Nutr 2007; 26: S704–S712.

Veldhorst M, Smeets A, Soenen S, Hochstenbach-Waelen A, Hursel R, Diepvens K et al. Protein-induced satiety: effects and mechanisms of different proteins. Physiol Behav 2008; 94: 300–307.

Stunkard AJ, Messick S . The three-factor eating questionnaire to measure dietary restraint, disinhibition and hunger. J Psychosom Res 1985; 29: 71–83.

Hosoda H, Doi K, Nagaya N, Okumura H, Nakagawa E, Enomoto M et al. Optimum collection and storage conditions for ghrelin measurements: octanoyl modification of ghrelin is rapidly hydrolysed to desacyl ghrelin in blood samples. Clin Chem 2004; 50: 1077–1080.

Ott L, Longnecker M (eds). An Introduction to Statistical Methods and Data Analysis, 6th edn. California: Brooks/Cole Cengage Learning: California, USA, 2010.

Gannon MC, Nuttall FQ, Westphal SA, Neil BJ, Seaquist ER . Effects of dose of ingested glucose on plasma metabolite and hormone responses in type II diabetic subjects. Diabetes Care 1989; 12: 544–552.

Blom WAM, Lluch A, Stafleu A, Vinoy S, Holst JJ, Schaafsma G et al. Effect of a high-protein breakfast on the postprandial ghrelin response. Am J Clin Nutr 2006; 83: 211–220.

Lejeune MPGM, Westerterp KR, Adam TCM, Luscombe-Marsh ND, Westerterp-Plantenga MS . Ghrelin and glucagon-like peptide 1 concentrations, 24-h satiety, and energy and substrate metabolism during a high-protein diet and measured in a respiration chamber. Am J Clin Nutr 2006; 83: 89–94.

Smeets AJ, Soenen S, Luscombe-Marsh ND, Ueland O, Westerterp-Plantenga MS . Energy expenditure, satiety, and plasma ghrelin, glucagon-like peptide 1, and peptide tyrosine-tyrosine concentrations following a single high-protein lunch. J Nutr 2008; 138: 698–702.

Frid AH, Nilsson M, Holst JJ, Bjorck IM . Effect of whey protein on blood glucose and insulin responses to composite breakfast and lunch meals in type 2 diabetic subjects. Am J Clin Nutr 2005; 82: 69–75.

Ma J, Stevens JE, Cukier K, Maddox AF, Wishart JM, Jones KL et al. Effects of a protein preload on gastric emptying, glycemia, and gut hormones after a carbohydrate meal in diet-controlled type 2 diabetes. Diabetes Care 2009; 32: 1600–1602.

Nilsson M, Stenberg M, Frid AH, Holst JJ, Bjorck IM . Glycemia and insulinemia in healthy subjects after lactose-equivalent meals of milk and other food proteins: the role of plasma amino acids and incretins. Am J Clin Nutr 2004; 80: 1246–1253.

Nilsson M, Holst JJ, Bjorck IM . Metabolic effects of amino acid mixtures and whey protein in healthy subjects: studies using glucose-equivalent drinks. Am J Clin Nutr 2007; 85: 996–1004.

Veldhorst MA, Westerterp KR, van Vught AJ, Westerterp-Plantenga MS . Presence or absence of carbohydrates and the proportion of fat in a high-protein diet affect appetite suppression but not energy expenditure in normal-weight human subjects fed in energy balance. Br J Nutr 2010; 104: 1395–1405.

Bowen J, Noakes M, Trenerry C, Clifton PM . Energy intake, ghrelin, and cholecystokinin after different carbohydrate and protein preloads in overweight men. J Clin Endocrinol Metab 2006; 91: 1477–1483.

Bowen J, Noakes M, Clifton PM . Appetite regulatory hormone responses to various dietary proteins differ by body mass index status despite similar reductions in ad libitum energy intake. J Clin Endocrinol Metab 2006; 91: 2913–2919.

Burton-Freeman BM . Glycomacropeptide (GMP) is not critical to whey-induced satiety, but may have a unique role in energy intake regulation through cholecystokinin (CCK). Physiol Behav 2008; 93: 379–387.

Raben A, Agerholm-Larsen L, Flint A, Holst JJ, Astrup A . Meals with similar energy densities but rich in protein, fat, carbohydrate, or alcohol have different effects on energy expenditure and substrate metabolism but not on appetite and energy intake. Am J Clin Nutr 2003; 77: 91–100.

Batterham RL, Le Roux CW, Cohen MA, Park AJ, Ellis SM., Patterson M et al. Pancreatic polypeptide reduces appetite and food intake in humans. J Clin Endocrinol Metab 2003; 88: 3989–3992.

Berntson GG, Zipf WB, O'Dorisio TM, Hoffman JA, Chance RE . Pancreatic polypeptide infusions reduce food intake in Prader-Willi syndrome. Peptides 1993; 14: 497–503.

Jesudason DR, Monteiro MP, McGowan BM, Neary NM, Park AJ, Philippou E et al. Low-dose pancreatic polypeptide inhibits food intake in man. Br J Nutr 2007; 97: 426–429.

Heden TD, Liu Y, Sims L, Kearney ML, Whaley-Connell AT, Chockalingam A et al. Liquid meal composition, postprandial satiety hormones, and perceived appetite and satiety in obese women during acute caloric restriction. Eur J Endrocrinol 2013; 168: 593–600.

Schmid R, Schulte-Frohlinde E, Schusdziarra V, Neubauer J, Stegmann M, Maier V et al. Contribution of postprandial amino acid levels to stimulation of insulin, glucagon, and pancreatic polypeptide in humans. Pancreas 1992; 7: 698–704.

Tomita T, GJr Greeley, Watt L, Doull V, Chance R . Protein meal-stimulated pancreatic polypeptide secretion in Prader-Willi syndrome of adults. Pancreas 1989; 4: 395–400.

Zipf WB, O'Dorisio TM, Cataland S, Dixon K . Pancreatic polypeptide responses to protein meal challenges in obese but otherwise normal children and obese children with Prader-Willi syndrome. J Clin Endocrinol Metab 1983; 57: 1074–1080.

Mellinkoff SM, Frankland M, Boyle D, Greipel M . Relationship between serum amino acid concentration and fluctuations in appetite. J Appl Physiol 1956; 8: 535–538.

Etzel MR . Manufacture and use of dairy protein fractions. J Nutr 2004; 134: 996S–1002S.

Moughan PJ . Milk proteins: a cornucopia for developing functional foods. In: Thompson A, Boland M, Singh H (eds). Milk Proteins: from Expression to Food. Academic Press: London, UK, 2008, pp 483–499.

Fromentin G, Darcel N, Chaumontet C, Marsset-Baglieri A, Nadkami N, Tome D . Peripheral and central mechanisms involved in the control of food intake by dietary amino acids and proteins. Nutr Res Rev 2012; 25: 29–39.

Garlick PJ, McNurlan MA, Ballmer PE . Influence of dietary protein intake on whole-body protein turnover in humans. Diabetes Care 1991; 14: 1189–1198.
Acknowledgements
The study was funded by the Riddet Institute, a New Zealand government supported Centre of Research Excellence. We wish to gratefully thank the volunteers who participated in this study. We acknowledge Miss Ying Jin, Miss Christina Streicher and Miss Jacinta Lee for their technical assistance, Dr Mark Morris from the Massey University Medical Centre, Mrs Maria-Tine Biersteker and Mrs Chris Booth for blood sample collection. We would also like to thank Miss Shirley Ling from Abacus-Als, Massey University Nutrition Laboratory and Mr Sofian Tijono from the University of Auckland for their assistance with the blood assays.
Ethics declarations
Competing interests
The authors declare no conflict of interest.
About this article
Cite this article
Chungchunlam, S., Henare, S., Ganesh, S. et al. Dietary whey protein influences plasma satiety-related hormones and plasma amino acids in normal-weight adult women. Eur J Clin Nutr 69, 179–186 (2015). https://doi.org/10.1038/ejcn.2014.266
Received:

Revised:

Accepted:

Published:

Issue Date:

DOI: https://doi.org/10.1038/ejcn.2014.266