Abstract
Background/objectives:
Fat-free mass (FFM) is the major predictor of resting metabolic rate (RMR). As protein supplementation during resistance training may augment gains in FFM, we investigated the effects of resistance training combined with protein supplementation on RMR and whether RMR responses could be estimated by a dual-energy X-ray absorptiometry (DXA) metabolic map.
Subjects/methods:
Healthy adults completed a whole-body periodized resistance training program consisting of 96 workouts (~9 months). Participants were randomly assigned to supplement with whey protein (whey; n=18), soy protein (soy; n=21) or carbohydrate (carb; n=22). RMR was measured using indirect calorimetry (RMRIC) and estimated by DXA metabolic mapping (RMRMM) pretraining and posttraining.
Results:
RMRIC increased from pretraining to posttraining in the whole cohort (1653±302 to 1726±291 kcal/day, P=0.001) without differences between the groups. Delta RMRIC and RMRMM (73±158 vs 52±41 kcal/day were not significantly different by t-test (P=0.303), although they were not significantly correlated (r=0.081; P=0.535). Stepwise regression identified 43% of the shared variance in delta RMRIC using total serum thyroxine, RMRIC and FFM at baseline (P=0.009).
Conclusions:
These results indicate that 9 months of resistance training significantly increased RMR ~5% on average, but there was wide variability between individuals, which can be partially accounted for by changes in FFM and thyroid hormones.
Access options
Subscribe to this journal
Receive 12 print issues and online access
$259.00 per year
only $21.58 per issue
Rent or buy this article
Get just this article for as long as you need it
$39.95
Prices may be subject to local taxes which are calculated during checkout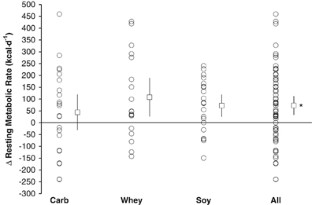 References
WHO. Global Recommendations on Physical Activity for Health. http://www.who.int/dietphysicalactivity/physical-activity-recommendations-18-64years.pdf. Accessed 23 July 2014.

CDC. How much physical activity do adults need? http://www.cdc.gov/physicalactivity/everyone/guidelines/adults.html. Accessed 23 July 2014.

Kirk EP, Donnelly JE, Smith BK, Honas J, Lecheminant JD, Bailey BW et al. Minimal resistance training improves daily energy expenditure and fat oxidation. Med Sci Sports Exerc 2009; 41: 1122–1129.

Lemmer JT, Ivey FM, Ryan AS, Martel GF, Hurlbut DE, Metter JE et al. Effect of strength training on resting metabolic rate and physical activity: age and gender comparisons. Med Sci Sports Exerc 2001; 33: 532–541.

Geliebter A, Maher MM, Gerace L, Gutin B, Heymsfield SB, Hashim SA . Effects of strength or aerobic training on body composition, resting metabolic rate, and peak oxygen consumption in obese dieting subjects. Am J Clin Nutr 1997; 66: 557–563.

Hunter GR, Byrne NM, Sirikul B, Fernandez JR, Zuckerman PA, Darnell BE et al. Resistance training conserves fat-free mass and resting energy expenditure following weight loss. Obesity (Silver Spring) 2008; 16: 1045–1051.

Meckling KA, Sherfey R . A randomized trial of a hypocaloric high-protein diet, with and without exercise, on weight loss, fitness, and markers of the Metabolic Syndrome in overweight and obese women. Appl Physiol Nutr Metab 2007; 32: 743–752.

Washburn RA, Donnelly JE, Smith BK, Sullivan DK, Marquis J, Herrmann SD . Resistance training volume, energy balance and weight management: rationale and design of a 9 month trial. Contemp Clin Trials 2012; 33: 749–758.

Campbell WW, Crim MC, Young VR, Evans WJ . Increased energy requirements and changes in body composition with resistance training in older adults. Am J Clin Nutr 1994; 60: 167–175.

Byrne HK, Wilmore JH . The effects of a 20-week exercise training program on resting metabolic rate in previously sedentary, moderately obese women. Int J Sport Nutr Exerc Metab 2001; 11: 15–31.

Hulmi JJ, Lockwood CM, Stout JR . Effect of protein/essential amino acids and resistance training on skeletal muscle hypertrophy: a case for whey protein. Nutr Metab (Lond) 2010; 7: 51.

Phillips SM . The science of muscle hypertrophy: making dietary protein count. Proc Nutr Soc 2011.;70: 100–103.

Mullur R, Liu YY, Brent GA . Thyroid hormone regulation of metabolism. Physiol Rev 2014; 94: 355–382.

McAninch EA, Bianco AC . Thyroid hormone signaling in energy homeostasis and energy metabolism. Ann NY Acad Sci 2014; 1311: 77–87.

Stiegler P, Cunliffe A . The role of diet and exercise for the maintenance of fat-free mass and resting metabolic rate during weight loss. Sports Med 2006; 36: 239–262.

Elia M . Organ and tissue contribution to metabolic rate. In: Kinney JM, Tucker HN (eds). Energy metabolism. Tissue Determinants and Cellular Corrolaries. Raven Press: New York, NY, USA, 1992, pp 61–67.

Reinehr T . Obesity and thyroid function. Mol Cell Endocrinol 2010; 316: 165–171.

Kim B . Thyroid hormone as a determinant of energy expenditure and the basal metabolic rate. Thyroid 2008; 18: 141–144.

Muller MJ, Bosy-Westphal A, Kutzner D, Heller M . Metabolically active components of fat-free mass and resting energy expenditure in humans: recent lessons from imaging technologies. Obes Rev 2002; 3: 113–122.

Muller MJ, Bosy-Westphal A, Later W, Haas V, Heller M . Functional body composition: insights into the regulation of energy metabolism and some clinical applications. Eur J Clin Nutr 2009; 63: 1045–1056.

Wang Z, Ying Z, Bosy-Westphal A, Zhang J, Schautz B, Later W et al. Specific metabolic rates of major organs and tissues across adulthood: evaluation by mechanistic model of resting energy expenditure. Am J Clin Nutr 2010; 92: 1369–1377.

Ravussin E, Bogardus C . Relationship of genetics, age, and physical fitness to daily energy expenditure and fuel utilization. Am J Clin Nutr 1989; 49 (5 Suppl): 968–975.

Muller MJ, Illner K, Bosy-Westphal A, Brinkmann G, Heller M . Regional lean body mass and resting energy expenditure in non-obese adults. Eur J Nutr 2001; 40: 93–97.

Hayes M, Chustek M, Wang Z, Gallagher D, Heshka S, Spungen A et al. DXA: potential for creating a metabolic map of organ-tissue resting energy expenditure components. Obes Res 2002; 10: 969–977.

Bosy-Westphal A, Reinecke U, Schlorke T, Illner K, Kutzner D, Heller M et al. Effect of organ and tissue masses on resting energy expenditure in underweight, normal weight and obese adults. Int J Obes Relat Metab Disord 2004; 28: 72–79.

Kosmiski LA, Ringham BM, Grunwald GK, Bessesen DH . Dual-energy X-ray absorptiometry modeling to explain the increased resting energy expenditure associated with the HIV lipoatrophy syndrome. Am J Clin Nutr 2009; 90: 1525–1531.

Taguchi M, Ishikawa-Takata K, Tatsuta W, Katsuragi C, Usui C, Sakamoto S et al. Resting energy expenditure can be assessed by fat-free mass in female athletes regardless of body size. J Nutr Sci Vitaminol (Tokyo) 2011; 57: 22–29.

Usui C, Takahashi E, Gando Y, Sanada K, Oka J, Miyachi M et al. Resting energy expenditure can be assessed by dual-energy X-ray absorptiometry in women regardless of age and fitness. Eur J Clin Nutr 2009; 63: 529–535.

Kalman D, Feldman S, Martinez M, Krieger DR, Tallon MJ . Effect of protein source and resistance training on body composition and sex hormones. J Int Soc Sports Nutr 2007; 4: 1–8.

Brown EC, DiSilvestro RA, Babaknia A, Devor ST . Soy versus whey protein bars: effects on exercise training impact on lean body mass and antioxidant status. Nutr J 2004; 3: 1–5.

Candow DG, Burke NC, Smith-Palmer T, Burke DG . Effect of whey and soy protein supplementation combined with resistance training in young adults. Int J Sport Nutr Exerc Metab 2006; 16: 233–244.

Volek JS, Volk BM, Gómez AL, Kunces LJ, Kupchak BR, Freidenreich DJ et al. Whey protein supplementation during resistance training augments lean body mass. J Am Coll Nutr 2013; 32: 122–135.

Yamato C, Kinoshita K . A simple assay for measurement of urinary p-aminobenzoic acid in the oral pancreatic function test. Anal Biochem 1979; 98: 13–17.

Weir JB . New methods for calculating metabolic rate with special reference to protein metabolism. J Physiol 1949; 109: 1–9.

Jequier E, Acheson K, Schutz Y . Assessment of energy expenditure and fuel utilization in man. Annu Rev Nutr 1987; 7: 187–208.

Dolezal BA, Potteiger JA . Concurrent resistance and endurance training influence basal metabolic rate in nondieting individuals. J Appl Physiol 1998; 85: 695–700.

Broeder CE, Burrhus KA, Svanevik LS, Wilmore JH . The effects of either high-intensity resistance or endurance training on resting metabolic rate. Am J Clin Nutr 1992; 55: 802–810.

Müller MJ, Wang Z, Heymsfield SB, Schautz B, Bosy-Westphal A . Advances in the understanding of specific metabolic rates of major organs and tissues in humans. Curr Opin Clin Nutr Metab Care 2013; 16: 501–508.

Clement K, Viguerie N, Diehn M, Alizadeh A, Barbe P, Thalamas C et al. In vivo regulation of human skeletal muscle gene expression by thyroid hormone. Genome Res 2002; 12: 281–291.

Feinman RD, Fine EJ . Thermodynamics and metabolic advantage of weight loss diets. Metab Syndr Relat Disord 2003; 1: 209–219.

Welle S, Nair KS . Relationship of resting metabolic rate to body composition and protein turnover. Am J Physiol 1990; 258 (6 Pt 1): E990–E998.

Mikkelsen PB, Toubro S, Astrup A . Effect of fat-reduced diets on 24-h energy expenditure: comparisons between animal protein, vegetable protein, and carbohydrate. Am J Clin Nutr 2000; 72: 1135–1141.

van Marken Lichtenbelt WD, Vanhommerig JW, Smulders NM, Drossaerts JM, Kemerink GJ, Bouvy ND et al. Cold-activated brown adipose tissue in healthy men. N Engl J Med 2009; 360: 1500–1508.

Nedergaard J, Bengtsson T, Cannon B . Unexpected evidence for active brown adipose tissue in adult humans. Am J Physiol Endocrinol Metab 2007; 293: E444–E452.

Bostrom P, Wu J, Jedrychowski MP, Korde A, Ye L, Lo JC et al. A PGC1-alpha-dependent myokine that drives brown-fat-like development of white fat and thermogenesis. Nature 2012; 481: 463–468.

Wu J, Bostrom P, Sparks LM, Ye L, Choi JH, Giang AH et al. Beige adipocytes are a distinct type of thermogenic fat cell in mouse and human. Cell 2012; 150: 366–376.

Hopkins MGC, Caudwell P, Hellstrom PM, Naslund E, King NA, Finlayson G et al. The adaptive metabolic response to exercise-induced weight loss influences both energy expenditure and energy intake. Eur J Clin Nutr 2014; 68: 581–586.

Poehlman ET, Tremblay A, Nadeau A, Dussault J, Theriault G, Bouchard C . Heredity and changes in hormones and metabolic rates with short-term training. Am J Physiol 1986; 250 (6 Pt 1), E711–E717.

Lloyd-Richardson EE, Bailey S, Fava JL, Wing R . A prospective study of weight gain during the college freshman and sophomore years. Prev Med 2009; 48: 256–261.

Gropper SS, Newton A, Harrington P, Simmons KP, Connell LJ, Ulrich P . Body composition changes during the first two years of university. Prev Med 2011; 52: 20–22.
Acknowledgements
We thank a dedicated group of subjects and the research and medical staffs at the University of Connecticut for their support.
Ethics declarations
Competing interests
The authors declare no conflict of interest.
About this article
Cite this article
Aristizabal, J., Freidenreich, D., Volk, B. et al. Effect of resistance training on resting metabolic rate and its estimation by a dual-energy X-ray absorptiometry metabolic map. Eur J Clin Nutr 69, 831–836 (2015). https://doi.org/10.1038/ejcn.2014.216
Received:

Revised:

Accepted:

Published:

Issue Date:

DOI: https://doi.org/10.1038/ejcn.2014.216
This article is cited by
Sang-Rok Lee
Dean Directo
Andy V. Khamoui

Aging Clinical and Experimental Research (2022)

D. Santa Mina
S. C. Adams
Celena Scheede-Bergdahl

Current Anesthesiology Reports (2022)