Abstract
Background:
Medium chain triglycerides (MCT) enhance thermogenesis and may reduce food intake relative to long chain triglycerides (LCT). The goal of this study was to establish the effects of MCT on appetite and food intake and determine whether differences were due to differences in hormone concentrations.
Methods:
Two randomized, crossover studies were conducted in which overweight men consumed 20 g of MCT or corn oil (LCT) at breakfast. Blood samples were obtained over 3 h. In Study 1 (n=10), an ad lib lunch was served after 3 h. In Study 2 (n=7), a preload containing 10 g of test oil was given at 3 h and lunch was served 1 h later. Linear mixed model analyses were performed to determine the effects of MCT and LCT oil on change in hormones and metabolites from fasting, adjusting for body weight. Correlations were computed between differences in hormones just before the test meals and differences in intakes after the two oils for Study 1 only.
Results:
Food intake at the lunch test meal after the MCT preload (Study 2) was (mean±s.e.m.) 532±389 kcal vs 804±486 kcal after LCT (P<0.05). MCT consumption resulted in a lower rise in triglycerides (P=0.014) and glucose (P=0.066) and a higher rise in peptide YY (PYY, P=0.017) and leptin (P=0.036) compared with LCT (combined data). Correlations between differences in hormone levels (glucagon-like peptide (GLP-1), PYY) and differences in food intake were in the opposite direction to expectations.
Conclusions:
MCT consumption reduced food intake acutely but this does not seem to be mediated by changes in GLP-1, PYY and insulin.
Relevant articles
Open Access articles citing this article.
Tyler Maher

,

Martina Deleuse

…

Miriam E. Clegg

European Journal of Nutrition Open Access 04 April 2020

David W. Miller

,

Zoe Prosser

…

John R. Pluske

Journal of Animal Science and Biotechnology Open Access 18 October 2016

Andrew A. Butler

,

Marie-Pierre St-Onge

…

Peter J. Havel

Scientific Reports Open Access 05 October 2015
Access options
Subscribe to Journal
Get full journal access for 1 year
$119.00
only $9.92 per issue
All prices are NET prices.
VAT will be added later in the checkout.
Tax calculation will be finalised during checkout.
Buy article
Get time limited or full article access on ReadCube.
$32.00
All prices are NET prices.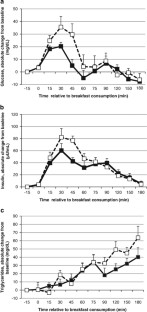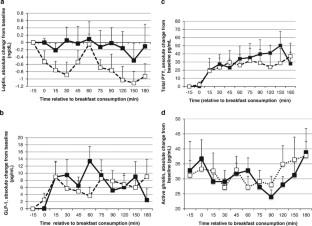 References
Institute of Medicine. Opportunities in the nutrition and food sciences—a institute of medicine report. Nutr Rev 1994; 52: 106–109.

St-Onge MP . Dietary fats, teas, dairy, and nuts: potential functional foods for weight control? Am J Clin Nutr 2005; 81: 7–15.

St-Onge MP, Jones PJ . Greater rise in fat oxidation with medium-chain triglyceride consumption relative to long-chain triglyceride is associated with lower initial body weight and greater loss of subcutaneous adipose tissue. Int J Obes Relat Metab Disord 2003; 27: 1565–1571.

Schwartz MW, Woods SC, Porte D Jr, Seeley RJ, Baskin DG . Central nervous system control of food intake. Nature 2000; 404: 661–671.

Seimon RV, Wooster T, Otto B, Golding M, Day L, Little TJ et al. The droplet size of intraduodenal fat emulsions influences antropyloroduodenal motility, hormone release, and appetite in healthy males. Am J Clin Nutr 2009; 89: 1729–1736.

Babayan VK . Medium chain triglycerides and structured lipids. Lipids 1987; 22: 417–420.

Bach AC, Babayan VK . Medium-chain triglycerides: an update. Am J Clin Nutr 1982; 3: 950–962.

St-Onge M-P, Bosarge A . Weight-loss diet that includes consumption of medium-chain triacylglycerol oil leads to a greater rate of weight and fat mass loss than does olive oil. Am J Clin Nutr 2008; 87: 621–626.

Tsuji H, Kasai M, Takeuchi H, Nakamura M, Okazaki M, Kondo K . Dietary Medium-Chain Triacylglycerols Suppress Accumulation of Body Fat in a Double-Blind, Controlled Trial in Healthy Men and Women. J Nutr 2001; 131: 2853–2859.

Hill JO, Peters JC, Reed GW, Schlundt DG, Sharp T, Greene HL . Nutrient balance in humans: effects of diet composition. Am J Clin Nutr 1991; 54: 10–17.

Dulloo AG, Fathi M, Mensi N, Girardier L . Twenty-four-hour energy expenditure and urinary catecholamines of humans consuming low-to-moderate amounts of medium-chain triglycerides: a dose-response study in a human respiratory chamber. Eur J Clin Nutr 1996; 50: 152–158.

Scalfi L, Coltorti A, Contaldo F . Postprandial thermogenesis in lean and obese subjects after meals supplemented with medium-chain and long-chain triglycerides. Am J Clin Nutr 1991; 53: 1130–1133.

Seaton T, Welle S, Warenko M, Campbell R . Thermic effect of medium-chain and long-chain triglycerides in man. Am J Clin Nutr 1986; 44: 630–634.

Hill JO, Peters JC, Yang D, Sharp T, Kaler M, Abumrad NN et al. Thermogenesis in humans during overfeeding with medium-chain triglycerides. Metabolism 1989; 38: 641–648.

White MD, Papamandjaris AA, Jones PJ . Enhanced postprandial energy expenditure with medium-chain fatty acid feeding is attenuated after 14 d in premenopausal women. Am J Clin Nutr 1999; 69: 883–889.

St-Onge MP, Bourque C, Jones PJ, Ross R, Parsons WE . Medium- versus long-chain triglycerides for 27 days increases fat oxidation and energy expenditure without resulting in changes in body composition in overweight women. Int J Obes Relat Metab Disord 2003; 27: 95–102.

Bray GA, Lee M, Bray TL . Weight gain of rats fed medium-chain triglycerides is less than rats fed long-chain triglycerides. Int J Obes 1980; 4: 27–32.

Furuse M, Choi YH, Mabayo RT, Okumura J . Feeding behavior in rats fed diets containing medium chain triglyceride. Physiol Behav 1992; 52: 815–817.

Stubbs RJ, Harbron CG . Covert manipulation of the ratio of medium- to long-chain triglycerides in isoenergetically dense diets: effect on food intake in ad libitum feeding men. Int J Obes Relat Metab Disord 1996; 20: 435–444.

Van Wymelbeke V, Himaya A, Louis-Sylvestre J, Fantino M . Influence of medium-chain and long-chain triacylglycerols on the control of food intake in men. Am J Clin Nutr 1998; 68: 226–234.

St-Onge MP, Ross R, Parsons WD, Jones PJ . Medium-chain triglycerides increase energy expenditure and decrease adiposity in overweight men. Obes Res 2003; 11: 395–402.

Poppitt SD, Strik CM, MacGibbon AK, McArdle BH, Budgett SC, McGill AT . Fatty acid chain length, postprandial satiety and food intake in lean men. Physiol Behav 2010; 101: 161–167.

Matzinger D, Degen L, Drewe J, Meuli J, Duebendorfer R, Ruckstuhl N et al. The role of long chain fatty acids in regulating food intake and cholecystokinin release in humans. Gut 2000; 46: 688–693.

Drewe J, Gadient A, Rovati LC, Beglinger C . Role of circulating cholecystokinin in control of fat-induced inhibition of food intake in humans. Gastroenterology 1992; 102: 1654–1659.

Maas MI, Hopman WP, Katan MB, Jansen JB . Release of peptide YY and inhibition of gastric acid secretion by long-chain and medium-chain triglycerides but not by sucrose polyester in men. Eur J Clin Invest 1998; 28: 123–130.

Gibbons C, Caudwell P, Finlayson G, Webb DL, Hellstrom PM, Naslund E et al. Comparison of postprandial profiles of ghrelin, active GLP-1, and total PYY to meals varying in fat and carbohydrate and their association with hunger and the phases of satiety. J Clin Endocrinol Metab 2013; 98: E847–E855.

St-Onge MP, Bosarge A . Weight-loss diet that includes consumption of medium-chain triacylglycerol oil leads to a greater rate of weight and fat mass loss than does olive oil. Am J Clin Nutr 2008; 87: 621–626.

Kant AK, Graubard BI . Secular trends in patterns of self-reported food consumption of adult Americans: NHANES 1971-1975 to NHANES 1999-2002. Am J Clin Nutr 2006, 84: 1215–1223.

Batterham RL, Heffron H, Kapoor S, Chivers JE, Chandarana K, Herzog H et al. Critical role for peptide YY in protein-mediated satiation and body-weight regulation. Cell Metab 2006; 4: 223–233.

Holt S, Brand J, Soveny C, Hansky J . Relationship of satiety to postprandial glycaemic, insulin and cholecystokinin responses. Appetite 1992; 18: 129–141.

Ratliff J, Leite JO . de Ogburn R, Puglisi MJ, VanHeest J, Fernandez ML. Consuming eggs for breakfast influences plasma glucose and ghrelin, while reducing energy intake during the next 24 h in adult men. Nutr Res 2010; 30: 96–103.

Anderson GH, Tecimer SN, Shah D, Zafar TA . Protein source, quantity, and time of consumption determine the effect of proteins on short-term food intake in young men. J Nutr 2004; 134: 3011–3015.

Wang J, Thornton JC, Bari S, Williamson B, Gallagher D, Heymsfield SB et al. Comparisons of waist circumferences measured at 4 sites. Am J Clin Nutr 2003; 77: 379–384.

Nishi Y, Hiejima H, Hosoda H, Kaiya H, Mori K, Fukue Y et al. Ingested medium-chain fatty acids are directly utilized for the acyl modification of ghrelin. Endocrinology 2005; 146: 2255–2264.

Kirchner H, Gutierrez JA, Solenberg PJ, Pfluger PT, Czyzyk TA, Willency JA et al. GOAT links dietary lipids with the endocrine control of energy balance. Nat Med 2009; 15: 741–745.

van der Klaauw AA, Keogh JM, Henning E, Trowse VM, Dhillo WS, Ghatei MA et al. High protein intake stimulates postprandial GLP1 and PYY release. Obesity 2013; 21: 1602–1607.

Leidy HJ, Ortinau LC, Douglas SM, Hoertel HA . Beneficial effects of a higher-protein breakfast on the appetitive, hormonal, and neural signals controlling energy intake regulation in overweight/obese, 'breakfast-skipping, late-adolescent girls. Am J Clin Nutr 2013; 97: 677–688.

Astrup A . The relevance of increased fat oxidation for body-weight management: metabolic inflexibility in the predisposition to weight gain. Obes Rev 2011; 12: 859–865.

Brondel L, Landais L, Romer MA, Holley A, Penicaud L . Substrate oxidation influences liking, wanting, macronutrient selection, and consumption of food in humans. Am J Clin Nutr 2011; 94: 775–783.

Langhans W . The enterocyte as an energy flow sensor in the control of eating. Forum Nutr 2010; 63: 75–84.

Feinle-Bisset C, Patterson M, Ghatei MA, Bloom SR, Horowitz M . Fat digestion is required for suppression of ghrelin and stimulation of peptide YY and pancreatic polypeptide secretion by intraduodenal lipid. Am J Physiol Endocrinol Metab 2005; 289: E948–E953.

Feltrin KL, Little TJ, Meyer JH, Horowitz M, Smout AJ, Wishart J et al. Effects of intraduodenal fatty acids on appetite, antropyloroduodenal motility, and plasma CCK and GLP-1 in humans vary with their chain length. Am J Physiol Regul Integr Comp Physiol 2004; 287: R524–R533.

Maggio CA, Koopmans HS . Satiety effects of intragastric meals containing triglycerides with different chain lengths. Am J Physiol 1987; 252 (6 Pt 2): R1106–R1113.

Flatt JP, Ravussin E, Acheson KJ, Jequier E . Effects of dietary fat on postprandial substrate oxidation and on carbohydrate and fat balances. J Clin Invest 1985; 76: 1019–1024.

Westerterp-Plantenga MS, Wijckmans-Duijsens NE . Verboeket-van de Venne WP, De Graaf K, Weststrate JA, Van Het Hof KH. Diet-induced thermogenesis and satiety in humans after full-fat and reduced-fat meals. Physiol Behav 1997; 61: 343–349.

Maki KC, Mustad V, Dicklin MR, Geohas J . Postprandial metabolism with 1,3-diacylglycerol oil versus equivalent intakes of long-chain and medium-chain triacylglycerol oils. Nutrition 2009; 25: 627–633.

Broussolle C, Beylot M, Chassard D, Beaufrere B . Effects of different lipid substrates on glucose metabolism in normal postabsorptive humans. Metabolism 1992; 41: 1276–1283.

Vu MK, Verkijk M, Muller ESM, Biemond I, CBHW Lamers . Masclee AAM. Medium chain triglycerides activate distal but not proximal gut hormones. Clin Nutr 1999; 18: 359–363.

D'Alessio D . Intestinal hormones and regulation of satiety: the case for CCK, GLP-1, PYY, and Apo A-IV. JPEN. J Parenter Enteral Nutr 2008; 32: 567–568.
Acknowledgements
We would like to thank all participants for their involvement in this study and Xinyue Tong and Lilly Nhan for their assistance in the conduct of the study for study 1 participants. MPSO, BM, HRK and BL designed the research; MPSO, BM and MO conducted research; MPSO, BM and AR analyzed data; MPSO, BM, HRK, BL and AR wrote the paper; MPSO had primary responsibility for final content. All authors read and approved the final manuscript. This publication was supported by the National Center for Advancing Translational Sciences, National Institutes of Health, through Grant Number UL1 TR000040, formerly the National Center for Research Resources, Grant Number UL1 RR024156, the New York Obesity Nutrition Research Center Grant Number P30-DK26687. MCT oil was provided by Stepan Company. This trial was registered on Clinicaltrials.gov, identifier NCT01952977.
Ethics declarations
Competing interests
Dr St-Onge is on the Advisory Board of Freelife LLC. The remaining authors declare no conflict of interest.
Supplementary information
About this article
Cite this article
St-Onge, MP., Mayrsohn, B., O'Keeffe, M. et al. Impact of medium and long chain triglycerides consumption on appetite and food intake in overweight men. Eur J Clin Nutr 68, 1134–1140 (2014). https://doi.org/10.1038/ejcn.2014.145
Received:

Revised:

Accepted:

Published:

Issue Date:

DOI: https://doi.org/10.1038/ejcn.2014.145