Abstract
Many researchers have reported that obesity is a major risk factor for diabetes, cardiovascular diseases, several forms of cancer (such as breast, colon and prostate), pulmonary, osteoarticular and metabolic diseases in the past decades. Recently, the hypolipidemic and anti-obesity effects of green tea in animals and humans have slowly become a hot topic in nutritional and food science research. This review will up-date the information of the anti-obesity effects of green tea in human intervention and animal studies. During recent years, an increasing number of clinical trials have confirmed the beneficial effects of green tea on obesity. However, the optimal dose has not yet been established owing to the very different results from studies with a similar design, which may be caused by differences in the extent of obesity, dietary intake, physical activity intensity, the strength of subjects' compliance to test instruction, the genetic background of populations, body composition and dietary habits. Therefore, further investigations on a larger scale and with longer periods of observation and tighter controls are needed to define optimal doses in subjects with varying degrees of metabolic risk factors and to determine differences in beneficial effects among diverse populations. Moreover, data from laboratory studies have shown that green tea has important roles in fat metabolism by reducing food intake, interrupting lipid emulsification and absorption, suppressing adipogenesis and lipid synthesis and increasing energy expenditure via thermogenesis, fat oxidation and fecal lipid excretion. However, the exact molecular mechanisms remain elusive.
Relevant articles
Open Access articles citing this article.
Ehud Rinott

,

Anat Yaskolka Meir

…

Ilan Youngster

Genome Medicine Open Access 10 March 2022

Manar Mohammed El Tabaa

,

Samia Salem Sokkar

…

Anis Anis

Environmental Science and Pollution Research Open Access 11 January 2022

Vahid Maleki

,

Ehsaneh Taheri

…

Mohammad Alizadeh

Reproductive Biology and Endocrinology Open Access 23 September 2021
Access options
Subscribe to this journal
Receive 12 print issues and online access
$259.00 per year
only $21.58 per issue
Rent or buy this article
Get just this article for as long as you need it
$39.95
Prices may be subject to local taxes which are calculated during checkout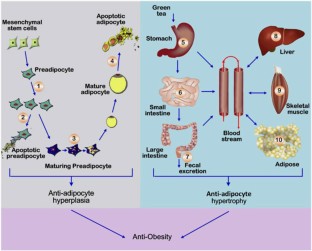 References
Grove KA, Lambert JD . Laboratory, epidemiological, and human intervention studies show that tea (Camellia sinensis) may be useful in the prevention of obesity. J Nutr 2010; 140: 446–453.

Apovian CM, Mechanick JI . Obesity IS a disease! Curr Opin Endocrinol Diabetes Obes 2013; 20: 367–368.

Calle EE, Rodriguez C, Walker-Thurmond K, Thun MJ . Overweight, obesity, and mortality from cancer in a prospectively studied cohort of US adults. New Engl J Med 2003; 348: 1625–1638.

Gonzalez-Castejon M, Rodriguez-Casado A . Dietary phytochemicals and their potential effects on obesity: a review. Pharmacol Res 2011; 64: 438–455.

Popkin BM . Recent dynamics suggest selected countries catching up to US obesity. Am J Clin Nutr 2010; 91: 284S–288S.

Schulz LO, Bennett PH, Ravussin E, Kidd JR, Kidd KK, Esparza J et al. Effects of traditional and western environments on prevalence of type 2 diabetes in Pima Indians in Mexico and the US. Diabetes Care 2006; 29: 1866–1871.

Sae-tan S, Grove KA, Lambert JD . Weight control and prevention of metabolic syndrome by green tea. Pharmacol Res 2011; 64: 146–154.

Poulose BK, Griffin MR, Moore DE, Zhu Y, Smalley W, Richards WO et al. Risk factors for post-operative mortality in bariatric surgery. J Surg Res 2005; 127: 1–7.

Daskalopoulou S, Mikhailidis D, Elisaf M . Prevention and treatment of the metabolic syndrome. Angiology 2004; 55: 589–612.

Han L-K, Kimura Y, Okuda H . Anti-obesity effects of natural products. Stud Nat Prod Chem 2005; 30: 79–110.

Rayalam S, Della-Fera MA, Baile CA Phytochemicals and regulation of the adipocyte life cycle. J Nutr Biochem 2008; 19: 717–726.

Yang CS, Hong J . Prevention of chronic diseases by tea: Possible mechanisms and human relevance. Annu Rev Nutr 2013; 33: 161–181.

Donà M, Dell'Aica I, Calabrese F, Benelli R, Morini M, Albini A et al. Neutrophil restraint by green tea: inhibition of inflammation, associated angiogenesis, and pulmonary fibrosis. J Immunol 2003; 170: 4335–4341.

Ahmed S, Wang N, Lalonde M, Goldberg VM, Haqqi TM . Green tea polyphenol epigallocatechin-3-gallate (EGCG) differentially inhibits interleukin-1β-induced expression of matrix metalloproteinase-1 and-13 in human chondrocytes. J Pharmacol Exp Ther 2004; 308: 767–773.

Roccaro AS, Blanco AR, Giuliano F, Rusciano D, Enea V . Epigallocatechin-gallate enhances the activity of tetracycline in staphylococci by inhibiting its efflux from bacterial cells. Antimicrob Agents Ch 2004; 48: 1968–1973.

Oak M-H, El Bedoui J, Schini-Kerth VB . Antiangiogenic properties of natural polyphenols from red wine and green tea. J Nutr Biochem 2005; 16: 1–8.

Zhang Y-M, Rock CO . Evaluation of epigallocatechin gallate and related plant polyphenols as inhibitors of the FabG and FabI reductases of bacterial type II fatty-acid synthase. J Biol Chem 2004; 279: 30994–31001.

Weber JM, Ruzindana-Umunyana A, Imbeault L, Sircar S . Inhibition of adenovirus infection and adenain by green tea catechins. Antivir Res 2003; 58: 167–173.

Weinreb O, Mandel S, Amit T, Youdim MB . Neurological mechanisms of green tea polyphenols in Alzheimer's and Parkinson's diseases. J Nutr Biochem 2004; 15: 506–516.

USDA Database for the Flavonoid Content of Selected Foods Nutrient Data Laboratory. Food Composition Laboratory. Beltsville Human Nutrition Research Center. Nutrient Data Laboratory. United States Department of Agriculture. Available at http://www.ars.usda.gov/SP2UserFiles/Place/12354500/Data/Flav/Flav02-1.pdf. Accessed 20 November 2009.

Lin YS, Tsai YJ, Tsay JS, Lin JK . Factors affecting the levels of tea polyphenols and caffeine in tea leaves. J Agric Food Chem 2003; 51: 1864–1873.

Balentine DA, Wiseman SA, Bouwens LC . The chemistry of tea flavonoids. Crit Rev Food Sci 1997; 37: 693–704.

Yang CS, Landau JM . Effects of tea consumption on nutrition and health. J Nutr 2000; 130: 2409–2412.

Chung FL, Schwartz J, Herzog CR, Yang YM . Tea and cancer prevention: studies in animals and humans. J Nutr 2003; 133: 3268S–3274S.

Chantre P, Lairon D . Recent findings of green tea extract AR25 (Exolise) and its activity for the treatment of obesity. Phytomedicine 2002; 9: 3–8.

Basu A, Sanchez K, Leyva MJ, Wu M, Betts NM, Aston CE et al. Green tea supplementation affects body weight, lipids, and lipid peroxidation in obese subjects with metabolic syndrome. J Am Coll Nutr 2010; 29: 31–40.

Brown AL, Lane J, Holyoak C, Nicol B, Mayes AE, Dadd T . Health effects of green tea catechins in overweight and obese men: a randomised controlled cross-over trial. Br J Nutr 2011; 106: 1880–1889.

Suliburska J, Bogdanski P, Szulinska M, Stepien M, Pupek-Musialik D, Jablecka A . Effects of green tea supplementation on elements, total antioxidants, lipids, and glucose values in the serum of obese patients. Biol Trace Elem Res 2012; 149: 315–322.

Hill AM, Coates AM, Buckley JD, Ross R, Thielecke F, Howe PR . Can EGCG reduce abdominal fat in obese subjects? J Am Coll Nutr 2007; 26: 396S–402S.

Cardoso GA, Salgado JM, Cesar Mde C, Donado-Pestana CM . The effects of green tea consumption and resistance training on body composition and resting metabolic rate in overweight or obese women. J Med Food 2013; 16: 120–127.

Maki KC, Reeves MS, Farmer M, Yasunaga K, Matsuo N, Katsuragi Y et al. Green tea catechin consumption enhances exercise-induced abdominal fat loss in overweight and obese adults. J Nutr 2009; 139: 264–270.

Diepvens K, Kovacs EM, Vogels N, Westerterp-Plantenga MS . Metabolic effects of green tea and of phases of weight loss. Physiol Behav 2006; 87: 185–191.

Di Pierro F, Menghi AB, Barreca A, Lucarelli M, Calandrelli A . Greenselect Phytosome as an adjunct to a low-calorie diet for treatment of obesity: a clinical trial. Altern Med Rev 2009; 14: 154–160.

Kovacs EM, Lejeune MP, Nijs I, Westerterp-Plantenga MS . Effects of green tea on weight maintenance after body-weight loss. Br J Nutr 2004; 91: 431–437.

Westerterp-Plantenga MS, Lejeune MP, Kovacs EM . Body weight loss and weight maintenance in relation to habitual caffeine intake and green tea supplementation. Obes Res 2005; 13: 1195–1204.

Belza A, Frandsen E, Kondrup J . Body fat loss achieved by stimulation of thermogenesis by a combination of bioactive food ingredients: a placebo-controlled, double-blind 8-week intervention in obese subjects. Int J Obesity 2007; 31: 121–130.

Lenon GB, Li KX, Chang YH, Yang AW, Da Costa C, Li CG et al. Efficacy and safety of a Chinese herbal medicine formula (RCM-104) in the management of simple obesity: a randomized, placebo-controlled clinical trial. Evid Based Compl Alternat Med 2012; 2012: 1–11.

Kelly T, Yang W, Chen C, Reynolds K, He J . Global burden of obesity in 2005 and projections to 2030. Int J Obesity 2008; 32: 1431–1437.

Yoon KH, Lee JH, Kim JW, Cho JH, Choi YH, Ko SH et al. Epidemic obesity and type 2 diabetes in Asia. Lancet 2006; 368: 1681–1688.

Indulekha K, Anjana RM, Surendar J, Mohan V . Association of visceral and subcutaneous fat with glucose intolerance, insulin resistance, adipocytokines and inflammatory markers in Asian Indians (CURES-113). Clin Biochem 2011; 44: 281–287.

Chan CC, Koo MW, Ng EH, Tang OS, Yeung WS, Ho PC . Effects of Chinese green tea on weight, and hormonal and biochemical profiles in obese patients with polycystic ovary syndrome—a randomized placebo-controlled trial. J Soc Gynecol Invest 2006; 13: 63–68.

Hsu C, Liao Y, Lin S, Tsai T, Huang C, Chou P . Does supplementation with green tea extract improve insulin resistance in obese type 2 diabetics? A randomized, double-blind, and placebocontrolled clinical trial. Altern Med Rev 2011; 16: 157–163.

Nagao T, Komine Y, Soga S, Meguro S, Hase T, Tanaka Y et al. Ingestion of a tea rich in catechins leads to a reduction in body fat and malondialdehyde-modified LDL in men. Am J Clin Nutr 2005; 81: 122–129.

Hsu CH, Tsai TH, Kao YH, Hwang KC, Tseng TY, Chou P . Effect of green tea extract on obese women: a randomized, double-blind, placebo-controlled clinical trial. Clin Nutr 2008; 27: 363–370.

Nagao T, Hase T, Tokimitsu I . A green tea extract high in catechins reduces body fat and cardiovascular risks in humans. Obesity 2007; 15: 1473–1483.

Wang H, Wen Y, Du Y, Yan X, Guo H, Rycroft JA et al. Effects of catechin enriched green tea on body composition. Obesity 2010; 18: 773–779.

Zhang Y, Yu Y, Li X, Meguro S, Hayashi S, Katashima M et al. Effects of catechin-enriched green tea beverage on visceral fat loss in adults with a high proportion of visceral fat: a double-blind, placebo-controlled, randomized trial. J Funct Foods 2012; 4: 315–322.

Auvichayapat P, Prapochanung M, Tunkamnerdthai O, Sripanidkulchai BO, Auvichayapat N, Thinkhamrop B et al. Effectiveness of green tea on weight reduction in obese Thais: a randomized, controlled trial. Physiol Behav 2008; 93: 486–491.

Matsuyama T, Tanaka Y, Kamimaki I, Nagao T, Tokimitsu I . Catechin safely improved higher levels of fatness, blood pressure, and cholesterol in children. Obesity 2008; 16: 1338–1348.

Yang HY, Yang SC, Chao JC, Chen JR . Beneficial effects of catechin-rich green tea and inulin on the body composition of overweight adults. Br J Nutr 2012; 107: 749–754.

Narotzki B, Reznick AZ, Navot-Mintzer D, Dagan B, Levy Y . Green tea and vitamin E enhance exercise-induced benefits in body composition, glucose homeostasis, and antioxidant status in elderly men and women. J Am Coll Nutr 2013; 32: 31–40.

Bérubé-Parent S, Pelletier C, Doré J, Tremblay A . Effects of encapsulated green tea and Guarana extracts containing a mixture of epigallocatechin-3-gallate and caffeine on 24 h energy expenditure and fat oxidation in men. Br J Nutr 2005; 94: 432.

Boschmann M, Thielecke F, Franke G, Adams F, Birkenfeld A, Luft F et al. Evaluation of EGCG on thermogenesis and fat oxidation. Am J Clin Nutr 2007; 25: 441–449.

Fève B . Adipogenesis: cellular and molecular aspects. Best Pract Res Clin Endocrinol Metab 2005; 19: 483–499.

Rains TM, Agarwal S, Maki KC . Antiobesity effects of green tea catechins: a mechanistic review. J Nutr Biochem 2011; 22: 1–7.

Gregoire FM . Adipocyte differentiation: from fibroblast to endocrine cell. Exp Biol Med 2001; 226: 997–1002.

Hung PF, Wu BT, Chen HC, Chen YH, Chen CL, Wu MH et al. Antimitogenic effect of green tea (-)-epigallocatechin gallate on 3T3-L1 preadipocytes depends on the ERK and Cdk2 pathways. Am J Physiol Cell Physiol 2005; 288: C1094–C1108.

Yang CS, Chen L, Lee M-J, Balentine D, Kuo MC, Schantz SP . Blood and urine levels of tea catechins after ingestion of different amounts of green tea by human volunteers. Cancer Epidemiol Biomarkers Prev 1998; 7: 351–354.

Manach C, Scalbert A, Morand C, Rémésy C, Jiménez L . Polyphenols: food sources and bioavailability. Am J Clin Nutr 2004; 79: 727–747.

Furuyashiki T, Nagayasu H, Aoki Y, Bessho H, Hashimoto T, Kanazawa K et al. Tea catechin suppresses adipocyte differentiation accompanied by down-regulation of PPARγ2 and C/EBPα in 3T3-L1 cells. Biosci Biotech Biochem 2004; 68: 2353–2359.

Chan CY, Wei L, Castro-Muñozledo F, Koo WL . (−)-Epigallocatechin-3-gallate blocks 3T3-L1 adipose conversion by inhibition of cell proliferation and suppression of adipose phenotype expression. Life Sci 2011; 89: 779–785.

Gupta S, Ahmad N, Nieminen A-L, Mukhtar H . Growth inhibition, cell-cycle dysregulation, and induction of apoptosis by green tea constituent (-)-epigallocatechin-3-gallate in androgen-sensitive and androgen-insensitive human prostate carcinoma cells. Toxicol Appl Pharm 2000; 164: 82–90.

Chen C, Shen G, Hebbar V, Hu R, Owuor ED, Kong A-NT . Epigallocatechin-3-gallate-induced stress signals in HT-29 human colon adenocarcinoma cells. Carcinogenesis 2003; 24: 1369–1378.

Nihal M, Ahmad N, Mukhtar H, Wood GS . Anti-proliferative and proapoptotic effects of (-)-epigallocatechin-3-gallate on human melanoma: Possible implications for the chemoprevention of melanoma. Int J Cancer 2005; 114: 513–521.

Sakurai N, Mochizuki K, Kameji H, Shimada M, Goda T . (-)-Epigallocatechin gallate enhances the expression of genes related to insulin sensitivity and adipocyte differentiation in 3T3-L1 adipocytes at an early stage of differentiation. Nutrition 2009; 25: 1047–1056.

Morikawa K, Ikeda C, Nonaka M, Pei S, Mochizuki M, Mori A et al. Epigallocatechin gallate-induced apoptosis does not affect adipocyte conversion of preadipocytes. Cell Biol Int 2007; 31: 1379–1387.

Chen L, Lee MJ, Li H, Yang CS . Absorption, distribution, and elimination of tea polyphenols in rats. Drug Metab Dispos 1997; 25: 1045–1050.

Warden BA, Smith LS, Beecher GR, Balentine DA, Clevidence BA . Catechins are bioavailable in men and women drinking black tea throughout the day. J Nutr 2001; 131: 1731–1737.

Lee MJ, Maliakal P, Chen L, Meng X, Bondoc FY, Prabhu S et al. Pharmacokinetics of tea catechins after ingestion of green tea and (−)-epigallocatechin-3-gallate by humans formation of different metabolites and individual variability. Cancer Epidemiol Biomarkers Prev 2002; 11: 1025–1032.

Löest HB, Noh SK, Koo SI . Green tea extract inhibits the lymphatic absorption of cholesterol and α-tocopherol in ovariectomized rats. J Nutr 2002; 132: 1282–1288.

Klaus S, Pultz S, Thone-Reineke C, Wolfram S . Epigallocatechin gallate attenuates diet-induced obesity in mice by decreasing energy absorption and increasing fat oxidation. Int J Obesity 2005; 29: 615–623.

Wang S, Noh SK, Koo SI . Epigallocatechin gallate and caffeine differentially inhibit the intestinal absorption of cholesterol and fat in ovariectomized rats. J Nutr 2006; 136: 2791–2796.

Koo SI, Noh SK . Green tea as inhibitor of the intestinal absorption of lipids: potential mechanism for its lipid-lowering effect. J Nutr Biochem 2007; 18: 179–183.

Wang S, Noh SK, Koo SI . Green tea catechins inhibit pancreatic phospholipase A(2) and intestinal absorption of lipids in ovariectomized rats. J Nutr Biochem 2006; 17: 492–498.

He Q, Lv Y, Yao K . Effects of tea polyphenols on the activities of α-amylase, pepsin, trypsin and lipase. Food Chem 2007; 101: 1178–1182.

Naz S, Siddiqi R, Dew TP, Williamson G . Epigallocatechin-3-gallate inhibits lactase but is alleviated by salivary proline-rich proteins. J Agr Food Chem 2011; 59: 2734–2738.

Koh LW, Wong LL, Loo YY, Kasapis S, Huang D . Evaluation of different teas against starch digestibility by mammalian glycosidases. J Agr Food Chem 2010; 58: 148–154.

Forester SC, Gu Y, Lambert JD . Inhibition of starch digestion by the green tea polyphenol, (-)-epigallocatechin-3-gallate. Mol Nutr Food Res 2012; 56: 1647–1654.

Matsui T, Tanaka T, Tamura S, Toshima A, Tamaya K, Miyata Y et al. α-Glucosidase inhibitory profile of catechins and theaflavins. J Agr Food Chem 2007; 55: 99–105.

Lo Piparo E, Scheib H, Frei N, Williamson G, Grigorov M, Chou CJ . Flavonoids for controlling starch digestion: structural requirements for inhibiting human α-amylase. J Med Chem 2008; 51: 3555–3561.

Shimizu M, Kobayashi Y, Suzuki M, Satsu H, Miyamoto Y . Regulation of intestinal glucose transport by tea catechins. Biofactors 2000; 13: 61–65.

Hossain SJ, Kato H, Aoshima H, Yokoyama T, Yamada M, Hara Y . Polyphenol-induced inhibition of the response of Na+/glucose cotransporter expressed in Xenopus oocytes. J Agric Food Chem 2002; 50: 5215–5219.

Liu J, Wang M, Peng S, Zhang G . Effect of green tea catechins on the postprandial glycemic response to starches differing in amylose content. J Agric Food Chem 2011; 59: 4582–4588.

Juhel C, Armand M, Pafumi Y, Rosier C, Vandermander J, Lairon D . Green tea extract (AR25®) inhibits lipolysis of triglycerides in gastric and duodenal medium in vitro. J Nutr Biochem 2000; 11: 45–51.

Gondoin A, Grussu D, Stewart D, McDougall GJ . White and green tea polyphenols inhibit pancreatic lipase in vitro. Food Res Int 2010; 43: 1537–1544.

Ikeda I, Tsuda K, Suzuki Y, Kobayashi M, Unno T, Tomoyori H et al. Tea catechins with a galloyl moiety suppress postprandial hypertriacylglycerolemia by delaying lymphatic transport of dietary fat in rats. J Nutr 2005; 135: 155–159.

Grove KA, Sae-tan S, Kennett MJ, Lambert JD . (-)-Epigallocatechin-3-gallate inhibits pancreatic lipase and reduces body weight gain in high fat-fed obese mice. Obesity 2012; 20: 2311–2313.

Wu X, He W, Li Y, Zhang H, Liu Z, Wang W et al. Characterization of binding interactions of (−)-epigallocatechin-3-gallate from green tea and lipase. J Agric Food Chem 2013; 61: 8829–8835.

Armand M, Pasquier B, André M, Borel P, Senft M, Peyrot J et al. Digestion and absorption of 2 fat emulsions with different droplet sizes in the human digestive tract. Am J Clin Nutr 1999; 70: 1096–1106.

Shishikura Y, Khokhar S, Murray BS . Effects of tea polyphenols on emulsification of olive oil in a small intestine model system. J Agric Food Chem 2006; 54: 1906–1913.

Koo SI, Noh SK . Phosphatidylcholine inhibits and lysophosphatidylcholine enhances the lymphatic absorption of α-tocopherol in adult rats. J Nutr 2001; 131: 717–722.

Qin B, Dawson HD, Schoene NW, Polansky MM, Anderson RA . Cinnamon polyphenols regulate multiple metabolic pathways involved in insulin signaling and intestinal lipoprotein metabolism of small intestinal enterocytes. Nutrition 2012; 28: 1172–1179.

Casaschi A, Wang Q, Dang Ko, Richards A, Theriault A . Intestinal apolipoprotein B secretion is inhibited by the flavonoid quercetin: potential role of microsomal triglyceride transfer protein and diacylglycerol acyltransferase. Lipids 2002; 37: 647–652.

Patel MS, Owen OE, Goldman LI, Hanson RW . Fatty acid synthesis by human adipose tissue. Metabolism 1975; 24: 161–173.

Suganuma M, Okabe S, Oniyama M, Tada Y, Ito H, Fujiki H . Wide distribution of [3H](-)-epigallocatechin gallate, a cancer preventive tea polyphenol, in mouse tissue. Carcinogenesis 1998; 19: 1771–1776.

Shrestha S, Ehlers SJ, Lee JY, Fernandez ML, Koo SI . Dietary green tea extract lowers plasma and hepatic triglycerides and decreases the expression of sterol regulatory element-binding protein-1c mRNA and its responsive genes in fructose-fed, ovariectomized rats. J Nutr 2009; 139: 640–645.

Kaul D, Sikand K, Shukla A . Effect of green tea polyphenols on the genes with atherosclerotic potential. Phytother Res 2004; 18: 177–179.

Kim HJ, Jeon SM, Lee MK, Jung UJ, Shin SK, Choi MS . Antilipogenic effect of green tea extract in C57BL/6J-Lep ob/ob mice. Phytother Res 2009; 23: 467–471.

Murase T, Nagasawa A, Suzuki J, Hase T, Tokimitsu I . Beneficial effects of tea catechins on diet-induced obesity: stimulation of lipid catabolism in the liver. Int J Obesity 2002; 26: 1459–1464.

Osada K, Funayama M, Fuchi S, Sami M, Ohta Y, Kanda T et al. Effects of dietary procyanidins and tea polyphenols on adipose tissue mass and fatty acid metabolism in rats on a high fat diet. J Oleo Sci 2006; 55: 79–89.

Li RW, Douglas TD, Maiyoh GK, Adeli K, Theriault AG . Green tea leaf extract improves lipid and glucose homeostasis in a fructose-fed insulin-resistant hamster model. J Ethnopharmacol 2006; 104: 24–31.

Chen N, Bezzina R, Hinch E, Lewandowski PA, Cameron-Smith D, Mathai ML et al. Green tea, black tea, and epigallocatechin modify body composition, improve glucose tolerance, and differentially alter metabolic gene expression in rats fed a high-fat diet. Nutr Res 2009; 29: 784–793.

Hasumura T, Shimada Y, Kuroyanagi J, Nishimura Y, Meguro S, Takema Y et al. Green tea extract suppresses adiposity and affects the expression of lipid metabolism genes in diet-induced obese zebrafish. Nutr Metab 2012; 9: 1–7.

Huang J, Zhang Y, Zhou Y, Zhang Z, Xie Z, Zhang J et al. Green tea polyphenols alleviate obesity in broiler chickens through the regulation of lipid-metabolism-related genes and transcription factor expression. J Agric Food Chem 2013; 61: 8565–8572.

Yasui K, Paeng N, Miyoshi N, Suzuki T, Taguchi K, Ishigami Y et al. Effects of a catechin-free fraction derived from green tea on gene expression of enzymes related to lipid metabolism in the mouse liver. Biomed Res 2012; 33: 9–13.

Lu C, Zhu W, Shen CL, Gao W . Green tea polyphenols reduce body weight in rats by modulating obesity-related genes. PLoS One 2012; 7: e38332.

Habinowski SA, Witters LA . The effects of AICAR on adipocyte differentiation of 3T3-L1 cells. Biochem Biophis Res Commun 2001; 286: 852–856.

Murase T, Misawa K, Haramizu S, Hase T . Catechin-induced activation of the LKB1/AMP-activated protein kinase pathway. Biochem Pharmacol 2009; 78: 78–84.

Banerjee S, Ghoshal S, Porter TD . Phosphorylation of hepatic AMP-activated protein kinase and liver kinase B1 is increased after a single oral dose of green tea extract to mice. Nutr Res 2012; 32: 985–990.

Lee MS, Kim CT, Kim Y . Green tea (-)-epigallocatechin-3-gallate reduces body weight with regulation of multiple genes expression in adipose tissue of diet-induced obese mice. Ann Nutr Metab 2009; 54: 151–157.

Serisier S, Leray V, Poudroux W, Magot T, Ouguerram K, Nguyen P . Effects of green tea on insulin sensitivity, lipid profile and expression of PPARα and PPARγ and their target genes in obese dogs. Br J Nutr 2008; 99: 1208–1216.

Park HJ, DiNatale DA, Chung MY, Park YK, Lee JY, Koo SI et al. Green tea extract attenuates hepatic steatosis by decreasing adipose lipogenesis and enhancing hepatic antioxidant defenses in ob/ob mice. J Nutr Biochem 2011; 22: 393–400.

Lee MS, Kim CT, Kim IH, Kim Y . Inhibitory effects of green tea catechin on the lipid accumulation in 3T3-L1 adipocytes. Phytother Res 2009; 23: 1088–1091.

Wolfram S, Raederstorff D, Wang Y, Teixeira SR, Elste V, Weber P . TEAVIGO (epigallocatechin gallate) supplementation prevents obesity in rodents by reducing adipose tissue mass. Ann Nutr Metab 2005; 49: 54–63.

Ashida H, Furuyashiki T, Nagayasu H, Bessho H, Sakakibara H, Hashimoto T et al. Anti-obesity actions of green tea: possible involvements in modulation of the glucose uptake system and suppression of the adipogenesis-related transcription factors. Biofactors 2004; 22: 135–140.

Granneman JG, Moore H-PH, Krishnamoorthy R, Rathod M . Perilipin controls lipolysis by regulating the interactions of AB-hydrolase containing 5 (Abhd5) and adipose triglyceride lipase (Atgl). J Biol Chem 2009; 284: 34538–34544.

Caviglia JM, Betters JL, Dapito D-H, Lord CC, Sullivan S, Chua S et al. Adipose-selective overexpression of ABHD5/CGI-58 does not increase lipolysis or protect against diet-induced obesity. J Lipid Res 2011; 52: 2032–2042.

Gandotra S, Lim K, Girousse A, Saudek V, O'Rahilly S, Savage DB . Human frame shift mutations affecting the carboxyl terminus of perilipin increase lipolysis by failing to sequester the adipose triglyceride lipase (ATGL) coactivator AB-hydrolase-containing 5 (ABHD5). J Biol Chem 2011; 286: 34998–35006.

Cunha CA, Lira FS, Rosa Neto JC, Pimentel GD, Souza GI, da Silva CM et al. Green tea extract supplementation induces the lipolytic pathway, attenuates obesity, and reduces low-grade inflammation in mice fed a high-fat diet. Mediat Inflamm 2013; 2013: 1–8.

Cannon B, Nedergaard J . Brown adipose tissue: function and physiological significance. Physiol Rev 2004; 84: 277–359.

Nomura S, Ichinose T, Jinde M, Kawashima Y, Tachiyashiki K, Imaizumi K . Tea catechins enhance the mRNA expression of uncoupling protein 1 in rat brown adipose tissue. J Nutr Biochem 2008; 19: 840–847.

Murase T, Haramizu S, Shimotoyodome A, Nagasawa A, Tokimitsu I . Green tea extract improves endurance capacity and increases muscle lipid oxidation in mice. Am J Physiol Regul Integr Comp Physiol 2005; 288: R708–R715.

Sae-tan S, Grove KA, Kennett MJ, Lambert JD . (−)-Epigallocatechin-3-gallate increases the expression of genes related to fat oxidation in the skeletal muscle of high fat-fed mice. Food Funct 2011; 2: 111–116.

Sung HY, Hong CG, Suh YS, Cho HC, Park JH, Bae JH et al. Role of (−)-epigallocatechin-3-gallate in cell viability, lipogenesis, and retinol-binding protein 4 expression in adipocytes. Naunyn Schmiedebergs Arch Pharmacol 2010; 382: 303–310.

Hsieh CF, Tsuei YW, Liu CW, Kao CC, Shih LJ, Ho LT et al. Green tea epigallocatechin gallate inhibits insulin stimulation of adipocyte glucose uptake via the 67-kilodalton laminin receptor and AMP-activated protein kinase pathways. Planta Med 2010; 76: 1694–1698.

Lee H, Bae S, Yoon Y . The anti-adipogenic effects of (-) epigallocatechin gallate are dependent on the WNT/β-catenin pathway. J Nutr Biochem 2013; 24: 1232–1240.

Kao YH, Hiipakka RA, Liao S . Modulation of endocrine systems and food intake by green tea epigallocatechin gallate. Endocrinology 2000; 141: 980–987.
Acknowledgements
This work was supported by the Agricultural Science and Technology Achievements Transformation Project (2013GB2C300220, the Ministry of Science and Technology of People's Republic of China), the Earmarked Fund for Modern Agro-industry Technology Research System in Tea Industry (nycytx-26, the Ministry of Agriculture of People's Republic of China), the Program for Changjiang Scholars and Innovative Research Team in University (Grant no. IRT1101) and international cooperation projects (2011DFG33280, the Ministry of Science and Technology of People's Republic of China)).
DISCLAIMER
The authors alone are responsible for the content and writing of the paper.
Ethics declarations
Competing interests
The authors declare no conflict of interest.
About this article
Cite this article
Huang, J., Wang, Y., Xie, Z. et al. The anti-obesity effects of green tea in human intervention and basic molecular studies. Eur J Clin Nutr 68, 1075–1087 (2014). https://doi.org/10.1038/ejcn.2014.143
Received:

Revised:

Accepted:

Published:

Issue Date:

DOI: https://doi.org/10.1038/ejcn.2014.143