Abstract
Background/objectives:
Oxidative stress and micronutrient deficiencies have been related to lower birth weight (BW), small for gestational age (SGA) offspring and preterm delivery.
Subjects/methods:
The relation between neonatal outcome (BW, head circumference, SGA, preterm delivery) with markers of oxidative stress and micronutrients in maternal and cord blood was to be examined. Oxidative stress markers (protein carbonyls (PrCarb), 3-nitrotyrosine (3NT), malondialdehyde (MDA)), total protein concentration and lipid-soluble micronutrients (carotenoids, retinol, tocopherols) were measured in 200 newborns (11% preterms, 13% SGA) and 151 mothers. Associations between target parameters in cord plasma and maternal serum with BW, head circumference and risk of being SGA or preterm were explored.
Results:
Maternal protein concentration, PrCarb, MDA and all lipid-soluble micronutrients were significantly higher compared with newborns, except for 3NT, which was significantly elevated in newborns. Newborn parameters correlated positively with those of mothers. Preterms had lower proteins and retinol but higher PrCarb than terms. Maternal PrCarb and retinol were inversely associated with BW and head circumference. Mothers with PrCarb, MDA and retinol in the highest quintile had a 3.3-fold (0.9; 12.1), 2.1-fold (0.7; 6.4) and 3.3-fold (1.2; 9.4) risk, respectively, for delivering an SGA newborn, whereas the lowest quintile of retinol in cord blood was associated with an increased risk for preterm delivery.
Conclusions:
Oxidative stress (elevated PrCarb) was associated with lower BW/head circumference and SGA. Inadequate hemodilution may explain the inverse relation of maternal retinol with BW and head circumference, and the association between highest maternal retinol and risk for SGA.
Access options
Subscribe to this journal
Receive 12 print issues and online access
$259.00 per year
only $21.58 per issue
Rent or buy this article
Prices vary by article type
from$1.95
to$39.95
Prices may be subject to local taxes which are calculated during checkout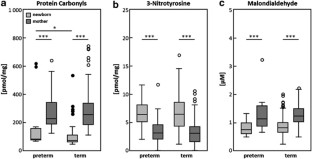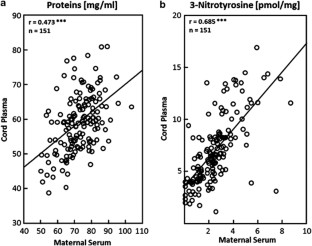 Similar content being viewed by others
References
Crump C, Sundquist K, Sundquist J, Winkleby MA . Gestational age at birth and mortality in young adulthood. JAMA 2011; 306: 1233–1240.

Crump C, Winkleby MA, Sundquist K, Sundquist J . Risk of diabetes among young adults born preterm in Sweden. Diabetes Care 2011; 34: 1109–1113.

Crump C, Winkleby MA, Sundquist K, Sundquist J . Risk of hypertension among young adults who were born preterm: a Swedish national study of 636 000 births. Am J Epidemiol 2011; 173: 797–803.

Boyle EM, Poulsen G, Field DJ, Kurinczuk JJ, Wolke D, Alfirevic Z et al. Effects of gestational age at birth on health outcomes at 3 and 5 years of age: population based cohort study. BMJ 2012; 344: e896.

Blencowe H, Cousens S, Oestergaard MZ, Chou D, Moller AB, Narwal R et al. National, regional, and worldwide estimates of preterm birth rates in the year 2010 with time trends since 1990 for selected countries: a systematic analysis and implications. Lancet 2012; 379: 2162–2172.

Zimmer KP . Neonatology departments under economic pressure. Dtsch Arztebl Int 2012; 109: 517–518.

Saenger P, Czernichow P, Hughes I, Reiter EO . Small for gestational age: short stature and beyond. Endocr Rev 2007; 28: 219–251.

Barker DJ . The fetal and infant origins of adult disease. BMJ 1990; 301: 1111.

Sies H . Oxidative stress: introductory remarks. In: Sies H, (ed) Oxidative Stress. Academic Press: London, UK, 1985, pp 1–8.

Wang Y, Walsh SW . Increased superoxide generation is associated with decreased superoxide dismutase activity and mRNA expression in placental trophoblast cells in pre-eclampsia. Placenta 2001; 22: 206–212.

Saker M, Soulimane MN, Merzouk SA, Merzouk H, Belarbi B, Narce M . Oxidant and antioxidant status in mothers and their newborns according to birthweight. Eur J Obstet Gynecol Reprod Biol 2008; 141: 95–99.

Scholl TO, Chen X, Sims M, Stein TP . Vitamin E: maternal concentrations are associated with fetal growth. Am J Clin Nutr 2006; 84: 1442–1448.

Baydas G, Karatas F, Gursu MF, Bozkurt HA, Ilhan N, Yasar A et al. Antioxidant vitamin levels in term and preterm infants and their relation to maternal vitamin status. Arch Med Res 2002; 33: 276–280.

Wisdom SJ, Wilson R, McKillop JH, Walker JJ . Antioxidant systems in normal pregnancy and in pregnancy-induced hypertension. Am J Obstet Gynecol 1991; 165 (6 Pt 1), 1701–1704.

Myatt L, Cui X . Oxidative stress in the placenta. Histochem Cell Biol 2004; 122: 369–382.

Jauniaux E, Watson AL, Hempstock J, Bao YP, Skepper JN, Burton GJ . Onset of maternal arterial blood flow and placental oxidative stress. A possible factor in human early pregnancy failure. Am J Pathol 2000; 157: 2111–2122.

Davis JM, Auten RL . Maturation of the antioxidant system and the effects on preterm birth. Semin Fetal Neonatal Med 2010; 15: 191–195.

Brooke OG, Anderson HR, Bland JM, Peacock JL, Stewart CM . Effects on birth weight of smoking, alcohol, caffeine, socioeconomic factors, and psychosocial stress. BMJ 1989; 298: 795–801.

Haste FM, Brooke OG, Anderson HR, Bland JM . The effect of nutritional intake on outcome of pregnancy in smokers and non-smokers. Br J Nutr 1991; 65: 347–354.

Saugstad OD . Bronchopulmonary dysplasia-oxidative stress and antioxidants. Semin Neonatol 2003; 8: 39–49.

Buonocore G, Perrone S, Longini M, Terzuoli L, Bracci R . Total hydroperoxide and advanced oxidation protein products in preterm hypoxic babies. Pediatr Res 2000; 47: 221–224.

Jain SK, Wise R, Yanamandra K, Dhanireddy R, Bocchini JA Jr. . The effect of maternal and cord-blood vitamin C, vitamin E and lipid peroxide levels on newborn birth weight. Mol Cell Biochem 2008; 309: 217–221.

Kim YJ, Hong YC, Lee KH, Park HJ, Park EA, Moon HS et al. Oxidative stress in pregnant women and birth weight reduction. Reprod Toxicol 2005; 19: 487–492.

Bernhard W, Full A, Arand J, Maas C, Poets CF, Franz AR . Choline supply of preterm infants: assessment of dietary intake and pathophysiological considerations. Eur J Nutr 2013; 52: 1269–1278.

Weber D, Stuetz W, Bernhard W, Franz AR, Raith M, Grune T et al. 5-Methyltetrahydrofolate and thiamine diphosphate in cord blood erythrocytes of preterm versus term newborns. Eur J Clin Nutr 2013; 67: 1029–1035.

Alexander GR, Himes JH, Kaufman RB, Mor J, Kogan M . A United States national reference for fetal growth. Obstet Gynecol 1996; 87: 163–168.

Buss H, Chan TP, Sluis KB, Domigan NM, Winterbourn CC . Protein carbonyl measurement by a sensitive ELISA method. Free Radic Biol Med 1997; 23: 361–366.

Sitte N, Merker K, Grune T . Proteasome-dependent degradation of oxidized proteins in MRC-5 fibroblasts. FEBS Lett 1998; 440: 399–402.

Weber D, Kneschke N, Grimm S, Bergheim I, Breusing N, Grune T . Rapid and sensitive determination of protein-nitrotyrosine by ELISA: application to human plasma. Free Radic Res 2012; 46: 276–285.

Stuetz W, McGready R, Cho T, Prapamontol T, Biesalski HK, Stepniewska K et al. Relation of DDT residues to plasma retinol, alpha-tocopherol, and beta-carotene during pregnancy and malaria infection: a case-control study in Karen women in northern Thailand. Sci Total Environ 2006; 363: 78–86.

Wong SH, Knight JA, Hopfer SM, Zaharia O, Leach Jr CN, Sunderman Jr. FW . Lipoperoxides in plasma as measured by liquid-chromatographic separation of malondialdehyde-thiobarbituric acid adduct. Clin Chem 1987; 33 (2 Pt 1), 214–220.

Ballard PL, Truog WE, Merrill JD, Gow A, Posencheg M, Golombek SG et al. Plasma biomarkers of oxidative stress: relationship to lung disease and inhaled nitric oxide therapy in premature infants. Pediatrics 2008; 121: 555–561.

Banks BA, Ischiropoulos H, McClelland M, Ballard PL, Ballard RA . Plasma 3-nitrotyrosine is elevated in premature infants who develop bronchopulmonary dysplasia. Pediatrics 1998; 101: 870–874.

Arguelles S, Machado MJ, Ayala A, Machado A, Hervias B . Correlation between circulating biomarkers of oxidative stress of maternal and umbilical cord blood at birth. Free Radic Res 2006; 40: 565–570.

Gow A, Duran D, Thom SR, Ischiropoulos H . Carbon dioxide enhancement of peroxynitrite-mediated protein tyrosine nitration. Arch Biochem Biophys 1996; 333: 42–48.

Beckman JS, Ye YZ, Anderson PG, Chen J, Accavitti MA, Tarpey MM et al. Extensive nitration of protein tyrosines in human atherosclerosis detected by immunohistochemistry. Biol Chem Hoppe Seyler 1994; 375: 81–88.

Myatt L . Review: Reactive oxygen and nitrogen species and functional adaptation of the placenta. Placenta 2010; 31 (Suppl), S66–S69.

Low SY, Sabetkar M, Bruckdorfer KR, Naseem KM . The role of protein nitration in the inhibition of platelet activation by peroxynitrite. FEBS Lett 2002; 511: 59–64.

Brito C, Naviliat M, Tiscornia AC, Vuillier F, Gualco G, Dighiero G et al. Peroxynitrite inhibits T lymphocyte activation and proliferation by promoting impairment of tyrosine phosphorylation and peroxynitrite-driven apoptotic death. J Immunol 1999; 162: 3356–3366.

Ferdinandy P . Peroxynitrite: just an oxidative/nitrosative stressor or a physiological regulator as well? Br J Pharmacol 2006; 148: 1–3.

Viner RI, Williams TD, Schoneich C . Peroxynitrite modification of protein thiols: oxidation, nitrosylation, and S-glutathiolation of functionally important cysteine residue(s) in the sarcoplasmic reticulum Ca-ATPase. Biochemistry 1999; 38: 12408–12415.

Joshi SR, Mehendale SS, Dangat KD, Kilari AS, Yadav HR, Taralekar VS . High maternal plasma antioxidant concentrations associated with preterm delivery. Ann Nutr Metab 2008; 53: 276–282.

Rogers MS, Mongelli M, Tsang KH, Wang CC . Fetal and maternal levels of lipid peroxides in term pregnancies. Acta Obstet Gynecol Scand 1999; 78: 120–124.

Linderkamp O, Stadler AA, Zilow EP . Blood viscosity and optimal hematocrit in preterm and full-term neonates in 50- to 500-micrometer tubes. Pediatr Res 1992; 32: 97–102.

Cooper WO, Atherton HD, Kahana M, Kotagal UR . Increased incidence of severe breastfeeding malnutrition and hypernatremia in a metropolitan area. Pediatrics 1995; 96 (5 Pt 1), 957–960.

Marzocchi B, Perrone S, Paffetti P, Magi B, Bini L, Tani C et al. Nonprotein-bound iron and plasma protein oxidative stress at birth. Pediatr Res 2005; 58: 1295–1299.

Bland RD . Cord-blood total protein level as a screening aid for the idiopathic respiratory-distress syndrome. N Engl J Med 1972; 287: 9–13.

Navarro J, Causse MB, Desquilbet N, Herve F, Lallemand D . The vitamin status of low birth weight infants and their mothers. J Pediatr Gastroenterol Nutr 1984; 3: 744–748.

Kiely M, Cogan PF, Kearney PJ, Morrissey PA . Concentrations of tocopherols and carotenoids in maternal and cord blood plasma. Eur J Clin Nutr 1999; 53: 711–715.

Jauniaux E, Cindrova-Davies T, Johns J, Dunster C, Hempstock J, Kelly FJ et al. Distribution and transfer pathways of antioxidant molecules inside the first trimester human gestational sac. J Clin Endocrinol Metab 2004; 89: 1452–1458.

Masters ET, Jedrychowski W, Schleicher RL, Tsai WY, Tu YH, Camann D et al. Relation between prenatal lipid-soluble micronutrient status, environmental pollutant exposure, and birth outcomes. Am J Clin Nutr 2007; 86: 1139–1145.

Jain SK, Wise R, Bocchini Jr. JJ . Vitamin E and vitamin E-quinone levels in red blood cells and plasma of newborn infants and their mothers. J Am Coll Nutr 1996; 15: 44–48.

Mathews F, Youngman L, Neil A . Maternal circulating nutrient concentrations in pregnancy: implications for birth and placental weights of term infants. Am J Clin Nutr 2004; 79: 103–110.

Salas SP, Rosso P, Espinoza R, Robert JA, Valdes G, Donoso E . Maternal plasma volume expansion and hormonal changes in women with idiopathic fetal growth retardation. Obstet Gynecol 1993; 81: 1029–1033.

Lund CJ, Donovan JC . Blood volume during pregnancy. Significance of plasma and red cell volumes. Am J Obstet Gynecol 1967; 98: 394–403.

Uotila J, Tuimala R, Pyykko K, Ahotupa M . Pregnancy-induced hypertension is associated with changes in maternal and umbilical blood antioxidants. Gynecol Obstet Invest 1993; 36: 153–157.

Hustead VA, Gutcher GR, Anderson SA, Zachman RD . Relationship of vitamin A (retinol) status to lung disease in the preterm infant. J Pediatr 1984; 105: 610–615.

Shah RS, Rajalakshmi R, Bhatt RV, Hazra MN, Patel BC, Swamy NB et al. Liver stores of vitamin A in human fetuses in relation to gestational age, fetal size and maternal nutritional status. Br J Nutr 1987; 58: 181–189.

Campbell MK, Cartier S, Xie B, Kouniakis G, Huang W, Han V . Determinants of small for gestational age birth at term. Paediatr Perinat Epidemiol 2012; 26: 525–533.

Shipton D, Tappin DM, Vadiveloo T, Crossley JA, Aitken DA, Chalmers J . Reliability of self reported smoking status by pregnant women for estimating smoking prevalence: a retrospective, cross sectional study. BMJ 2009; 339: b4347.

Hininger I, Favier M, Arnaud J, Faure H, Thoulon JM, Hariveau E et al. Effects of a combined micronutrient supplementation on maternal biological status and newborn anthropometrics measurements: a randomized double-blind, placebo-controlled trial in apparently healthy pregnant women. Eur J Clin Nutr 2004; 58: 52–59.
Acknowledgements
This study was supported by an institutional grant (project no. E1100008) from the joint Center for Nutritional Medicine (Zentrum fuer Ernaehrungsmedizin, ZEM) of the University of Hohenheim and University of Tuebingen, Germany. The project with the working title 'Deficiency of choline and methylene donors in preterm newborns' (N. Breusing/W. Bernhard) was approved for the 2009/2010 research period under the subject 'Malnutrition/Clinical nutrition'.
Ethics declarations
Competing interests
The authors declare no conflict of interest.
About this article
Cite this article
Weber, D., Stuetz, W., Bernhard, W. et al. Oxidative stress markers and micronutrients in maternal and cord blood in relation to neonatal outcome. Eur J Clin Nutr 68, 215–222 (2014). https://doi.org/10.1038/ejcn.2013.263
Received:

Revised:

Accepted:

Published:

Issue Date:

DOI: https://doi.org/10.1038/ejcn.2013.263
Keywords