Abstract
Background/objectives:
The objective of this study was to assess vitamin D status and possible consequences of low plasma 25-hydroxyvitamin D (25OHD) levels in a population of healthy mothers and their infants.
Subjects/methods:
A total of 107 women aged 24–41 years gave birth to 108 infants. They were followed up three times during 9 months.
Results:
Cord blood 25OHD level (43.3±20.4 nmol/l) on average was 62±16% of maternal levels (73.3±30.7 nmol/l), measured 1–2 weeks postpartum. Cord blood 25OHD correlated positively with maternal 25OHD levels (r=0.83, P<0.001). At birth, 23% of mothers and 61% of infants had 25OHD <50 nmol/l. Vitamin D deficiency (25OHD<25 nmol/l) was present in 66% of the children born by mothers with 25OHD levels below 50 nmol/l (P<0.01), whereas only one child was born with deficiency among mothers with 25OHD >50 nmol/l. During follow-up, most of the children (>85%) had 25OHD levels >50 nmol/l, which most likely was attributable to the use of supplements, as more than 95% of the children were given daily vitamin D supplements of 10 μg of vitamin D.
Cord blood parathyroid hormone levels were very low (median 0.21; interquartile range 0.11–0.33 pmol/l), with increasing levels (P<0.01) reaching 3.08 (2.67–3.92 pmol/l) at the last visit. Vitamin D levels were not associated with anthropometric indices of the newborn infant or their growth during follow-up.
Conclusions:
Vitamin D deficiency is widespread in newborn. Maternal 25OHD levels above 50 nmol/l are needed to prevent vitamin D deficiency among newborn.
This is a preview of subscription content
Access options
Subscribe to Journal
Get full journal access for 1 year
$119.00
only $9.92 per issue
All prices are NET prices.
VAT will be added later in the checkout.
Tax calculation will be finalised during checkout.
Buy article
Get time limited or full article access on ReadCube.
$32.00
All prices are NET prices.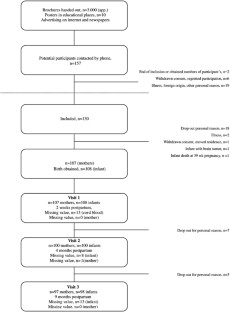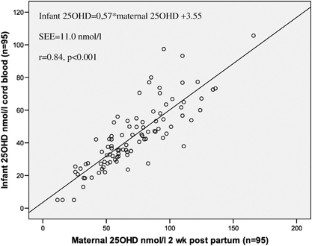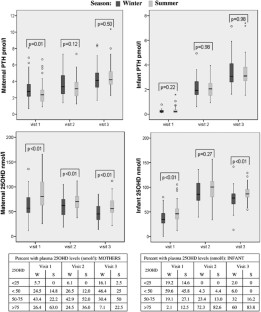 References
Holick MF . High prevalence of vitamin D inadequacy and implications for health. Mayo Clin Proc 2006; 81: 353–373.

Bischoff-Ferrari HA, Giovannucci E, Willett WC, Dietrich T, Dawson-Hughes B . Estimation of optimal serum concentrations of 25-hydroxyvitamin D for multiple health outcomes. Am J Clin Nutr 2006; 84: 18–28.

Merewood A, Mehta SD, Grossman X, Chen TC, Mathieu JS, Holick MF et al. Widespread vitamin D deficiency in urban Massachusetts newborns and their mothers. Pediatrics 2010; 125: 640–647.

Haggerty LL . Maternal supplementation for prevention and treatment of vitamin d deficiency in exclusively breastfed infants. Breastfeed Med 2011; 6: 137–144.

Moller UK, Ramlau-Hansen CH, Rejnmark L, Heickendorff L, Henriksen TB, Mosekilde L . Postpartum vitamin D insufficiency and secondary hyperparathyroidism in healthy Danish women. Eur J Clin Nutr 2006; 60: 1214–1221.

Seth A, Marwaha RK, Singla B, Aneja S, Mehrotra P, Sastry A et al. Vitamin D nutritional status of exclusively breast fed infants and their mothers. J Pediatr Endocrinol Metab 2009; 22: 241–246.

Viljakainen HT, Saarnio E, Hytinantti T, Miettinen M, Surcel H, Makitie O et al. Maternal vitamin D status determines bone variables in the newborn. J Clin Endocrinol Metab 2010; 95: 1749–1757.

Wagner CL, Howard C, Hulsey TC, Lawrence RA, Taylor SN, Will H et al. Circulating 25-hydroxyvitamin d levels in fully breastfed infants on oral vitamin d supplementation. Int J Endocrinol 2010; 2010: 235035.

Basile LA, Taylor SN, Wagner CL, Quinones L, Hollis BW . Neonatal vitamin D status at birth at latitude 32 degrees 72': evidence of deficiency. J Perinatol 2007; 27: 568–571.

Bodnar LM, Simhan HN, Powers RW, Frank MP, Cooperstein E, Roberts JM . High prevalence of vitamin D insufficiency in black and white pregnant women residing in the northern United States and their neonates. J Nutr 2007; 137: 447–452.

Kovacs CS . Vitamin D in pregnancy and lactation: maternal, fetal, and neonatal outcomes from human and animal studies. Am J Clin Nutr 2008; 88: 520S–528S.

Bowden SA, Robinson RF, Carr R, Mahan JD . Prevalence of vitamin D deficiency and insufficiency in children with osteopenia or osteoporosis referred to a pediatric metabolic bone clinic. Pediatrics 2008; 121: e1585–e1590.

Fudge NJ, Kovacs CS . Pregnancy up-regulates intestinal calcium absorption and skeletal mineralization independently of the vitamin D receptor. Endocrinology 2010; 151: 886–895.

Moller UK, Við Streym S, Mosekilde L, Rejnmark L . Changes in bone mineral density and body composition during pregnancy and postpartum. A controlled cohort study. Osteoporos Int 2011; 23: 1213–1223.

Hatun S, Ozkan B, Orbak Z, Doneray H, Cizmecioglu F, Toprak D et al. Vitamin D deficiency in early infancy. J Nutr 2005; 135: 279–282.

Mejborn H . BCea, Ministeriet for Fødevarer LoF. D-vitaminstatus i den danske befolkning bør forbedres. DTU Fødevareinstituttet 2004; 1–80. . Available from: http://www.food.dtu.dk/Default.aspx?ID=22617.

Bodnar LM, Catov JM, Simhan HN, Holick MF, Powers RW, Roberts JM . Maternal vitamin D deficiency increases the risk of preeclampsia. J Clin Endocrinol Metab 2007; 92: 3517–3522.

Robinson CJ, Wagner CL, Hollis BW, Baatz JE, Johnson DD . Maternal vitamin D and fetal growth in early-onset severe preeclampsia. Am J Obstet Gynecol 2011; 204: 556–564.

Merewood A, Mehta SD, Chen TC, Bauchner H, Holick MF . Association between vitamin D deficiency and primary cesarean section. J Clin Endocrinol Metab 2009; 94: 940–945.

Wagner CL, Taylor SN, Johnson DD, Hollis BW . The role of vitamin D in pregnancy and lactation: emerging concepts. Womens Health (Lond Engl) 2012; 8: 323–340.

Wagner CL, Hulsey TC, Fanning D, Ebeling M, Hollis BW . High-dose vitamin D3 supplementation in a cohort of breastfeeding mothers and their infants: a 6-month follow-up pilot study. Breastfeed Med 2006; 1: 59–70.

Sandström B AABWeal. Nordiska Näringsrekommendationer. Amning. 3 edn. 1996.

Sundhedsstyrelsen. D-vitamin - Forebyggelse af d-vitaminmangel. National Board of Health [cited 2011 Oct 6]; Available from 2010: http://www.sst.dk/~/media/Sundhed%20og%20forebyggelse/Ernaering/D-vitamin/Kilder%20til%20D-vitamin/Oversigt_D-vitaminanbefalinger270510.ashx.

Hollis BW . Circulating 25-hydroxyvitamin D levels indicative of vitamin D sufficiency: implications for establishing a new effective dietary intake recommendation for vitamin D. J Nutr 2005; 135: 317–322.

Hollis BW, Wagner CL . Vitamin D deficiency during pregnancy: an ongoing epidemic. Am J Clin Nutr 2006; 84: 273.

van der Meer IM, Karamali NS, Boeke AJ, Lips P, Middelkoop BJ, Verhoeven I et al. High prevalence of vitamin D deficiency in pregnant non-Western women in The Hague, Netherlands. Am J Clin Nutr 2006; 84: 350–353.

Hagenau T, Vest R, Gissel TN, Poulsen CS, Erlandsen M, Mosekilde L et al. Global vitamin D levels in relation to age, gender, skin pigmentation and latitude: an ecologic meta-regression analysis. Osteoporos Int 2009; 20: 133–140.

Hollis BW, Johnson D, Hulsey TC, Ebeling M, Wagner CL . Vitamin D supplementation during pregnancy: double blind, randomized clinical trial of safety and effectiveness. J Bone Miner Res 2011 27; 26: 2341–2357.

Lips P . Vitamin D deficiency and secondary hyperparathyroidism in the elderly: consequences for bone loss and fractures and therapeutic implications. Endocr Rev 2001; 22: 477–501.

Bess Dawson-Hughes RPHMFHPLPJMaRV. Estimates of optimal vitamin D status. International Osteoporosis Foundation and National Osteoporosis Foundation 2005 September 28 [cited 2011 Oct 9]; Available from: 2004: http://www.direct-ms.org/pdf/VitDVieth/DawsonHughes%20Vieth%20Optimal%2025D.pdf.

Dawson-Hughes B, Heaney RP, Holick MF, Lips P, Meunier PJ, Vieth R . Estimates of optimal vitamin D status. Osteoporos Int 2005; 16: 713–716.

Maunsell Z, Wright DJ, Rainbow SJ . Routine isotope-dilution liquid chromatography-tandem mass spectrometry assay for simultaneous measurement of the 25-hydroxy metabolites of vitamins D2 and D3. Clin Chem 2005; 51: 1683–1690.

Hojskov CS, Heickendorff L, Moller HJ . High-throughput liquid-liquid extraction and LCMSMS assay for determination of circulating 25(OH) vitamin D3 and D2 in the routine clinical laboratory. Clin Chim Acta 2010; 411: 114–116.

Hermann AP . TJVPeal. Assessment of calcium intake. A quick method comparerd to a 7 days food diary. Calcif Tissue Int 1999; 64 (suppl.1), 82.

Weiler H, Fitzpatrick-Wong S, Veitch R, Kovacs H, Schellenberg J, McCloy U et al. Vitamin D deficiency and whole-body and femur bone mass relative to weight in healthy newborns. CMAJ 2005; 172: 757–761.

Lee JM, Smith JR, Philipp BL, Chen TC, Mathieu J, Holick MF . Vitamin D deficiency in a healthy group of mothers and newborn infants. Clin Pediatr (Phila) 2007; 46: 42–44.

Agarwal N, Faridi MM, Aggarwal A, Singh O . Vitamin D status of term exclusively breastfed infants and their mothers from India. Acta Paediatr 2010; 99: 1671–1674.

Misra M, Pacaud D, Petryk A, Collett-Solberg PF, Kappy M . Vitamin D deficiency in children and its management: review of current knowledge and recommendations. Pediatrics 2008; 122: 398–417.

Inst.Med. Dietary Reference Intakes for Calcium and Vitamin D. Natl. Acad. Press. Institute of medicine of the national academies: Washington, DC, USA, 2011, Available from: www.iom.edu/vitamind.

Wagner CL, Greer FR . Prevention of rickets and vitamin D deficiency in infants, children, and adolescents. Pediatrics 2008; 122: 1142–1152.

Bowyer L, Catling-Paull C, Diamond T, Homer C, Davis G, Craig ME . Vitamin D, PTH and calcium levels in pregnant women and their neonates. Clin Endocrinol (Oxf) 2009; 70: 372–377.

Seki K, Wada S, Nagata N, Nagata I . Parathyroid hormone-related protein during pregnancy and the perinatal period. Gynecol Obstet Invest 1994; 37: 83–86.

Allgrove J, Adami S, Manning RM, O'Riordan JL . Cytochemical bioassay of parathyroid hormone in maternal and cord blood. Arch Dis Child 1985; 60: 110–115.

Eichholzer M, Platz EA, Bienstock JL, Monsegue D, Akereyeni F, Hollis BW et al. Racial variation in vitamin D cord blood concentration in white and black male neonates. Cancer Causes Control 2013; 24: 91–98.

Walker VP, Zhang X, Rastegar I, Liu PT, Hollis BW, Adams JS et al. Cord blood vitamin D status impacts innate immune responses. J Clin Endocrinol Metab 2011; 96: 1835–1843.

Wlodek ME, Di NR, Westcott KT, Farrugia W, Ho PW, Moseley JM . PTH/PTHrP receptor and mid-molecule PTHrP regulation of intrauterine PTHrP: PTH/PTHrP receptor antagonism increases SHR fetal weight. Placenta 2004; 25: 53–61.

Wlodek ME, Westcott KT, Ho PW, Serruto A, Di NR, Farrugia W et al. Reduced fetal, placental, and amniotic fluid PTHrP in the growth-restricted spontaneously hypertensive rat. Am J Physiol Regul Integr Comp Physiol 2000; 279: R31–R38.

Wysolmerski JJ . Parathyroid Hormone-Related Protein. Primer on the Metabolic Bone Diseases and Disorders of Mineral Metabolism. American Society for Bone and Mineral Research. John Wiley & Sons, Inc, 2009, pp 127–133 (chapter 26).

Kovacs CS, Lanske B, Hunzelman JL, Guo J, Karaplis AC, Kronenberg HM . Parathyroid hormone-related peptide (PTHrP) regulates fetal-placental calcium transport through a receptor distinct from the PTH/PTHrP receptor. Proc Natl Acad Sci USA 1996; 93: 15233–15238.

Hultin H, Edfeldt K, Sundbom M, Hellman P . Left-shifted relation between calcium and parathyroid hormone in obesity. J Clin Endocrinol Metab 2010; 95: 3973–3981.

Valina-Toth AL, Lai Z, Yoo W, Abou-Samra A, Gadegbeku CA, Flack JM . Relationship of vitamin D and parathyroid hormone with obesity and body composition in African Americans. Clin Endocrinol (Oxf) 2010; 72: 595–603.

Rejnmark L, Vestergaard P, Heickendorff L, Mosekilde L . Determinants of plasma PTH and their implication for defining a reference interval. Clin Endocrinol (Oxf) 2011; 74: 37–43.

Lips P, Duong T, Oleksik A, Black D, Cummings S, Cox D et al. A global study of vitamin D status and parathyroid function in postmenopausal women with osteoporosis: baseline data from the multiple outcomes of raloxifene evaluation clinical trial. J Clin Endocrinol Metab 2001; 86: 1212–1221.
Ethics declarations
Competing interests
The authors declare no conflict of interest.
About this article
Cite this article
við Streym, S., Kristine Moller, U., Rejnmark, L. et al. Maternal and infant vitamin D status during the first 9 months of infant life—a cohort study. Eur J Clin Nutr 67, 1022–1028 (2013). https://doi.org/10.1038/ejcn.2013.152
Received:

Revised:

Accepted:

Published:

Issue Date:

DOI: https://doi.org/10.1038/ejcn.2013.152
Keywords
vitamin D

25-hydroxyvitamin D

infant

mothers