Abstract
Water, an essential nutrient, is often ignored in reports of dietary surveys and nutrition. Although it is ubiquitous in foods and beverages, the attention is often focused on the minerals or calorific values of the fluids imbibed rather than the water per se. Water is often taken for granted by many in Western countries due to its abundant availability through water systems. In developing countries, however, water and sanitation raise significant problems. This review overviews (i) the global perspective of the potable water supply, (ii) human rights and water, (iii) dietary guidelines and sources of water and (iv) the physiology of water balance. Gaps in knowledge and understanding around hydration and water requirements are also discussed. Nutritionists are urged to look at the bigger picture of the global water supply and to use good judgement and common sense when advising on water requirements.
Your institute does not have access to this article
Relevant articles
Open Access articles citing this article.
Erica T. Perrier

,

Lawrence E. Armstrong

…

François Péronnet

European Journal of Nutrition Open Access 06 July 2020
Access options
Subscribe to Journal
Get full journal access for 1 year
$119.00
only $9.92 per issue
All prices are NET prices.
VAT will be added later in the checkout.
Tax calculation will be finalised during checkout.
Buy article
Get time limited or full article access on ReadCube.
$32.00
All prices are NET prices.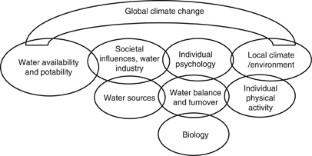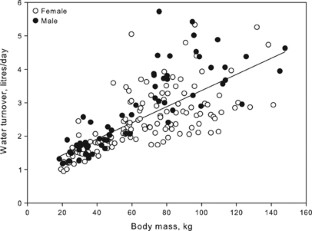 References
Kleiner SM . Water: an essential but overlooked nutrient. J Am Diet Assoc 1999; 99: 200–206.

Boeckner LS . Water: The Nutrient. University of Nebraska: Lincoln Extension Publications, 2009.

Jéquier E, Constant F . Water as an essential nutrient: the physiological basis of hydration. Eur J Clin Nutr 2010; 64: 115–123.

Holdsworth JE . The importance of human hydration: perceptions among healthcare professionals across Europe. Nutr Bull 2012; 37: 16–24.

Karowicz-Bilińska A . Water and its importance for female body. Woda i jej znaczenie dla organizmu kobiety 2011; 82: 455–459.

Popkin BM, D'Anci KE, Rosenberg IH . Water, hydration, and health. Nutr Rev 2010; 68: 439–458.

Jéquier E, Constant F . Why do we have to drink water? For maintaining the water balance. Pourquoi faut-il boire de l'eau? Pour maintenir la balance hydrique 2009; 44: 190–197.

European Food Safety Authority (EFSA) Panel On Dietetic Products NaA. Scientific opinion on dietary reference values for water. EFSA Journal 2010; 8: 1459.

Sawka MN, Cheuvront SN, Carter Iii R, Jéquier E, Manz F, Dal Canton A et al. Human water needs. Nutr Rev 2005; 63: S30–S39.

Valtin H, Gorman SA . 'Drink at least eight glasses of water a day.' Really? Is there scientific evidence for '8 × 8'? Am J Physiol Regul Integr Comp Physiol 2002; 283: 993–1004.

Manz F, Wentz A, Sichert-Hellert W . The most essential nutrient: defining the adequate intake of water. J Pediatr 2002; 141: 587–592.

Vörösmarty CJ, Green P, Salisbury J, Lammers RB . Global water resources: vulnerability from climate change and population growth. Science New York, NY 2000; 289: 284–288.

Vandenbroeck I, Gossens J, Clemens M . Foresight tackling obesities: future choices—obesity system atlas. In: Science GOf (ed). UK Government's Foresight Programme. Government Office for Science: London, 2007.

A/RES/55/2. United Nations Millennium Declaration: resolution adopted by the General Assembly, 2000.

Gerlak AK, Wilder M . Exploring the textured landscape of water insecurity and the human right to water. Environment: Science and Policy for Sustainable Development 2012; 54: 4–17.

United Nations. Millennium Development Goals: 2011 Progress Chart. http://www.un.org/millenniumgoals/pdf/(2011E)_MDReport2011_ProgressChart.pdf: Accessed 23 January 2013.

Anand PB . Right to water and access to water: an assessment. J Int Dev 2007; 19: 511–526.

Arnell N . Climate change and global water resources: SRES emissions and socio-economic scenarios. Global Environ Change 2004; 14: 31–52.

Fomon SJ, Haschke F, Ziegler EE, Nelson SE . Body composition of reference children from birth to age 10 years. Am J Clin Nutr 1982; 35: 1169–1175.

Lohman TG . Applicability of body composition techniques and constants for children and youths. Exerc Sport Sci Rev 1986; 14: 325–357.

Wang Z, Deurenberg P, Wang W, Pietrobelli A, Baumgartner RN, Heymsfield SB . Hydration of fat-free body mass: review and critique of a classic body-composition constant. Am J Clin Nutr 1999; 69: 833–841.

Jequier E, Constant F . Water as an essential nutrient: the physiological basis of hydration. Eur J Clin Nutr 2010; 64: 115–123.

Johansson G, Wikman A, Ahren AM, Hallmans G, Johansson I . Underreporting of energy intake in repeated 24-hour recalls related to gender, age, weight status, day of interview, educational level, reported food intake, smoking habits and area of living. Public Health Nutr 2001; 4: 919–927.

Singer M . Management of fluid balance: a European perspective. Curr Opin Anaesthesiol 2012; 25: 96–101.

Schoeller DA, van Santen E . Measurement of energy expenditure in humans by doubly labeled water method. J Appl Physiol 1982; 53: 955–959.

Schoeller DA, Taylor PB . Precision of the doubly labelled water method using the two-point calculation. Hum Nutr Clin Nutr 1987; 41C: 215–223.

Cole TJ, Coward WA . Precision and accuracy of doubly labeled water energy expenditure by multipoint and two-point methods. Am J Physiol 1992; 263: E965–E973.

Raman A, Schoeller DA, Subar AF, Troiano RP, Schatzkin A, Harris T et al. Water turnover in 458 American adults 40-79 yr of age. Am J Physiol Renal Physiol 2004; 286: F394–F401.

Bossingham MJ, Carnell NS, Campbell WW . Water balance, hydration status, and fat-free mass hydration in younger and older adults. Am J Clin Nutr 2005; 81: 1342–1350.

Leiper JB, Carnie A, Maughan RJ . Water turnover rates in sedentary and exercising middle aged men. Br J Sports Med 1996; 30: 24–26.

Leiper JB, Seonaid Primrose C, Primrose WR, Phillimore J, Maughan RJ . A comparison of water turnover in older people in community and institutional settings. J Nutr Health Aging 2005; 9: 189–193.

Rush EC, Chhichhia P, Kilding AE, Plank LD . Water turnover in children and young adults. Eur J Appl Physiol 2010; 110: 1209–1214.

Fusch C, Hungerland E, Scharrer B, Moeller H . Water turnover of healthy children measured by deuterated water elimination. Eur J Pediatr 1993; 152: 110–114.

O'Connell BN, Weinheimer EM, Martin BR, Weaver CM, Campbell WW . Water turnover assessment in overweight adolescents. Obesity (Silver Spring) 2011; 19: 292–297.

Reed B, Reed R . How much water is needed in emergencies. In: Reed R, (ed). WHO Technical Notes on Drinking-Water, Sanitation and Hygiene in Emergencies. World Health Organisation: Geneva, 2011.

Popkin BM, Armstrong LE, Bray GM, Caballero B, Frei B, Willett WC . A new proposed guidance system for beverage consumption in the United States. Am J Clin Nutr 2006; 83: 529–542.

Benelam B, Wyness L . Hydration and health: a review. Nutr Bull 2010; 35: 3–25.

Noakes TD . Is drinking to thirst optimum? Ann Nutr Metab 2010; 57 (Suppl 2), 9–17.

McCartney M . Health marketing: Waterlogged? BMJ 2011; 343: d4280.

Negoianu D, Goldfarb S . Just add water. J Am Soc Nephrol 2008; 19: 1041–1043.

Buyckx ME . Hydration and health promotion: a brief introduction. J Am Coll Nutr 2007; 26: 533S–534S.

The PLoS Medicine Editors. PLoS medicine series on big food: the food industry is ripe for scrutiny. PLoS Med 2012; 9: e1001246.

Benton D . Dehydration influences mood and cognition: a plausible hypothesis? Nutrients 2011; 3: 555–573.

Cohen D . The truth about sports drinks. BMJ 2012; 345: e4737 (Published 18 July 2012) 2012.

Almond CS, Shin AY, Fortescue EB, Mannix RC, Wypij D, Binstadt BA et al. Hyponatremia among runners in the Boston marathon. N Engl J Med 2005; 352: 1550–1556.

Food and Nutrition Board. Recommended Dietary Allowances. National Academy Press: Washington, 1989.

Doria MF . Bottled water versus tap water: understanding consumers' preferences. J Water Health 2006; 4: 271–276.

Hall R, Wilton M . 2011 global bottled water congress and market trends 2011: http://www.zenithinternational.com/pdf/events/00010_webinar.pdf : Accessed 23 January 2013.
Ethics declarations
Competing interests
The author declares no conflict of interest.
About this article
Cite this article
Rush, E. Water: neglected, unappreciated and under researched. Eur J Clin Nutr 67, 492–495 (2013). https://doi.org/10.1038/ejcn.2013.11
Received:

Accepted:

Published:

Issue Date:

DOI: https://doi.org/10.1038/ejcn.2013.11
Keywords
water

nutrient

global

dietary guidelines

hydration