Abstract
Background/Objectives:
The percentage of hypercholesterolemic individuals not reaching their LDL-cholesterol (LDL-C) goal remains high and additional therapeutic strategies should be evaluated. The objective of this study was to evaluate the cholesterol-lowering efficacy and mechanism of action of bile salt hydrolase-active Lactobacillus reuteri NCIMB 30242 capsules in hypercholesterolemic adults.
Subjects/Methods:
A total of 127 subjects completed a randomized, double-blind, placebo-controlled, parallel-arm, multicenter study. Subjects were randomized to consume L. reuteri NCIMB 30242 capsules or placebo capsules over a 9-week intervention period. The primary outcome was LDL-C relative to placebo at the study end point.
Results:
L. reuteri NCIMB 30242 capsules reduced LDL-C by 11.64% (P<0.001), total cholesterol by 9.14%, (P<0.001), non-HDL-cholesterol (non-HDL-C) by 11.30% (P<0.001) and apoB-100 by 8.41% (P=0.002) relative to placebo. The ratios of LDL-C/HDL-cholesterol (HDL-C) and apoB-100/apoA-1 were reduced by 13.39% (P=0.006) and 9.00% (P=0.026), respectively, relative to placebo. Triglycerides and HDL-C were unchanged. High-sensitivity C-reactive protein and fibrinogen were reduced by 1.05 mg/l (P=0.005) and 14.25% (P=0.004) relative to placebo, respectively. Mean plasma deconjugated bile acids were increased by 1.00 nmol/l (P=0.025) relative to placebo, whereas plasma campesterol, sitosterol and stigmasterol were decreased by 41.5%, 34.2% and 40.7%, respectively.
Conclusions:
The present results suggest that the deconjugation of intraluminal bile acids results in reduced absorption of non-cholesterol sterols and indicate that L. reuteri NCIMB 30242 capsules may be useful as an adjunctive therapy for treating hypercholesterolemia.
Relevant articles
Open Access articles citing this article.
Jonathan B. Lynch

,

Erika L. Gonzalez

…

Elaine Y. Hsiao

Nature Communications Open Access 20 June 2023

Yosuke Saito

&

Toyoaki Sagae

European Journal of Nutrition Open Access 07 March 2023

Zeinab Rezaei

,

Saeid Khanzadi

&

Amir Salari

AMB Express Open Access 25 November 2021
Access options
Subscribe to this journal
Receive 12 print issues and online access
$259.00 per year
only $21.58 per issue
Rent or buy this article
Prices vary by article type
from$1.95
to$39.95
Prices may be subject to local taxes which are calculated during checkout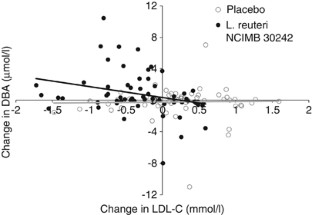 References
Muldoon MF, Manuck SB, Matthews KA . Lowering cholesterol concentrations and mortality—a quantitative review of primary prevention trials. BMJ 1990; 301: 309–314.

Ridker PM . Evaluating novel cardiovascular risk factors: can we better predict heart attacks? Ann Intern Med 1999; 130: 933–937.

NCEP Expert Panel. Third report of the National Cholesterol Education Program (NCEP) expert panel on detection, evaluation, and treatment of high blood cholesterol in adults (Adult Treatment Panel III) final report. Circulation 2002; 106: 3143–3421.

Grundy SM, Cleeman JI, Merz CN, Brewer HB, Clark LT, Hunninghake DB et al. Implications of recent clinical trials for the National Cholesterol Education Program Adult Treatment Panel III guidelines. Circulation 2004; 110: 227–239.

Smith SC, Allen J, Blair SN, Bonow RO, Brass LM, Fonarow GC et al. AHA/ACC guidelines for secondary prevention for patients with coronary and other atherosclerotic vascular disease: 2006 update: endorsed by the National Heart, Lung, and Blood Institute. Circulation 2006; 113: 2363–2372.

FAO/WHO Working Group. Report of a Joint FAO/WHO Working Group. "Guidelines for the Evaluation of Probiotics in Food" 2002 London, Ontario, Canada.

Kellogg TF, Wostmann BS . The response of germfree rats to dietary cholesterol. Adv Exp Med Biol 1969; 3: 293.

Wostmann BS, Wiech NL, Kung E . Catabolism and elimination of cholesterol in germfree rats. J Lipid Res 1966; 7: 77–82.

Jones BV, Begley M, Hill C, Gahan CG, Marchesi JR . Functional and comparative metagenomic analysis of bile salt hydrolase activity in the human gut microbiome. Proc Natl Acad Sci USA 2008; 105: 13580–13585.

Kellogg TF, Wostmann BS . Fecal neutral steroids and bile acids from germfree rats. J Lipid Res 1969; 10: 495–503.

Wostmann BS . Intestinal bile acids and cholesterol absorption in the germfree rat. J Nutr 1973; 103: 982–990.

Kumar M, Nagpal R, Kumar R, Hemalatha R, Verma V, Kumar A et al. Cholesterol-lowering probiotics as potential biotherapeutics for metabolic diseases. Exp Diabetes Res 2012; 2012: 902917.

Lepercq P, Relano P, Cayuela C, Juste C . Bifidobacterium animalis strain DN-173 010 hydrolyses bile salts in the gastrointestinal tract of pigs. Scand J Gastroenterol 2004; 39: 1266–1271.

De Smet I, De Boever P, Verstraete W . Cholesterol lowering in pigs through enhanced bacterial bile salt hydrolase activity. Br J Nutr 1998; 79: 185–194.

Agerbaek M, Gerdes LU, Richelsen B . Hypocholesterolemic effect of a new fermented milk product in healthy middle-aged men. Eur J Clin Nutr 1995; 49: 346–352.

Agerholm-Larsen L, Raben A, Haulrik N, Hansen AS, Manders M, Astrup A et al. Effect of 8 week intake of probiotic milk products on risk factors for cardiovascular diseases. Eur J Clin Nutr 2000; 54: 288–297.

Bertolami MC, Faludi AA, Batlouni M . Evaluation of the effects of a new fermented milk product (Gaio) on primary hypercholesterolemia. Eur J Clin Nutr 1999; 53: 97–101.

Jones ML, Martoni CJ, Parent M, Prakash S . Cholesterol-lowering efficacy of a microencapsulated bile salt hydrolase-active Lactobacillus reuteri NCIMB 30242 yoghurt formulation in hypercholesterolaemic adults. Br J Nutr 2012; 107: 1505–1513.

Schaafsma G, Meuling WJ, van Dokkum W, Bouley C . Effects of a milk product, fermented by Lactobacillus acidophilus and with fructo-oligosaccharides added, on blood lipids in male volunteers. Eur J Clin Nutr 1998; 52: 436–440.

Richelsen B, Kristensen K, Pedersen SB . Long-term (6 months) effect of a new fermented milk product on the level of plasma lipoproteins—a placebo-controlled and double blind study. Eur J Clin Nutr 1996; 50: 811–815.

Lin SY, Ayres JW, Winkler W, Sandine WE . Lactobacillus effects on cholesterol: in vitro and in vivo results. J Dairy Sci 1989; 72: 2885–2899.

Lewis SJ, Burmeister S . A double-blind placebo-controlled study of the effects of Lactobacillus acidophilus on plasma lipids. Eur J Clin Nutr 2005; 59: 776–780.

Greany KA, Bonorden MJ, Hamilton-Reeves JM, McMullen MH, Wangen KE, Phipps WR et al. Probiotic capsules do not lower plasma lipids in young women and men. Eur J Clin Nutr 2008; 62: 232–237.

de Roos NM, Schouten G, Katan MB . Yoghurt enriched with Lactobacillus acidophilus does not lower blood lipids in healthy men and women with normal to borderline high serum cholesterol levels. Eur J Clin Nutr 1999; 53: 277–280.

Andersson H, Bosaeus I, Ellegård L, Grahn E, Tidehag P, Hallmans G et al. Effects of low-fat milk and fermented low-fat milk on cholesterol absorption and excretion in ileostomy subjects. Eur J Clin Nutr 1995; 49: 274–281.

Ooi LG, Ahmad R, Yuen KH, Liong MT . Lactobacillus acidophilus CHO-220 and inulin reduced plasma total cholesterol and low-density lipoprotein cholesterol via alteration of lipid transporters. J Dairy Sci 2010; 93: 5048–5058.

Jones ML, Martoni CJ, Tamber S, Parent M, Prakash S . Evaluation of safety and tolerance of microencapsulated Lactobacillus reuteri NCIMB 30242 in a yogurt formulation: A randomized, placebo-controlled, double-blind study. Food Chem Toxicol 2012; 50: 2216–2223.

Jones ML, Martoni CJ, Pietro ED, Simon RR, Prakash S . Evaluation of clinical safety and tolerance of a Lactobacillus reuteri NCIMB 30242 supplement capsule. Regul Toxicol Pharmacol 2012; 63: 313–320.

Scherer M, Gnewuch C, Schmitz G, Liebisch G . Rapid quantification of bile acids and their conjugates in serum by liquid chromatography-tandem mass spectrometry. J Chromatogr B Analyt Technol Biomed Life Sci 2009; 877: 3920–3925.

Guo Z, Liu XM, Zhang QX, Shen Z, Tian FW, Zhang H et al. Influence of consumption of probiotics on the plasma lipid profile: a meta-analysis of randomised controlled trials. Nutr Metab Cardiovasc Dis 2011; 21: 844–850.

Pereira DI, Gibson GR . Effects of consumption of probiotics and prebiotics on serum lipid levels in humans. Crit Rev Biochem Mol Biol 2002; 37: 259–281.

Branton WB, Jones ML, Tomaro-Duchesneau C, Martoni CJ, Prakash S . In vitro characterization and safety of the probiotic strain Lactobacillus reuteri cardioviva NCIMB 30242. Int J Probiotics Prebiotics 2011; 6: 1–12.

Miettinen TA, Tilvis RS, Kesaniemi YA . Serum plant sterols and cholesterol precursors reflect cholesterol absorption and synthesis in volunteers of a randomly selected male population. Am J Epidemiol 1990; 131: 20–31.

Miettinen TA, Gylling H, Nissinen MJ . The role of serum non-cholesterol sterols as surrogate markers of absolute cholesterol synthesis and absorption. Nutr Metab Cardiovasc Dis 2011; 21: 765–769.

Sudhop T, Lütjohann D, Kodal A, Igel M, Tribble DL, Shah S et al. Inhibition of intestinal cholesterol absorption by ezetimibe in humans. Circulation 2002; 106: 1943–1948.

Jakulj L, Vissers MN, Groen AK, Hutten BA, Lutjohann D, Veltri EP et al. Baseline cholesterol absorption and the response to ezetimibe/simvastatin therapy: a post-hoc analysis of the ENHANCE trial. J Lipid Res 2010; 51: 755–762.

Miettinen TA, Gylling H . Synthesis and absorption markers of cholesterol in serum and lipoproteins during a large dose of statin treatment. Eur J Clin Invest 2003; 33: 976–982.

Chan YM, Varady KA, Lin Y, Trautwein E, Mensink RP, Plat J et al. Plasma concentrations of plant sterols: physiology and relationship with coronary heart disease. Nutr Rev 2006; 64: 385–402.

Jeun J, Kim S, Cho SY, Jun HJ, Park HJ, Seo JG et al. Hypocholesterolemic effects of Lactobacillus plantarum KCTC3928 by increased bile acid excretion in C57BL/6 mice. Nutrition 2010; 26: 321–330.

Thomas C, Pellicciari R, Pruzanski M, Auwerx J, Schoonjans K . Targeting bile-acid signalling for metabolic diseases. Nat Rev Drug Discov 2008; 7: 678–693.

Chiang JY . Bile acids: regulation of synthesis. J Lipid Res 2009; 50: 1955–1966.

Watanabe M, Houten SM, Wang L, Moschetta A, Mangelsdorf DJ, Heyman RA et al. Bile acids lower triglyceride levels via a pathway involving FXR, SHP, and SREBP-1c. J Clin Invest 2004; 113: 1408–1418.

Repa JJ, Mangelsdorf DJ . The liver X receptor gene team: potential new players in atherosclerosis. Nat Med 2002; 8: 1243–1248.

Yu L, Li-Hawkins J, Hammer RE, Berge KE, Horton JD, Cohen JC et al. Overexpression of ABCG5 and ABCG8 promotes biliary cholesterol secretion and reduces fractional absorption of dietary cholesterol. J Clin Invest 2002; 110: 671–680.

Johnson BJ, Lee JY, Pickert A, Urbatsch IL . Bile acids stimulate ATP hydrolysis in the purified cholesterol transporter ABCG5/G8. Biochemistry 2010; 49: 3403–3411.

Yoon HS, Ju JH, Kim H, Lee J, Park HJ, Ji Y et al. Lactobacillus rhamnosus BFE 5264 and Lactobacillus plantarum NR74 promote cholesterol excretion through the up-regulation of ABCG5/8 in caco-2 cells. Probiotics and Antimicrobial Proteins 2011; 3: 194–203.

Huang Y, Zheng Y . The probiotic Lactobacillus acidophilus reduces cholesterol absorption through the down-regulation of Niemann-Pick C1-like 1 in Caco-2 cells. Br J Nutr 2010; 103: 473–478.

Naruszewicz M, Johansson ML, Zapolska-Downar D, Bukowska H . Effect of Lactobacillus plantarum 299v on cardiovascular disease risk factors in smokers. Am J Clin Nutr 2002; 76: 1249–1255.

Maple-Brown LJ, Cunningham J, Nandi N, Hodge A, O'Dea K . Fibrinogen and associated risk factors in a high-risk population: urban Indigenous Australians, the DRUID Study. Cardiovasc Diabetol 2010; 9: 69.

Danesh J, Lewington S, Thompson SG, Lowe GD, Collins R, Kostis JB et al. Plasma fibrinogen level and the risk of major cardiovascular diseases and nonvascular mortality: an individual participant meta-analysis. JAMA 2005; 294: 1799–1809.

Leber B, Tripolt NJ, Blattl D, Eder M, Wascher TC, Pieber TR et al. The influence of probiotic supplementation on gut permeability in patients with metabolic syndrome: an open label, randomized pilot study. Eur J Clin Nutr 2012 e-pub ahead of print 8 August 2012; doi:10.1038/ejcn.2012.103.

Danesh J, Wheeler JG, Hirschfield GM, Eda S, Eiriksdottir G, Rumley A et al. C-reactive protein and other circulating markers of inflammation in the prediction of coronary heart disease. N Engl J Med 2004; 350: 1387–1397.

Dehghan A, Kardys I, de Maat MP, Uitterlinden AG, Sijbrands EJ, Bootsma AH et al. Genetic variation, C-reactive protein levels, and incidence of diabetes. Diabetes 2007; 56: 872–878.

Sesso HD, Buring JE, Rifai N, Blake GJ, Gaziano JM, Ridker PM . C-reactive protein and the risk of developing hypertension. JAMA 2003; 290: 2945–2951.

Ridker PM, Cushman M, Stampfer MJ, Tracy RP, Hennekens CH . Inflammation, aspirin, and the risk of cardiovascular disease in apparently healthy men. N Engl J Med 1997; 336: 973–979.

Hindorff LA, Rice KM, Lange LA, Diehr P, Halder I, Walston J et al. Common variants in the CRP gene in relation to longevity and cause-specific mortality in older adults: the Cardiovascular Health Study. Atherosclerosis 2008; 197: 922–930.

Erlinger TP, Platz EA, Rifai N, Helzlsouer KJ . C-reactive protein and the risk of incident colorectal cancer. JAMA 2004; 291: 585–590.

Lawrence SO, Simpson-Haidaris PJ . Regulated de novo biosynthesis of fibrinogen in extrahepatic epithelial cells in response to inflammation. Thromb Haemost 2004; 92: 234–243.

Kleemann R, Verschuren L, de Rooij BJ, Lindeman J, de Maat MM, Szalai AJ et al. Evidence for anti-inflammatory activity of statins and PPARalpha activators in human C-reactive protein transgenic mice in vivo and in cultured human hepatocytes in vitro. Blood 2004; 103: 4188–4194.

Jenkins NP, Keevil BG, Hutchinson IV, Brooks NH . Beta-blockers are associated with lower C-reactive protein concentrations in patients with coronary artery disease. Am J Med 2002; 112: 269–274.
Acknowledgements
We thank J Lahovský, V Voštiňáková, M Svobodová and K Beber for their contribution to the study. We also thank all volunteers who participated in the study. This work was supported by Micropharma Limited. MLJ, SP and CJM designed the study and prepared the manuscript. JL, VV and MS conducted the research. KB and CJM performed the statistical analysis. All authors have read and approved the final manuscript.
Ethics declarations
Competing interests
MLJ and SP acknowledge a conflict of interest as they are cofounders and shareholders of Micropharma. CJM is employed by and is a shareholder of Micropharma.
Supplementary information
About this article
Cite this article
Jones, M., Martoni, C. & Prakash, S. Cholesterol lowering and inhibition of sterol absorption by Lactobacillus reuteri NCIMB 30242: a randomized controlled trial. Eur J Clin Nutr 66, 1234–1241 (2012). https://doi.org/10.1038/ejcn.2012.126
Received:

Revised:

Accepted:

Published:

Issue Date:

DOI: https://doi.org/10.1038/ejcn.2012.126
Keywords